One of the things that Australia is most famous for is its stunning beaches. There are literally thousands of miles of coastline around this ginormous country, but how many beaches can be found here that are suitable for spending some quality leisure time?
In this article, we are going to be looking at the answer to this question as well as diving into some further information surrounding these beaches, for the total number of beaches in Australia is huge.
If you are interested in visiting an Australian beach then you are in the right place, let's get started.
The sheer amount of beaches that can be found in Australia is certainly a number to be reckoned with, over 10,000 to be exact, which run along an astonishing 50,000 kilometres of coastline. It is no wonder that the country is renowned for its beach culture.
From surfing beaches to ones that are surrounded by nature, there is a diverse range of coastal paradises to explore here.
A staggering 85% of the population of Australia live either along the coast or within a very short distance of it, meaning that the locals enjoy many hours at the beach, and you will too when you visit the country.
But of course, when visiting Australia, unless you plan to stay there and dedicate your time to beaches for the next 27 years (which is the time it would take to visit every beach in the country if you were to go to a new one every day) you are going to have to narrow it down dramatically and choose a selection of beaches to explore during your stay.
Depending on what you want to get out of a beach will greatly depend on which ones you visit, but whether you have a passion for surfing or simply want a relaxing environment to soak up the Aussie sunshine, there will definitely be a beach for you.
The Best Queensland Beaches
Queensland is the epitome of Australian beach paradise, there are multiple beaches here that offer everything that you could wish for. Let's take a look at some of the best beaches in this state.
Palm Cove Queensland
Palm Cove is known as the cleanest beach in the whole of not only Queensland but in Australia. This stunning beach is located 20 minutes out of Cairns and is aptly named due to being lined with glorious, elegant palm trees.
The waters here are very calm and ideal for a swim and there is a great selection of places to eat that run along the beach.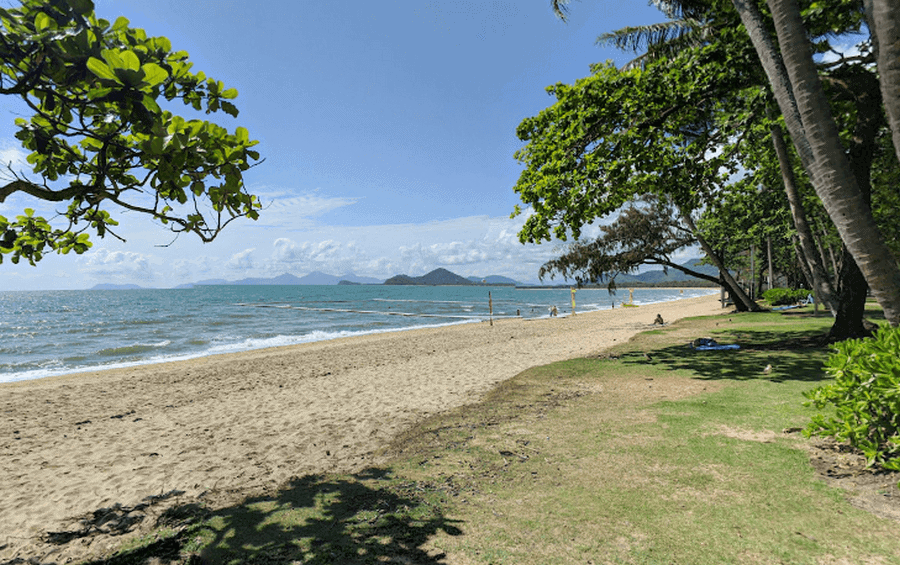 Cape Hillsborough
Cape Hillsborough is famed for the gathering of kangaroos and wallabies that gather here every morning, locals and tourists alike will flock here before sunrise to catch a glimpse of these native animals feeding on washed-up seeds from the night before.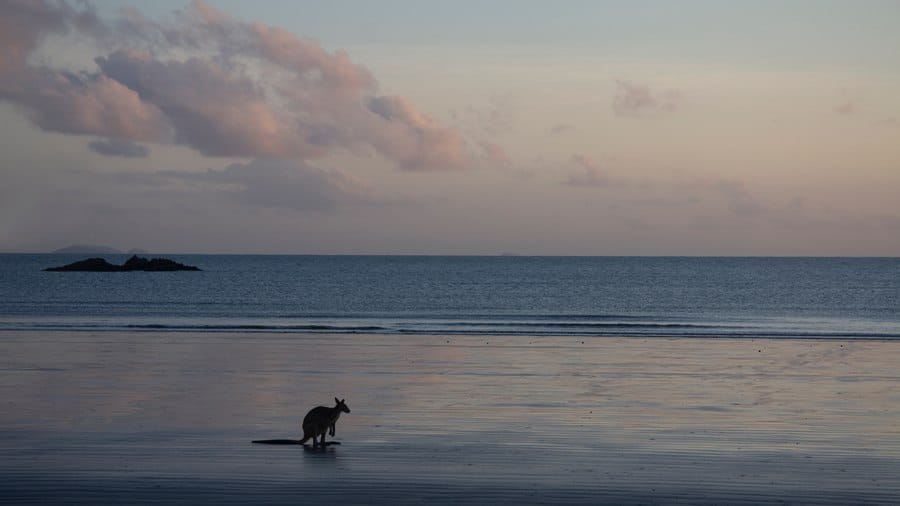 Nudey Beach Fitzroy Island
Nudey Beach on Fitzroy Island is ideal for those looking to soak up the sun in beautiful natural surroundings. The name might suggest a beach where clothes are not an option, but this is not the case. Lined by lush rainforest, this white sandy beach is a genuine paradise.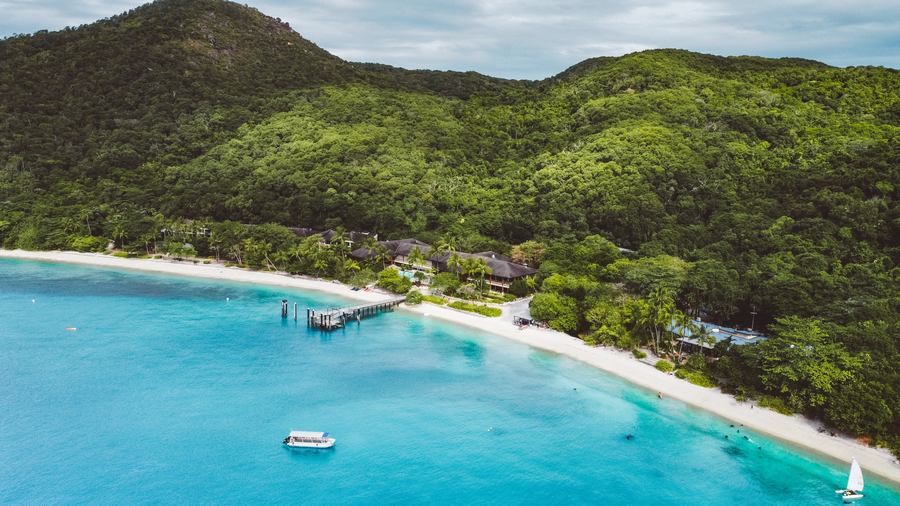 Tangalooma Beach Brisbane
Tangalooma beach in Brisbane is something that has to be seen to be believed, the perfectly crystal clear waters are ideal for snorkelling and other water-based activities.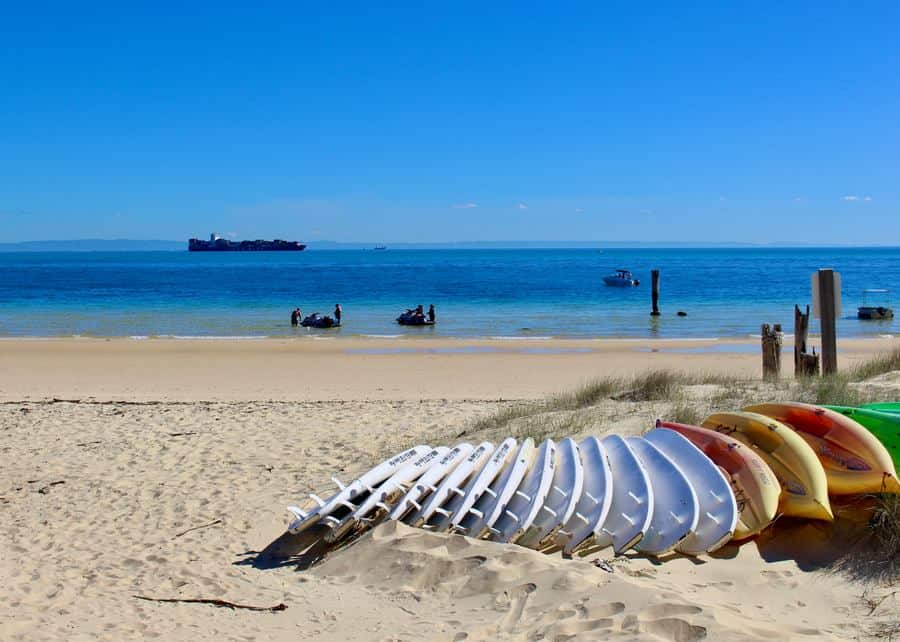 Well Known Victoria Beaches
Victoria may not be as well known for its beaches as Queensland, but that's not to say that there aren't many here that deserve to be discovered. With a cooler climate, you are free to explore the coastline here with less intense temperatures.
St Kilda Beach Melbourne
St Kilda Beach is probably the most well-known beach in this state and it is a place loved by the locals in Melbourne. The beach is great for those looking to surf and take part in other water sports and there is a great selection of places to eat right on the seafront.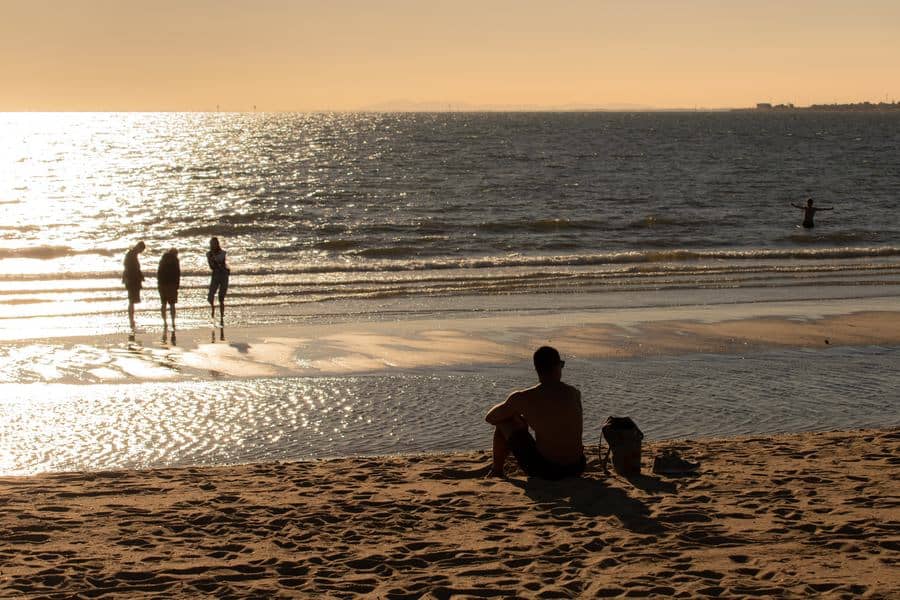 Squeaky Beach Wilsons Promontory National Park
A squeaky beach which can be found in Wilsons Promontory National park is perfect for those who want to get back to nature since the beach can be reached by a trek through some beautiful natural bush. The beach is great for swimming and is a tranquil retreat from the city.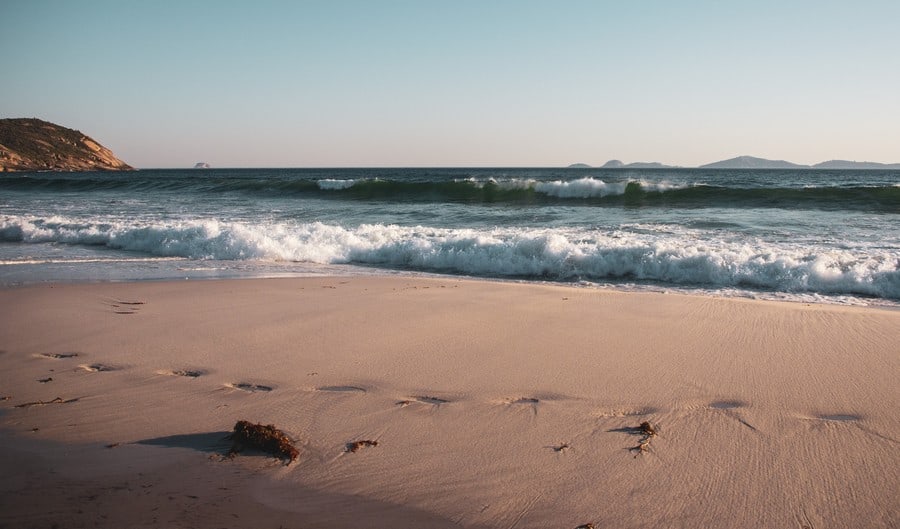 Eastern Beach Geelong
Eastern Beach, Geelong. If you are looking for a traditional seaside resort then this is the one for you. With a great selection of bars, restaurants and places for the kids to play, this beach is not just a beach but an entire family holiday resort.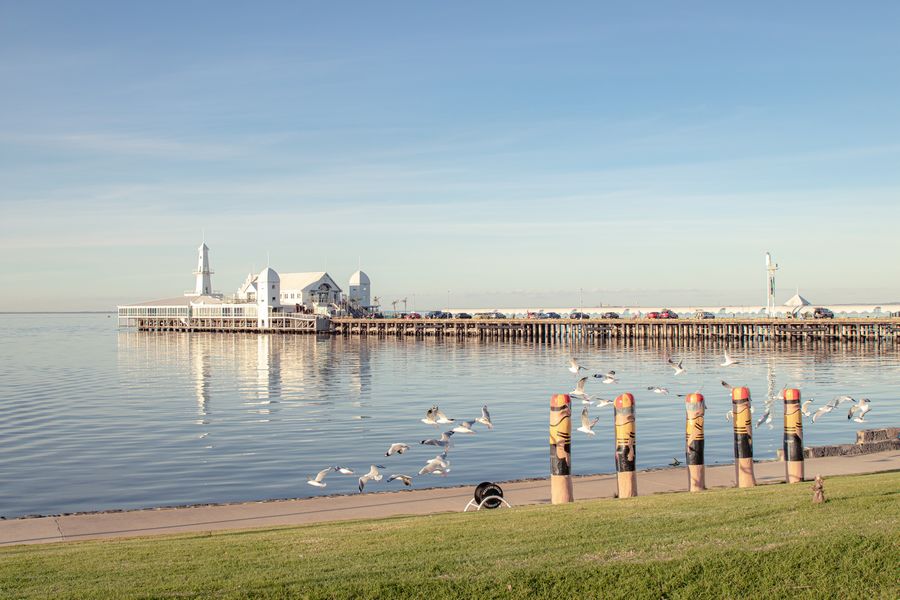 90 Mile Beach Gippsland
The ninety-mile beach in Gippsland is the third longest beach in all of the world, the golden sands separate the Gippsland Lakes from the sea and are loved by fishermen and swimmers alike.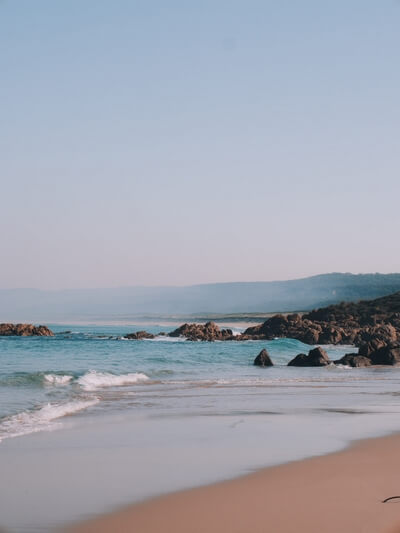 Most Loved New South Wales Beaches
Situated between Queensland and Victoria, New South Wales benefits from a diverse climate ranging from tropical to cooler near the southern part of the state. There is a huge selection of beautiful beaches here, too many to list in one article, but let's take a look at some of the most loved ones.
Hyams Beach Near Jervis Bay
Hyams beach is actually said to be a world record holder for having the whitest sand, so if you are looking for an idyllic tropical paradise then this is it! The beach lies 180km away from Sydney and is perfect for families seeking a leisurely day in the sun.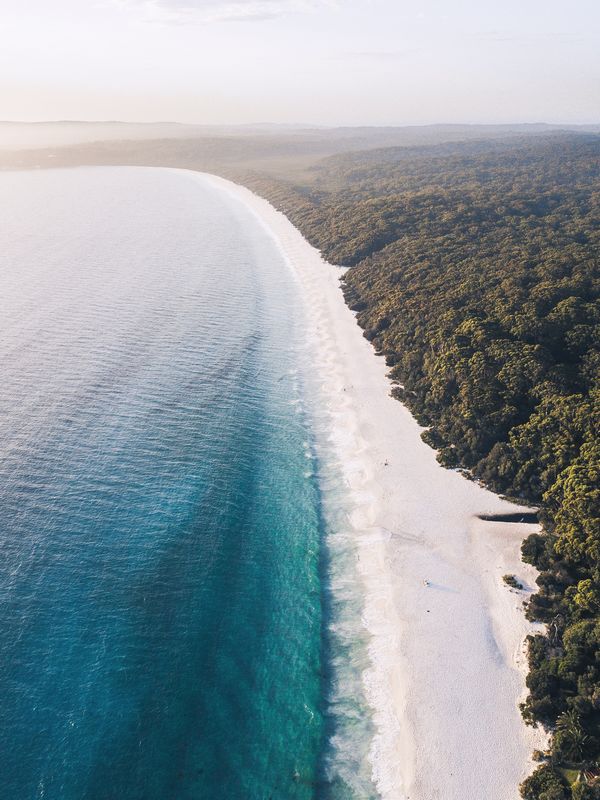 Palm Beach Sydney
Palm Beach in Sydney is probably one of the most well known across the globe, due to its connection to the successful Australian soap opera, Home and Away, and there is a tour for fans of the show. The beach is famed also for being a great place to go whale watching and so makes for a great place for wildlife lovers.
Green Patch Beach Jervis Bay
Green patch beach is simply breathtaking. You might be convinced if you didn't know any better than you were on a quiet South Pacific island when viewing the greenery that lines the pure white sands and clear blue seas.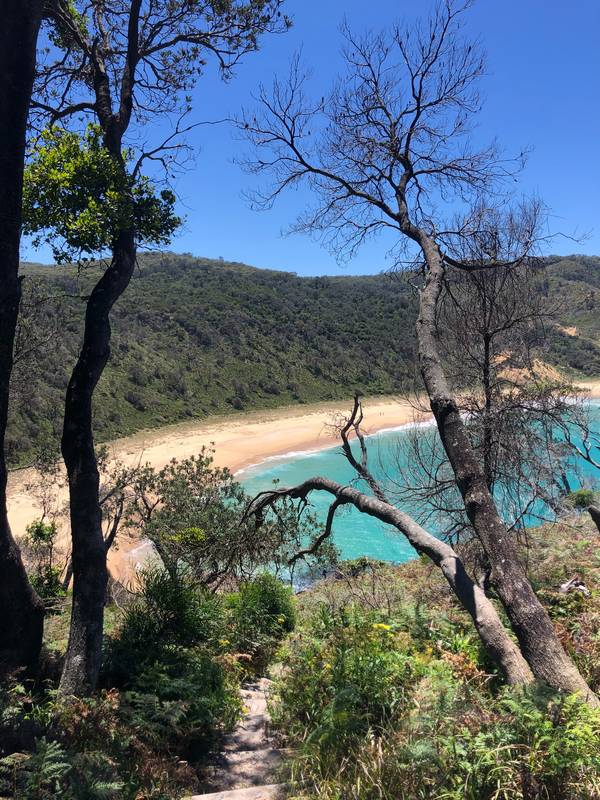 Main Beach Byron Bay
The main beach at Byron Bay is a well-known beach and is loved for its waters which are perfect for surfing, there is a surf school for those just starting out in this popular Aussie water sport. Not only this but the golden beach is home to the lighthouse which marks the most Eastern point in Australia.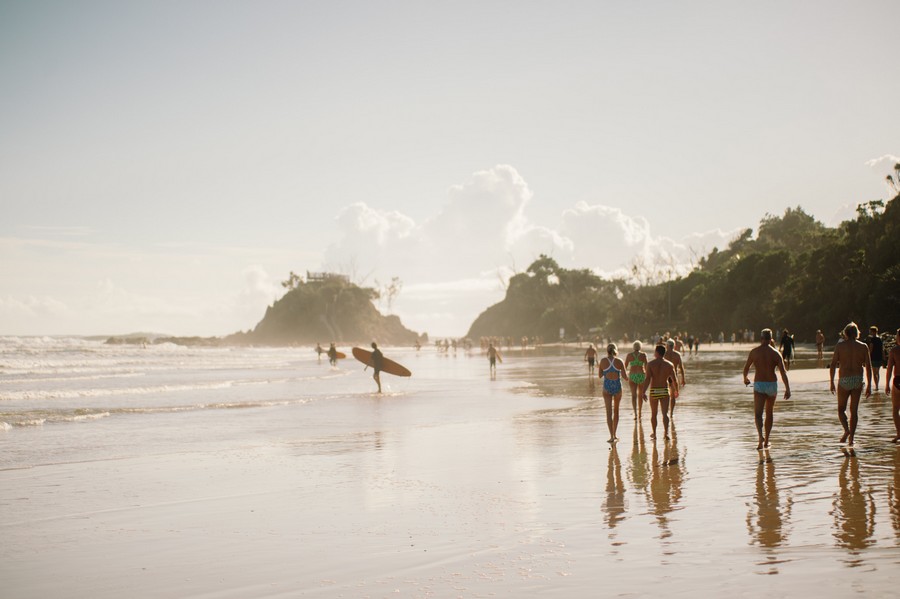 Bondi Beach Syndey
Bondi Beach is probably the first beach that springs to mind when thinking about Australian beaches, surfers flock here for the waves and sun-seekers for the weather. The beach is also known for its stunning views which have to be seen to be appreciated.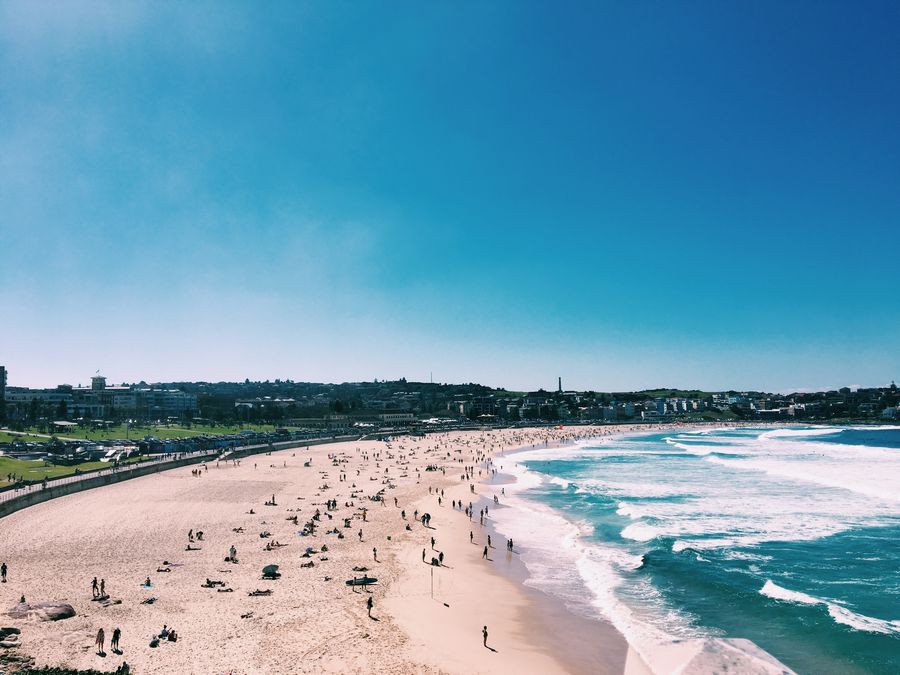 Northern Territory Beaches To Visit
When you think of the Northern Territory, you may find that images of red sand and Uluru spring to mind, but that is not just what this huge state has to offer. The beaches here are second to none, let's have a look at what NT gives us in terms of its coastline.
Cossies Beach Darwin
Cossies beach is one that is so beautiful that it won the title of the best beach in the country just a couple of years ago in 2017. You will find perfectly clear waters here which are ideal for swimming and fishing as well as snorkelling if you want to experience the marine life that can be seen here.
Lined by gorgeous greenery, this beach is certainly the definition of paradise.
Mindil Beach Darwin
Mindil beach is not a place that you would want to swim, due to the dangers in the water, however, the beach is famous and very well-loved because of the stalls and live entertainment themed around the aboriginal lifestyle that lies in Australia's roots.
Visitors also get to experience a truly incredible tropical sunset, for a beach rich in nature and culture, Mindil has it all.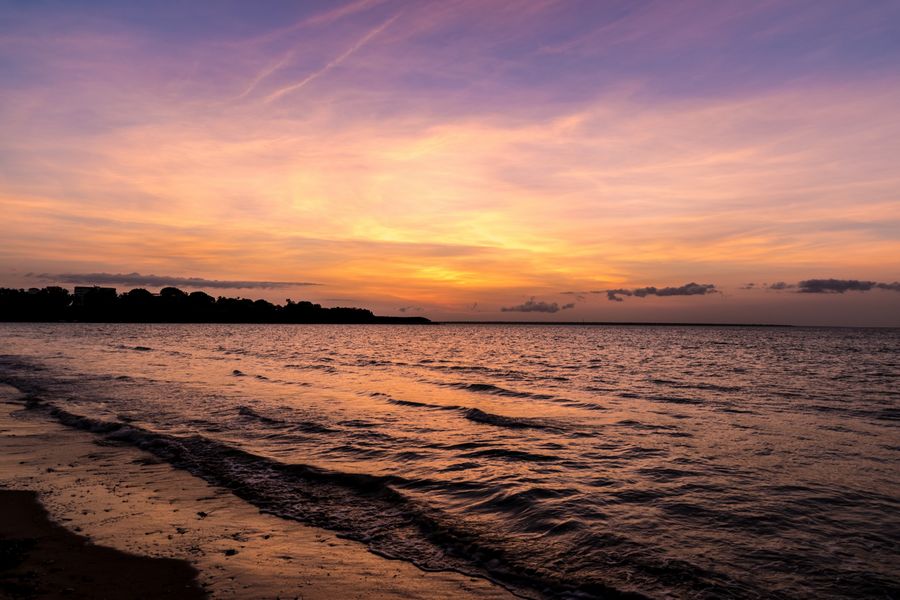 East Woody Beach Nhulunbuy
The East woody beach can be found in a quiet location and so is brilliant for those seeking peace and tranquillity. This is a very diverse beach featuring stretches of lush green forest juxtaposed alongside white sands and crystal waters. The perfect getaway.
Wagait Beach Near Darwin
Wagait Beach is one of the most famous in the Northern Territory and is located just outside of the state capital, Darwin. The beach is great for a variety of activities such as swimming, fishing and walking. Great for those looking for somewhere that has something for all the family.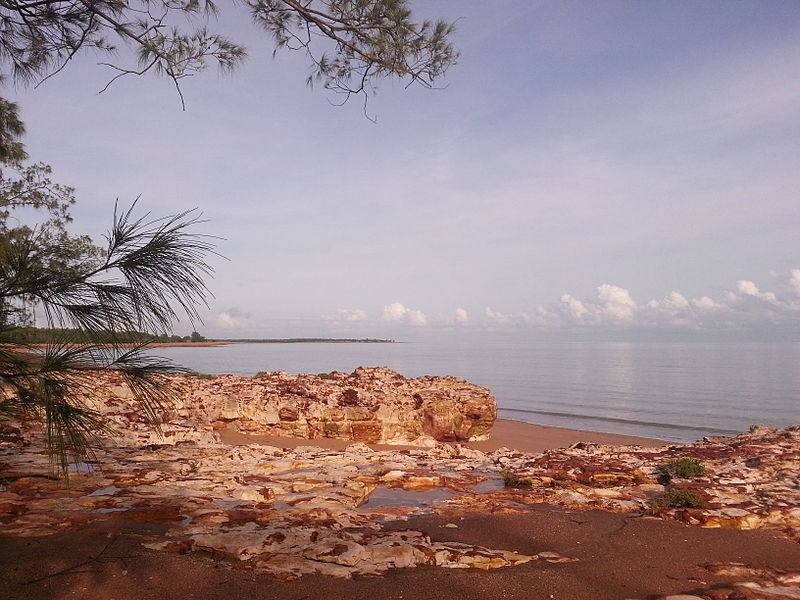 Beautiful Western Australia Beaches
The state of Western Australia covers a whopping third of the country and so it is to be expected that one will find an array of interesting and beautiful places here and that doesn't stop where beaches are concerned.
The Basin Rottnest Island
The basin on Rottnest Island, which is located a short distance off the coast of Perth, has got to be one of the most aesthetically pleasing beaches in the whole state, if not the country.
This rocky inlet features a completely natural pool set in amongst soft, white sand. For those who want something incredible to look at whilst enjoying their time at the beach, this is the one to visit.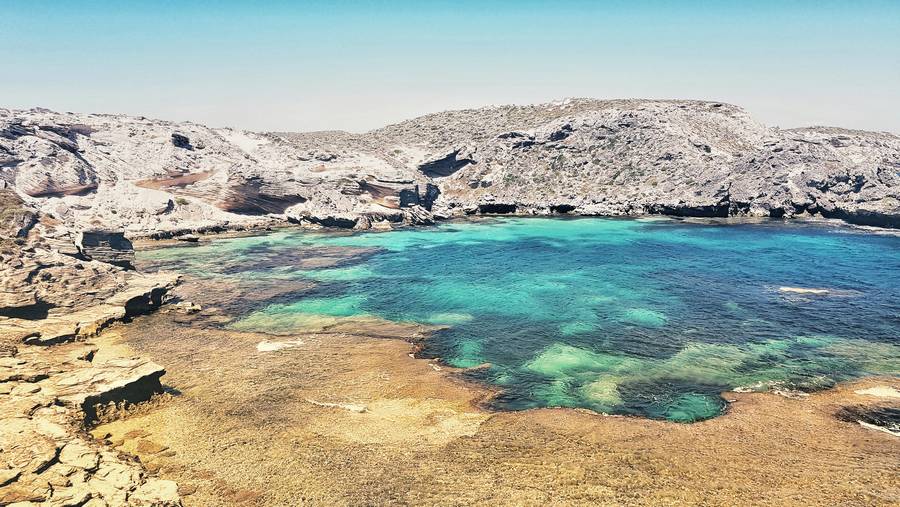 Turquoise Bay Cape Range National Park
Turquoise Bay is so named because of the breathtaking colour of the sea here, you could be forgiven for thinking you were on a tropical island when it is coupled with the white sands of the shore.
This beach is well known for its snorkelling which is an experience all of its own and is also loved for its peace, therefore, being the perfect place to relax.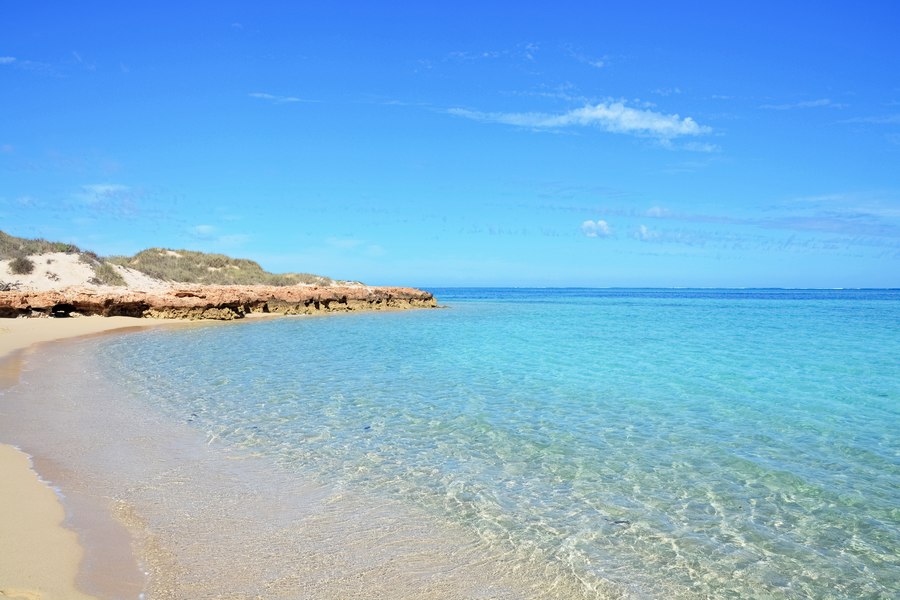 Elephant Rocks At Denmark
Elephant rocks in Denmark is another beach that has to be seen to be believed, with huge rocks dotted around the blue ocean, you can see where it gets its name. It is a remote beach and is around a 5-hour drive outside of Perth but is well worth a visit.
Cottesloe Beach Perth
Cottesloe Beach in Perth is one of the most renowned in the region due to not only its beautiful aesthetic appeal but also for the huge variety of activities in which you can take part here.
The beach is popular for snorkelling in the clear blue seas as well as being a great location to view a stunning sunset.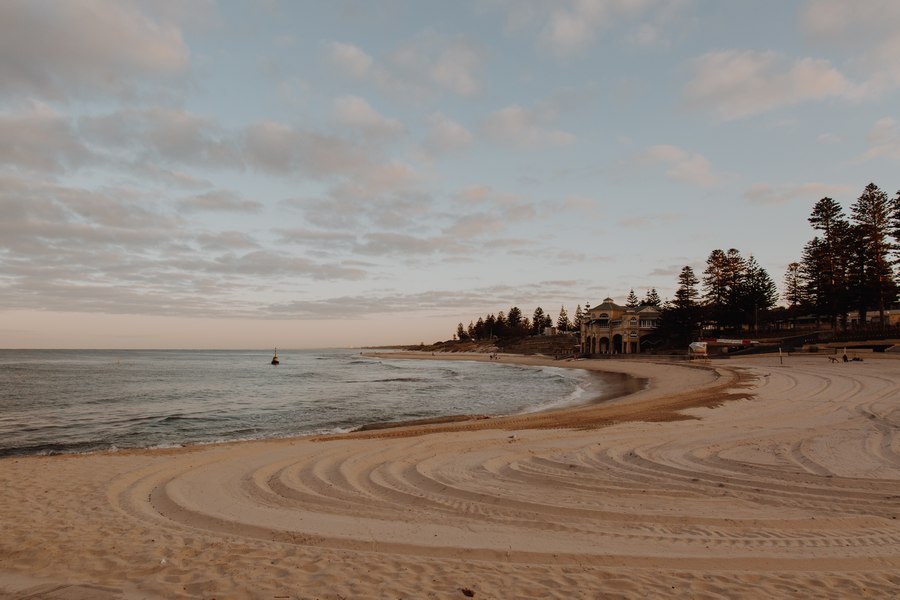 Hidden Gems South Australia Beaches
South Australia is predominantly a dry and arid region of the country but it also has some very good beaches, especially around the state capital of Adelaide. That being said, there are also some hidden gems, let's take a closer look.
Stokes Beach
Stokes beach is ideal for catching a surf break and the distinct rocky surroundings are very pleasing to the eye and numerous rock pools can be carefully explored here. In contrast, further along, the beach you will find beautiful sands and clear blue seas, perfect for an idyllic afternoon.

Maslin Beach Adelaide
Maslin Beach in Adelaide is primarily famed for being a nudist beach, but this isn't mandatory and other notable elements of this spectacular beach are the beautiful cliffs, in tones ranging from white to red, a real eye-catching natural design.
The beach is ideal for swimming with its calm waters and is popular with hikers.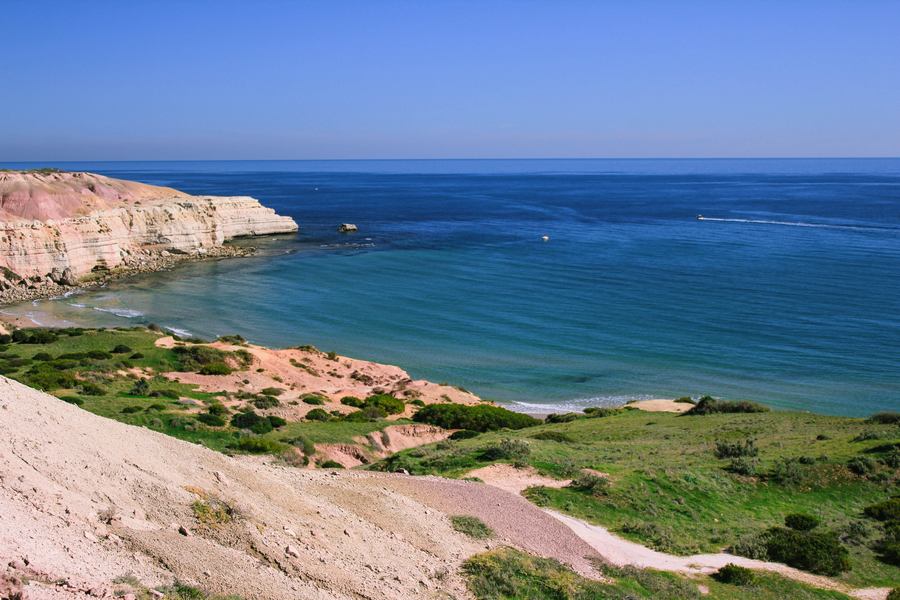 Western River Cove Kangaroo Island
The western river cove on Kangaroo island is an amazing beach with stunning blue waters and white sands surrounded by green hillsides. The beach is known to be relatively difficult to reach but it is worth the trip once there for the natural beauty.
The variety of marine life that lives among the reefs here is incredible and so taking part in some snorkelling is a must during your visit.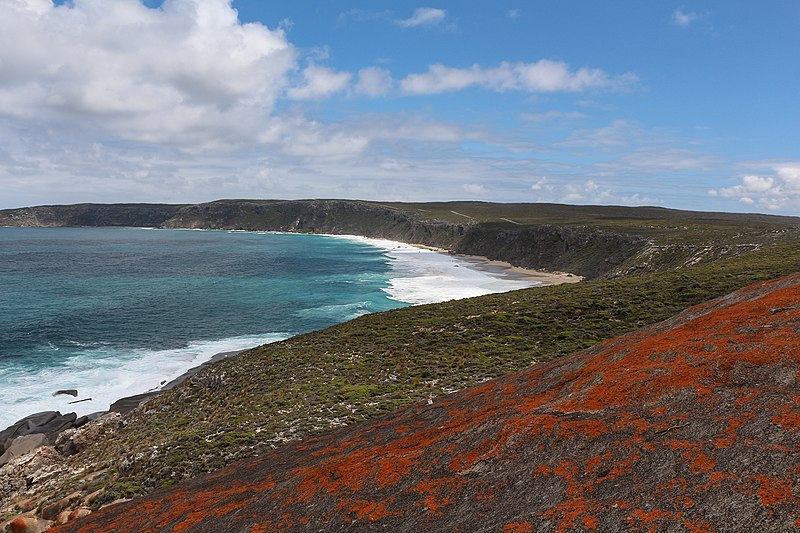 Glenelg Beach Adelaide
Glenelg beach in Adelaide is probably the most popular beach for tourists in the state and there is a good reason for this. There are multiple things to experience here such as a vast array of seafood restaurants where you can enjoy fresh food whilst enjoying a glorious sunset.
As well as many beach activities like swimming with the dolphins or enjoying a scuba dive.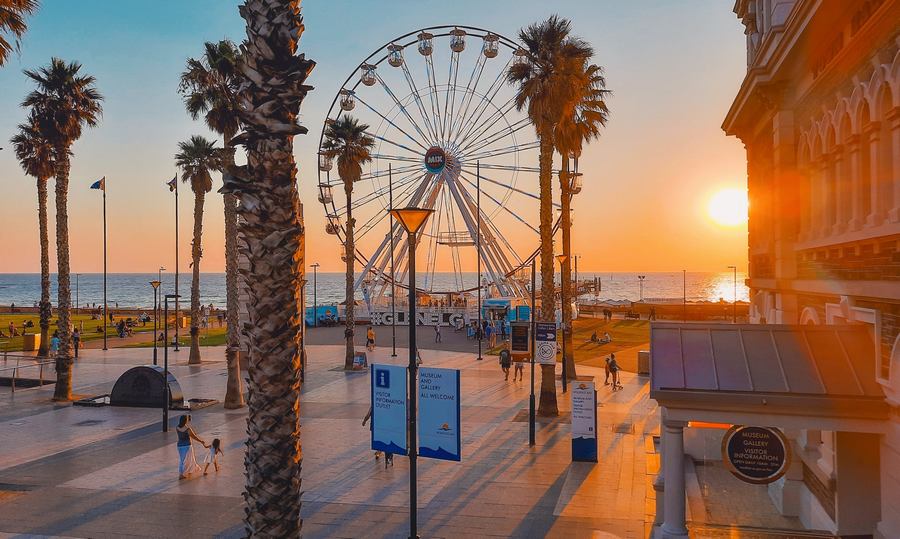 When Is The Best Time To Visit An Australian Beach?
It is always best to make the most of the good weather and visit a beach during the summer months, in the case of Australia, summer takes place between the months of December and February.
In areas such as Queensland, where there is a tropical climate, even the winter months can provide many days of weather pleasant enough for beachgoers.
Although it is worth noting that July is the coldest month with an average temperature of 15 degrees Celsius, which in some parts of the world would be seen as great!
If you are looking to visit a beach to experience nature such as the Cape Hillsborough in Queensland where you can see the kangaroos and wallabies, you should go at the correct time of day to get in on the action, in this case, before sunrise.
What Should I Take To An Australian Beach?
What you take on your trip to the beach when visiting Australia will largely depend on what you are planning to do whilst there. Of course, there are the beach necessities that are common no matter where you are in the world such as:
Towels and clean clothing.
Sun hat, sunglasses and sunscreen.
Water to drink to stay hydrated.
Cash, should you wish to buy lunch or a beach souvenir.
A jacket or cardigan should the weather get cooler.
A pair of sandals (known as thongs) for wading in the sea.
However, if you are looking to take part in particular activities, you may need to take some specialist equipment. This might include things like a snorkel or hiking boots.
If you are looking to experience something like scuba diving or swimming with the dolphins, you will most likely hire any gear that you need for the activity.
How To Stay Safe On An Australian Beach
As with anything, there are certain hazards on the beach in Australia and it is important that you take action to prepare yourself for any dangers. That is not to say that the beaches here are full of things waiting to jump out and cause you harm but it never hurts to cover yourself.
As we have mentioned, there are some tropical climates in Australia and that means hot weather, that being said, summertime in the less tropical regions can still pack a punch and so caring for your skin whilst on the beach is a must.
Make sure that you apply plenty of sunscreen at regular intervals especially if you are in and out of the water. Also, ensure that you cover up with a t-shirt and hat, this is even more important when the sun is at its highest.
If you do fall victim to sunburn, treat the area with a soothing lotion such as aloe vera and avoid any further sun exposure.
There is a diverse array of marine life in Australia and we should always be mindful that when we enter the sea, we are in effect, entering their home and so we should be respectful of these creatures.
However, sometimes coming into contact with them is unavoidable and we should remember that many of these animals can sting, bite or attack. Shark attacks are highly associated with Australia, as are animals such as jellyfish and the blue-ringed octopus.
That being said, fatalities relating to these animals are few and far between but listening to local advice surrounding when it is safe to enter the water is imperative. By abiding by these rules and warnings, you will eliminate an unexpected run-in with a marine creature.
When swimming, there is the chance of becoming caught up in a strong current known as a rip. You should follow the warnings given on the beach and only swim on a patrolled beach where, if you do get into trouble, there is help on hand.
Many of the beaches we have listed are not monitored by lifeguards and so you should only enter the water if it is fully safe to do so and you are confident in your swimming abilities.
There is a flag system in place all over Australia which signals how safe it is to swim at any given time. If you see a red and yellow flag, this water is perfect for swimming, but you must stay within the flagged area.
This is so that the lifeguards on duty can see you if you get into trouble and because this area of water has been deemed to be safe. A red flag tells you that you should not swim because it is dangerous and a yellow flag advises caution of possible hazards.
World Famous Beaches
Australia is rightly famed all over the world for its fantastic beaches, of which there are ten thousand. Narrowing down the choices is tough but the beaches that we have talked about in this article are truly some of the most incredible in the country.
If you are after somewhere for sports, sun, nature or wildlife, the beaches of Australia have something to offer.
How Many Beaches in Australia have Clear Water
Australia has the longest stretch of coastline, measuring more than 50,000 kilometres long. What's more, is that the country has more than 10,000 beaches to choose from.
Whether you love surfing, swimming, or sunbathing on the pristine sandy beaches, Australia has something for everyone. However, not all waters on the coastal stretch are clear and safe for use.
Here is a detailed guide on some of the beaches in Australia that have clear waters.
Wategos Beach
Located on the North West side of Byron Bay, Wategos beach offers the best environment for vacationers who love playing in the water. Whether you want to swim or go snorkelling, the beach waters are turquoise clear almost like begging you to dip your feet inside.
To confirm the beauty of the beach, you can swim with the bottlenose dolphins as they waggle their tail fins in the waves of the waters.
If you want to have a better view of the crystal clear waters, you can always climb on the Cape Byron walking track. The track is made of meandering paths leading through a rainforest.
From above, you can watch the sandy beach and even take magnificent photos. You can also view the sunset from above, reflecting on the blue waters.
Whitehaven Beach
The beach has won awards among the top-rated beaches in the world. Once you set foot on the beach, then you'll understand why it's the most preferred by visitors and locals alike. The beach has the purest silica sands that look white.
The waters are also very clear making all the shiny particles of the sand visible.
The Tongue Point is the best viewpoint of the waters, especially from the Hill Inlet where the waves swirl the seas and the sands create a magnificent view as different colours reflect from the reaction.
The beach is among the cleanest in Australia even in terms of the quality of water because it's conserved by Whitsunday Islands National Park.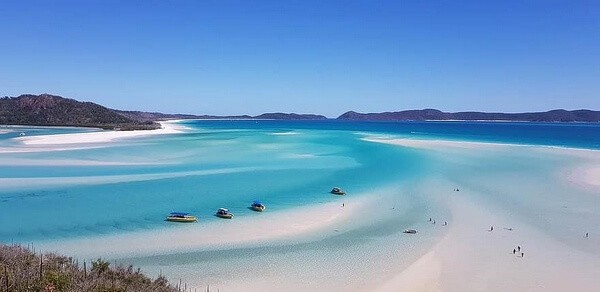 Bondi Beach
Located about 30 minutes drive from Sydney, lies the golden sandy beach of Bondi. You can either take a bus, taxi, or train to the beach; thus, making Bondi beach convenient to access using any means of transport.
The beach has clean water and pristine sand that makes you want to lie on it. Other than the clear waters, you can also walk around the cliffs as you enjoy beautiful views and take photos you can flaunt on your social media platforms.
If you're a foodie, then Bondi beach makes the perfect destination for you because it's lined with many cafes and restaurants, all serving different cuisines.
After catching some bites, you can also surf in the warm blue waters surrounding the beach. The waters even host some beautiful whales that you can watch as they wag their tales at any time of the day.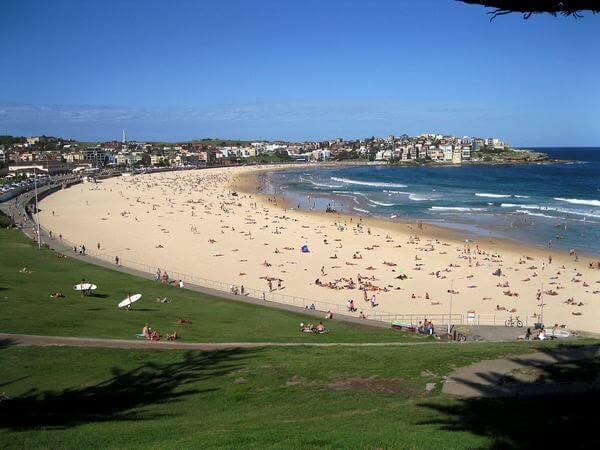 Wineglass Bay
Wineglass Bay is located in the East Coast part of Tasmania right inside Freycinet National Park. The beach lies at the bottom of two red granite ranges, often referred to as the Hazards.
The beach from the national park is accessible on foot or by boat. If you love adventure, you can always walk as you discover what lurks in the bushes of Freycinet National Park.
The Wineglass Bay beach is easily noticeable because of the crystal clear waters visible from any viewpoint within the park. The waters are surrounded by white sands that are a favourite for picnic lovers.
You can choose to swim, surf, or go kayaking around the bay as you enjoy the magnificent views of the surrounding rainforests.
The reason why Wineglass Bay has remained a favourite spot for honeymooners and other vacationers is that the water is unpolluted. The surrounding of the beach gives a laidback feeling of being tucked away in the forest probably the best environment for meditation.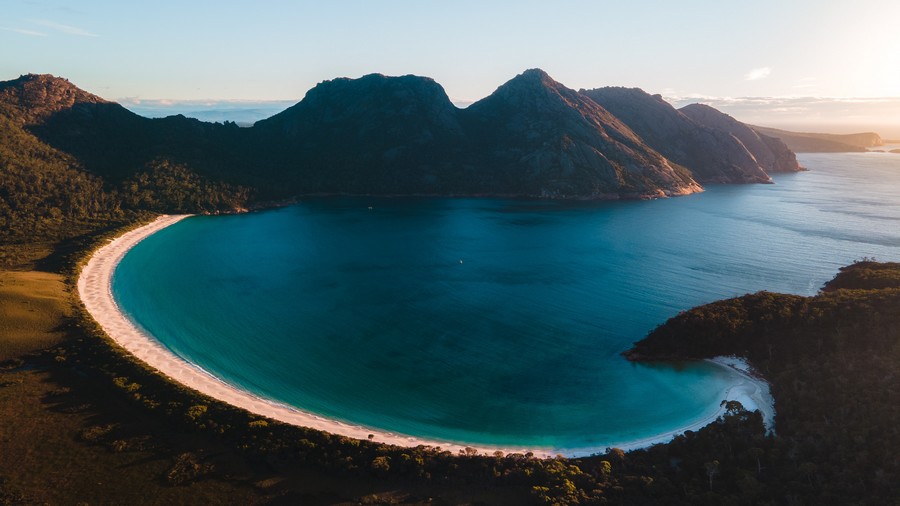 Cossies Beach
The beach is located on Cocos Island which lies about 1500 kilometres from the Australian mainland. The beach was ranked number one best beach in the world in the year 2017.
Well, the honour didn't just come in vain. The beach has the most laidback atmosphere since it's located in remote areas of Australia.
The beach is lined by beautiful coconut palms that form canopies that leave all visitors in admiration. Besides, the Indian Ocean waters surrounding the beach illuminate the skies in a blue and green combination of colours.
The area surrounding the waters is composed of white sands perfect for sunbathing as you watch the sunset.
The clear waters also host some beautiful dolphins, green turtles, and birds that hover around the waters as they try to catch fish from the over 500 species that inhabit the waters of Cossies beach.
Doesn't this sound like the perfect destination for people who love swimming and watching nature take its course?
Burleigh Beach
Burleigh Beach is a safe haven located on the Gold Coast. The beach has some of the cleanest sands in Australia. The waters surrounding the beach are crystal clear and safe for swimming.
Besides, the beach is incredible because it's patrolled by lifeguards making it safe even for kids to play in the waters. The beach attracts many surfers, both beginners and experts and many spectators who watch such events.
Other than swimming and surfing, people love taking walks along the 57 kilometre stretch of the golden sands lining Burleigh Beach.
It's also common to find people kayaking in the glittering waters of the Pacific Ocean. The beach also has many free exercise stations, free barbeque points, and many surfing schools for aspiring surfers.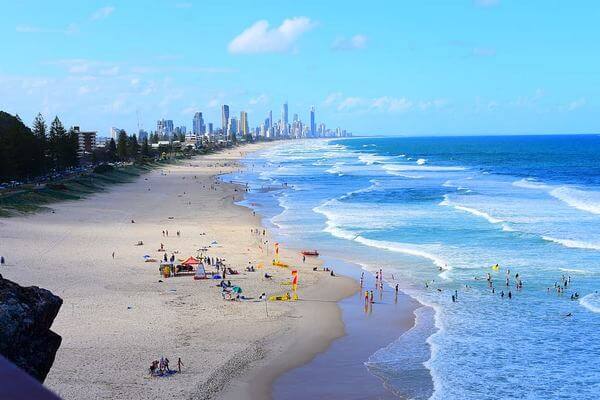 With Over 10,000 Beaches
Australia has over 10,000 beaches that offer different experiences for different visitors. However, the quality of water and the surrounding of any beach determine whether you'll enjoy your stay there.
Luckily for you, most of the beaches in the country have crystal clear waters surrounded by pristine sands. Some of the beaches with clear waters include Burleigh beach, Cossies beach, Bondi Beach, Wategos Beach, Wineglass Bay, and White Haven beach.
More Pages On Beaches
link to Can You Swim At Mission Beach?
It may surprise some people to learn that Australia has over 10,000 beaches along its coastline country-wide. There are practically countless sandy shorelines spanning the coastline that all over...
link to What Is It Like To Live Near The Beach?
Visiting the beach is a beautiful opportunity to see mother nature at its best. There's nothing quite like hearing the waves rolling in on a soft, sandy shoreline. While visiting the beach is a...