Swimming is one of the world's greatest beach activities. There's nothing more exciting than taking a dip in the ocean water on a hot day. Australia is one of the world's most sought-after spots for swimming due to the stunning beauty of the country.
With over 10,000 beaches, there are plenty of opportunities to find a place to swim. Because all of the beaches and or shorelines aren't always appropriate for swimming, it is important to know when ones are advisable for swimming.
Queensland is known for having some of the best beaches in the country. While most of Queensland's beaches are swimmable beaches, it is still nice to know which ones are specifically safe for swimming. Not all of Queensland's beaches are patrolled which can be a major concern surrounding swimming at the beach.
When it comes to the Tropical North of Queensland, one of the most idyllic places to visit is Palm Cove. This area is known for its natural beauty and outdoor markets but it is also known for its stunning beach. But is the beach in Palm Cove considered to be safe for guests to swim in?
Swimming at Palm Cove is absolutely possible! It's recommended that you swim at Palm Cove Beach when waves are low. When waves are high, the currents can become quite dangerous, practising basic beach safety is recommended with these conditions. Never enter waters that appear too choppy or strong.
Even though choppy water conditions can occur at Palm Cove Beach, the beach is relatively safe to swim at. In fact, it is one of the stretches of beach in Australia that is regularly patrolled by lifeguards.
Due to the length of the beach, the beach is broken into various sections that are patrolled throughout the day. There are three sections of beach that are patrolled and considered the safest sections for visitors to swim in.
Before heading out to Palm Cove Beach, it is a good idea to know the tide times for the area. Below are the tide times for Palm Cove!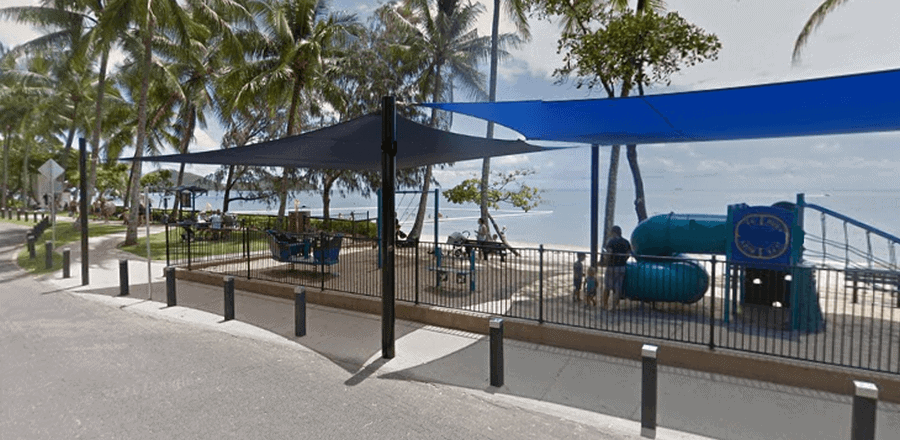 Tide Times For Palm Cove
High tides generally occur between 5 a.m. and 9 a.m. and 6 p.m. to 9 p.m.
Low tides generally occur between 11 a.m. to 3 p.m. and 12 a.m. to 3 a.m.
These are the basic tide times and they can vary a bit which is why checking current tide conditions is always important.
The beach at Palm Cove is tucked away in the Tropical North region of Queensland just about 20 minutes from the heart of Cairns. This relaxing seaside locality is known to be stunningly beautiful with a beach that is part of a 5.5 kilometre stretch of sandy beach.
The beach is on the northern end of this stretch of beach that runs south from Buchan Point. More specifically, the Palm Cove Beach portion of this stretch is through Clifton Beach to Kewarra Beach.
The beach has coarser sand than other spots in Queensland, but even still the beach is still highly loved by visitors. There's plenty of space for everyone to sprawl out and enjoy the waters at Palm Cove. Moreover, the road is parallel to the beach and offers beachgoers ample space to park.
While swimming is the biggest thing to do at Palm Cove and its beach, there are other things to do while visiting the area. Below are some other things to do while at Palm Cove Beach.
Other Beach Activities To Do At Palm Cove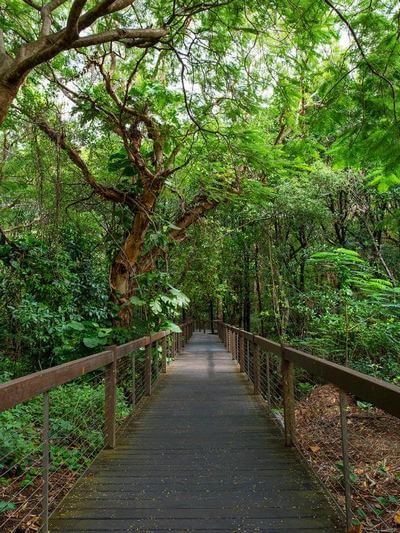 Fishing At Palm Cove
Fishing is a beloved activity all throughout Australia. Palm Cove is a lovely area to fish. Fishing is best done at the jetty or off of the northern rocks of the beach.
Boating Around Palm Cove
Palm Cove has a boat ramp just south of the main point of the beach area. Boating and boat fishing is ideal during high tide.
Surfing The Waves At Palm Cove
Surfing isn't a hugely popular activity at Palm Cove, but some waves can be caught at mid to low tide when the wind is going in a south-eastern direction.
Palm Cove Beach is ideal for swimming but there are other things to do too! Overall, Palm Cove is a wonderful location for seeing natural beauty at its best as well as enjoying basic beach activities.
Walking The Esplanade In Palm Cove
Take a stroll along the esplanade that lines the beach and check out the many little boutique stores and restaurants. Or take a small picnic along or sit and enjoy a drink while you soak up the sun and enjoy the sea breezes. If you're in town on the first Sunday of the month check out the markets.

Can You Swim In Palm Cove In July?
Ideally, swimming is best done during the warmest months which are usually in December through February. However, this doesn't mean swimming is possible during cooler months of the year. July is cooler in the Tropical North region of Queensland.
The average water temperature in Palm Cove during July is around 22 degrees Celcius. This is considerably cooler than the warmer months when the average water temperature ranges somewhere around 28 degrees Celcius.
Those 6 degrees really make a difference. If colder water doesn't bother you, you can swim in Palm Cove in July.
Another factor to consider when thinking about swimming in July at Palm Cove, the water can be a bit rougher. This does present more dangerous water conditions. As expressed before, always be aware of strong current conditions and never attempt to swim in those water conditions. It simply isn't a smart idea.
This would be the biggest concern around swimming at Palm Cove in July, however, this doesn't represent all of July, so once again swimming in July is possible.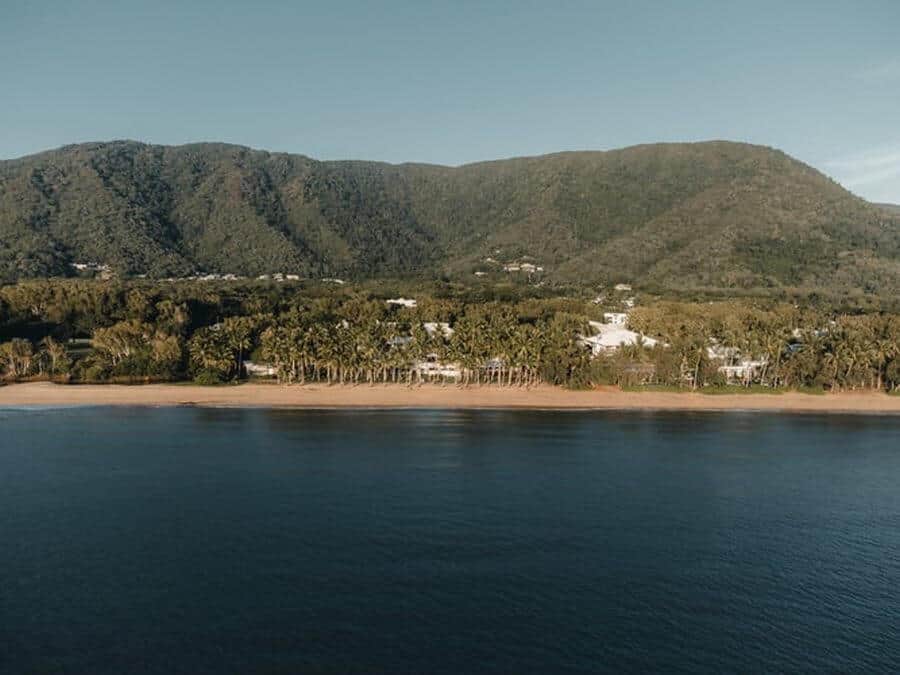 Is Palm Cove Beach Netted?
Palm Cove Beach is netted with stinger netting. These nets are designed to help reduce the risk of stinger attacks. Stingers are found off of the coastlines of Australia, especially in the Tropical North since the water temperatures are generally higher.
This is why patrolled beaches in the Tropical North are typically fitted with stinger nets. The nets keep fewer stingers out of flagged sections of water designated for swimming.
It is important to note that stinger nets are not a foolproof way to prevent stinger attacks. The netting is there to reduce the number of stingers that enter swimmable sections of water. Beachgoers should still stay alert of their surroundings and practise beach safety protocol to protect against stingers.
This particularly includes being watchful for stingers as well as wearing stinger protective outdoor wear. This shields a lot of people's exposed skin against stingers.
Even though the beach is netted for stingers, there are other potential dangers that can be found at Palm Cove Beach. Below are the other things to keep an eye out for while at Palm Cove Beach!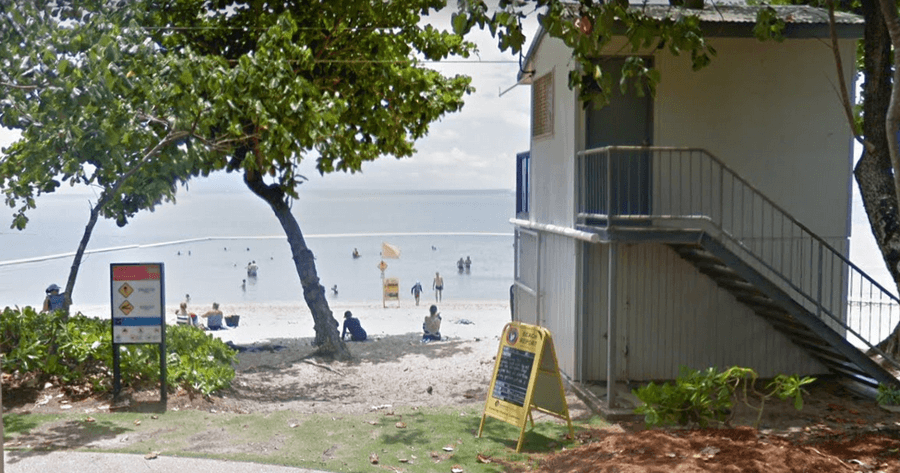 Other Dangers At Palm Cove Beach
Crocs
Bluebottles (similar to stingers but they aren't technically classified as stingers)
High tides
These other three dangers are important to watch for as well. Crocs aren't always there but they can appear in the waters or along with the beach areas. If one is spotted, it is important to report it immediately.
Bluebottles can still sting you like a stinger (although they aren't biologically classified as one) and their stings are more painful than dangerous. As previously expressed, high tides can occur at certain parts of the beach. It is very critical to stay within the flagged areas and not enter the water if the waters appear too high.
Being alert is only part of being beach safe. While visiting the beach, there are other tips to consider to ensure the safety of everyone. Below are some basic beach safety tips to keep in mind when visiting Palm Cove Beach (or any other beach!)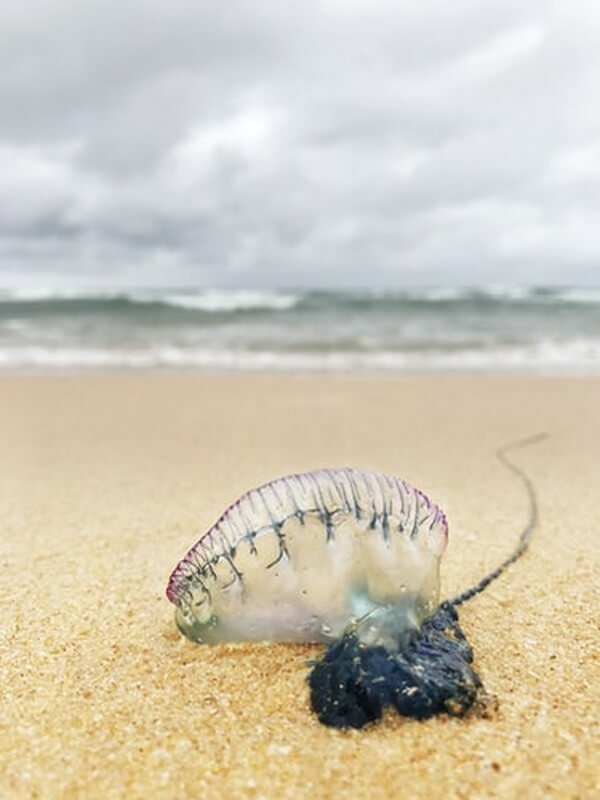 Basic Beach Safety Tips
Never Swim Alone At The Beach
Swimming alone is one of the most dangerous things you can do at the beach. It poses a risk of being swept under a current or being attacked by wildlife. In the case of an emergency, being alone prevents proper medical attention from being obtained. Always bring a beach buddy.
Never Swim At Night
Swimming at night increases the risk of running into the wildlife that enters the waters at night. Moreover, the visibility at night is highly decreased making it difficult to see what could be in the waters. Steer clear of the waters at night to prevent any unforeseen accidents.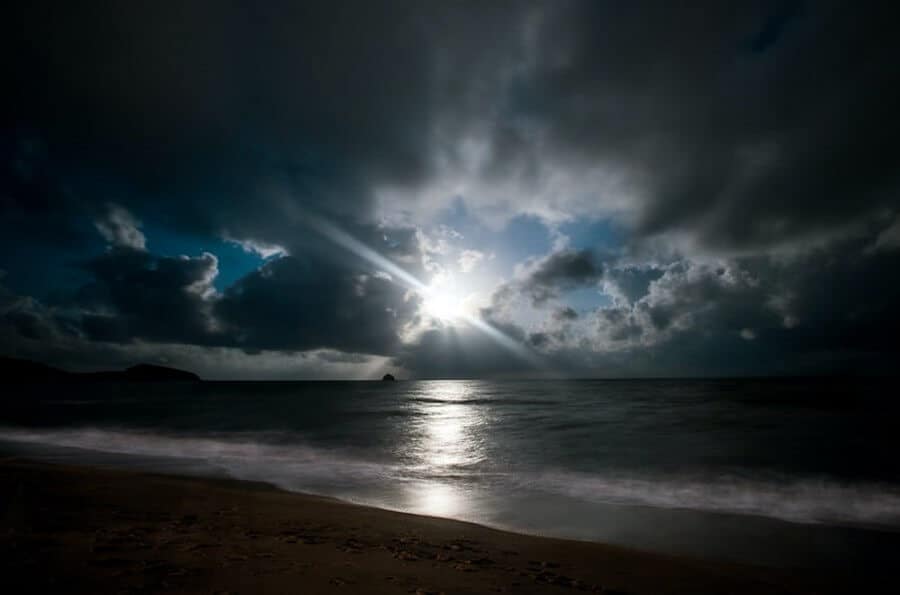 Always Have Access To A Mobile Phone
You or your beach buddy should have access to a mobile phone. This allows for emergency services to be contacted promptly.
Don't Swim At Unpatrolled Beach Areas
Not every beach in Australia can be patrolled nor can every section of a beach be patrolled. Basic beach safety means not swimming in unpatrolled areas. This greatly reduces the help that is available in an emergency.
These beach safety tips can be applied anywhere. When visiting Palm Cove and its main beach area, it is important to stay as safe as possible.
Palm Cove is a remarkably beautiful part of the Tropical North in Queensland. There is plenty of sun, sandy beach, and ocean water to enjoy. Moreover, visitors can easily swim here provided they stick with the best areas to enter the water!
Recent Posts