Queensland, Australia has many popular beaches that are both idyllic and fun to swim at. Not all beaches in Australia are safe to swim at but Queensland is home to many that are suitable for swimming. Before heading to a beach, it is good to know if it is safe for swimming or not.
One particular beach that is popular in the state is Airlie Beach. But can you swim at the beaches there?
Airlie Beach is a part of The Whitsundays region. Swimming here is possible, at the two beaches named Airlie Beach and Boathaven Beach. When the tide is low, the beaches in Airline Beach become a bit rocky within the tidal flat areas. High tide is when the water levels are appropriate for swimming.
For those who enjoy sunbaking, low tide is the best time to visit the beaches in the area.
There are two beaches in Airlie Beach, one that is western and one that is eastern. The western beach is about 150m in length while the eastern beach is around 250m in length. This is a decent size considering that Airlie Beach isn't a terribly large town.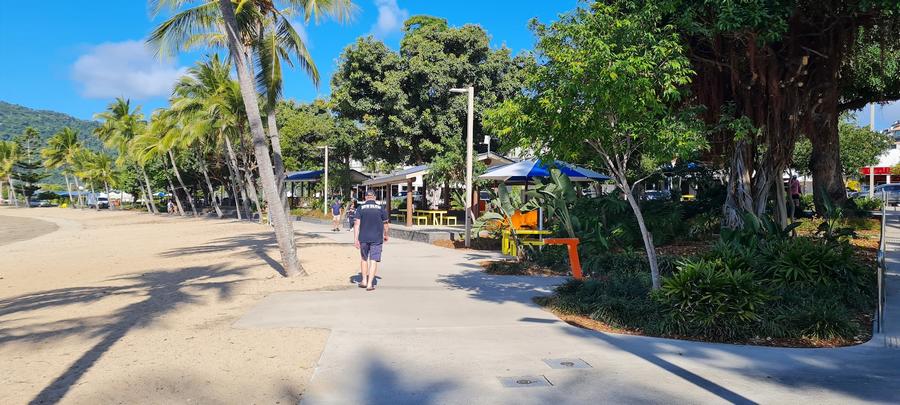 Both beaches are divided by Airlie Creek which provides another beautiful aspect of the scenery. These beaches both have designated areas for swimming and visitors should strive to stick within those boundaries for the safest swimming experience.
Aside from the two main beaches in Airlie Beach, there are a couple of other places to consider swimming in the area. Below are the two other options to visit for swimming while in Airlie Beach.
Other Swimming Spots Around Airlie Beach
Boathaven Beach
Boathaven Beach is a newer beach area that was constructed to provide a safer swimming environment. It is located on the peninsula of The Beacons, just east of the main centre of Airlie Beach.
This beach has bright white sand that is soft to the touch and stretches around 60,000 cubic metres in size. It is adjacent to the local marina as well making it a hot spot for those wanting to go boating as well.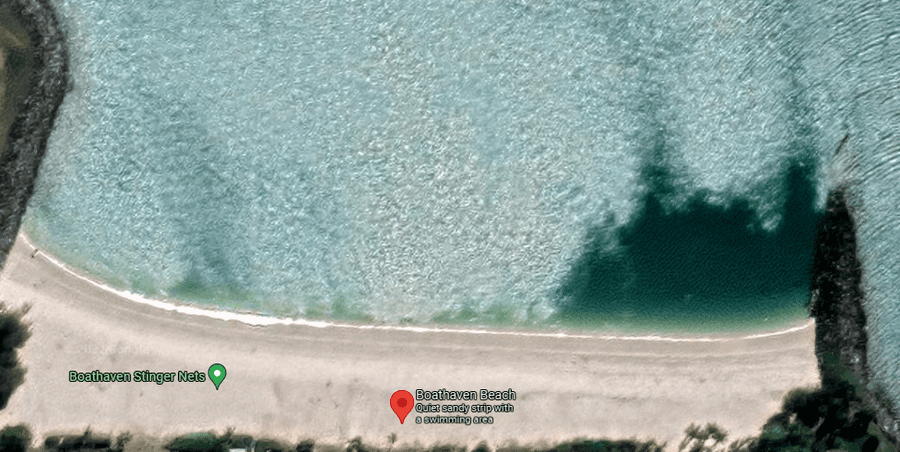 Cannonvale Beach
Just 5 minutes west of the main area of Airlie Beach is Cannonvale Beach. This beach has a 50m high tide beach as well as 200m in low tide sand flats. The most ideal place to swim at this beach is the large wooden tidal pool that is centred on the beach.
At high tide, this pool is a stunning place to swim. However, at low tide, it is essentially a dry sand pool. This unique setup is interesting to check out.
None of the beaches in the Airlie Beach region are patrolled. So always remember basic beach safety which includes never swimming alone and always being alert for things like stingers or crocs.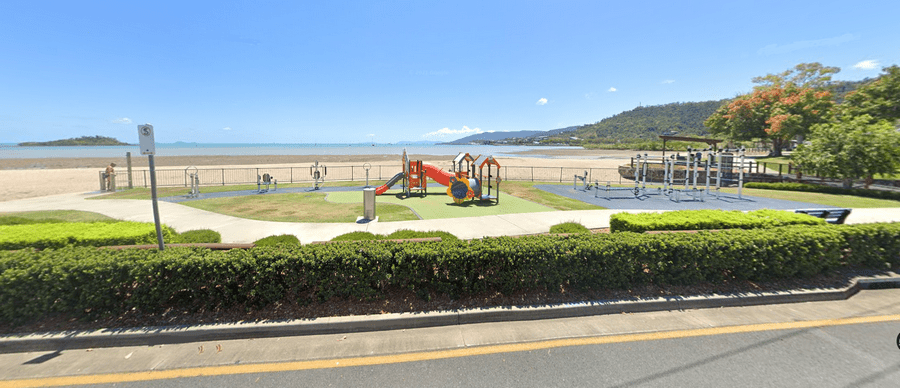 Can You Swim At Airlie Lagoon?
Airlie Beach is also known for its lagoon area. Aside from the 4 nearby beaches where visitors can swim, the Airlie Lagoon offers a remarkable swimming experience. The lagoon is located right off of Shute Harbour Rd making it easily accessible. It is a man-made lagoon landscaped into an oasis for all to enjoy.
There are crisp blue waters in this saltwater lagoon and what is even more exciting is that it has free admission! More importantly, the lagoon has been a major part of the community since 2001, just over two decades old.
The lagoon is patrolled by lifeguards and you won't find any stingers or crocs in these waters as it is a bordered, protected swimming spot. This makes the lagoon one of the safest spots to swim in the Airlie Beach region. With around 4,000 square metres of area, there is a lot of space for people to come see this beautiful wonder.
The lagoon is also perfect for lounging in the sun along the shorelines that line the waters. People can head to the lagoon strictly for sunbathing or take a break from swimming to enjoy the sunshine. Either way, the lagoon is a prime opportunity for guests to lounge and splash about the heart of the Airlie Beach region.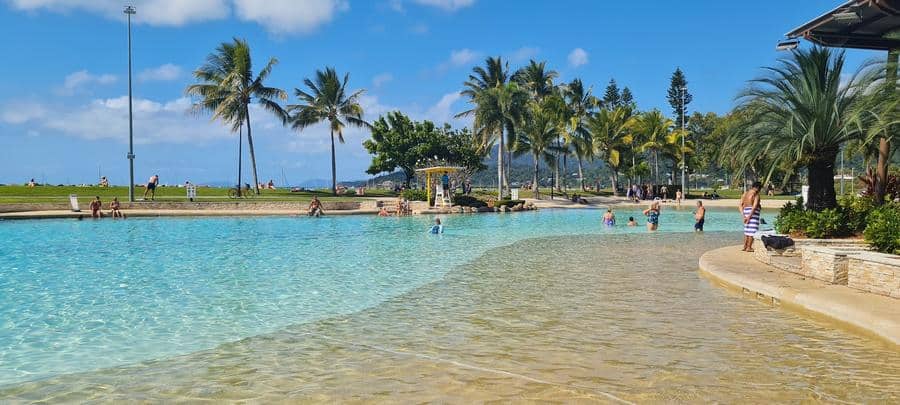 Is It Safe To Swim In The Whitsundays?
The Whitsundays is a cluster of islands just offshore from the mainland. There are swimming spots tucked among some of the more popular islands, however, is it safe to swim here? The most popular beach in the Whitsundays is Whitehaven Beach.
This stunning beach has silica white sand that is a dream to walk on and brightly coloured waters that almost look like a mirage. Whitehaven Beach is one of the safer beaches to swim at but you should always be alert anyways.
The beach is known for providing great opportunities for swimming as well as snorkelling. It is important to remember to always be alert and never, ever swim alone. Always be on the lookout for things like stingers which can be deadly.
Overall though, Whitehaven Beach in the Whitsundays is an idyllic place to swim. Even still, you should keep in mind some basic beach safety tips. Below are some basic beach safety tips to keep in mind when swimming here (or anywhere else for that matter!).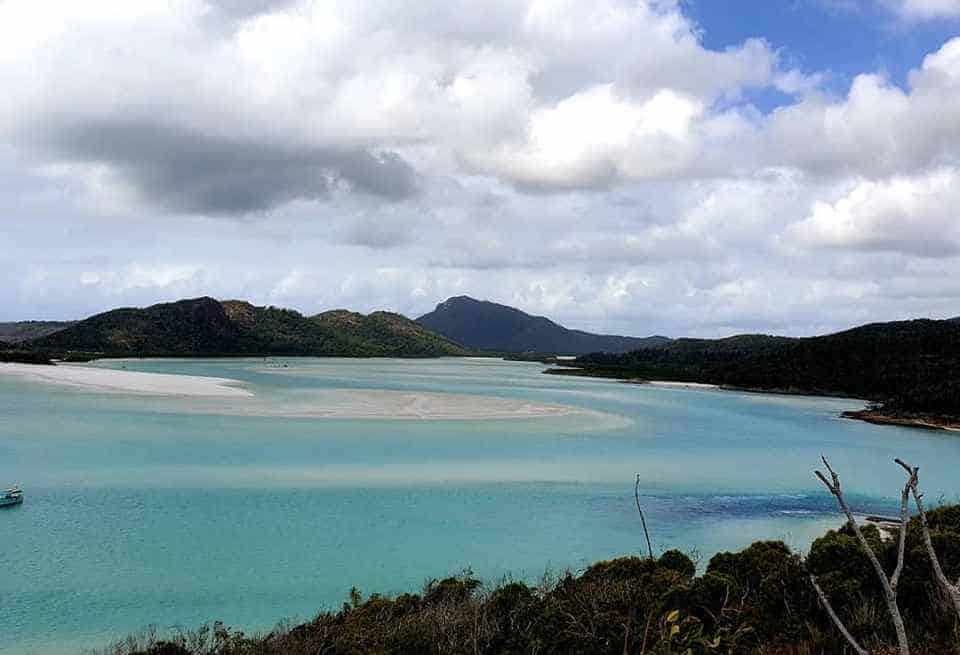 Beach Safety Tips
Always bring a beach buddy. Swimming alone leaves you compromised to not getting emergency help if it is needed. Additionally, it provides an extra person to be on the lookout for any wildlife or dangerous water conditions.
Bring a first-aid kit. While you should still contact emergency services if something happens, having a first-aid kit can aid in helping someone until help arrives.
Never swim at night. The waters become a dark, vast place at night and visibility is truly limited.
Have a mobile phone handy. This allows you to ring for help if help is needed. The quicker you can call, the better.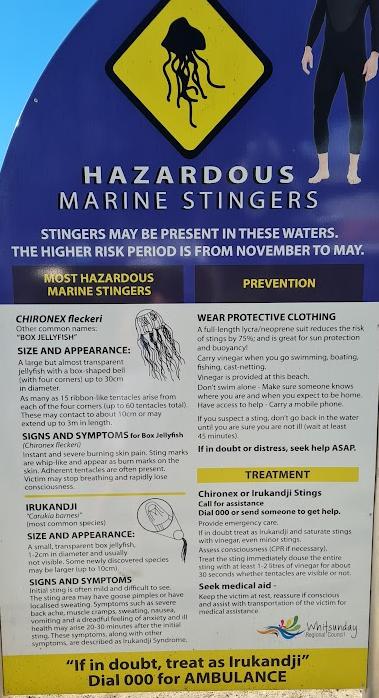 These tips are pretty common sense but it is never a bad idea to keep a mental note of them. It ensures that everyone stays as safe as possible.
There are some other areas of Whitsundays that have no swim zones. In these zones, visiting the beach for a walk or photo ops is the best way to enjoy the area. Some of the beaches aren't suitable for swimming due to currents.
For those planning to visit the Whitsundays, visiting the popular Whitehaven Beach is the best way to enjoy swimming.
Recent Posts