Being outdoors is one of the greatest feelings in the world. What the natural world offers us in terms of beauty is simply remarkable. One of the greatest pleasures of exploring nature is getting the opportunity to swim. Australia is one of the most stunning countries with thousands of beaches where people get the itch to take a dip.
While Australian beaches are quite remarkable, not all of them are suitable for swimming. This is why it is critical to know where to swim around this great country!
Aside from fishing, swimming is Australia's most popular beach activity. When it comes to Kangaroo Island, you can swim here! The island is just south of the Australian state of South Australia. It stretches over 140km in length giving guests ample opportunity to explore the island's natural state.
Due to the sheer size of this island, it should come as no surprise that there are around 50 beach shorelines to see.
As with swimming anywhere, it is important to stay safe and alert. Swimming is possible, especially in some of the island's most well-known bay areas. But guests should always keep an eye out for marine life or other wildlife.
Kangaroo Island's namesake isn't for nothing, there are kangaroos on the island as well as penguins and many other species of animals. Enjoying a good swim is fun and when doing so the local wildlife should be respected!
The beaches and island beauty alone are enough to attract visitors but so does the wildlife. One of the biggest perks of swimming around Kangaroo Island is that there is a marine tour that specializes in a swimming with dolphins experience at Kangaroo Island.
This unique program is the perfect way to enjoy swimming at Kangaroo Island and to really soak in the sight of wildlife. This tour highlights the bottlenose dolphins that enter the shallower waters of the northern coast of the island.
What makes this experience so fascinating is that it takes place right in the bay and the dolphin's natural environment.
There are no holding tanks or restrictions for the dolphins as they are enjoying the island's waters just as the guests do. While the price point is a little high for this experience, it is totally worth it while visiting the island!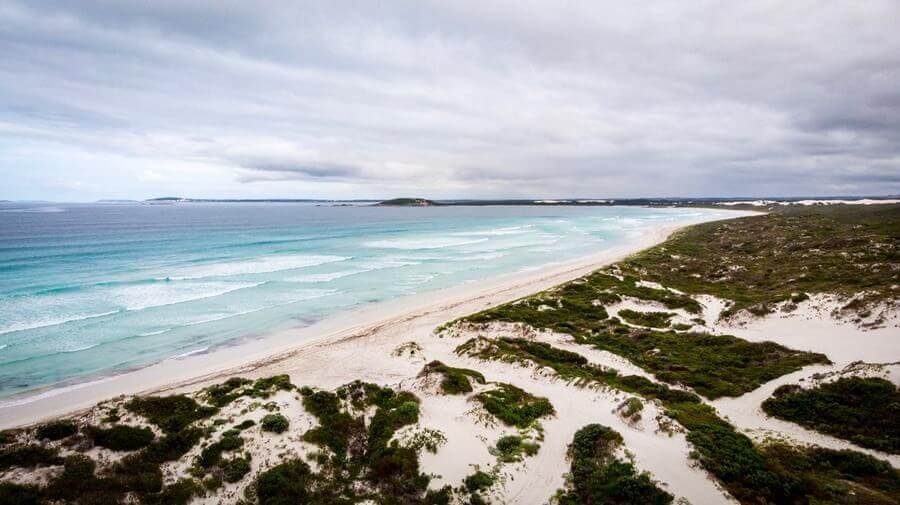 Does Kangaroo Island Have Beaches?
Kangaroo Island is brimming with sandy beaches. Many of these beach areas are referred to as "bays". These bays border some of the prettiest sparkling blue waters in Australia. Some of these bays are also part of distinctly named beaches on the island as well.
Swimming in some of the bays and beach areas really is a once-in-a-lifetime experience. Between the ocean views and the various wildlife, the whole experience is more than remarkable. Below are the popular bays and beaches on Kangaroo Island!
Popular Bays And Beaches On Kangaroo Island
Vivonne Bay
Vivonne Bay is one of the most well-known bays on Kangaroo Island, next to Emu Bay. Vivonne is a superb place to swim, surf, fish, and boat. With bright white sand, this bay is similar to other beaches on the island.
It was once known as one of the most beautiful beaches in the country. This particular bay is just west of Seal Bay and the Conversation Park which is around 887 hectares in size.
If the water, sand, and conversation park access weren't enough, Vivonne Bay is also known for having picnic and bbq areas available for visitors. This is a great opportunity to enjoy a freshly cooked lunch while overlooking the stunning ocean waters. Between sand, sun, incredible waters, and more Vivonne Bay is definitely worth a visit.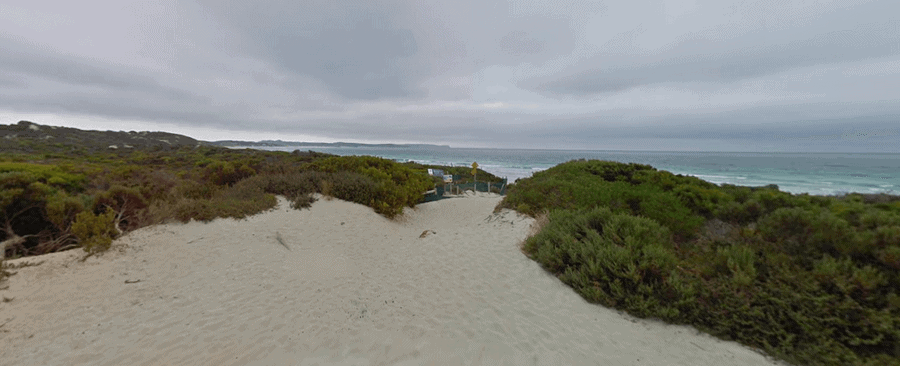 Seal Bay
Seal Bay is one of the most unique bays on Kangaroo island because it is home to the largest sea lion population in Australia. Visitors truly enjoy seeing the sea lions sprawled out on the white sandy shoreline. These creatures are playful and curious which makes them so fun to watch!
People aren't usually coming to this bay to swim. They flock here to see the sea lions! Like Vivonne, Seal Bay isn't far from the Cape Gantheaume Conservation Park and the area itself is referred to as "Seal Bay Conversation Park" due to the sea lions, which are heavily protected.
Accessing Seal Bay is an adventure in itself as guests must walk an 800-metre path that emerges from the foreshore area of the bay. Walking among the foreshore heading into the bay is just as breathtaking as the bay itself! Even though swimming isn't too popular at Seal Bay, it is still a wonderful place to visit.

Stokes Bay
Stokes Bay is one of the local communities on the island where residents live. This bay area is known for its secluded beach that spans out to breathtaking views of the ocean. The waters at Stokes Bay are known for being quite rough. Compared to other beaches or bays on the island, Stokes Bay's beach isn't recommended for swimming.
However, there is an exception! Stokes Bay has a natural rock pool that is protected from ocean waves. This is the only place where swimming is recommended in the area.
The rock pool has tranquil waters that go along with the local community's overall atmosphere. This area also has a local campground where holiday cottages are available for rent.
In addition to the stunning rock pool and campground, Stokes Bay is known for its thriving Bush Garden where 750 different plant species are known to grow. Even though swimming isn't possible in the ocean itself, Stokes Bay still has plenty to offer its visitors and residents!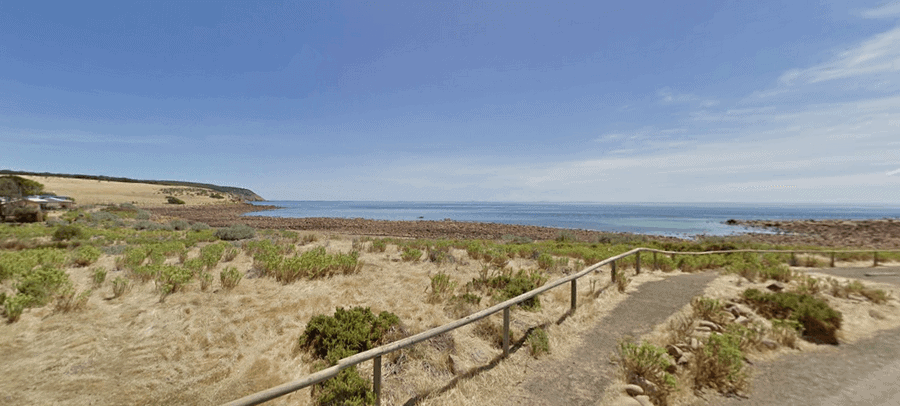 Hanson Bay
Hanson Bay is Kangaroo Island's premier spot to enjoy tranquillity and isolation. Tucked away off of the south coast of the island, this bay beach is secluded and has beachfront cabins available for rent. Moreover, the bay sits among a wildlife sanctuary that is a big attraction for visitors.
This sanctuary features bushwalking and guided tours. There are also many animals to see within the sanctuary like kangaroos, koalas, echidnas, bats, and even possums. The bay itself is stunning but this sanctuary really makes Hanson Bay even more exciting to visit.
Aside from seeing the wildlife, Hanson Bay is absolutely suitable for swimming or even snorkelling. It is also a great spot for fishing or kayaking. Visitors to the bay find indulging themselves in nature's beauty here to be quite peaceful. There's no denying that Hanson Bay is one of the island's best bay beaches.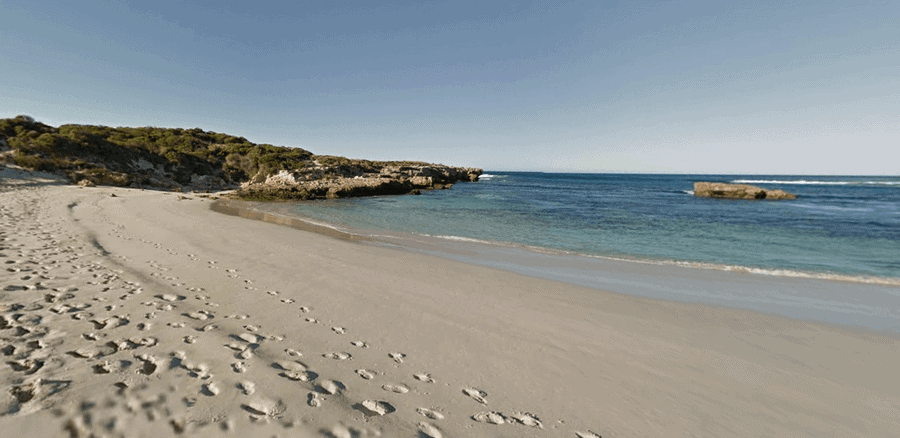 Emu Bay
Emu Bay is easily Kangaroo Island's best-kept secret. Although arguably, it isn't a secret! It is well-known for its clear temperate blue waters that wash up on white sandy shores. Even though it is one of the most popular bays on the island, it isn't as crowded as the other islands.
Some chalk this up to the fact that Emu Bay has no stores or accommodation. Perhaps there's some truth to that but the fact remains that Emu Bay is absolutely stunning. Moreover, it is one of the bays that visitors can swim at!

Snellings Beach
Snellings Beach is a small beach foreshore area off of North Coast Road. While it isn't a very large beach, guests can still swim here quite easily. In addition to access to swimming, guests can use the public bbq and picnic tables.
There are also small walking trails nearby to explore. While driving isn't permitted on the beach, vehicles can unload boats at this beach making it great for boaters and fishermen too.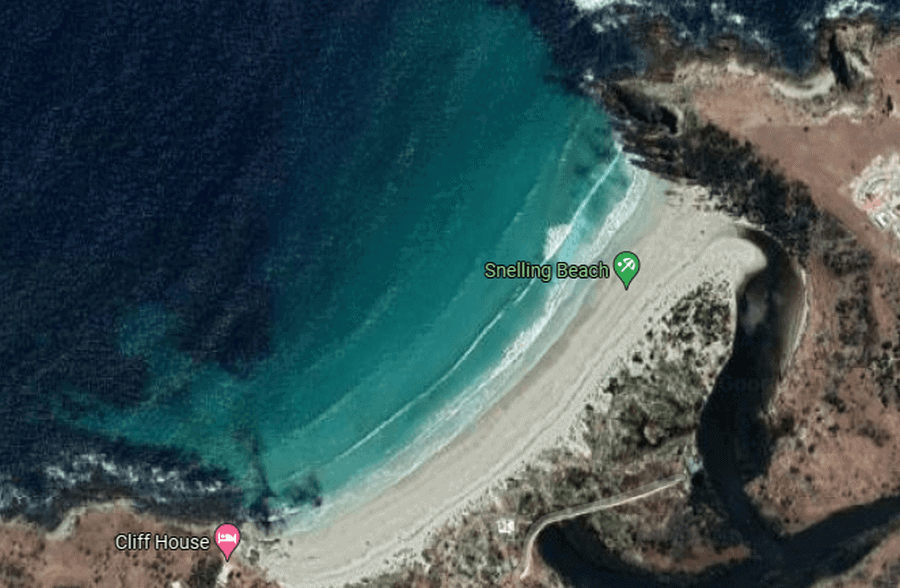 Western River Cove
The Western River Cove is a 200m wide north-facing cove that is one of the many idyllic spots on the island. Swimming here is possible, although it isn't advised by the boulder portion of the cove as the currents can be a bit rougher there.
The boulder portion is considered a second beach within the cove and is ideal for strolls along the coastline rather than swimming.
The main beach, which is a good 160m chunk of the total size of the cove is great for beach picnics or swimming. Swimming should only be done at the main beach in the cove if the waves are low. Western River Cove is mostly known for its stark sights of the ocean and sand as well as rock fishing off of the boulder beach.
Antechamber Bay
This northeast-facing bay is off of the Dudley Peninsula of the island and is about 4.2km in length. While it isn't overly large, it is still a great place to check out. It is near the Chapman River mouth which is a popular swimming area.
Additionally, Antechamber Bay is known for its small camping area located near the river mouth. Overall, it is a nice bay to see and enjoy a day out with loved ones!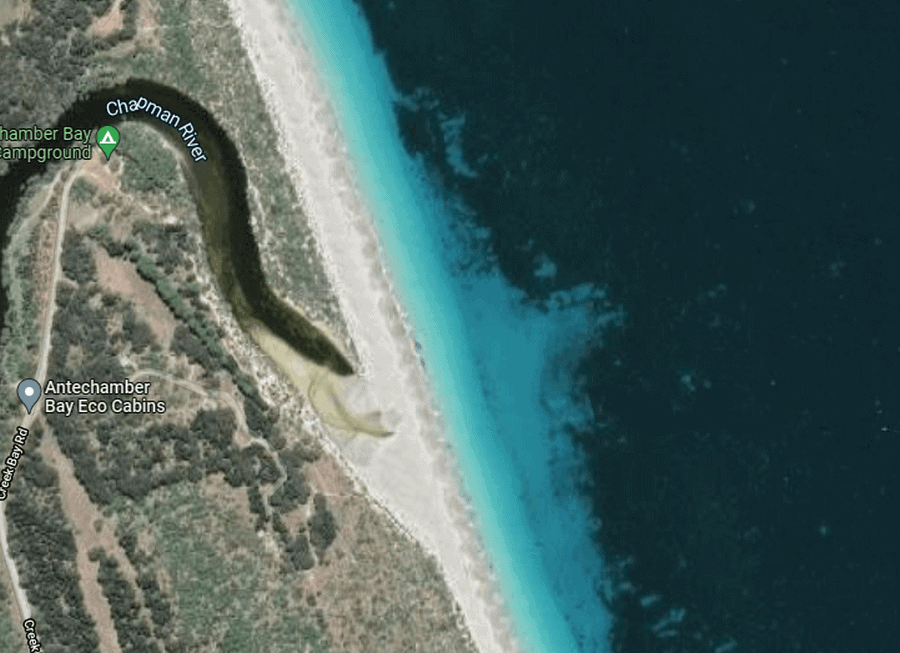 D'Estrees Bay
This particular bay on Kangaroo Island has ties to the early days of the island when the French settlement was occurring. The bay is actually named by french Explore, Nicolas Baudin who was in the area. As part of the Cape Gantheaume Conversation Park, D'Estrees Bay features numerous walking trails.
Additionally, like some other bays on the island, it features a camping area which is another way to enjoy the great outdoors.
Swimming isn't very popular here but it is possible at low tide. Tide times should always be checked prior to visiting any of these bays and beaches. The greatest thing about all of these areas is that there is much more to do besides swim! D'Estrees Bay is certainly no exception!
King George Beach
King George Beach is an exclusive private beach that is only accessible via the resort that is associated with it. Those staying at the King George Beach Resort will find a white sandy beach shoreline right outside of their door. There's nothing quite like open sea air and stunning views while on an island!
As this list of bay beaches shows, there are plenty of places to take a dip in the water around Kangaroo Island. Even though not all of the bays are suitable for swimming, there are still plenty of them that are.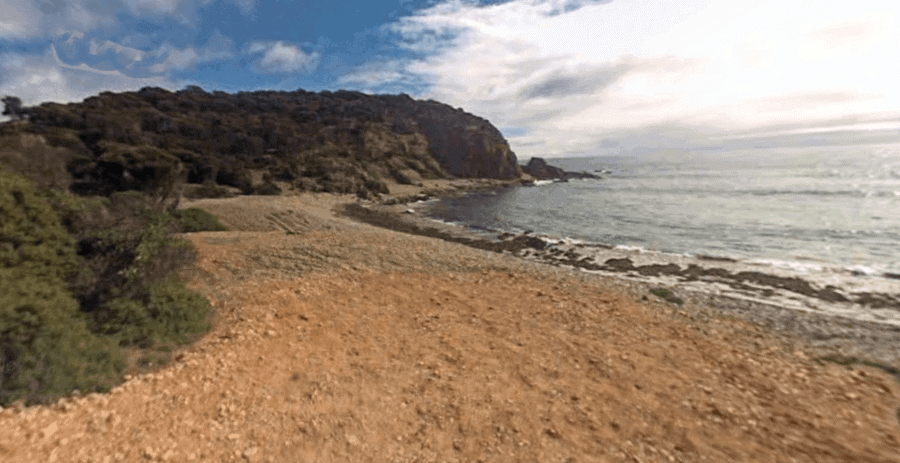 Is It Safe To Swim At Kangaroo Island?
In general, swimming at Kangaroo Island is considered safe. The beaches and bays facing the inlet towards the mainland will have significantly calmer waters compared to some of the other waters around the island. A good example is Stokes Bay where the only safe place to swim is the rock pool.
Even though the waters in most of the bays on the island are calm, it is always smart to watch out for higher tides and strong currents. As expressed, not all of the bays and beaches are always suitable for swimming. Moreover, they usually aren't patrolled.
Swimming off of an unpatrolled beach isn't unheard of. This is why having a beach buddy and never swimming alone, no matter how calm the waters look, is the best approach!
The island isn't known for having stingers in the waters but it is always a good idea to keep a lookout anyways. The ocean currents can carry marine life to other parts of the water where they aren't normally found.
Because the waters are so clear around Kangaroo Island, it would be easier to see if there were some strange marine creatures lurking about.
Overall though, it is safe to swim at Kangaroo Island. Even still, visitors should always practise safe beach protocols by staying alert and never swimming alone.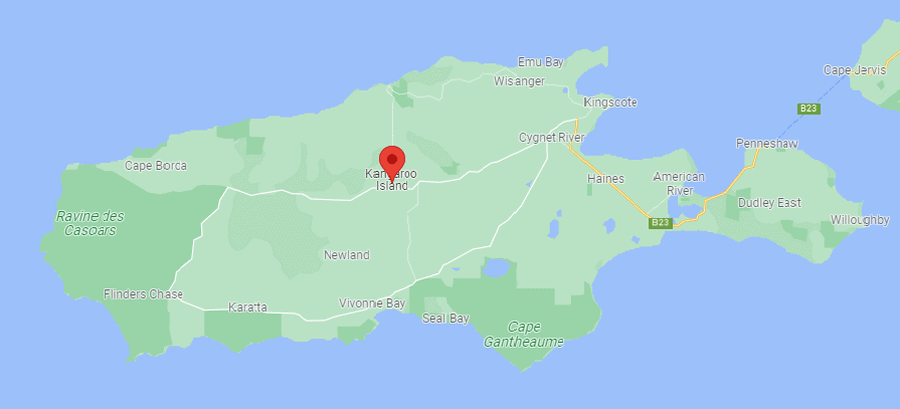 Is It Safe To Swim At Emu Bay?
Emu Bay is known for being one of the safest swimming locations on Kangaroo Island. Even though it's called "emu" bay, the area is mostly known for its penguin population. Although guests are more likely to encounter countless other forms of wildlife other than just kangaroos on the island itself.
Emu Bay's long shoreline and pristine waters are what draws people to its shorelines. Even though there are a number of beaches and bays on the island, this bay still stands as one of the most sought-after due to its stark beauty.
With such beautiful sand and water, you'd think Emu Bay would be overflowing with visitors. However, it is one of the less-crowded bays on the island which makes it even more attractive.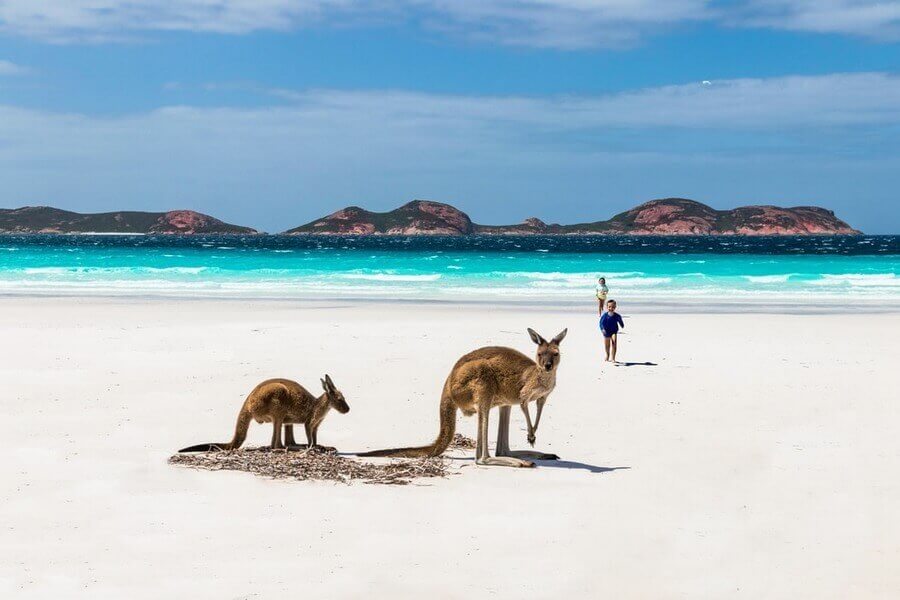 The lack of people also makes it a little less safe than other beaches and bays. More people means more eyes to keep alert. The lack of overcrowding might be the unsafest thing about Emu Bay, otherwise, it is considered safe to swim at!
Kangaroo Island is one of Australia's most intriguing islands. It offers ample space, rare and fascinating wildlife and plants, along with gorgeous ocean views. Overall, swimming on the island is possible with the exception of some areas. No matter what, Kangaroo Island is a real treasure to visit!
More Pages On Islands
link to Are Islands Floating?
Islands are one of many natural phenomenons that exist on earth. Islands are found all over the world and vary in size and shape. Some are more remote than others while some islands are right off...
link to Curtis Island Queensland
Queensland, Australia is home to a variety of idyllic places to visit. From pristine beaches to rainforests and everything in between, it is brimming with adventure. This is particularly true for...