Any opportunity to experience something new is truly exciting! Whether the opportunity is taken as a last-minute choice or by those on holiday. Being on holiday is supposed to be relaxing but it is also the perfect time to dive into something new! This includes seafaring activities, particularly swimming with dolphins

.
Australia is known for a lot of things like gorgeous landscapes, seascapes and idyllic scenery that can't be matched anywhere else in the world. They are also known for their dolphin swimming.
Whether someone is a tourist from another country or a resident of this iconic continent, dolphin swimming is quite an adventure.
Dolphins are one of the ocean's most majestic creatures. They have tons of personalities and are naturally curious about their surroundings. Their playful nature is what makes them popular for people wanting to swim with them.
Swimming with dolphins is pretty much exactly as it sounds! It is an exclusive experience to literally "swim" with these fascinating sea creatures. While not every programme that hosts this activity does it exactly the same, there is still fun to be had.
Australia has various programmes for guests to partake in this activity. With so many brilliant coastlines along with Australia, there are plenty of places to pick from when it comes to dolphin swimming.
These delightful creatures are found just about everywhere in the waters in Australia, along with sea turtles, etc making them a sight to behold while viewing the various seascapes. Even with an abundance of places to spot them, there are key places to consider diving into the water with the dolphins.
However, even with brimming coastlines of marine life, corals, etc, Australia has pretty strict legislation when it comes to swimming with dolphins. It is not as simple as just hopping in the waters. When it comes to fulfilling this desired activity, guests should seek out guided dolphin swim tours!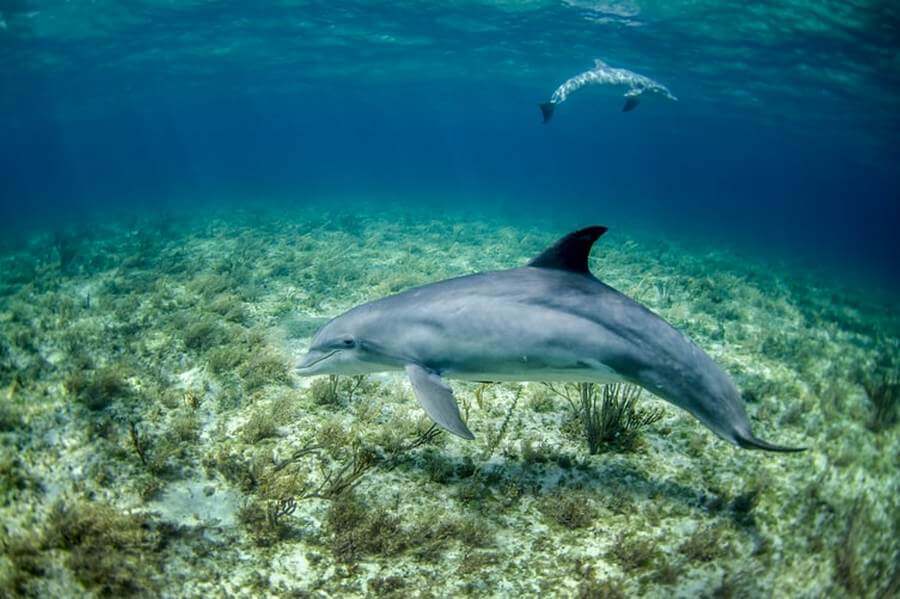 Where In Australia Can You Swim With Dolphins?
The best type of dolphin swimming is programs that offer direct ocean swimming. This form of swimming with dolphins is the most exciting because the dolphins act more naturally.
They are free to roam about the waters among the other sea life and make for a truly unforgettable moment Below are the best spots to emerge among the dolphins!
Port Stephens, New South Wales
Port Stephens in New South Wales is the top location to swim with dolphins in Australia. Their dolphin program really gives guests the time of their life by emerging them into the waters with wild dolphins.
Other subpar dolphin experiences will just have guests tread water and wait to be approached by dolphins. Port Stephens took this concept and really amped it up to become the country's iconic dolphin swim.
They provide a true dolphin swim by hooking guests up to a catamaran boat. Catamaran's a unique type of water vessel that features two parallel hulls. The area between these hulls is where the magic happens for guests on this dolphin swim.
Visitors are harnessed between these hulls to a rope (in scuba gear of course!) where they are completely and utterly underwater. As the catamaran departs from the shorelines of the Great Lakes Marine Park, the curious dolphins zigzag around the vessel around the guests.
This true feeling of swimming alongside the dolphins is absolutely stunning!
To take advantage of this one in a lifetime experience, the Port Stephens adventure with dolphins is open Thursday through Sunday. They specifically depart from the d'Albora Marina.
The absolute peak time of day to go is around 5 a.m. This may seem early but well worth the trip!
For pricing on swimming with Dolphins in Port Stephens Click here.

Port Phillip Bay, Melbourne, Victoria
Another pinnacle location for swimming with dolphins is in Melbourne within Port Phillips Bay. Sometimes this bay is known to attract around 80 dolphins. What makes this dolphin swim so desirable is that guests can snorkel right alongside the dolphins.
This unique trip under pristine waters also gives guests the prime opportunity to see other marine creatures as well. This includes seals, tropical fish, just to name a couple of others.
There are three companies that provide a dolphin swim for guests, the Moonraker Dolphin Swim, Polperro Dolphin Swim, and Swim with Dolphins and Seals.
The Swim with Dolphins and Seals operates out of Queenscliff Harbour, Polperro Dolphin Swim and Moonraker Dolphin Swim both depart from the Sorrento Pier.
Polperro is available from September through May while Moonraker is available from November to April. The Swim with Dolphins and Seals operates from October to May.
The variety of months for each touring group helps accommodate the needs of people wanting to go on this adventure.
Even with legislation to help protect the dolphins, all of these touring groups (along with others around Australia!) are still able to provide guests will memorable dolphin swimming! Once again what makes Australian dolphin swims so unique are their ability to provide a more engaging experience for guests.
Check out current pricing here for tours available.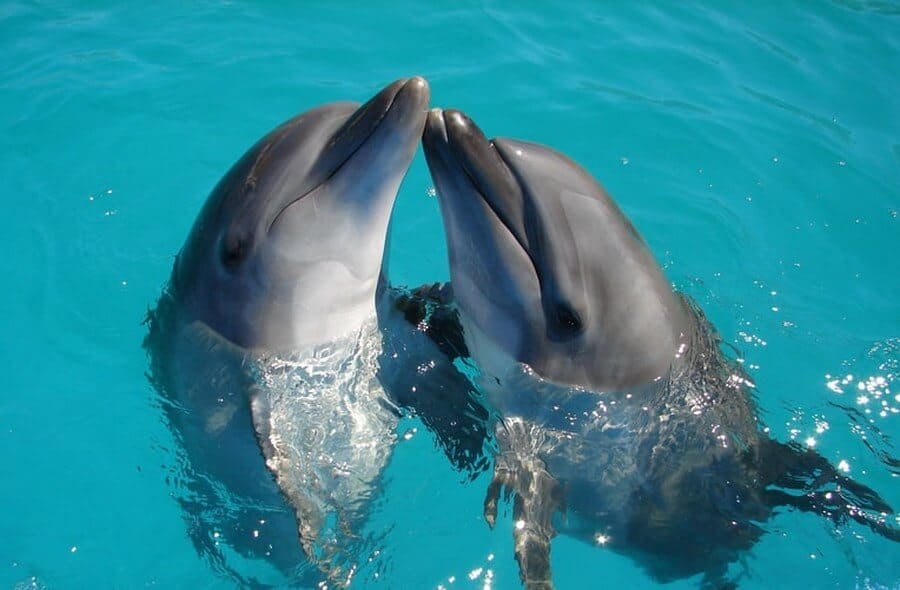 Rockingham, Western Australia
Rockingham, not entirely too far from Perth, is well known for its dolphin swim. The Perth Wild Encounters programme departs from Rockingham and drifts out among the waters considered to be Shoalwater Islands Marine Park.
There are estimated to be around 200 dolphins that come to the area where guests can snorkel in teal green waters among the dolphins. The experience itself can take up to 6 hours and is quite an adventure. With tour guides leading the way from the shoreline to mid-water, there is help the whole way.
The dolphins dart around freely while guests witness their playful nature and float and swim around them. This particular experience operates from September to early June.
To have this once in a lifetime experience of swimming with Dolphins click here for current pricing to make your booking now.

Is It Safe To Swim With Wild Dolphins?
Wildlife should always be protected and this is one of the many reasons there is strict legislation in Australia concerning swimming with dolphins. Another main reason there is legislation against swimming with dolphins in Australia is due to the potential dangers.
Now, this is not said to scare people away from partaking in this once in a lifetime adventure. In fact, it should serve as a stark reminder that any wildlife has its risks. Swimming with dolphins is an exhilarating experience but guests need to know that there are risks involved.
Dolphins are very curious creatures. They are always interesting and engaged in their environments. This doesn't mean that they viciously attack people but their behaviours can become what is considered overly active.
This is perhaps while Port Stephen's dolphin swimming adventure is more preferred as guests are confined to their harnesses and rope, yet are still swimming with the dolphins.
However, no matter what tour is taken, the guides are trained to make guests feel safe and provide assistance where needed. While it may tempting to try swimming the waters with dolphins without the guides, it is not recommended.
Anyone wanting to have a swim with dolphins experience, especially in Australia, should seek out these professional groups that make the experience fun and safe!
Recent Posts