It is no secret that Australia has a phenomenal landscape from coast to coast. From mangroves to pristine beaches with vivid blue waters, there's beauty in every direction.
While mainland Australia has its fair share of beauty, there are quite a few islands speckled around its coastlines that offer their own distinct landscape to the country.
Below is more information on the top 10 islands in Australia to consider visiting!
1. Fraser Island, Queensland, Australia
Located right off the Eastern coastline in Queensland is Fraser Island the world's largest sand island. This extraordinary island is an impressive 123 kilometres in length, 22 kilometres wide and an overall 184,000 hectares.
It is remarkable in its beauty and has a deeply rooted history with Australia and the Butchulla people that first resided here.
In the early '90s, it was listed as a World Heritage Site for its remarkable beauty and natural preservation. The natural landscape that can be seen include coloured sand dunes, rainforests, freshwater lakes, creeks etc.
This vast island has plenty to do and see while visiting. It can be reached by ferry from Inskip Point or River Heads and 4WD vehicles are recommended for travelling on its sanded surface.
While the stunning scenic views are reasons enough to visit, some of the other reasons to visit include camping, fishing, swimming, 4×4 driving, paddle-boarding, just to name a few.
Camping is especially recommended because there are campsites as well as beachside locations for truly enjoying nature at its best.
The island's freshwater lakes are great to visit, like Lake McKenzie, where the water is pure and crisp blue with fine white sands. Swimming is encouraged in the lakes.
The island also has the Eli Creek to explore as well as the historical landmark, Maheno Wreck which has been washed ashore on 75-Mile Beach since the early 1930s.
These key points, as well as the wildlife, makes Fraser Island a treasure to visit. Some of the wildlife that can be seen on the island include dingoes, sugar gliders along with 45 other species of mammals.
Those who love birdwatching will find great pleasure in trying to catch glimpses of over 300 species of birds that inhabit the island! The island is also a part of Hervey Bay, the whale watching capital of the world and whales can be seen here from the West coastline facing mainland Australia.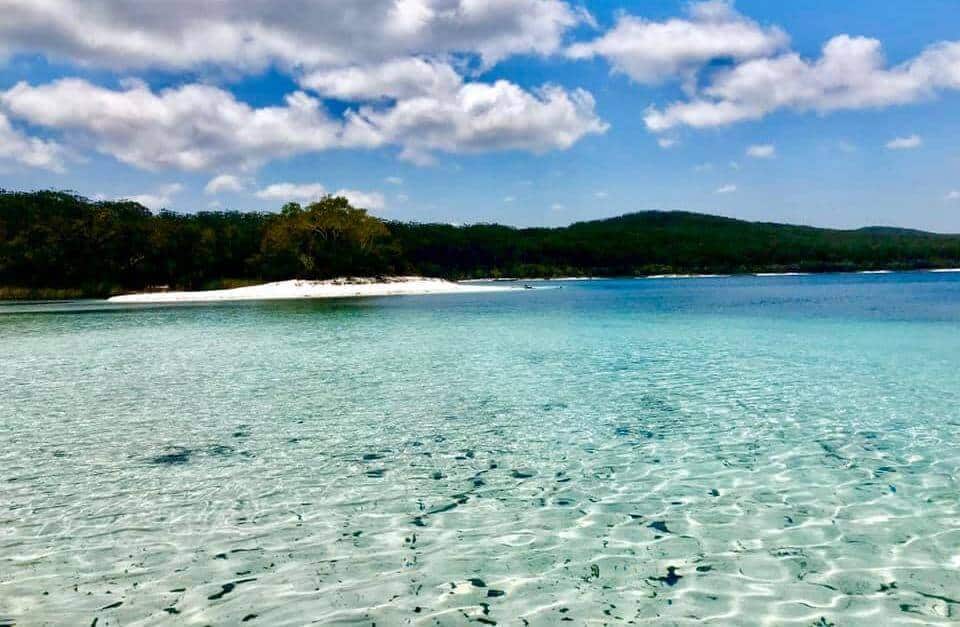 2. North Stradbroke Island, Queensland, Australia
Moreton Bay, also a part of Queensland, has the world's second-largest sand island, North Stradbroke. North Stradbroke is about 38 kilometres long and around 11 kilometres wide. The island is well known for being rich in cultural heritage with the Quandamooka people.
When visiting the island, it is commonplace to learn about their time on the island and their continued presence! While learning about the historical value of the culture on the island, there is plenty more to do and see while visiting.
No visit to an island is complete without experiencing the wildlife. Australia is home to many unique species that make it truly special to see these creatures.
Some of the wildlife that roams around North Stradbroke include koalas and kangaroos as well as marine life like dolphins. Another great way to be submerged into wildlife is through scuba diving.
There are some fantastic spots to take a dip down to see colourful and vibrant marine life like the leopard shark and other tropical fish. These spots include diving off of Flat Rock or Shag rock.
The crystal clear waters offer up some visibility that can't be beaten!
The island is home to over 100 freshwater lakes, some with significance to the Quandamooka people. These lakes along with the famous 18-mile swamp make for exceptional scenic views and even photography opportunities.
It is important to note that the swamp has been named a national park and is protected as it contains some rare and unique wildlife species.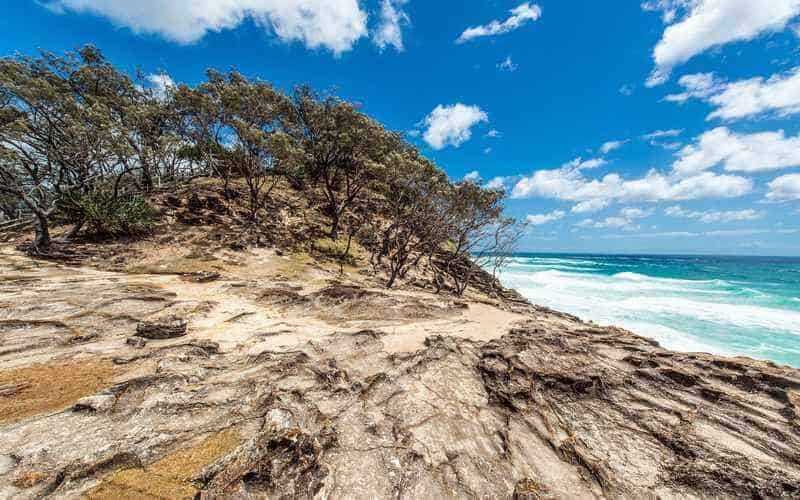 3. Whitsunday Islands, Hamilton Island, Queensland
The cluster of Whitsunday Islands (74 to be exact!) are a popular destination for tourists for a variety of reasons. Hamilton Island is its main port for foot traffic of tourists, but the whole area is known for purely blissful sights.
The islands have many beach areas to explore and the Great Barrier Reef is known to sit around the islands.
The Great Barrier Reef makes snorkelling or diving a highly desired activity while on the islands. The distinct and beautiful reefs along with the tropical marine life swimming amongst them are quite the sight to see! Sailing and kayaking are also great ways to enjoy the waters around the islands.
The areas are also known for their luxurious resort pavillions (adults only please!) tucked away for ultimate peace, quiet and relaxation.
Another great reason to visit these clusters of islands is Whitsunday Island itself. Only 4 of the islands are occupied, meaning that Whitsunday Island is undisturbed natural beauty.
This particular area of the islands is famous for its silica beach, Whitehaven Beach.
Its purity of silica levels make the whiteness almost blinding, but oh so gorgeous.
The shoreline of this beach is painted with rich vivid teal colouring, making it truly a picturesque spot! Access to Whitehaven, however, is either by small plane or boat and tours are offered from the other islands daily.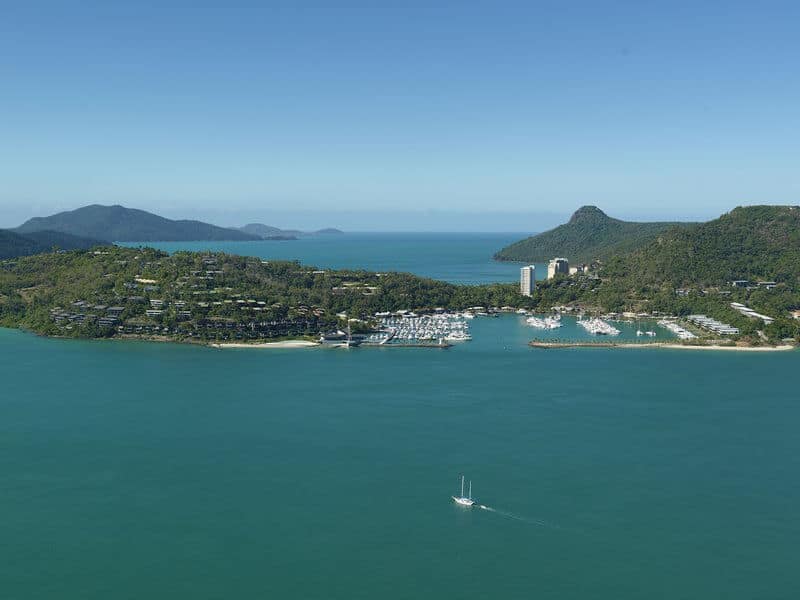 4. Christmas Island, location Western Australia
Christmas Island is extremely northwest of mainland Australia in the Indian Ocean and is considered an external territory of Australia. It is about 135 square kilometres. Even though it is sort of its own governed area, it is still an exciting island that is a must-see when visiting Australia.
Over 60% of the island is considered a national park, making it an iconic place for those who really love the outdoors and nature in its undisturbed state.
The island is covered in lush flora and has many trails for exploring and experiencing the naturalistic state. This includes the abundance of wildlife, one of the popular being the red crab along with the various bird species like the blue-footed boobie birds.
While wildlife and lavish rainforest scenery are quite the treat for visitors, it is not the main reason to venture here.
The island has over 30 caverns, of 7 different varieties. While most of these are near the shores and were formed by the waters, the most well-known cave on the island is the Full Frontal Cave.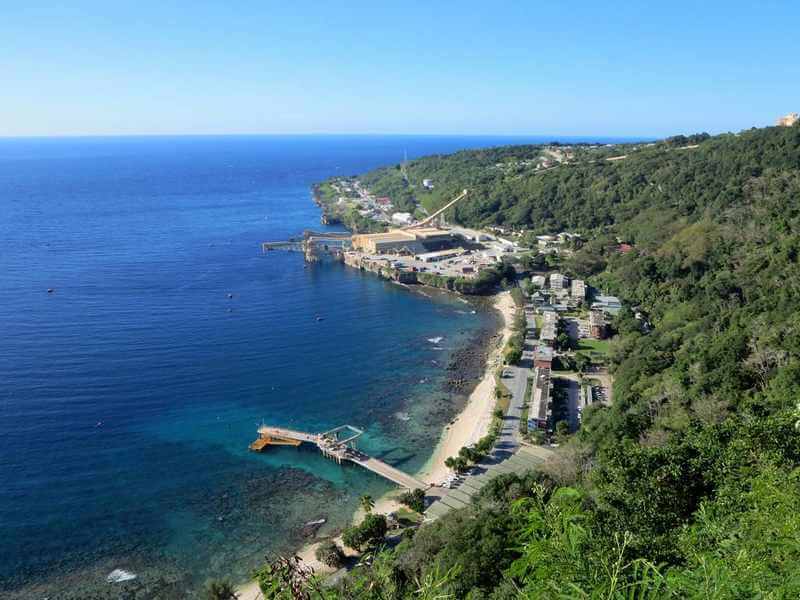 5. Kangaroo Island, Brisbane Queensland Australia
Kangaroo Island is just south of Adelaide, which is a southern city on mainland Australia. The island is about 155 kilometres long and is filled with wildlife.
This wildlife paradise is well worth the visit but not only for the kangaroos! Even though its namesake bears "kangaroo", the island is a sanctuary for other majestic animals like sea lions and koala bears.
The sea lions are a true sight to see as they are known for playing on the white sandy shores of the island's beaches.
Taking in all the other scenery makes the island a perfect destination as well. This includes cliffs, sand dunes, bushland and wetland areas. Soaking it all in may take some time, so it is suggested that at least 3 days be spent on the island to really explore all it has to offer guests.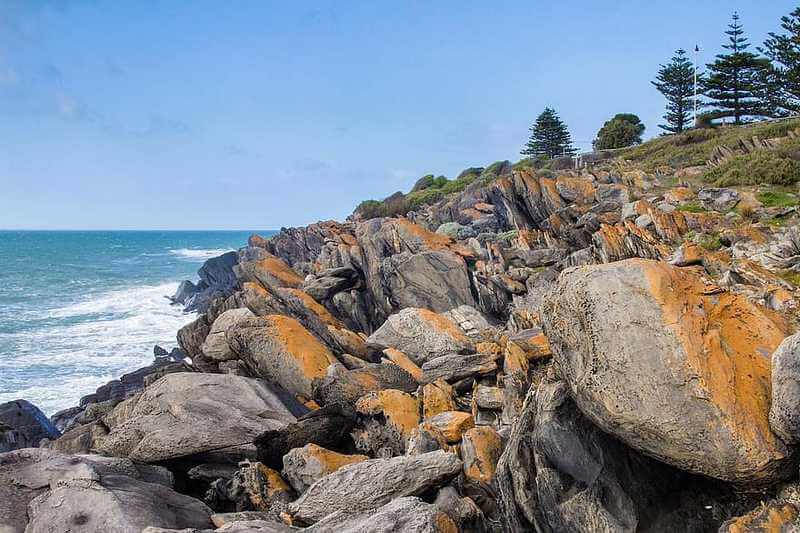 6. Lord Howe Island, Port Macquarie New South Wales
This exclusively beautiful island sits in the Tasman Sea between New Zealand and Australia. This World Heritage-listed island is around 10 kilometres long and only 2 kilometres wide. Lord Howe is surrounded by turquoise waters where paddle-boarding often takes place, along with fishing and snorkelling.
One of the most unique things to do while on the island is to participate in their Citizen Science program. This program was designed to help preserve and protect all the various wildlife and plant species that live there. More specifically, the island itself is around 75% of protected park grounds.
Therefore, in efforts to discover, investigate and further scientific research on the island's naturalistic properties, it offers a variety of surveys that can be conducted while people explore the island. This includes bird sightings, sea slug Sensis, currawong surveys, and fungi surveys.
Each of these 4 specific surveys is a key part of what makes the island so special. Bird identification is important as there are many species flying around. Sea slugs tend to have a short life span and venture around low tide areas and in the reefs, so this survey is especially important.
Currawongs are birds, but they are only around 300 of them. This survey helps to identify if more are populating as they have bands on their legs and guests should report sightings with or without bands.
Fungi surveys serve their purpose as well, as not a lot is known about the different fungi on the island. Photography of the sighted fungi is encouraged as a part of this survey process.
Visiting Lord Howe makes guests a true part of preserving a critical piece of a World Heritage site!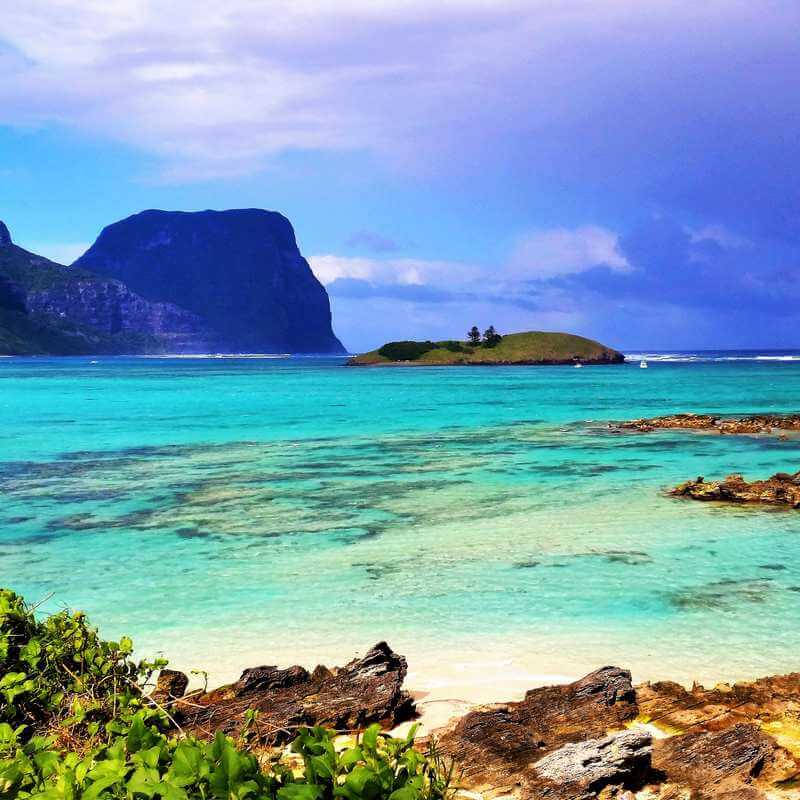 7. Rottnest Island, Perth Western Australia
This small island (only about 19 kilometres squared) may have a strange name, but that makes it all the more special. The island is off the Western coast of the Australian mainland and is highly regarded as being a protected area.
As with most other Australian islands, there are areas of beauty that set them apart from each other as well as particular species of animals.
In the case of Rottnest Island, there are high numbers of the marsupial, the quokka. While this island is their main home, their numbers are said to be decreasing.
Other wildlife to experience while visiting this island includes certain reptiles such as geckos and lizards, sea lions and various fish among the reefs surrounding the island. Blue whales and bottlenose dolphins frequent the waters around Rottnest as well.
Experiencing marine life may be some of the most interesting things to do while visiting the island as there is a snorkelling trail with informative underwater plaques for guests to read while searching for marine life.
While diving and snorkelling are considered to be prized activities here, exercise enthusiasts will find the island delightful for its cycling.
No vehicles are permitted on the island except for emergency or government vehicles, so cycling around the island is the standard method of transportation.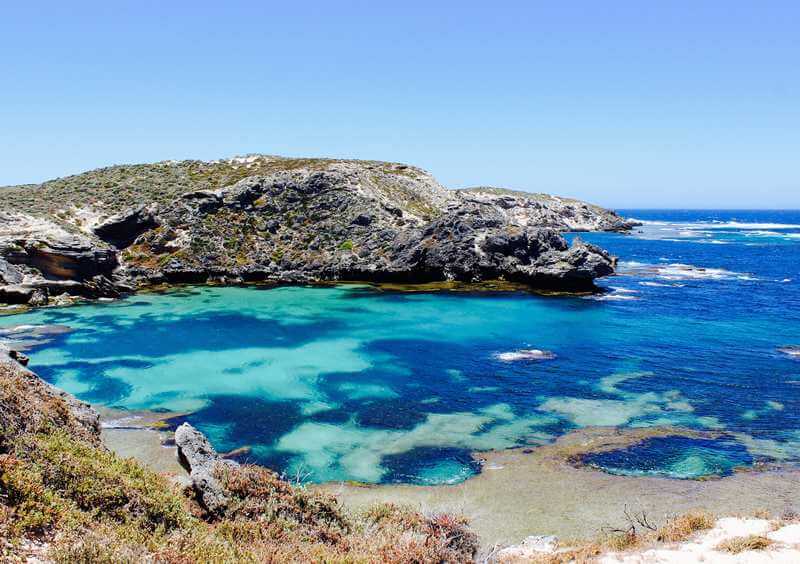 8. Phillip Island, Melbourne Victoria
This 101 kilometre squared island is an absolute treat for visitors for a variety of reasons. Phillip Island specifically sites South-South East from Melbourne, Victoria Australia.
This excellent location makes the island home to views that are simply panoramic.
One of the most sought after spots on the island is the Nobbies boardwalk area which runs parallel to the beach coastlines and provides the most stunning views. This includes the crisp blue waters and seascapes lining with small jutted cliffs.
While the Nobbies brings guests to the island, so does the fairy penguin which is notorious for their penguin parades in the evening. These animals are the smallest breed of penguins and love shuffling along the beach sands to tuck themselves in at night! Other wildlife roams the island including birds and koalas.
Another fun spot to visit while on the island is the go-kart course. The Phillip Island Grand Prix Circuit is favoured by many and is considered to be high-quality fun! Adults can enjoy the thrill of go-karting at this fun attraction!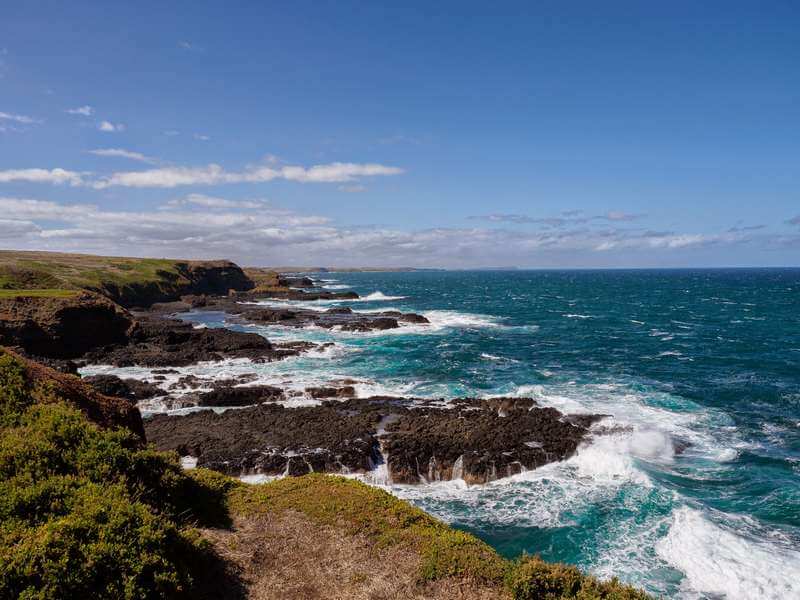 9. Bigge Island, Kimberley Region Western Australia
As a part of Boomerang Bay and separated from mainland Australia, Bigge Island is an ideal place to visit for nature lovers. More specifically, the island is in the Kimberley Region off the Western coast of Australia. What makes this island so special for visitors is its cliff formations.
These weathered stones erected from the land are quite magnificent to admire. Throughout history, these sandstone formations created caves and carved themselves out to scenery unmatched on other islands.
These caverns and sandstones became canvases for paintings from the Uunguu people. Access to these caverns is extremely restricted and only allowed through supervised tours. Even admiration of the sandstone formations is enough to visit this island.
10. Lady Elliot Island, Great Barrier Reef Australia
Queensland's coast has many spectacular islands, but Lady Elliot is one of the best. Even in its small size (only 0.45 kilometres squared!), it packs a large amount of stark and astounding scenic views.
Accessible only by plane, flights on small aircraft can be caught in Hervey Bay, Bundaberg, Brisbane or the Gold Coast. This exclusive entry to the island makes the experience of heading there even more exciting!
The island is home to the Lady Elliot Eco Resort which helps maintain sustainability among the island. The resort also offers accommodation and tours of the Great Barrier Reef.
The views of the reef from Lady Elliot is beyond stunning and guests can snorkel and dive from the beach or take tours among the glass-bottomed boats through the resort.
Either way, this immersive adventure really gives guests encounters with marine life and gorgeous reef that are truly unique.
It is hard to pick just one island to visit, but having some insight as to what one may suit the needs of a guest is key. Each one offers a little something different from the others!
Australia is such a majestic place and its islands only aid in that beauty!

More Island Pages
link to Are Islands Floating?
Islands are one of many natural phenomenons that exist on earth. Islands are found all over the world and vary in size and shape. Some are more remote than others while some islands are right off...
link to Curtis Island Queensland
Queensland, Australia is home to a variety of idyllic places to visit. From pristine beaches to rainforests and everything in between, it is brimming with adventure. This is particularly true for...