Australia is famous for a lot of things – the wildlife, its beautiful beaches and the legacy of Steve Irwin, to name but a few. But one of the things that instantly spring to mind when thinking about the land down under is surfing.
With an astonishing 85% of Australians living in coastal areas, it is little wonder that this sport is so popular in the country.
Australia has been thought of as the ultimate surfing destination, It's mostly due to the swells the island of Australia receives, This means our waves here are always consistent for good surfing. These waves come from far away in Antarctica and travel to the south coast shores in Australia.
It is not only those who live in Australia who enjoy partaking in some time on the waves, but many visitors to the country try their hand at the sport in order to gain new experiences during their stay.
In this article, we are going to dive into all things surfing so that you are clued up on the best places to surf

in Australia, not only that but we are also going to look at a little of the history behind the sport and find out why it is as popular as it is.
When Did Surfing Become Popular In Australia?
You only have to flick on the TV to an episode of Home and Away to see a rustic looking, handsome Australian guy making his way out of the water, surfboard under his arm to know that the sport is firming ingrained in the culture of the country.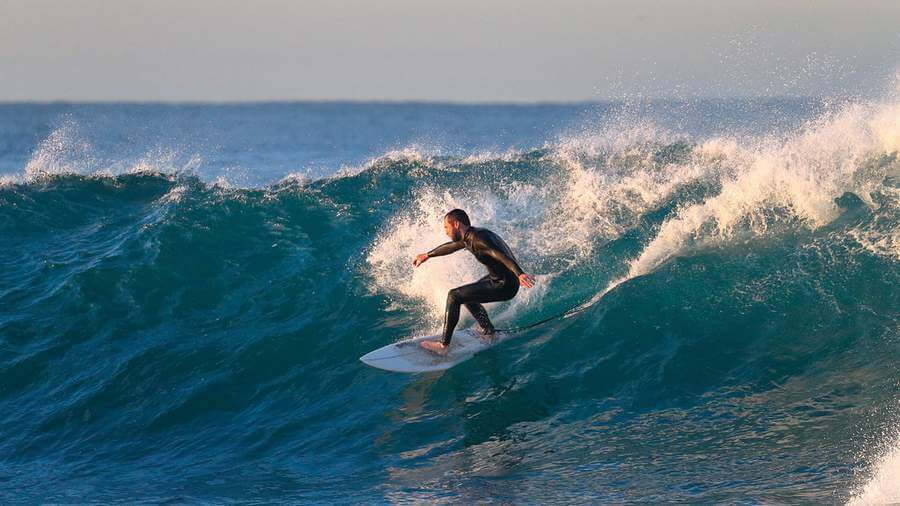 And as we mentioned, with the sheer amount of great beaches, 10,000 of them if you wanted to count, this doesn't come as a surprise.
So when did surfing become popular in Australia? In 1914, Hawaiian surfer Duke Kahanamoku first introduced surfing to Australia when he brought the sport over from his native country and showcased his talents at Freshwater in Sydney.
The sport originated in Hawaii and whilst Kahanamoku got the nation revved up about the sport, there had in fact been people in Australia who had already been making attempts at using the waves in other, similar ways. And this had been so for many years prior to the arrival of Kahanamoku.
According to Surfer Today, the surfing timeline of Australia shows surfing activities having taken place as early as 1867. However, after the arrival of Duke Kahanamoku, the popularity of surfing exploded, and this was because the conditions for surfing in Australia are simply ideal.
Go-To Destination Australia For Good Surfing
There is more than one reason that Australia is a go-to destination for many avid surfers or even those who are just starting out in the sport.
With surfing being so well-loved in Australia, there are, of course, many people there who are adept with a board and excellent surf schools come hand in hand with this. For many people who are seriously looking to develop their skills or who want to learn the basics from an expert, Australia is the obvious place to go to do this.
In more natural ways, Australia is the perfect place for surfing because of the swells that the island receives. In surfing terms, this means that waves will be consistent, always giving a great surf.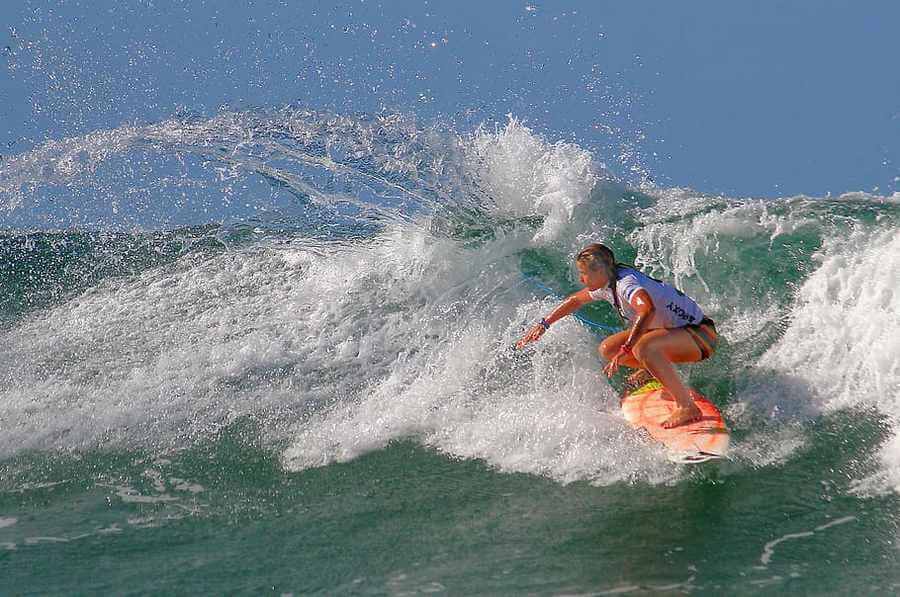 Where Can You Go To Surf In Australia?
You may recall the mention of the 10,000 beaches along Australia's coastline, so it is evident that this ginormous country has a lot of places to surf. But of course, not all of these beaches are surfing beaches.
We are now going to show you some of the best places that you can go surfing in Australia, no matter what state you may be in.
Good Surfing In Queensland
Queensland is the state which is probably most famed for its beautiful weather and stunning white sandy beaches, many of which are great for surfers. On the North East side of Australia, Queensland has much to offer when it comes to surfing.
Snapper Rocks Gold Coast
This is one of the most well-loved surf spots for those who do the sport professionally. Not to mention that the Quicksilver and Roxy Pro is held here every year, bringing many surfing enthusiasts here to make the most of the excellent conditions.
Wurtulla Beach Sunshine Coast
Another beach favoured by professional surfers, Wurtulla offers a decent-sized break. However, due to the exposed nature of this beach, it is recommended that only those with a good amount of experience behind them surf here.
Coolum Beach Sunshine Coast
Whether you have been surfing for your entire life or are a complete novice, Coolum beach has a wave that will be just right for you.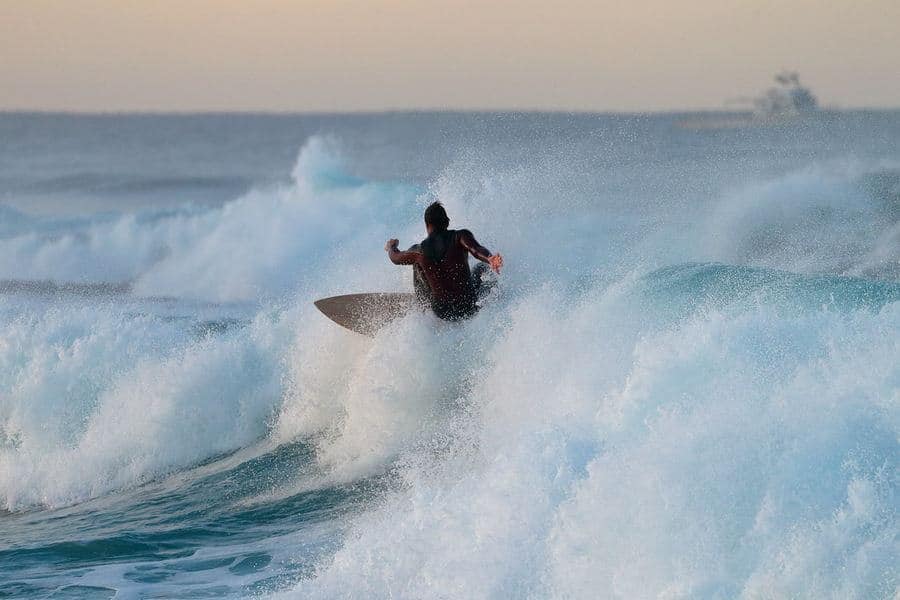 Good Surfing Beaches In New South Wales
Home to the world-famous Bondi Beach, New South Wales experiences a glorious climate, making the weather ideal for surfing and for those who simply wish to spectate, There are some fantastic places to surf here, let's take a look.
Killalea Beach
Named as a National Surfing Reserve, Killalea beach is a haven for anyone looking to catch a wave. Not only is the beach excellent for surfers but also for those who wish to sit back and watch the action with the beach giving stunning views.
East Corrimal
This surf spot has excellent reviews from many who have surfed there. Those taking part in the sport can expect to find decent waves on almost every visit. The beach is known not to be ideal for beginners but for those who have a little more experience at an intermediate level.
Bommies Bay
For those more advanced in surfing, why not try out Bommies Bay which is a great spot for surfing, however it is so popular that it can often become quite busy.
Surfing In Victoria
On the South East side of Australia lies its smallest state, Victoria. But small doesn't mean that there aren't some excellent surfing beaches here. Let's take a look at what's on offer in Victoria.
Black Nose Point Portland
With this being a rocky location, you will not find many people swimming here meaning that surfing tends to be the main activity. The beach is better being surfed when the tide is low.
Gibson Steps Great Ocean Road
If you are looking for a legendary beach, then this is it. Not only is it one of the most famed surf spots in the whole of Victoria but the scenery is stunning too with surfers often paddling out and taking in the view before mounting their boards.
Apollo Bay Cape Otway
One of the best places in Victoria for surfers of all levels is Apollo Bay with westerly winds making for excellent surfing conditions. The break here is great and offers consistent surf meaning that conditions are good most of the time.
Bells Beach
Bells beach is the king of surfing in Victoria, the pro surfing competition is held here every year, its a must-see for surfers.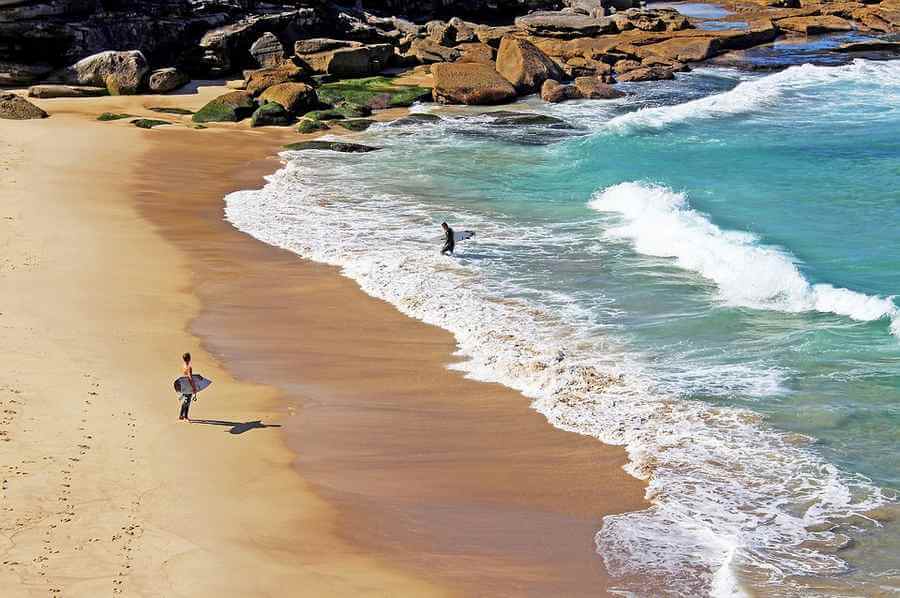 Surfing In the Northern Territory.
As the name may suggest the Northern territory sits in the mid-north of Australia and has some surfing on offer but not as much as other states.
The main reason for this is that the ocean is a lot more dangerous here in terms of wildlife. That being said there is one very popular surfing location for all levels.
Casuarina Beach
One of Darwin's most favoured surf spots, Casuarina beach offers consistent surf due to an exposed sandbar. Many flock to this beach to take advantage of the good conditions.
Surfing In Western Australia
With many popular surfing beaches surrounding the state capital of Perth, Western Australia is a paradise for professionals and beginners alike.
This huge state has a massive coastline and this translates into some of the most impressive breaks in the world.
Cottesloe Beach
Known as one of the most beautiful surf beaches in the state, Cottesloe offers excellent waves for beginners and has a highly rated surf school. The swell here isn't the best but it is enough to bring surfers to the beach year after year.
Trigg Beach
This rocky beach is highly renowned by surfers due to the excellent consistency of the waves here. If you are a nature lover as well as a surfing enthusiast, you may just be lucky enough to come across some dolphins whilst in the surf.
Rottnest Island
Surfers are drawn here because of the 20 bays on the island, meaning that solitude can be easily obtained here. Being off the mainland, the island gets some excellent swells meaning that you can expect some great waves.
Surfing In South Australia
Neighbouring both Victoria and WA, South Australia benefits from a lot of surfing beaches despite having one of the smallest coastlines in the country. Let's take a look at what you might expect from the surf here.
Vivionne Bay Kangaroo Island
As far as surfing goes on Kangaroo Island, this is the epitome. The location is loved by advanced surfers and should only be surfed by people of this experience level due to the channels, rips and reef banks. But if you are someone more adept in the sport, this is the one spot you have to visit.
Daly Head Surfing Reserve Yorke Peninsula
Another of the most favourite surf spots just a couple of hours drive from Adelaide, where surfers can find some excellent waves is the Daly head surfing reserve. Many of Australia's most dedicated professional surfers call this their favourite spot.
Cactus Beach Eyre Peninsula
With some mind-blowing breaks, this beach is highly recommended by many surfers the country over.
When Can You Surf In Australia?
One of the most important points when taking part in surfing is making sure that you are doing it at the correct time of year. Depending on where you are in the country, will depend on when the best time to surf is.
If you are intending to surf in New South Wales then the most consistent and reliable conditions can be experienced between December and April.
For those looking to surf in Queensland, it is best to stick to the summer months once again as the swells are much better due to the storm season. However, if you are a beginner, the smaller swells of the winter can provide a calmer environment for learning the skill.
In Victoria, surfers can expect to get the most out of surfing during the months between April and October. That being said, it is important to remember that even in summertime, the water in Victoria does not rise above 20 degrees Celsius and so the right attire is imperative.
If you are heading to Western Australia to take up the surf, one thing you must be aware of is that sharks are rife here and so you should always heed local warnings, if advice is given not to go into the water – don't go in. Marine life aside, May to August offer the best conditions in this state.
For surfers in South Australia, you can expect to find the best surfing conditions can be found during the autumn months between March and May due to the heightened winds of this season.
Surfing Schools and Camps
If you are someone who is completely new to the world of surfing, then Australia has an immense amount of surf schools and surf camps at which you can learn the basics and really get to grips with what this sport entails.
No matter where you are in the country, you are likely to find plenty of schools offering you a whole world of knowledge, but which are the best?
In this section, we are going to share with you, some of the most highly rated surf schools that can be found in the country.
Livin' The Dream Surf Camp
Based in New South Wales, this camp offers a 9-day intensive surfing course which takes place at two astounding beaches – Byron Bay and Arrawarra beach. Perfect for beginners but they also offer an intermediate course.
Four Day Surf Escape
This surf camp runs from Byron Bay and gives beginners the chance to learn everything they need to know as well as offering more advanced surfers the chance to brush up on their skills.
Cronulla Surf School
Set in Sydney, this iconic school has over 100 years of experience among the staff who are currently here and has a range of courses for every level, even those who compete professionally.
Manly Surf School
Another school located in Sydney, Manly surf school operates every day of the week and provides learners with all the equipment that they will need as well as advice from the owner who has been doing this for almost 40 years!
Breaking Blue Surf School
This one is based in Adelaide and has an excellent reputation for being a great surf school for kids. Claiming to have the best surf instructor in Australia, Breaking blue is certainly able to live up to this claim with the sheer amount of qualifications that are mandatory for all its instructors.
Surfing Safety And Advice
Being in the water is an extremely fun experience but it can also be a dangerous one if it is not done with safety in mind.
Australia's top surfers would never get into the water if there was even the slightest chance that any harm would come to them and it is vital that when surfing in Australia, you heed warnings and take safety precautions.
Some of the most imperative are listed below.
It is highly recommended that you never surf alone, no matter how experienced you may be. Even the best of the best can find themselves in a sticky situation and so surfing with a friend is the best way to ensure that if you get into trouble, there will be someone there to help.
This is even more important if you are surfing in a more isolated location, in this case, it is even preferable to go in a larger group.
With the above in mind, surfing at an isolated location can be exciting but it is always a better idea to surf on a patrolled beach, by that we mean one which has lifeguards.
This will make certain that a trained professional is on hand for any injuries or emergencies that take place in the water. By using the Beachsafe App

, you can check when patrols will be available as well as access a whole wealth of other safety advice.
Don't run before you can walk. Surfing is a skill that takes time and practise, and you should never attempt anything that you are not sure you can manage. For example, if a beach is said to be dangerous for beginners, and you are a beginner, there is no shame in finding a more suitable location.
Should you find yourself caught in a rip, you should be educated on what to do, that is to swim parallel to it and not try to swim towards this shore as this will end in you becoming tired and unable to stay afloat. Make sure that you stay calm and signal for help.
On Australian beaches, you will see a flag system in operation which tells you whether or not it is safe to go into the water. Always heed the advice of these flags and if the advice is to stay out, then stay out.
Just Great Surfing
Australia has so many great surfing spots for people at all levels of the sport and surfing is one of the country's greatest attractions with millions of people flocking there every year to take advantage of the excellent surf conditions that the huge island experiences.
Whether you are new to surfing or have been taking part for many years, Australia will not disappoint!
Best Surfing Techniques For Beginners and Intermediates
Surfing is deeply rooted in the culture of Australians making it their favourite sport. But what else would they do with over 50,000 kilometres of coastline, clear waters, and pristine sands?
However, if you're a beginner, it's paramount to know that surfing isn't an exercise for the fainthearted.
Surfing requires patience, proper positioning of feet on the board, and most importantly catching the right wave. Here are some surfing techniques for all levels of surfers.
Align your surfing board
A surfboard is made so that it can float on water. During surfing, the board should remain floating even with your weight. Most beginners make the mistake of not correctly balancing which often leads to accidents.
One tip that always works to help you adjust your board by having a mark on your chin. Then, anytime you feel as though your board isn't balanced, you place your chin appropriately until you get back on track.
You should also not lean so much on your back that the board corks. Corking can make you not catch a good wave and, in turn, miss some fun playing with the waters. Any time you put a lot of weight on your back, make sure you move several inches up the board such that it balances perfectly in the wave.
Paddle using one arm
If you make the mistake of paddling using both hands at the same time, you may surf at very high speeds that aren't sustainable in the water. Besides, if you use both arms simultaneously, you risk missing a sound wave.
The right way to paddle is by using only one arm at a time and then changing to the other seamlessly. That way, you gain sustainable speeds.
Standing on the surfboard
By now, you know how to paddle, as well as how to align yourself on the board. Therefore, we can now get started on learning different positioning tips. Standing may seem like a no brainer for most people. However, if you're a beginner or an intermediate, follow this tip to stand on your board like a pro.
Firstly, lie on your board as though you're trying to do a push-up. All this while, make sure your feet are placed in the middle of the board for proper balancing. In that push-up position, make sure your hands remain on the sides of the board.
Then stand up at once and make sure you don't fully lift your head to avoid toppling. Also, don't look to your feet because you risk falling.
Sitting as you surf
Since you've learned how to stand and lie on your board, then sitting on it is a no brainer. The best way to learn how to sit in the waves is by being calm. With practice, sitting is fun and easy. You can do it within hours of practising.
As you get better, you'll understand that sitting only needs you to make minimal movements on the board for the right balance.
Safety First When Surfing
Expert surfers know that safety is vital to sharpening surfing skills. Here are some essential safety tips as you surf the stress away.
Don't catch someone's wave to avoid a collision in the waters
Dress appropriately depending on the season
Surf with a friend, especially if you're just starting out
Always surf with the surfboard nose facing the front
Tell the other surfers where you're headed to avoid bumping into each other
Always fall flat and cover your head with your hands to prevent injuries if your board comes back at you
Stay perpendicular to the whitewater
You'll definitely have a lot of fun catching waves as you advance your surfing skills. But how about when your wave is breaking? Well, you can choose to get under it or paddle hard enough to get on top of the breaking wave.
Sounds fun, right? However, you need to stay perpendicular to the part of the breaking wave. This is because, as the wave breaks, it has a large surface area and strength that it could drag you underwater and throw you to the shores.
What You Need To Know About Surfing in Australia
With over 10,000 beaches and clear waters, you can explore the seas on a surfboard. The country boasts some of the best waves and surf breaks. There's definitely a swell for beginners, intermediates, and expert surfers in Australia.
Whether you prefer going solo or joining a surf camp, then we've got you covered. Here are some surfing tips for intermediate and beginner levels in Australia.
Seasons For Surfers
Seasons don't really matter in Australia because the country is big and temperatures vary from region to region.
During summer, you can expect hot and humid temperatures, and during winters, the weather feels warm and dry.
Summer lasts from December to February and attracts many tourists; hence you can expect overcrowding in the surfing spots.
Autumn is the best time to go surfing in Australia between March and May. During this season, the water spots have fewer people; therefore, you don't have to wait for long before catching your wave.
Most importantly, the waters feel warm, the waves are many, and winds blow offshore making it the perfect time to go surfing.
Winter is between June and August; therefore, you can expect fewer people in the waters due to cold temperatures. However, winter has many swells for the different skill levels of surfers. Spring is the most unreliable season because the weather remains unpredictable and so are the waves.
Don't go too far up North surfing
You can surf East, West, and South without any problems. The northern side isn't ideal for surfing because there are so many coral reefs that prevent swells.
Besides, the waters in the region are known to have many stinging jellyfish and saltwater crocodiles.
Surfing Spots for Beginners and Intermediates in Australia
There are many surfing spots ideal for starters in Australia, such as Bondi Beach, Whitehaven beach, and Margaret River. However, in this guide, we will only discuss two famous spots in detail.
Burleigh Heads
The waters here have good swells for all levels of surfers. The Point located at the end of the beach especially offers good waves that could give you unimaginable fun.
The reason why Burleigh's heads offer the right surfing spots is that they have good surfing breaks all year round. However, surfing is best between February and May because of the Southeasterly swells.
Noosa Heads
The Noosa Heads located North of Brisbane makes offers the best spot for beginners. The waves here are never strong even in the harshest of weather.
The swells are perfect for learners, intermediates, and skilled surfers who want to advance their prowess. The most sought after location of the Noosa Heads is the First Point because it has consistent waves.
Surf for fun!
Surfing is not only fun but also an excellent way to exercise. Australia makes the top of the list of surfing spots around the world thanks to its vast coastline, clear waters, and perfect surf breaks.
However, to surf correctly, you should know how to balance on the board, paddle successfully, and then experiment with different maneuvers. However, if you fall, always fall flat and cover your face with both hands.
More Pages On Beaches
link to Can You Swim At Mission Beach?
It may surprise some people to learn that Australia has over 10,000 beaches along its coastline country-wide. There are practically countless sandy shorelines spanning the coastline that all over...
link to What Is It Like To Live Near The Beach?
Visiting the beach is a beautiful opportunity to see mother nature at its best. There's nothing quite like hearing the waves rolling in on a soft, sandy shoreline. While visiting the beach is a...