At one point in time, Hyams Beach was infamous for being known as having the whitest sand in the world. However, that proclamation turned out to be false.
Despite the false proclamation Hyams Beach still has one of the whitest powdery sand in the world.
The sand is so squeaky when you walk on it will make you laugh or you may just grit your teeth.
You're probably thinking that you want to check out Hyams Beach for yourself. The best way to do this is to start by taking the White Sands Walk, this walk is found at Nelsons Beach in Vincentia, You will also find the bird spotter's walk and lastly move onto a walk through Jervis Bay National Park.
It's also known that the beach has a little swell in the waters at times, You will find some visitors taking their time to get into the waters, enjoying some snorkelling along the way, some even choose to go kayaking and if the tides calm go paddleboarding.
This marine park (Jervis Bay Marine Park) has also been known for sightings of humpback whales when they are travelling on their migration along this vast NSW coastline.
As you can see the beach has plenty to do and see here, from dolphins to seals and some times even penguins show up, all at the one beach!
There are tour operators that you can go see some of this marine life, one of the local operators are found here, to visit their website click here.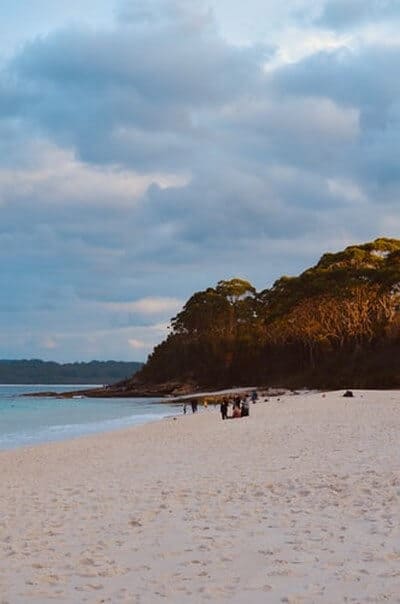 What Is The White Sands Walk At Hyams Beach?
The White Sands Walk is a 60-90 minute walk through the most pristine beaches of the Jervis Bay Region.
The 2.5 km walk begins at Greenfield Beach picnic area in Vincentia, then you walk along the beautiful white sand of Chinamans Beach and end the walk at Hyams Beach.
There is no access to public transportation on the beach, therefore, you walk the track to get to Hyams Beach after parking your vehicle.
Going back to Greenfield Beach picnic area can be done accessing the Scribbly Gum Track. You will find this track is more forest than woodlands bringing you away from the beach. It is recommended to go as early as possible because of the sun and wind.
This walk is known for its woodland coastline and many birds are found in this area of the walk, you can now take a look at the walk with Google Trekker

.
It's best to take drinking water, apply your sunscreen first and wear a hat for the walk, insect repellant is also a good idea as you are walking next to the beach lands area in the National Park.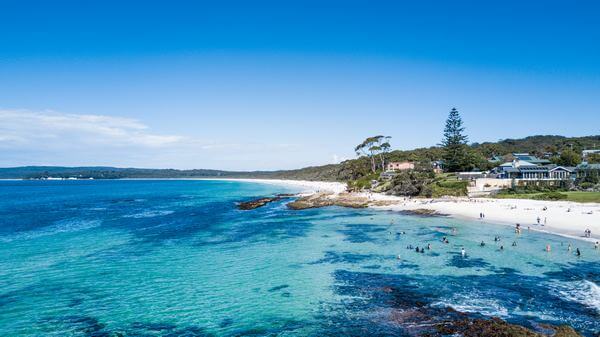 Where Is Hyams Beach Located?
Hyams Beach is located on the southern coast of New South Wales on the border of the Jervis Bay region. This is a village located in the city of Shoalhaven. It is about 180 km south of Sydney.
Hyams Beach is situated between two beaches, Chinaman's Beach to the north and Seaman's Beach to the south.
Google Map Of Hyams Beach
Hyams Beach Distance To Airports
From Jervis Bay Airport, Hyams Beach is approximately 15 km away and a travel time of around 25 min.
From Sydney International Airport via Princes Hwy it is a total distance of 185 km with a travel time of 2 hrs 36 mins. From Hume Motorway the travel distance is about 195 km and travel time of 2 hrs and 44 mins.
Transportation To Hyams Beach
There are several ways that you can get to Hyams Beach from anywhere within NSW. You can take a train, bus, taxi, car or a combination of any of these modes of transportation.
Depending on the direction that you are travelling, you would take either the Princes Motorway or Hume Motorway. These times are only rough estimates due to traffic conditions on the day of travel
Travel Times To See Hyams Beach
Your travel time will fully depend on your mode of transportation as well as the location that you will be coming from. Please also take into account if your travelling on holiday times as the roads may be very busy.
From Sydney – To reiterate it is about 180-188 km drive on the scenic Grand Pacific Drive. The drive will take about 2 -3 hrs. If you take a train or bus you are looking at the bare minimum of almost 4 hours and up to 6 hours of travel time.
From Canberra – There are 3 different routes that you can take, which determines the distance and travel time from. If you take Braidwood Rd, the travel time is about 2 hrs and the distance is about 198 km.
Taking Federal Hwy and Hume Hwy, the distance is 247 km and takes about 3 hrs. The last route is via Kings Hwy and Nerriga Road, travelling 211 km in about 2 hrs. If you take a train, it will take you about 3 hrs.
Kiama to Hyams Beach is about 72 km and takes right around an hr to drive or take a taxi. If you choose to take the bus or combination of train and bus, you are looking at 3-3 1/2 hrs of travel time.
Goulburn to Hyams Beach is right around a 2 hr drive whether you take the Braidwood Rd route or the Hume Hwy route. The total travel distance from Hyams Beach is between 150-160 km.
Plantations Point is the starting route you would take if you want a longer walk. This will include Blenheim beach and the walk from Plantation Point is 1 hrs at a distance of 7 km.
Other Walks/ Trekking Near Hyams Beach
If you are wanting to go beyond Hyams Beach and explore the area, Huskisson is a 10 km hike or 12-minute car ride or 10-minute taxi ride. If you take a bus it is about a 45-minute ride.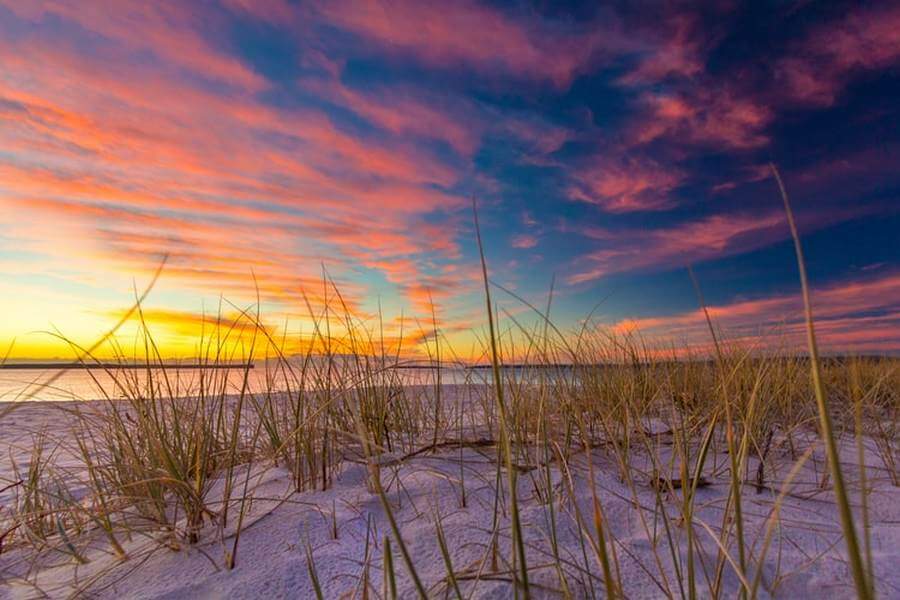 What To Take With You When Going To See Hyams Beach
Here are a few tips that you would want to keep in mind before trekking to see Hyams Beach:
Stay informed, especially during the Summer holiday period. There tends to be a lot more traffic and fires. You can check with the NSW website, and you will be able to find out about any road or National Park closures. You can still access the beaches, however, the parks are typically closed for visitors and camping.
Beware of your surroundings, especially when taking a swim. This is one of the many Australian beaches that is unsupervised and sharks are known to be in the water.
Don't forget your swimmers. Going on the white sand walk will tempt you to want to take a swim in the beautiful turquoise waters.
Remember to bring your sunscreen and insect repellent. After spending all day in the Australian summer beach sun, you have a higher risk of getting burned.
There are signs for bluebottles and jellyfish in this area so take care if you are swimming, Enter the water slowly this gives time for the marine life to move away from you, Never run into the water!.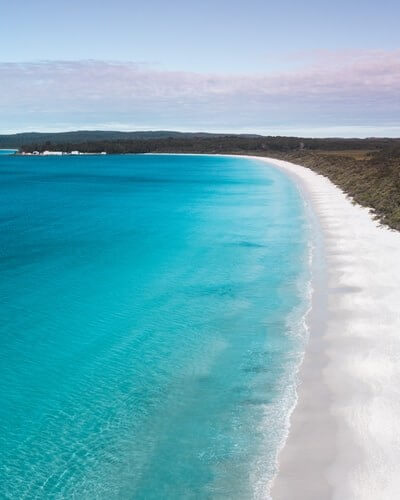 Bring some sort of footwear with you. It doesn't matter if it is a pair of thongs, bring them. Yes, the beach is beautiful and the sand feels like clouds beneath your feet, however, anything can happen and you don't want to be without shoes. Walking back to Greenfield Beach picnic area using the Scribbly Gum track, you won't be walking on the beautiful sand.
If you are driving from the Sydney area or further, make sure you have your vehicle and tyres checked. Just to be on the safe side.
Fill a day pack with a few essential things such as first aid, extra clothing light sweater or jacket – just in case it gets chilly.
As with many of the beaches in Australia, you might see snakes so be aware of the surroundings at all times.
Make sure you bring your phone or camera to take some photos along the way.
Final Thought
As with all of Australia's beaches with all the fun you are having you need to have back up plans and essential items on hand. Know where you are going and keep others informed of your itinerary, keeping yourself safe is so important.
I say this all the time, however, if you are in an unfamiliar area, you need to be alert. Now let's end this on a positive note, and just have fun!
More Pages On Beaches
link to Can You Swim At Mission Beach?
It may surprise some people to learn that Australia has over 10,000 beaches along its coastline country-wide. There are practically countless sandy shorelines spanning the coastline that all over...
link to What Is It Like To Live Near The Beach?
Visiting the beach is a beautiful opportunity to see mother nature at its best. There's nothing quite like hearing the waves rolling in on a soft, sandy shoreline. While visiting the beach is a...