Australia is one of the most exotic places in the world, with so much wildlife, landscapes, and seascapes, there is plenty to see. This is especially true for its beaches.
It has over 10,000 beaches, although not all of them are suitable for a day at the beach. However, there is plenty to have a great adventure on, from boating to fishing, etc. But what are the warmest water beaches in Australia?
The weather in Australia

is generally thought of as pretty hot. When it comes to their beachfront areas, some beaches are warmer than others, including the water temperature.
When it comes to the weather in Australia, the heat can pack a punch. It is always important to have access to some shade and freshwater. Just because its beaches can get quite warm, doesn't mean that the beach should be avoided.
In fact, just like anything in Australia, precautions should always be taken. A day in the sun can be best had with shade, fresh water, and even clothing designed for keeping cool in the sun!
More specifically, the weather in Australia doesn't necessarily follow the "seasons" that other parts of the world may be accustomed to. Because of its proximity to the southern hemisphere, Australia faces the Sun in its orbit at different times than the northern hemisphere.
Because of this, the summer months are during December and January and the winter months are during July and August.
Australia doesn't have traditional seasons, rather a wet and dry season. The wet season (November to April) is when the northern areas of Australia have lots of rainfall. The dry season (May to October) is where less rainfall occurs.
Even with these wet and dry seasons in certain parts of Australia, they still use the terms, summer, fall, winter, and spring for certain months out of the year. These months will produce slightly differing temperatures.
When looking at the warmest water beaches, the weather itself should also be considered. For example, places like Queensland, and Australia have sub-tropical weather that is typically pretty humid.
This area may have warmer beaches than other parts. However, on the western side of Australia, the weather will vary a bit. Knowing what the weather is like in specific parts of Australia, including the beach waters will ensure that a visitor is aware of the beach conditions.
This also ensures that they can choose the perfect beach area for them!
Where Are The Warmest Water Beaches in Australia Located
Swimming at the beach is a popular activity and the water temperature should be optimal. Water that is too cold is simply not practical and too hot of water may not be comfortable.
But overall, warmer water can help regulate body temperature, ultimately keeping us a little cooler under the harsh sun. Considering that certain parts of Australia can reach upwards of 30 degrees Celcius or more, going to the warmest water beaches might be best!
Below are the warmest water beaches in Australia and their approximate temperatures!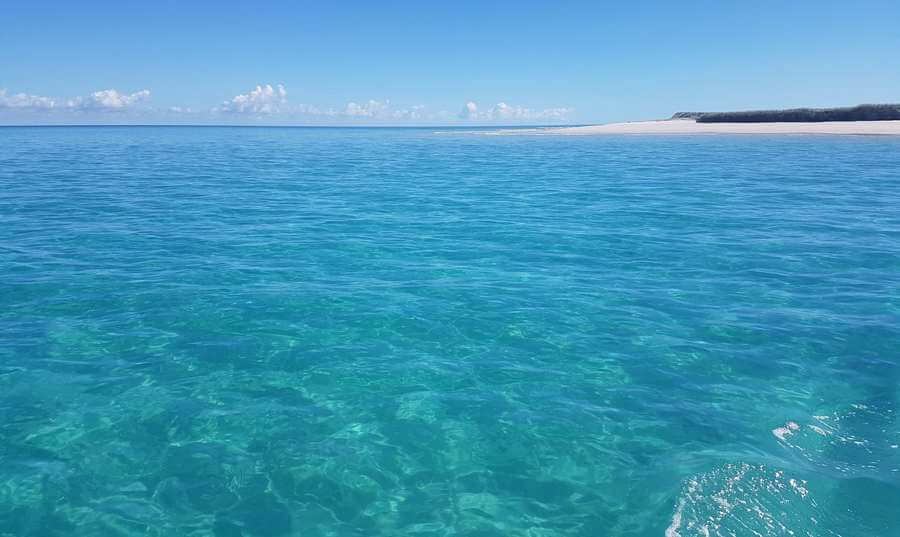 Beaches With The Warmest Waters In Australia
Turquoise Bay, 26-30 °C, Exmouth, Western Australia
This bay is famous for its turquoise coloured waters. However, its warm waters are perfectly comfortable. In the winter months, the temperature goes between 26-30 degrees Celcius and in the summer months, the water is somewhere around 24 degrees Celcius.
Hayman Island, 25 °C, Whitsunday Islands, Queensland, Australia
This island is a part of the cluster of Whitsunday Island formations, nestled right at the northernmost area of Whitsunday Island. It is one of the best beachfront areas to visit for perfect water temperature.
This is because the water temperature stays maintained at around 25 degrees Celcius all year round. Not only can guests enjoy the perks of an island stay, including access to the Great Barrier Reef.
Palm Cove, 24 °C, Cairns, Northern Queensland
Cairns is full of beautiful beaches and Palm Cove is a favoured location. This gorgeous beach area has a water temperature in the winter of around 24 degrees Celcius.
During the summer, the water temperature is said to be around 29 degrees Celcius. That five-degree difference really makes Palm Cove an attractive beachfront during the summer months!
Trinity Beach, 29 °C, Cairns, Northern Queensland
This gorgeous beach is well maintained and is always patrolled. Trinity Beach is said to have water temperatures in the winter near 29 degrees Celcius and 23 degrees Celcius.
These water conditions make spending time in the water at Trinity Beach quite enjoyable!
Holloways Beach, 28-30 °C, Cairns, Northern Queensland
This beautiful beach is near various shops, restaurants, etc. Holloways Beach has water temperatures in the winter around 22 degrees Celcius and during the summer months it rises up to 28-30 degrees Celcius.
Between the various places to check out around Holloways Beach and the optimal water temperatures, it is truly a summer hot spot to visit!
Kewarra Beach, 28 °C, Cairns, Northern Queensland
Kewarra Beach is famous for its mini-forest of coconut trees, however, its beach water temperature is truly a delight as well. During the summer months, the waters hover around 28 degrees Celcius.
In the winter months, the temperatures are around 22 degrees Celcius. A summer trip to Kewarra Beach would be well rewarded with great waters and shade among the coconut trees.
Cottesloe Beach, 22-23 °C, Western Australia
Cottesloe Beach's water shimmers like a blue and green gem off of the Western Australian coastline. It is a picturesque area for swimming and other water activity.
The waters here are best at the beginning of March when they peak around temperatures of 22 to 23 degrees Celcius. While this isn't nearly as warm as the waters near Cairns or in Queensland, it still has pretty desirable water temperatures!
Scarborough Beach, 24 °C, Western Australia
Scarborough Beach is popular among surfers and swimmers alike for its beautiful water conditions. Moreover, this white sanded beach is simply stark to see in person.
When it comes to Scarborough Beach's water temperature, once again, around the beginning of March, the water peaks upwards of 24 degrees Celcius.
These beaches have some of the warmest waters for a perfect day at the beach. The contrast between the winter and summer months helps to showcase the peak times to visit these beaches.
It is important to note that warm water does attract jellyfish, especially in the tropical north areas of Queensland like Cairns.
This shouldn't serve as a way to scare people from entering the water. Rather, always be alert to the surroundings (both in and out of the water). Moreover, always ensure that swimming takes place on a patrolled beach.
With a patrolled beach, help is always on the way. Beaches are a great way to spend a day in the sun, just always being aware will make for a safe day as well.
Why Are Australia's Beaches Warm?
The water temperature is important at Australian beaches for great swimming or watersport conditions, but what about the overall beach weather?
Australian weather is known for being a bit hot, especially in tropical areas like Queensland the beaches are very warm in fact they vary from around 24 to 30 degrees Celcius in the summer months.
While Australia doesn't have definitive seasons outlined, it is still said that certain parts have spring, summer, autumn, and winter. Moreover, let's not forget those wet and dry seasons in the tropical regions.
These seasonal months will dictate just how warm Australian beaches can be.
Even though there is not a "winter" in Australia as it is known in other parts of the world, the winter months still produce far chillier temperatures than what other months may produce.
These times may not be best to head into the waters, but the overall "seasonal outline" of Australia may help understand how warm the Australian beaches may get during peak months.
Below are the seasons in Australia and their corresponding months!
Seasons of Australia
Spring – September to November
Summer – December to February
Autumn – March to May
Winter – June to August
Wet Season – November to May
Dry Season – May to October
The average temperatures during these times are important in assessing the overall warmth of the beaches in Australia.
It is important to note that these seasons are generally seen throughout the states of Australia, but the wet and dry season is exclusive to the tropical northern territory and areas.
Below are the average temperatures throughout these defined seasons in areas like Sydney or Brisbane.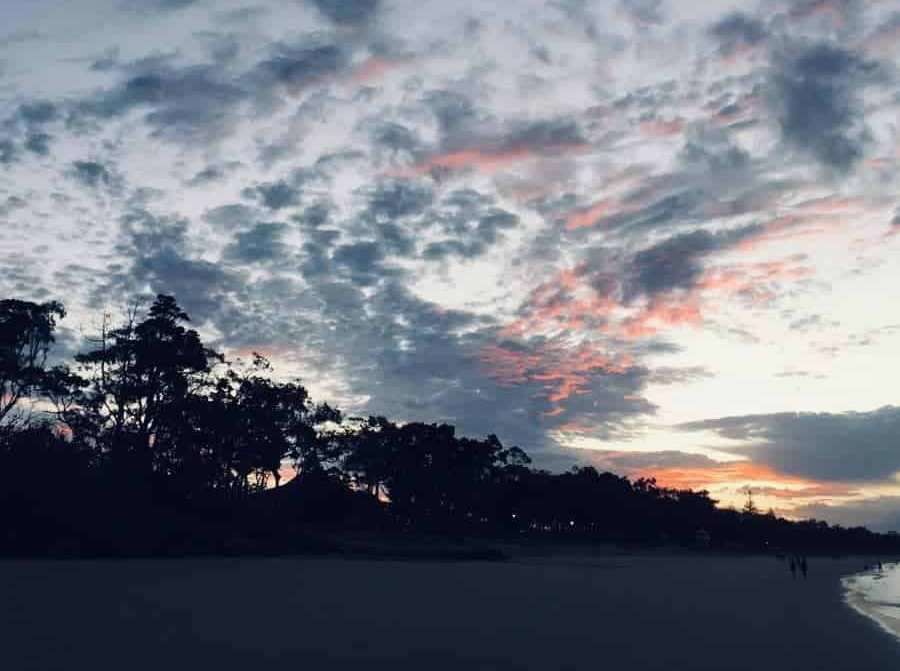 Temperatures in Sydney
Spring – 10 to 24 degrees Celcius
Summer – 18 to 26 degrees Celcius
Autumn – 18 to 25 degrees Celcius
Winter – 7 to 18 degrees Celcius
For Sydney, there's not too much of a drastic difference, except for the "winter" months when it can get as low as 7 degrees Celcius.
Temperatures in Brisbane
Spring – 13 to 27 degrees Celcius
Summer – 19 to 29 degrees Celcius
Autumn – 14 to 28 degrees Celcius
Winter – 9 to 22 degrees Celcius
Brisbane, is slightly warmer than Sydney, especially during the months of summer and autumn. These are two great examples of varying temperatures, thus the beach areas in these regions will be warmer during the summer months.
A combined mix of warm beaches and excellent water temperatures make these areas great to visit!
Which Side of Australia has Warmer Waters?
Australia is split up into 6 distinctive states, Western Australia (on the western coast), Northern Territory (to the north), Queensland (north-east and eastern coast), New South Wales (south-eastern coast), Victoria (southern coast), and Southern Australia (southern coast).
These areas all have varying water temperatures.
The quick answer to which side of Australia has warmer waters is the Northern coast in the Northern Territory with temperatures lingering around 28 to 32 degrees Celcius all year round.
However, not all areas in the Northern Territory are safe for swimming. For the few places that do offer swimming, always be aware of the surroundings.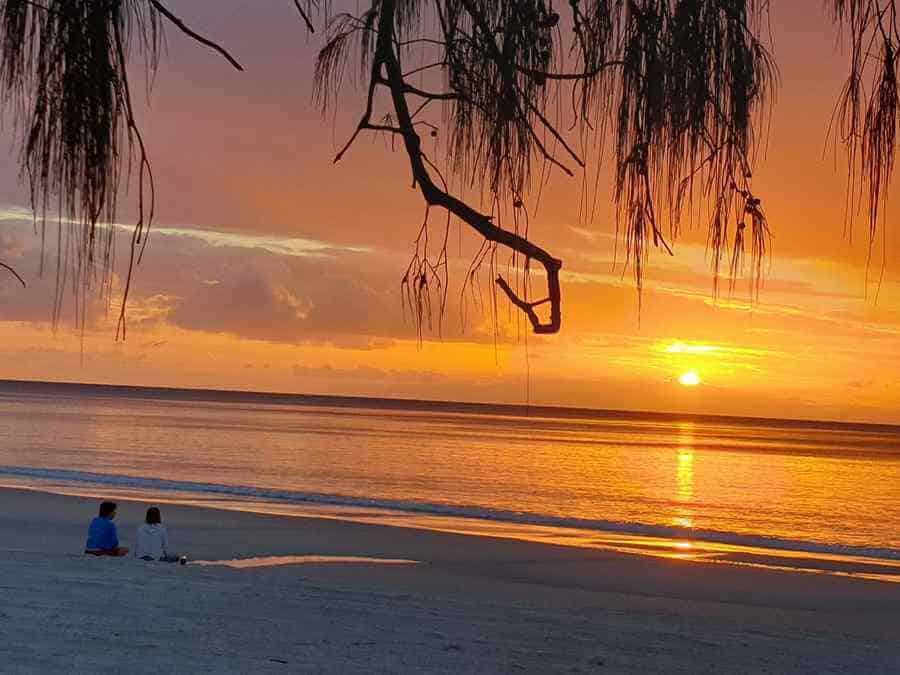 Coming in a close second, the Queensland region has pretty warm waters. As explored earlier, Cairns in the north-eastern coastal area are quite warm. The eastern coast sea temperatures come in at around 21 to 27 degrees Celcius.
These temperatures are also what help the Great Barrier Reef thrive. The temperatures typically stay steady, helping it to maintain its ecosystem.
In comparison to the north and eastern coastlines, the western coastline has significantly cooler sea temperatures. These are said to range somewhere between 21 to 24 degrees Celcius.
To further compare, the southern coastline, near Southern Australia, is said to have a range of water temperatures lying between 15 to 20 degrees Celcius.
The south-eastern coast, near New South Wales, has water temperatures that don't get too much above 24 degrees Celcius.
When comparing all four coastlines with the various states of Australia, it is easy to see that the Northern Territory and Queensland have some of the warmest waters in Australia.
While all waters can pose a certain danger, especially with the wildlife in Australia, Queensland simply has the best waters.
Visiting Queensland has tons to offer its residents and tourists. From warm water beaches, beautiful caravan sites, idyllic resorts, fishing expeditions, and even guided tours around various islands, there is plenty to explore!
Moreover, these warm water and beach conditions truly help guests to soak in the sun.
As expressed before, when visiting during peak temperature times like summer, always practise safety measures. The sun and its heat can still cause sunburns, heat strokes, etc and should be taken seriously.
Below are some safety measures to consider when heading to the beach for a warm beach day!
Beach Safety Measures
Always have access to shade! Trees, umbrellas, etc.
Always wear protective sun lotions or clothing. This reduces exposure to the sun.
Always have access to fresh water. Staying hydrated is essential.
Always be alert to the surroundings. Looking out for crocs, jellyfish, etc is important in warm areas.
These tips can make any trip to the beach a little bit safer and enjoyable. They ensure that every precaution is being taken during a visit to the beach. Warmer waters at the beach make comfortable swimming conditions.
Even if someone isn't swimming, other perks of warmer waters include fishing, boating, and various watersports. It collectively makes for the absolutely perfect day at the beach.
Australia's coastlines are speckled with many beaches and as expressed before, knowing the various water temperatures help visitors choose the best area to go.
From beach conditions to water temperatures and everything in between, guests can have confidence in knowing what the ideal coastline of Australia might be for them!
Recent Posts