Western Australia has some of the country's most beautiful natural landscapes. Additionally, the state is known for certain areas that harbour stunning beaches. One of these places includes Esperance, a locality in Western Australia that is situated along the southern coastline facing a portion of the Great Australia Bight.
There's plenty of sand and water that can be found in Esperance, but it is acceptable to swim in the town's waters?
You can absolutely swim in Esperance! In fact, Esperance is Western Australia's most sought-after place due to its bright-white sand beaches and brilliantly coloured waters. The waters around Esperance are known for being a remarkable turquoise colour that is simply breath-taking.
Most of the beaches around the area do feature white sand and brightly coloured water. Even though swimming is possible in Esperance, only certain beach areas are considered safe to swim at. Below are the specific beaches where people enjoy the water for swimming in Esperance!
Best Beaches For Swimming In Esperance
Twilight Beach
Twilight Beach is the safest and best place to swim in Esperance. This beach is one of the calmer beaches in the area due to its location in what is called the "Twilight Cove". This particular area has calmer waters as it is on the western section of the beach that is protected by various rocks, etc.
The further east that you travel, however, the water does get a bit more turbulent. When swimming at Twilight Beach always stay within the flagged area for the safest experience. Moreover, this is one of the only beaches in the area that is usually patrolled in the summertime.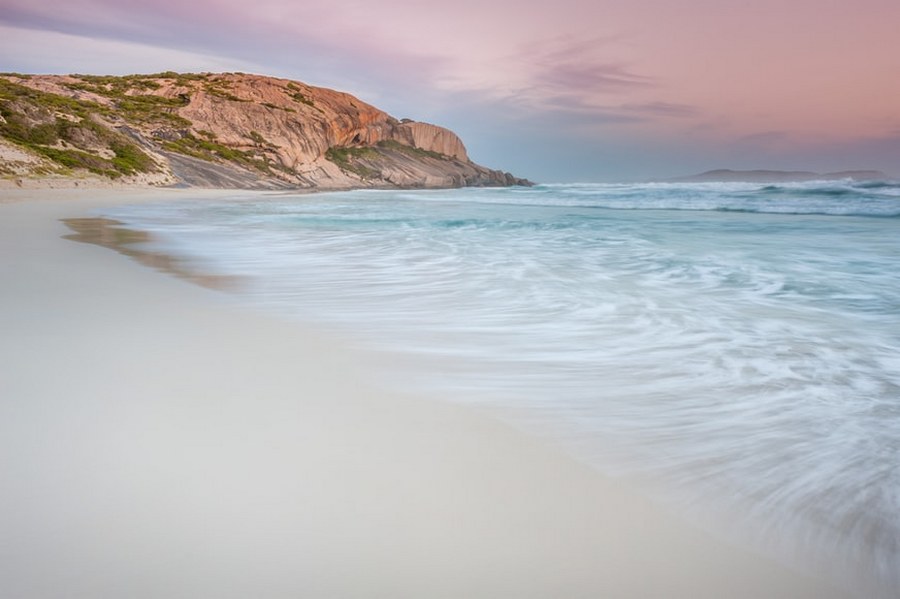 Hellfire Bay (in Cape Le Grand National Park)
Cape Le Grand National Park attracts visitors for its remarkable natural surroundings. What really reels people in are its two bays, Hellfire and Lucky, which offer ample swimming opportunities. Hellfire Bay has some of the calmest waters in the park and in Esperance which makes for ideal swimming conditions.
There is also access to bbq facilities and toilets, so spending a whole day here is totally possible and enjoyable!

Lucky Bay (in Cape Le Grand National Park)
Lucky Bay is another wonderful beachy area in the Cape Le Grand National Park. Visitors can swim here quite easily and even snorkelling is enjoyed in the bay area as well. The sheltered bay also has access for small boats to be launched.
Additionally, guests can bring their kayaks and paddle among the pristine waters. There is also access to fishing and diving which makes Lucky Bay one of the most diverse spots in Cape Le Grand National Park.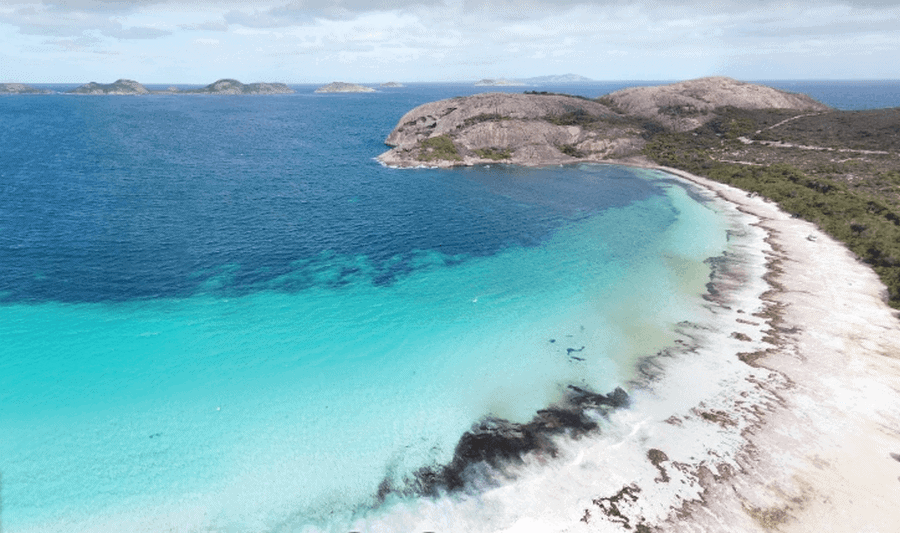 Blue Haven Beach
Blue Haven Beach is last on this list because the entire beach area isn't safe for swimming. However, its western corner which meets with stretches of other sandy strips of the beach is the safest spot to take a dip. Visitors to Blue Haven Beach should only stick with the western corner of the beach for swimming. Otherwise, the beach is notable for its scenic views.
This list might not be extensive, but these are the only places where swimming is exceptional in the Esperance area. Overall, Esperance has access to around 16 beachy shorelines but most of them are known for strong currents or riptides.
The places listed above have the calmest waters in the area which provide idyllic swimming conditions. However, this isn't to say that people shouldn't be on the lookout for any turbulent conditions. The ocean is unpredictable so it is always best to be alert!
Google Map Of Esperance
Is It Safe To Swim At Esperance?
It is safe to swim in some parts of Esperance. Beach safety is common sense you need to practise this while swimming anywhere in the world. However, it is particularly important in places like Australia where there's dangerous wildlife and choppy water conditions.
Strong current water conditions aren't found everywhere in Australia, but they can be found in certain places which is why it is critical to be alert at all times.
The biggest concern with swimming at Esperance is strong current or riptide conditions. Most of the beachy shorelines around Esperance do have these conditions with the exception of the previously stated locations. Even still, the ocean isn't predictable so you should always be alert for any troubling waters.
Overall, the waters around Esperance are only dangerous due to riptides or strong currents. The area isn't known for getting stingers or sharks but once again, this isn't to say that it can't happen. Ocean waves have been known to carry marine life far away from their points of origin where they turn up on beaches or in waters they may not usually be found.
Once again, common-sense beach safety should always be utilised to ensure that you and everyone you are with stays safe. Even though beach safety is common-sense stuff, it is good to be reminded of what to look for. Below are some basic beach safety tips!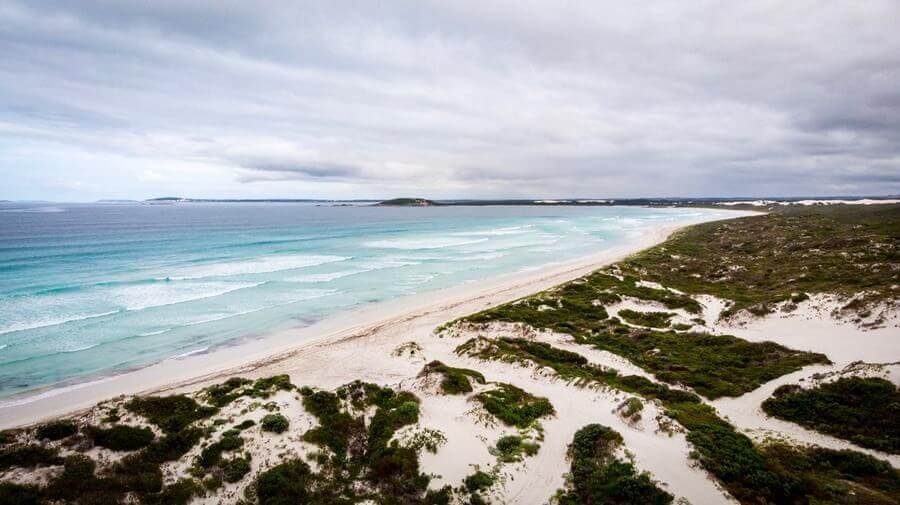 Beach Safety Tips For Swimming At Esperance
Do Not Swim Alone
Swimming alone is one of the most dangerous things you can do. You could encounter harmful wildlife or strong tides and currents. Having a beach buddy is simply the smartest thing to do no matter where you might be swimming. In the case of visiting Esperance, there are some excellent swimming spots but never go alone.
More importantly, never swim where the waters are not calm.
Do Not Swim In Waters With Strong Currents
Esperance has a number of beaches that feature strong currents and dangerous riptides. These beaches are strictly for strolling along the sand but not entering the waters. Never enter the water if there appear to be currents that could easily sweep you away.
While a number of Esperance's beaches aren't safe for swimming, there are a few that are safe, so always stick to those beaches.
Attempt To Swim At Patrolled Beaches
Patrolled beaches give an extra sense of security as you have an additional person watching out for you aside from your beach buddy. Australia has thousands of beaches so not all of them are patrolled and this certainly applies to Esperance as well. Twilight Beach is one of the most patrolled beaches in the town, so aiming to visit that one is ideal.
Have Access To A Mobile To Call For Emergency Services
In today's modern society, there is no excuse for not having access to a mobile phone. We tend to have them at our side almost all of the time. So there's no reason why you shouldn't already have it at the beach.
Having access to your mobile is the quickest way to ensure that emergency services can be contacted if there is an issue, Dial 000 for help.
Swimming in Esperance can be a safe experience so long as you remember these tips and only swim in the safest possible places. Esperance, along with other places around Australia, can have safe places to swim even if not all the beaches in the country are ideal for taking a dip!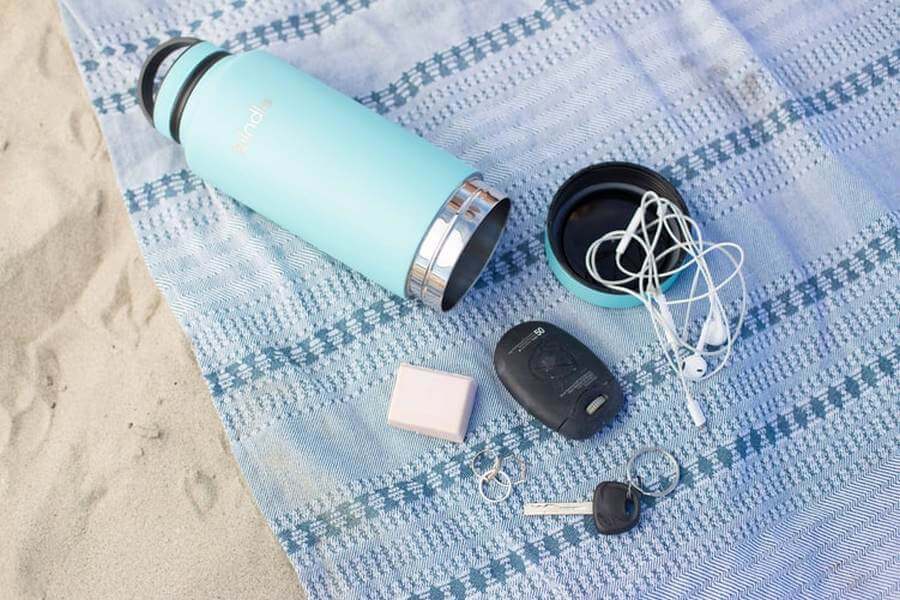 Is The Water In Esperance Cold?
Despite Esperance being in the southern part of Western Australia, it is one of the colder cities in the state. On average, the warmest month for the town is February and the temperature only gets up to 20 Degrees Celcius (or 68 Degrees Fahrenheit). The average water temperature isn't much higher for Esperance which is around 18 Degrees Celcius (or 64 Degrees Fahrenheit).
This does make the water quite chilly compared to other places around Australia!
Even with colder water, people still enjoy swimming where they can around Esperance. The best time of the year to visit Esperance is December through March as the waters will be more temperate during these months.
During the other months of the year, the water temperature drops quite a bit. August is considered to have the coldest water temperatures in Esperance as the water rarely gets above 15 Degrees Celcius (or 60 Degrees Fahrenheit).
Again, February is the most ideal month to visit as the temperatures are better for the water which reach 20 Degrees Celcius (or 68 Degrees Fahrenheit) much like the general average temperature for the town. While that still isn't super warm, the water can be comfortable during February.
Esperance also experiences quite a bit of rain compared to other areas of Western Australia. Its rainy climate could be a contributor to the cooler temperatures and cooler water temps as well.
Throughout Western Australia, there are plenty of beaches to visit. Esperance is a unique town with some stunning beaches to check out. Even though they aren't all suitable for swimming, there are still places to swim in and around Esperance.
The key is going during the warmest month of the year and sticking to the safest locations where the waters will remain generally calm. The important thing is to always ensure everyone you are with stays safe against unpredictable waters.
As expressed before, Esperance is a remarkably beautiful place and it can provide guests with idyllic swimming spots or showcase the area's natural beauty. Either way, the town is a pleasure to visit!
Recent Posts
link to Can You Swim At Cable Beach?
Swimming in Australia is one of the many ways to enjoy the country's stunning beaches. There are over 10,000 beaches around Australia's coastline but not all of them are suitable for swimming. Some...
link to Can You Swim At Lucky Bay?
All over Australia are stunning waters. These waters are tempting to those wanting to take a swim. However, not all places are suitable for swimming in Australia, regardless of their spectacular...