One of the main things that are associated with Australia are animals that can be found here. There are so many different species both on land and in the water, One of these species is the whale, which attracts many tourists wanting to catch a glimpse of these magnificent creatures in their natural habitat.
The most commonly spotted whale off the coast of Australia is the humpback whale but there are other species that frequent these waters and can be spotted if you are lucky. Other types of whales that you may come across here are the minke whale and the largest creature on earth, the blue whale.
There are a large variety of whale spotting tours available whilst in Australia and in this article, we want to bring you some of the best whale watching tips as well as showing you some of the best places to see these incredible animals and when is the right time of the year to do so.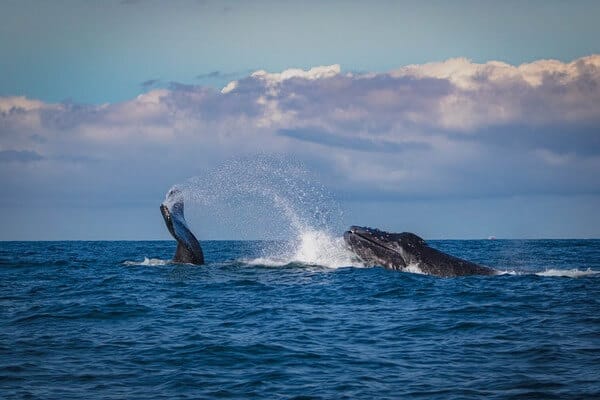 What Do I Need To Take On A Whale Watching Tour?
If you are planning to take a whale watching tour, there are certain things that you should consider taking with you, being out at sea is a whole different ball game than standing on dry land and so it is worth being prepared for every eventuality.
Let's take a look at some of the items recommended to pack for your whale watching adventure.
Camera To Take Photos Of The Whales
This is something that you are going to want to remember for the rest of your life and so remembering to take a camera to get some snaps of the whales is essential.
Take Sea Sickness Pills To Avoid Getting Sick While Whale Watching
This is especially useful if you know that you suffer from seasickness, however, if you have never taken a boat out to sea before, you should take some just in case you start to feel a little queasy.
The entire whale watching experience will be ruined if you do not feel well. During the morning time, the sea tends to be a little calmer and so it might be worth going at this time of the day if you want to avoid seasickness as much as possible.
Spare Clothing In Case You Get Wet While Watching
Being on the water, there is a chance that you may get wet so bringing a change of clothes is a good idea.
Extra Layers To Avoid Getting Sunburned While Whale Watching
As well as taking extra clothing, it is also a wise idea to take some extra layers whilst out at sea, especially if you are in one of the cooler regions of the country during wintertime. That being said, even in the tropics, there may be a breeze out on the water and you might feel the need to put on a jacket.
Wear Sunscreen To Protect Your Skin While Whale Watching
This may contradict the above point but wearing sunscreen is vital when out at sea as the sun can reflect off the water and the chance of sunburn becomes much higher. It is important to remember that you can still receive skin damage from the sun on overcast days as well as days where the sun is not as hot.
Sunglasses To Protect Your Eyes Against The Harsh Sun While Whale Watching
As we mentioned, the sun can shine off the sea and create a powerful glare, not only will this cause damage to your eyes if they are exposed but also could interfere with your view of the whales once they arrive.
To Keep Your Grip While Walking On Whale Watching Boats Wear Sensible Shoes
Whilst on a whale watching trip, you should wear shoes that are comfortable and have a good grip, ones with a rubber sole will do well. This is to provide prevention from slips and falls whilst on the deck.
Water And Snacks To Keep You Hydrated And Nourished On Your Whale Watching Adventure
If you are going on a particularly long whale watching trip then this is even more important. Depending on the company you are taking the trip with will depend on whether there are refreshments available onboard but if there aren't it is a good idea to take your own.
Binoculars To Spot Whales In The Distance
These are great for getting a good look at whales that are further away from the boat. Many of the animals will be nearby but this can never be guaranteed so having a pair of binoculars on hand is very useful.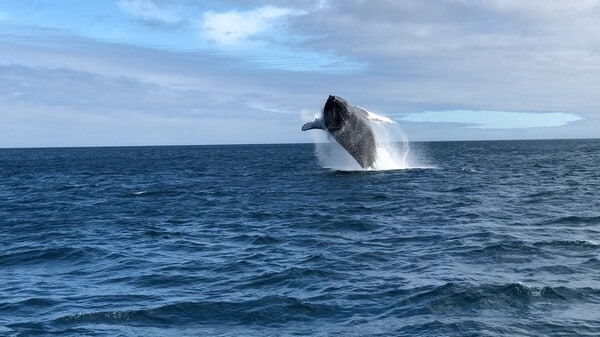 How Much Does A Whale Watching Tour Cost?
Depending on what you want and which company you use, the cost and length of a whale watching tour can vary greatly. It is worth doing your research before booking a tour because this way, you will have a greater understanding of what to expect on the day.
Prices start from $80.00 per person and can go up to $300.00 for a full day tour depending on your location.
For example, if you are family travelling with younger children, they may get bored spending too much time on the boat and so finding a shorter whale watching tour is going to be more suitable.
However, if you are a single person or a couple with a real love for nature, then a day-long tour might be more appropriate for you.
With that in mind, let's take a look at a few examples of whale watching tours in Australia and their cost and length.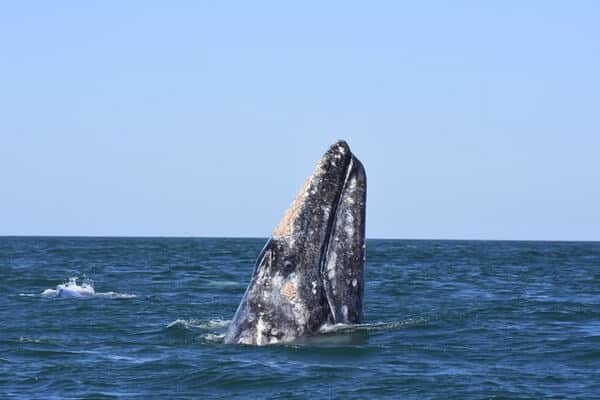 How Long Do Whale Watching Tours Last?
For around $250 you can take an 11-hour whale watching tour along the north coast of Australia which includes pick up from your hotel and not only includes whale watching but a variety of other wildlife activities throughout the day.
This one is great for families as it mixes things up and keeps the kids on their toes.
For just shy of $100, visitors can take a two-hour whale watching tour by speed boat from Sydney.
For around the same price as the previous tour, there is the opportunity to take a four-hour-long whale watching cruise which includes lunch or breakfast, depending on what time of the day you go.
There are many other options in the $100 region which include tours between two and four hours on a variety of different vessels.
If you are looking for something a little more luxurious, you can take a luxury, small group whale watching tour for around $350-$400 which lasts for four hours. This option includes a lunch
There is also the choice to buy a hop on hop off whale watching ticket in the Sydney area which costs around $100 per person and can be used at ten harbours in the area over the course of two days, giving you the freedom to explore the city and come back to see the whales as and when you please.
Most whale watching tours will also offer a free cancellation policy, should you decide to change your mind or if for some reason you can no longer make the trip.
Where Can I See Whales In Australia?
Whales can be spotted all around the coasts of Australia but Hervey Bay Queensland is one of the most popular, but of course, there are always going to be some prime spots where those looking to spend some times with natures most loving giants can do so with pretty much a guarantee of spotting the animals.
In this section, we want to share with you some of the best whale-watching spots around Australia.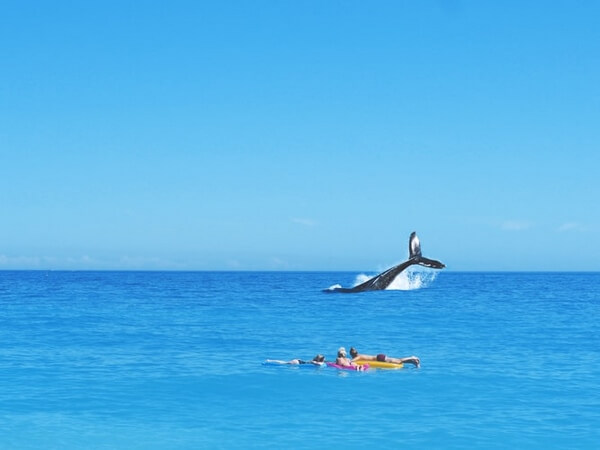 Whale Watching In Victoria
If you are staying in the Melbourne area, a great place to spot whales is at Warrnambool on Logan's beach, which is just a three-hour drive out of the city (that's pretty short in terms of Australian road travel!) Not to mention that the trip takes you along the Great Ocean Road, giving you ample opportunities to stop and search for whales along the way.
Staying in this area, whale watchers are advised to try Lady Bay where mothers of young whales have been known to come so close that they may even spray you with water!
Phillip Island is another great location where whales can be seen. Here you are likely to see the southern right whale as well as the humpback whale during the time that they are making their migration into warmer waters up north.
Whale Watching In South Australia
Adelaide and the surrounding areas are renowned for their opportunities to spot whales and one of the best places to go is Victor Harbour which is situated around 50 miles from the city. Here, whales are known to spend time here during mating season and visitors are given many chances to see them in the water during this time.
In Ceduna, it has been noted that the whales will often be seen performing for spectators by doing some impressive jumps in the water. Along the Fleurieu Peninsula, there are some excellent chances to see whales with this being one of the hot spots of the state.
Whale Watching In Western Australia
Off the coast of Perth, there are some fantastic opportunities to see these amazing creatures in action and one of the best spots in Flinders Bay. The south coast of this state has been said to be the best place to go whale watching and at Flinders Bay, you are likely to catch many sights of the southern right whale as well as the humpback and blue whales, although the blue whale is seen less often, it is not elusive.
Down in Albany, there is some great whale watching areas and many people flock here to see the animals in action. At Bremer Bay, the beautiful orca (killer whale) can be seen often and is a sight to behold for anyone who has a passion for whales.
Whilst in Albany, tourists have the chance to visit the whaling station which will provide you with a whole world of information on these animals and features an interactive museum which is excellent for the younger generation of whale spotters.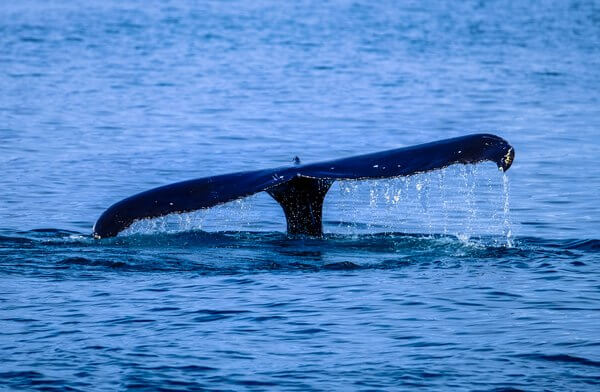 Whale Watching In Queensland
One of the obvious destinations for whale watching in this state is at the Great Barrier Reef, where whales migrate during the winter months to make the most of the warm seas here. There is a huge selection of whale watching tours here which will cater to every need.
That being said, this is not the only great place to see a whale whilst in Queensland. Around 200 miles north of Brisbane, you will find the idyllic location of Hervey Bay where whales can be spotted in huge numbers because of the perfect conditions for breeding and caring for their young.
Over on the pristine Whitsunday Islands, avid whale watchers can see many of these creatures who take advantage of the less deep waters to look after their calves.
Whale Watching In New South Wales
There are a whole host of whale watching tours leaving Sydney every single day, but if you want to see whales somewhere other than off the coast of this vibrant city, then why not head to Byron Bay where the whales tend to gather during June and there are plenty of chances to see them at this time.
In Jervis Bay, there are also many chances to see whales and in this area, you are likely to get a glimpse of the humpback whale for sure, with this location being one of the biggest whale hot spots in all of NSW.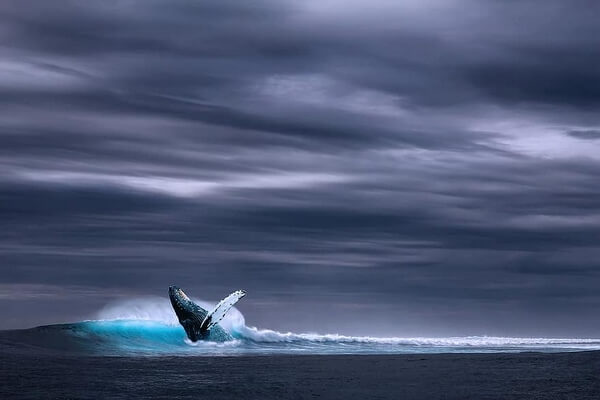 When Can I See Whales In Australia?
As with any animal, there are times of the year and the day that the whales will be seen more, this is down to factors such as migration, mating season and feeding times. If you want to have the best chance at seeing a whale whilst in Australia, you should arm yourself with the knowledge of the best times to see them. From May till November is when you can see whales in Australia.
It may come as a surprise to learn that a massive sixty per cent of all whale sighting occur around Australia, so you stand a good chance of seeing many of these animals.
Whale season in Australia tends to fall between the months of May and November, but where you are in the country and which month you are in will greatly contribute to what kind of whales you might be able to see.
During the month of May, at the beginning of whale season, the southern right whale and the humpback whale make their way to the warm waters surrounding Australia from the Antarctic, they do this in order to mate.
If you are in Victoria or South Australia, the best time of the year to see the whales is between June and October as this is the time of the year that they come into the shallower waters nearer the coast. It is possible to see the whales in May at the beginning of whale season and it is not uncommon for the blue whale to be spotted around the waters of Victoria at this time of year.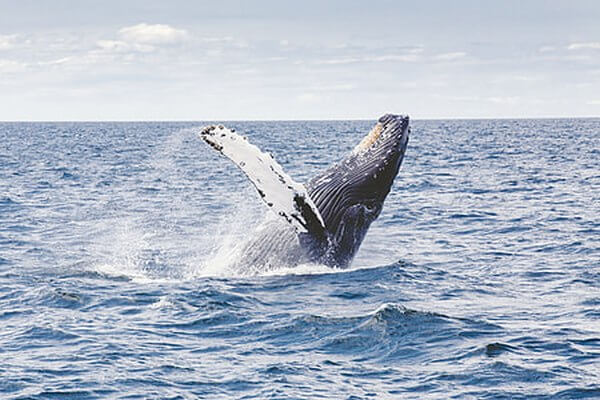 One of the main attractions is that the whales are not shy when it comes to interacting with humans and are regularly known to swim alongside or very near to a boat, giving whale watchers some excellent photo opportunities.
For those who are spending time in Sydney and wish to get up close and personal with these gentle creatures, the prime time to do so is between the months of May and July and then between September and November. This is also true of whale watching along the Queensland coastline.
The whales along the east coast of Australia are making an epic journey up to the warm, tropical waters of Queensland and you will likely see many humpbacks whales here. If you are looking to whale watch around the Great Barrier Reef, the best time to do this is between July and September although, from May, there will be some whales in the area.
Around the Gold Coast, the best time of year to spot a whale in its element is during the month of August.
On the western side of Australia, whale watchers are likely to catch sight of these huge beasts along the Ningaloo coast during the months between March and September. During September, the impressive blue whale can see spotted her frequently and is a huge attraction to anyone looking to spend time with these animals.
Can I Swim With Whales?
In short, yes you can swim with whales whilst in Australia, but it certainly isn't advisable to do this off your own back. There are various companies offering this experience and you should ALWAYS take part in one of these organised events. There are some excellent locations to do this, let's take a look at some of these now.
Western Australia
In Western Australia, you can head to the Ningaloo marine park which is located off the coast of Coral Bay where you have the opportunity to swim alongside the majestic humpback whales that call this area home.
Queensland Australia
In Queensland, visitors can take part in an interactive experience and swim with the humpbacks at Sunreef Mooloolaba on the Sunshine Coast.
Hervey Bay Queensland
In Hervey Bay

, you can take part in a whale tour which allows guests to get in the water and interact with the whales.
Coffs Harbour New South Wales
At Coffs Harbour in New South Wales, there is an excellent whale swimming opportunity where you can swim alongside humpback whales throughout the whale season.
It is always important to remember that when you are in the water with the whales, that you respect these animals and allow them to be in charge of any interactions.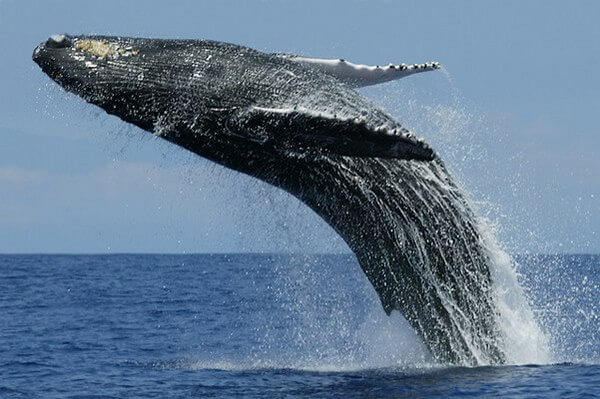 It is also vital that you pay close attention to the advice given by the guide to make sure that you are safe whilst spending time with these creatures, because whilst they are known to be friendly, they are also wild animals which, if frightened, may react badly.
On top of this, being in the water carries risks all of its own and so water safety should always be observed.
A Lifetime Of Memories After A Whale Watching Trip
Whale watching in Australia is a once in a lifetime opportunity and if you are feeling really adventurous, you may also want to join these beautiful creatures in the water. But however, you decide to spend time with the whales around the coastlines of Australia, one thing is for sure, it will be something that you never forget.
There are chances to see these animals all around the country, but there are certain times of the year that they will be more frequently spotted and going whale watching during this whale season will pretty much guarantee an encounter with one of these amazing creatures.
More Pages On Beaches
link to Can You Swim At Mission Beach?
Not all beaches are suitable for swimming for a number of reasons. Some of these areas are more practical for sand activities or photography. It is important to know whether or not a beach is safe...
link to What Is It Like To Live Near The Beach?
Visiting the beach is a beautiful opportunity to see mother nature at its best. There's nothing quite like hearing the waves rolling in on a soft, sandy shoreline. While visiting the beach is a...