Australia is famous for its idyllic and picturesque landscapes, seascapes, and oceanfronts. No matter where someone goes, there is beauty to behold in this vast country. More specifically, their stunning beaches are notorious stops for any resident or tourist!
With things like the beautiful coral reefs, fishing opportunities, and watersports, the beach is a one-stop-shop for all things entertainment in the sun!
While the beaches themselves are impressive so are the beach walking tracks that surround their outskirts! While Australia has quite a few, there are some that are better than others!
Below are the top 5 beach walking tracks in Australia!
1. Cape Byron Lighthouse Beach Track
Byron Bay is home to one of the most spectacular lighthouses in Australia. Located in the New South Wales region, the track has some key features that make it exceptional. Overall, walking tracks near the beach offer up oceanside views meant to impress but there is more to a really great oceanside view.
This is where the lighthouse comes in as the Cape Byron Lighthouse is quite a sight to take in! But what else does the beach track offer? Below are some key features of this beach track!
It's a 3.7km loop track. It is estimated to take about 2 hours to complete, but there is plenty to see along the way as well as getting in some exercise!
The walking track has various terrain to give continuing varying views! The loop runs through the rainforest, cliffy, and oceanfront views. This includes hinterland views that stretch out beyond the ocean's surface in far distances. The vastness of the view is truly amazing!
After walking through the magnificent terrain, the loop leads walkers to the Cape Byron Lighthouse. This historic lighthouse is quite the sight and was constructed in the late 1800s. The lighthouse is still active today and brightly shines its light into the Byron Bay waters!
There's wildlife to experience! One of the greatest things about beach walking tracks is that there is usually a chance to catch glimpses of wildlife. For this track, it is turtles, dolphins, and even whales.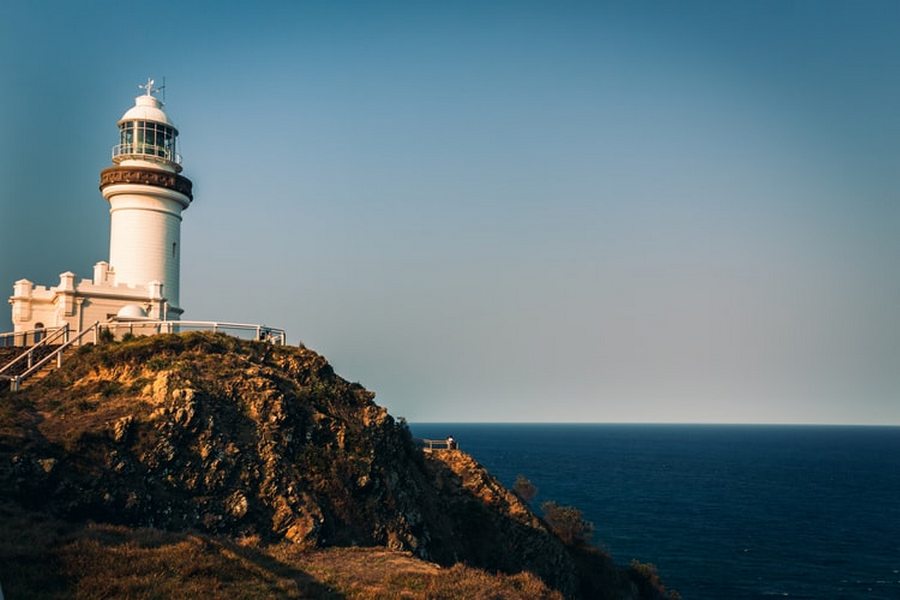 2. Seven Peaks Walk, Lord Howe Island, New South Wales
Lord Howe Island is an exclusive island off the southern coast of Australia. It may be small (only about 9km squared!), but it is known for its Seven Peaks Walk that takes guests on a thrilling adventure of walking along the cliffs lining its coastlines. From this area, there are cliff formations that are stunning and the scenery that is just breath-taking.
While this walk isn't as easily accessible as others on this list, it is well worth the trip to have a once in a lifetime experience! Below are some details about this beach walking track on Lord Howe Island!
It's truly immersive as the walk is a guided tour that is a 4-day experience. While this seems extensive, it ensures that guests can see every beachfront and cliff along the track that the island has to offer. This includes stops at various beaches and lush forested areas.
There is a 5th-day option for those who want to tackle climbing the famous Mt Gower. Mt Gower stands at an astounding 867 metres. While the climb is tough, the views are worth leaving the walking track to sit atop the ginormous cliff.
There is another walking track that is 400 metres called "Lower Road" and gives an optimal view of the wonderful landscape!
Even though access to here is limited and by plane or boat, it is an extraordinary way to experience a beach walk or track. Australia's island has some of the best panoramic views that the ocean can offer! Lord Howe Island's Seven Peaks Walk is really worth the time and money!
3. The Esplanade Walking Track, Hervey Bay Queensland
Hervey Bay in Queensland is famous for humpback whales, but its walking track is a close second! It is an impressive 14km in length and stretches the through most of the eastern coastline.
This includes going from Point Vernon to Urangan Pier Harbour! With such a large area to explore, there is much to love about this walking track! Below are the greatest things about this beach walking track!
It is perfect for walking or cycling! It is a popular spot for bicycle enthusiasts to cycle and taking a stroll or run is not unheard of either! For those who enjoy some exercise or even those who want to leisure about the trail, it is perfect for both types of people!
Its size makes exploring exciting! With so many places to stop along the way, walkers will never be bored. Stop to check out a certain beach or walk to the pier to see the view into the Coral Sea!
It is bordered by city and beautiful oceanfront making it easy to see the best of both worlds! Track walkers can hit up some boutiques for shopping or hit the beaches for some swimming. When that is done, they can pop in one of the many restaurants lining the esplanade for a bite to eat!
Hervey Bay is an exciting area with so much to see. Many of its coastal cities are charming and have excellent access to the beach. There are also key beach areas to take man's best friend for a swim and fun on the beach! This makes the esplanade walk even more fun for visitors.
When heading to the Urangan Pier area, bring some binoculars for a glimpse of the whales during whale season. As the world's biggest whale-watching location, seeing the humpback whales is a big treat!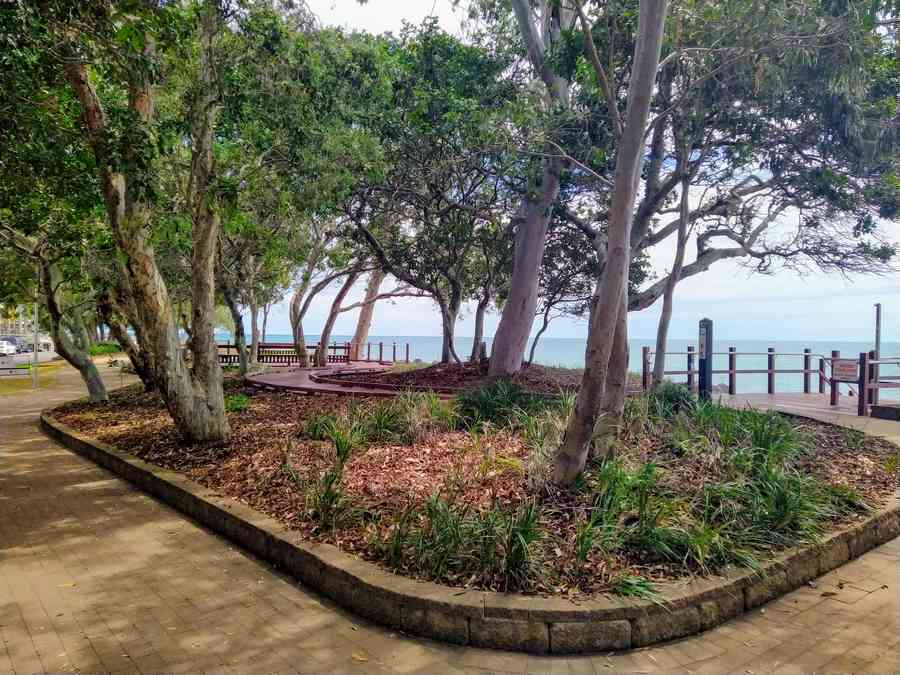 4. Bondi to Coogee Coastal Beach Walk
Sydney is known for a lot, but this coastal walk is another eastern coast treasure! There are iconic spots to spot along this 6km stretch but overall the views are really something to take in with awe! Below are some interesting features of the Bondi to Coogee Coastal Beach Walk!
The scenery is some of the best in Australia! There are so many jutted cliff formations that give way to the scenery that can't be beaten! While the cliffs are a sight to behold, the various parks and beaches are beautiful as well. Not to mention there are rock pools along the way too! There is plenty to explore while on this coastal walk.
It has an outdoor gym along the walk. This unique feature makes exercising even more possible on top of getting in some cardio during the walk!
Check out the sculptures in the sand! These special sculptures really make the beach areas more artistic and add flair to them, though nature itself is just enough. Some of the sculptures change up but vary from lighthouses to modern abstract pieces
A walk along this track promises great landscape but also a great chance to check out some awesome artwork! With so much to explore, everyone who ventures onto this beach walk will surely find something that suits them.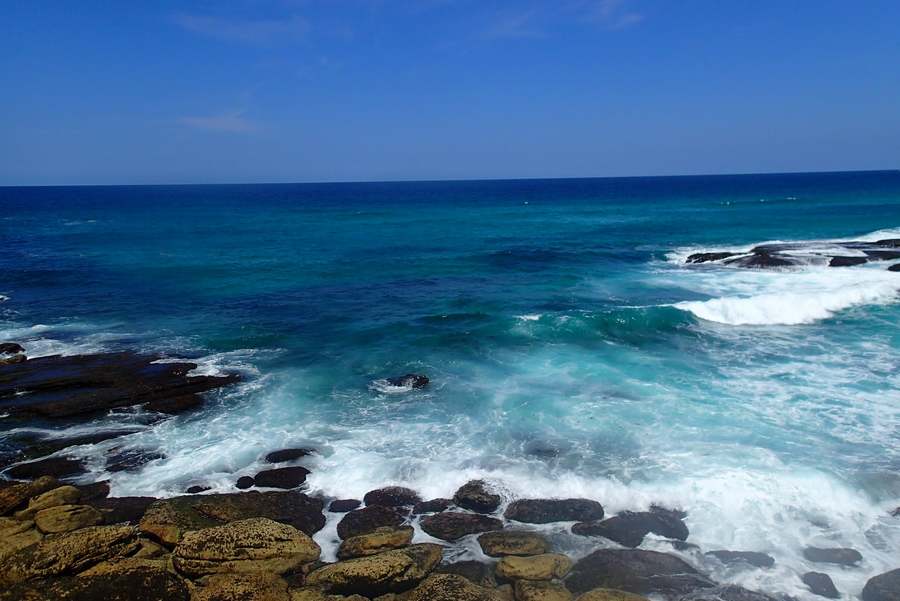 5. The Great Ocean Walk, Victoria, Melbourne
This astonishing walk is 104km and has so many excellent things to experience while walking it. It runs from Apollo Bay to Twelve Apostles area. The Twelve Apostles area features rock formations with beautiful colours swirled among them.
This track is along the Great Ocean Road and has so many features to offer its guests. Below are the most important features of this idyllic walk!
It features camping spots! For those who want to fully experience nature, camping out at one of the camping sites along this ocean walk will make for a great time.
There are guided tours on the walk. This walk has guided tours that can include digital follow along with stories about the area. There are some historic sites along this walk and is similar to an outdoor, nature museum. This really makes the walk an experience that is one of a kind.
Nature is vibrant along this walk. This includes floral pieces that stand out with its colouring among the tall tree areas where some of the track runs.
Wildlife is around just about every corner! Like other walks, nature rules and there's a chance to see great animals. Some of the wildlife that guests can expect to see include birds, whales, echidnas, penguins, seals, koalas, wallabies, and kangaroos. These wonderful creatures really are a sight to see!
This beautiful ocean walk is an opportunity of a lifetime to really feel immersed in nature and oceanfront views. It is is a great way to learn the history of this gorgeous area.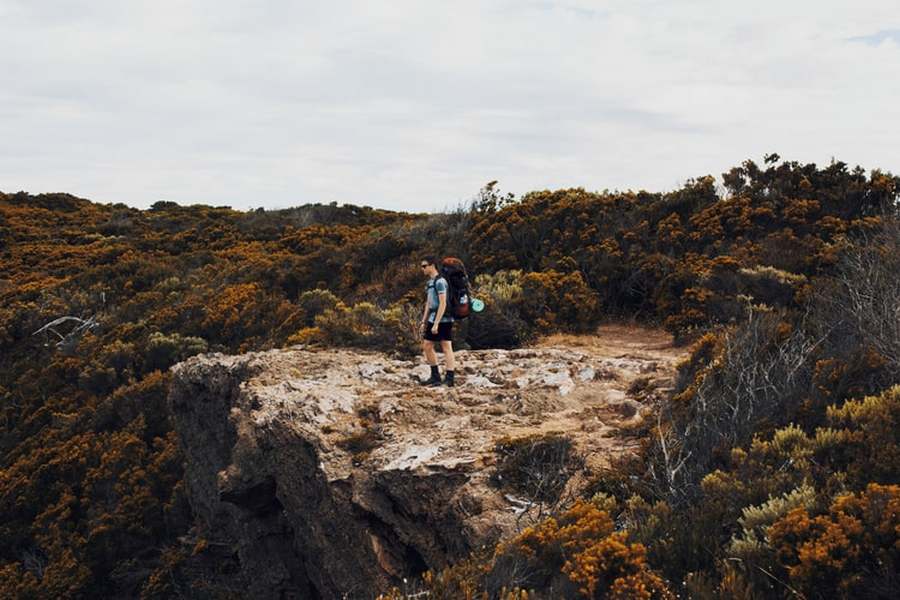 Australia's Beach Tracks: Experiences of a Lifetime
Beach tracks are more than exercising, they are experiences of a lifetime that give detailed views to miraculous parts of nature! While there are many around Australia, these are the top iconic ones to consider checking out.
They are considered the best because of their views and access to local amenities. They should be considered an adventure! These top 5 may be hard to choose from, but all of them fantastic choices!
What to take on a Beach Walking Track
There are plenty of adventures to have in Australia, from beaches to tours, there are endless possibilities. However, one of the more favoured activities includes beach walking tracks. These tracks range in size and length making each one more unique than the last.
Beach walking tracks are known for their gorgeous views of the ocean fronts, making any walk along the beach walking tracks truly iconic. When planning for a day on the beach track, are there certain things to consider bringing along? The short answer is yes!
These coastal walks truly do range in their length and sometimes packing some essentials makes for a better walk. It is always a great idea to be prepared no matter where you are, however, in Australia, it is especially true.
Between the heat, wildlife, rain, etc, it is an excellent idea to have some important things when going on a beach walk. These items will not only give peace of mind while walking along the track but also help it be an even more enjoyable experience.
When assessing what to bring along on these beach walking tracks, it is important to realize that sometimes these walks can be a day walk or an overnight stay. These two different types of adventures along the track will produce different items to bring.
There are some basics like water and first aid kits to consider. However, that list does not stop just there for either a day or overnight stay. What to take on a beach walking track really does depend on the type of adventure.
Some people may prefer a day walk while others may want to be a bit more adventurous. No matter what, there are some things to bring along to make it all that more enjoyable!
What to take on a Beach Walking Track (Day Trip)
Beach walking tracks are often right along the many coastlines of Australia. These beautiful areas are the perfect access to oceanfront seascape scenery as well as being in close proximity to small seaside villages.
A day trip along these coastal walks are truly a treat, however, bringing some things helps for the best experience! Below are the best items on what to take on a beach walking track during a day trip!
Items to Bring on a Day Trip Along a Beach Walking Track
Drinking Water In A Bottle
This seems obvious, but always take the heat into consideration. Staying hydrated is an absolute must as it keeps you going along the track!
Small Snacks Of Nuts And Fruits
Small snacks also keep the energy levels up as well. Walking along with an empty stomach is never a good idea. Small snacks can include trail mixes (a mixture of nuts, seeds and/or fruits), granola bars, or even a protein shake.
A Hat For Shade And Warmth
While some walking tracks may have small trees or mangrove areas for shade, having a hat ensures that extra shade is available from the hot sun!
Sun Screen To Protect Exposed Skin
Sun lotion helps to protect any exposed skin from any harmful sun rays. This is a common beach item and should be included on a day trip along the beach walking track as well.
Sunglasses Eye Protection From The Sun
These obviously protect the eyes from harsh sunlight and should be brought along.
Good Pair Of Water Proof Boots
Runners simply are not appropriate for walking along a beach walking track. They do not provide proper foot support or tread needed for a beach walking track. Some beach walking tracks may be along a rugged cliff area, muddy terrain, or other uneven terrains.
It is absolutely essential to get a good pair of boots to wear during a walk. The best characteristic to look for in a good quality boot starts with the tread. Is the tread deeply grooved and able to sustain different terrain?
Another characteristic includes strong laces. Strong laces ensure that the boots stay tied properly!
Camera For Photo Opportunities
There are surely going to be some picture opportunities on any beach walking track. From various birds among the trees to open, vast landscapes, or seascapes to capture, pictures should be taken!
If someone is a professional photographer, then obviously they will have access to some incredible camera equipment. However, the general public can take some stunning pictures with their mobile phone cameras as well! Mobile phone cameras have come a long way and are able to snap some great shots!
Mobile Phone For Emergency Calls
While mobile phone service may be spotty in some areas of nature, mobile phones should be brought along no matter what. You simply just never know if an emergency situation could arise.
While they are great for picture ops, mobile phones do serve a much more important purpose on a walk along a beach walking track. It is always a smart idea to have a line of communication with the outside world.
Small First-Aid Kit With Medical Supplies
A small first-aid kit is always a critical item to have along a walk. Small first-aid kits should include bandaids, ointments, pain medicine, and gauze. These basic items help in small emergencies to be the "first-aid" until other medical help can be sought out.
A Small Water Proof Backpack
Backpacks are great tools to carry our essential items. They can be used during a day trip to carry the things not being worn, like food, water, or cameras and mobile phones, etc.
These are just some basics for a day trip on a beach walking track. How long the day trip truly lasts is up to the persons involved. It could be hours or less, but no matter the time frame, these basic essentials are important!
Depending on the time spent along the beach walking track will also determine if the list of what to bring on a beach walking track needs to be altered.
Things to Bring on a Walking Track Overnight Stay
Overnight stays on a beach walking track are an idyllic way to enjoy Australia's natural settings. Sometimes the soft waves from the ocean can be heard and the various wildlife sounds can be heard as well.
Those who truly love the outdoors will find an overnight stay a real treat. However, overnight stays do require other items to consider bringing along.
These items ensure that an overnight stay is properly planned out. It also ensures that someone is as prepared as humanly possible. The overnight list should be combined with the day trip list as some of the items should be duplicated.
This includes bringing food and water. First-Aid may be listed again to help enforce the true importance of having it available. Below are the items to consider on an overnight stay on a walking track!
Things to Bring on an Overnight Stay on a Walking Track
Larger Backpack To Carry Overnight Items
Larger backpacks are absolutely an essential item during an overnight stay on a walking track. These obviously carry a bit more than a small backpack, making room for more items.
First-Aid Kit With Medical Supplies
Anything can happen, especially on longer stays like an overnight stay. First-Aid kits with pain meds, ointments, bandaids, etc should be brought. Having access to medical supplies is one of the most utmost ways to be prepared.
Small Flashlight And Spare Batteries
Flashlights can be a huge help in shedding light where we need it most, that's why they were invented! There's no need for a big flashlight, a small one should do just fine on such as walk as this!
Spare batteries can be brought, however, a more clever idea is to put new batteries in the flashlight prior to heading out!
A Change Of Clothing And Thermals
A change of clothing may seem obvious as you'll need new clothes to change into the following morning. However, the type of clothing to bring along should be factored into the change of clothing as well.
Thermals are great to have for a chilled off night. Moreover, sun shirts during the daylight hours may be necessary as well. These special shirts help to protect us from the sun.
Other changes of clothes to consider include socks, knickers, long-sleeved shirts and short-sleeved shirts, and swimming gear. For those concerned about how much weight this may add to the overall trip, clothing can be condensed and folded in a way to prevent taking up too much space or seem heavy!
Small Light Weight Tent And Sleeping Bag
A small tent should be brought along to provide shelter from the elements during the overnight stay. This obviously also includes a sleeping bag. Sleeping bags not only serve as a comfortable way to sleep on the ground but also to help keep us warm in chilled nights.
Some nights in Australia can chilly and a sleeping bag helps with this! There are small areas along beach walking tracks to pitch a small tent.
Rubbish Bags To Keep Clean
This is probably one of the important things to bring along. No one likes a litterbug, especially in the gorgeous outdoors of Australia where unique plant life and wildlife dwell. Bringing a rubbish bag is just a responsible thing to do to keep all rubbish contained to be disposed of later.
Change Of Shoes For Walking
Boots will get dirty and wet. This means having an extra pair of something to wear is important if needed. Part of being prepared includes having access to backup items.
Dehydrated Foods Are Lighter To Carry And Less Space
This may be a more expensive item on the list and usually meant for long bushwalks, however, dehydrated food

s have their benefits. If staying overnight along a beach walking track, a little something more substantial may be necessary.
Some of these foods may not require any cooking. However, those that do usually just require the use of water to help plump them back up. If the item needs to be heated up, it may be necessary to also bring along items to light up a public bbq, which can be found around some beach walking tracks, depending on the area.
This could also include bringing things to start a small campfire, including cookery pans.
This list is not in any way an extensive or exhaustive list. These are just the best items to bring along with a longer, overnight stay on a beach walking track.
Anything can be adjusted, added to, or removed from the list to suit the needs of someone. However, this list certainly proves to be a great guideline for anyone wanting to sleep on a beach walking track!
How Much Weight Can You Carry Bushwalking?
Walking along a beach walking track can be considered "bushwalking" as it is the equivalent of what the rest of the world calls "hiking". When heading out on the beautiful walking tracks or bushwalking areas, it is important to know how much weight can be accommodated along the walk.
Ultimately, the weight should be properly adjusted to accommodate someone's weight. Something overbearing might be too much to handle (no matter how strong someone says they are!) and too light to even bother bringing.
When it comes to exact math behind the weight that should be carried during a bushwalk, it is suggested that no more than 20 per cent of someone's body weight should be carried.
For day trips, this drops to 10 per cent of the bodyweight! If travelling with someone, it is easy to split up any and all supplies. However, look for the signs of a largely burdened backpack or equipment carrying device as pain on the shoulders that pull and pain in the back.
Ultimately, having too much weight can affect the entire body all the way down to the feet if carried for too long. Below is a chart to examine some examples of proper ratios of body weight to loads to carry!
Weight For a Day Walk + 10%, Overnight Walk + 20%
| | | |
| --- | --- | --- |
| Body Weight | Carry Weight = Plus 10% (Day) | Carry Weight = Plus 20% (Overnight) |
| 68kg | 6.8kg | 14kg |
| 80kg | 8kg | 16kg |
| 90kg | 9.1kg | 18kg |
This chart helps to see the weights to carry based on body weight. They are designed to help level the weight out and provide a comfortable walking experience for anyone.
No matter if its a day trip on the beach walking track or an overnight stay, supplies are needed. Being prepared is half the adventure, the other half is to soak in all the beauty and exercise that comes with the bushwalk or beach walking track!