One of the most romantic ways to propose to a significant other is on the beach. There is simply just something about the atmosphere of the beach that makes it perfect for starting off the adventures of getting married!
Between the warm breezes, the soft sands, the ocean backdrop, and perfectly blended sunsets, it is stunning! Proposing is a big thing but it doesn't have to be a complicated process!
Simple beach proposal ideas exist! Moreover, some of them truly intimate and exciting ways to show significant others how much we love them!
Any idea that comes from the heart will make any proposal special. After all, that's the whole point, right? A proposal should be just the right mixture of atmosphere, bonding time, romance, and excitement. And simple is often the best way to go about proposing to that loved one, So start out simple and make it a day to remember!
While that seems like a hefty mix, it truly isn't and most of all, it can come together quite nicely. Beaches may be for fun in the sun but they're also for lovers! Beach proposals can take on the form of a simple bend of the knee or even be a bit more creative!
Even those people who don't consider themselves creative can really make a proposal something out of this world!
When people are thinking of creative ways to propose, sometimes overthinking this process can be harmful to the idea. While it should include some sort of romantic edge (flowers, candles, etc), the overall idea should be simple and easy to execute.
Popping the big question shouldn't be a long-drawn-out process. In fact, this is where creativity can really benefit as it can provide a short and sweet, yet still romantic, way to ask the question!
Beach proposals are the perfect backdrop for asking the question but also serve as a beautiful open area to implement some creativity!
Beach Proposal Ideas
There is more that goes into proposing on the beach than simply asking the question. The atmosphere is basically there with the sands, tides and sunsets/sunrises, however, there is a bit more behind making it just perfect.
The atmosphere is already there and adding to it just amplifies the overall proposal! But what are some simple beach proposal ideas? Below are some creative and simple to put together proposal ideas for the beach!
1. Propose Over Breakfast Or Dinner On The Beach
A small meal on the beach, complete with a picnic basket, is a classic way to start off a proposal on the beach. Cheese, crackers, meats, and wine are romantic choices as well as being practical. A small meal is easy to clean up and doesn't require much to put together.
After sharing some delicious food and glasses of wine while overlooking the ocean, the perfect time opens up to ask the big question!
2. A Sandcastle Hunt And Hide The Ring Inside
Building a small sandcastle to nestled the ring in or even a romantic message is a super creative and simple proposal idea. The sandcastle doesn't have to be large, a small one will do just fine. One tower of the castle can easily hold the ring or message for a significant other to find is such a great idea!
Building it prior to coming to the beach is the best way, the ring or message can be slipped in there without the significant other seeing it! Another way to play out this idea is to have someone you know build the sandcastle and put the ring or message in there right before you show up.
3. Hiding A Message On The Beach
A romantic message asking the question can be hidden on the beach as well. The beach has all sorts of natural items to utilize as a means of hiding this romantic message. Things like sand dunes, pieces of driftwood, large seashells (after checking that no critters are inside of course!), just to name a few.
Tucking the message in these items is a great way to "stumble" upon them while walking along the beautiful shoreline.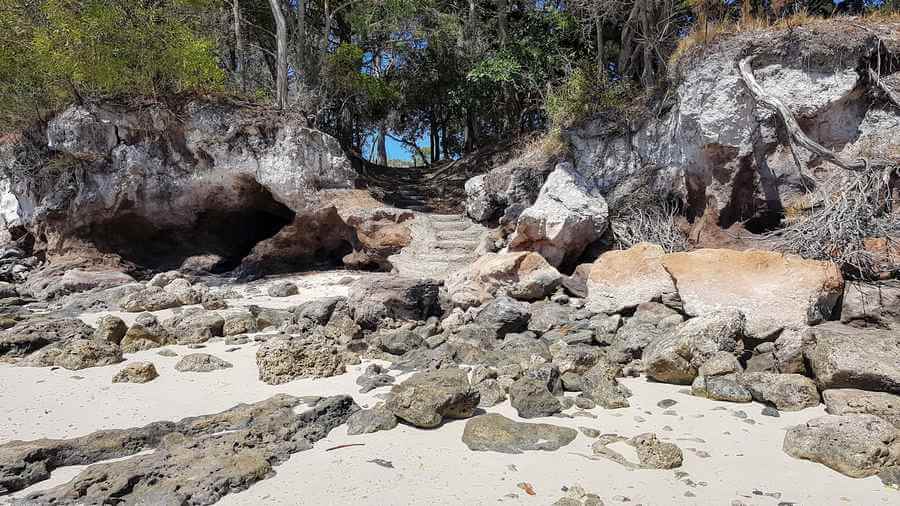 4. Take A Deep Breath Before You Start Your Proposal!
It's normal to be nervous, however, taking a deep breath will help calm the nerves a little bit so the question can be asked!
5. Start With A Fun Memory Before You Propose
Never just jump into the question! While it shouldn't be a long-drawn-out process, it should be memorable and meaningful. The best way to start a proposal is through a memory that is shared with a significant other. It can be a memory of a first date, a favourite song, anything that is personable makes for something special.
Sharing this memory again with a loved one is a great gateway to asking them to get married!
6. Many Proposals Start With Why You Love Them
Sure, we say "I love you", but what's behind that sentiment? When starting a marriage proposal, putting meaning behind the sentiment is a great idea. Listing all the reasons you love your significant other is a great way to lead into the question. These are all the reasons you want to marry them in the first place!
These tips are just some wonderful examples. However, they can be tailored to someone's own personal situation with their significant other!
7. Message In A Bottle Proposal
Messages in a bottle are shrouded in mystery, They are known for travelling across the sea carrying interesting messages. Because of their novelty, messages in a bottle are perfect for a beach proposal.
The bottle can have a cork or no cork, however, the inside should contain a special message. It can be the question itself or even a special saying or memory between two people. Either way, the best way to pull off this proposal is to have the bottle ready on the beach, ready to be found!
Placing the bottle right at the shoreline is the best imagery. It presents the illusion that the bottle "washed up on shore". It'll be fun to stumble upon this while taking your significant other out on the beach.
They'll be so surprised to see the marriage proposal in the bottle! This romantic and creative beach proposal idea makes popping the question on the beach even more exciting.
A beach proposal should be the perfect mix of romance and creativity. It really shows some effort and caring thoughts were put into the proposal. Beaches are definitely one of the most iconic places in the world to ask someone to get married!
How Do You Begin A Proposal?
While the beach is a gorgeous way to propose, how do you begin a proposal? Having an idyllic background like the beach is only a part of the proposal! Knowing the right words to say are important as well. Proposals tend to make people nervous.
There are a million things running through someone's head beforehand and that's understandable! However, there are some great tips on how to begin a proposal that will make it go smoothly! Below are the best tips for beginning a proposal!
Recent Posts