It may be hard to believe, but Australia has around 10,000 beaches around its coastlines to explore. This impressive number is part of everyday life in Australia and beach-goers can be found everywhere!
While there are lots of beaches and waterfront areas to discover, there are some areas that great to learn more about.
Where is Byron Beach located? This beautiful beach is located in the Byron Bay area in New South Wales, situated between Jonson St and Massinger St. Approximately 772km north of Sydney Australia. It's also referred to as the "Main Beach." Byron Bay has isolated coves and dog-friendly beaches.
Every day many visitors flock to the beaches of Byron to spend some time on its amazing sands and magical waters, located in New South Whales it has 8 other beaches that it is well known for and you can see why people choose this location to visit.
Google Map Of Byron Bay
Brief History Of Byron Bay Area
James Cook is famous for Australia's history and surrounding areas and around 1770, he named this area after his companion John Byron. More specifically, Cape Byron was first named and is adjacent to the Byron Bay and beach area.
This particular area was known for its meat and dairy production and industrial work throughout the years.
A well-known lighthouse, the Cape Byron Lighthouse

was erected in about 1901. Any beach area with a lighthouse is a great spot for visitation. These landmarks mark deep roots in the history of seafaring towns like Byron Bay.
Byron Bay Beaches
While Main Beach is the heart of Byron Bay, there are 8 other beach areas in the area. These sanded jewels are great spots for soaking up the sun and surfing as they've held onto those traditions throughout the years.
These areas give guests lots to explore and discover throughout their visit to the Byron Bay Area. The other 8 beaches include Tallow, Cosy Corner, Little Wategos, Wategos, The Pass, Clarke, The Wreck, and Belongil.
All of these areas have the opportunity for picnics with the family and other great beach activities, be sure to follow any of the beach safety rules.
Tallow Beach is around 6.5km long some visitors have seen dolphins swimming in the waves it's also known for its privacy and has been said as one of the quietest beaches around Byron.
If you stay till around 4.30 pm or 5.00 pm you will get to see an amazing sunset. Parking here costs around $4.00 per hour.
Cosy Corner this beach is good for a view of the overhead hang gliders, it's away from the main area of Byron overlooking Broken Head, This beach is patrolled only at certain times of the year.
Wategos are a great place for the family day out or a picnic by the beach, if your lucky you may spot some dolphins showing off in the waters. Bring some food and enjoy a BBQ by the waterside these are FREE they also have picnic tables to relax and eat your lunch.
The Pass is known as surfing spot with good waves also a few turtles can be found here and manta rays, This beach can get quite busy and parking can be a bit of a problem, Sunrise is also an amazing experience here its a must-see!
Clarkes beach Fantastic little park located right on the beachfront. You will find it clean and maintained with good facilities. Ideal for visitors of all ages. Look out for the rock and tidal pool areas.
The Wreck a patroled beach with lifeguards and even a drone!. While it can get busy here, there is still enough room for your own quiet spot. A must-see is a shipwreck just off the beach so close you can stand on it!
Belongil is a very long beach that is dog-friendly and less crowded than some of the other beaches at Byron, Crystal clear water but parking can be a problem here.
Things To Do At Byron Beach & Byron Bay Area
As with other beaches, there are many things to do. A day at the beach in Australia is an experience like no other in the world. Beach life is a literal way of life when it comes to being in Australia.
This is a lifestyle that even tourists can embrace! Below are some of the things to do while visiting the Byron Bay area.
Watch the sunset or sunrise
Australia's pristine beaches make the perfect place to watch the sunset or rise and Byron Beach & Byron Bay is no exception. The golden and peach hues against the horizon are simply breath-taking. This simple activity is absolutely a must-see when visiting the area.
Go swimming
Relax on the beaches
Visit the local Distillery and try some gin (Cape Byron Distillery)
Go diving or a dive tour
Try out the surf school
Go kayaking from the Brunswick River
Taste the local beer from the brewery (Stone and Wood)
Why not try sky diving if your game
You can also try the Wildlife Safari
Visit The Cumbebin Wetland Sanctuary Boardwalk
This hidden gem is a true step back in time for visitors. Byron Bay used to be a swampland. These little stretch of land still holds that prized piece of history with it.
This boardwalk winds through a wetland area and is quite a unique treat to see.
The boardwalk can only be accessed from Wordsworth St, near where the Byron Bay markets are held. This makes it even more of a great discovery for the most adventurous of souls!
You can find them at, Address 1 Skinners Shoot Rd, Byron Bay NSW 2481
Whale Watching At Byron Bay
Australia is widely known for its whale watching areas. Byron Bay has whales frequent the area.
While there are many humpback whale watching tours available at various bays along Australia's coastline, Byron offers up a good view from its coastal walkway area.
These magnificent creatures are quite the sight to see when visiting the area.
Take Advantage Of Other Beach Activities
The beach is more than just a place to lounge around in Australia. The water is a playground and has lots of great activities to partake in.
This includes kayaking, surfing, fishing, swimming, etc. One of the most popular water activities out of Byron Bay is kayaking.
This is so popular because it gives guests the opportunity to kayak right next to dolphins who are known to frequent the area.
There is also snorkelling which is another grand adventure to go on. From gorgeous coral to marine life like sea turtles, there is plenty to see down under the water!.
Byron Bay is known for its extensive dive course that can take guests to various depths for more exposure to all the great sea life and colourful underwater things to see!
This is generally done at Julian Rocks

nearby and promises a glance at the Great nurse sharks and also close to 500 species of fish.
Visit the markets on the 1st Sunday of every month and the 3rd Sunday in December and January
Byron Bay offers up some delicious finds at their local, fresh markets offered up at the above specified times. Things like fresh produce and hand made items can be found throughout the stalls.
Tourists visiting the area can really experience a taste of Australian farming through the crisp and delectable tastes from the produce. Travelling in itself is fun, but getting to have a true taste of local foods is something truly memorable!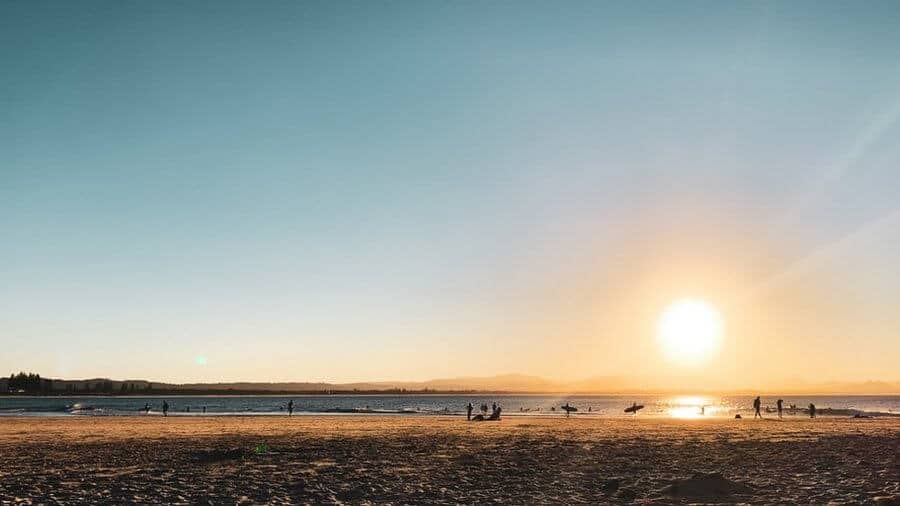 Rent A Bike And Hit The Trails!
Many beachy areas in Australia feature biking trails. Byron Bay offers up a bike rental for experiencing the area from a different view! The trails head towards the rainforest area that is nearby as well.
The rainforest area has gorgeous waterfalls to explore and plant life of varying colours and shapes as well.
Visit The Cape Byron Lighthouse Via The Walking Track
Lighthouses are always a pleasure to see and Cape Byron's lighthouse is high on the list of them to see in Australia. Access is through the Walking Track.
This track is approximately 3.7km is offers some scenic landscape views along the way.
The lighthouse is at the top of this walk on the most eastern point of Australia. It has been noted that sunsets or sunrises from this lighthouse are some of the most spectacular views in the whole world.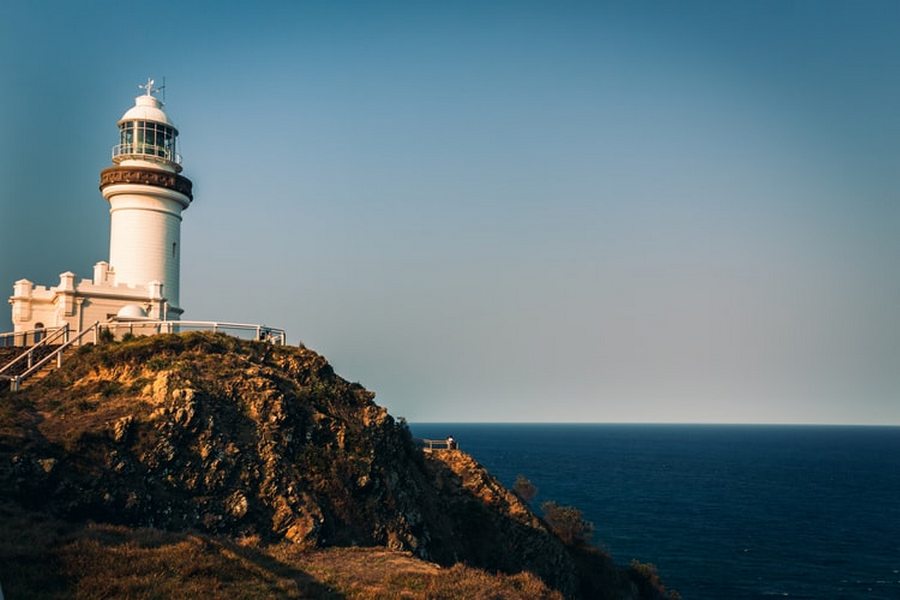 Nothing is quite as memorable as looking over the vast ocean with twilight hues dancing across the horizon.
Byron Beach, or Main Beach, in Byron Bay, is a destination for experiencing Australian life to the fullest. There is just so much to do and explore that it makes for one of the best spots to visit among the long list of Australian beaches!
More Pages On Beaches
link to Can You Swim At Mission Beach?
Not all beaches are suitable for swimming for a number of reasons. Some of these areas are more practical for sand activities or photography. It is important to know whether or not a beach is safe...
link to What Is It Like To Live Near The Beach?
Visiting the beach is a beautiful opportunity to see mother nature at its best. There's nothing quite like hearing the waves rolling in on a soft, sandy shoreline. While visiting the beach is a...