Australian beaches are some of the most iconic spots in the world. They often feature stunning soft sands and pristine waters. However, not all of Australia's beaches are suited for swimming. Some of the country's beaches can be considered dangerous due to wildlife populations or powerful currents and riptides.
Because of this, it is good to know what beaches are suitable for swimming.
Queensland is Australia's most sought-after state for swimming and other water activities. This is because a lot of the state's beaches are calm and idyllic. The state has almost countless beaches with some beaches more well-known than others.
This particularly includes the Horseshoe Bay area, but is practical for swimming?
Swimming is possible at Horseshoe Bay. Horseshoe Bay is somewhat protected by the undersea outcrops making it popular for snorkelers, divers and swimmers alike. The bay itself is given its namesake due to its unique shape, Making it a good swimming spot for children if the ocean side is too rough.
Moreover, this portion of Queensland is considered the Whitsunday Region because the Whitsunday islands are just offshore from this part of the mainland.
Even though Bowen is known for having 12 beaches, Horseshoe Bay is easily the most popular beach. Not only is the beach unique in its horseshoe shape but its natural surroundings are just as beautiful. There are two large granite outcrops that shelter the bay giving it an additional appeal to visitors.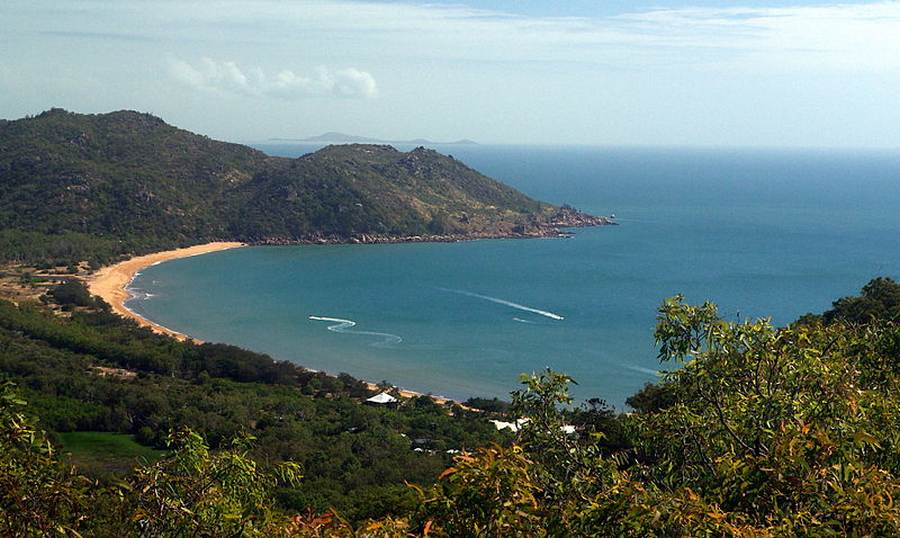 The scenery here is simply remarkable. From the granite outcrops to the shape of the bay itself and the sprawling ocean, it is Bowen's most gorgeous beach by far.
In addition to swimming at Horseshoe Bay, the bay is known for its snorkelling and diving spots. Because this area of North Queensland is associated with the Whitsunday Islands, there are various coral reefs just off of the mainland that is a part of the Great Barrier Reef System.
This system sprawls out towards Whitsunday and Horseshoe Bay offers some key sights of the coral reefs that are closer to the mainland.
While the coral reefs draw people to Horseshoe Bay, snorkelling and diving underwater in the area is an excellent way to see beautiful reef marine life as well. Another attraction to snorkelling and diving in the area is the Whitsunday Ngaro Underwater Marine Sculpture Trail.
This trail spans the coastline of North Queensland and is a wonderful display of sculptured artwork. The Byway is one of these sculptures and it is exclusive to the Horseshoe Bay area. This sculpture (along with the rest on the underwater trail) is fascinating to experience while diving and snorkelling in the Horseshoe Bay area.
Where Can You Swim At Horseshoe Bay?
As with most swimming locations in Australia, Horseshoe Bay has specific areas where swimming is best. Moreover, when there are designated spots for swimming at a beach in Australia it's because that area is considered the safest. While Horseshoe Bay isn't unsafe to swim at, there are still spots to consider swimming for the safest experience.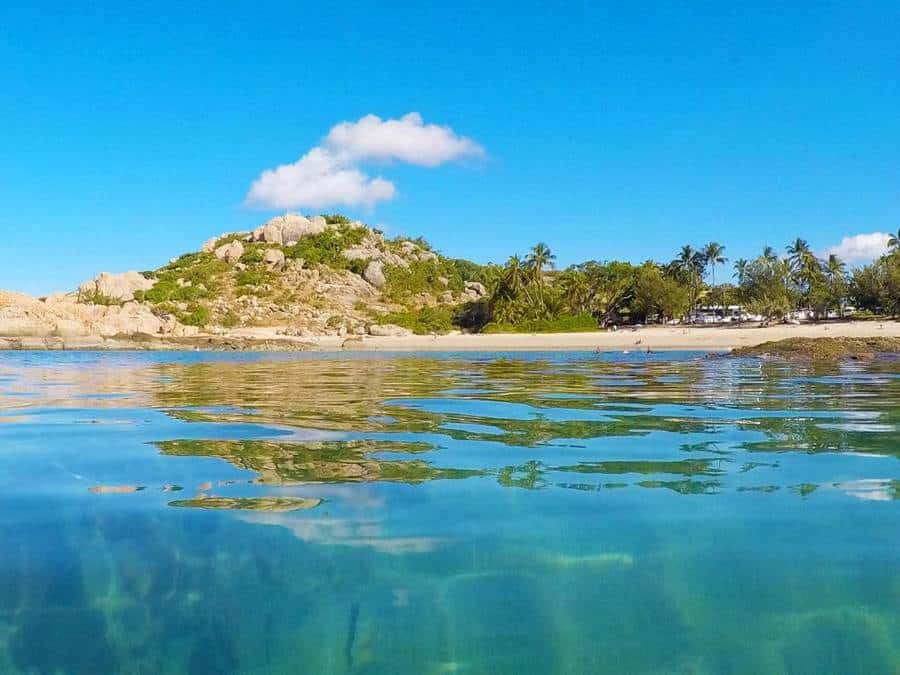 When swimming at Horseshoe Bay, visitors should stick to areas that aren't near the rocks. Additionally, snorkelling isn't recommended by the rocks near Horseshoe Bay. The rocky areas of Horseshoe Bay can experience stronger water currents, especially under the surface. Swimming is best closer to the shoreline when the waves are lower.
The good news is that the waves at the bay are generally pretty low. Surfing isn't really practical here as the waves hardly ever get over 0.5m in height, which is what makes a wave ideal for surfing. Because the waves are almost always below that threshold, swimming is ideal just about everywhere in the water at Horseshoe Bay.
Of course, this is with the exception of the rocky areas.
Are There Stingers In Horseshoe Bay?
Stingers are known to wash up in Horseshoe Bay. Additionally, crocs have also been spotted in the area from time to time. It is always important to stay safe when entering any waterway in Australia (or anywhere in the world for that matter!). Attempting to stay as safe as possible is the best approach.
Horseshoe Bay has been known for stingers such as Irukandji, Chironex, and Bluebottles (which aren't technically stingers but can still sting).
These breeds of stingers can be deadly with their sting. Because of this, it is critical to practise safety when in a body of water where they can appear. Below are tips for staying stinger safe at Horseshoe Bay!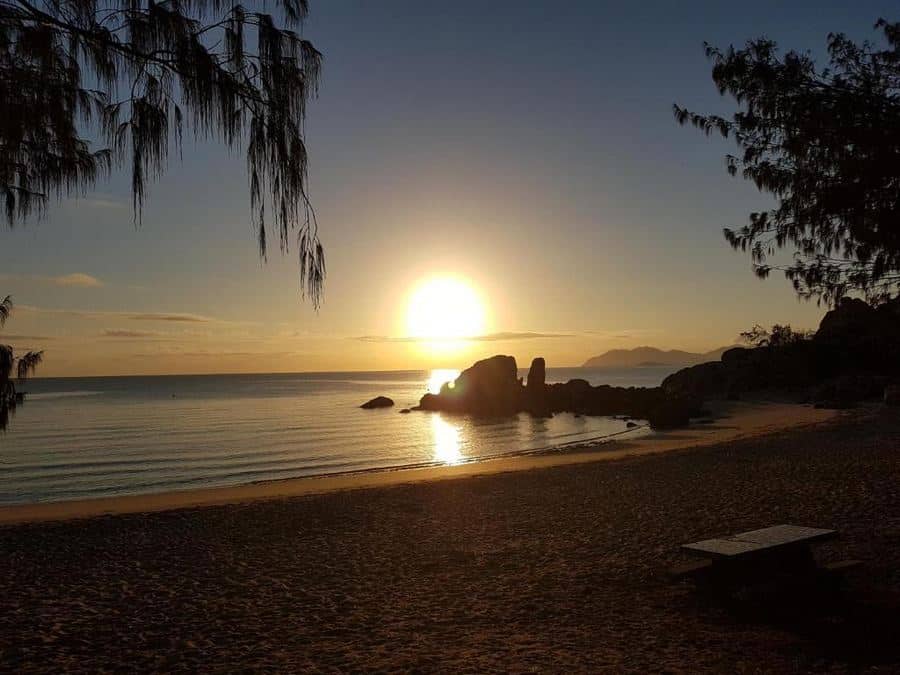 Safety Tips For Stinger Encounters At Horseshoe Bay
If You Suspected Stingers Don't Enter The Water
If you suspect that a beach has stingers in the water, do not enter the water. While this may seem like common sense (because it is!), it is a great tip. If you don't enter the water there isn't a chance of injury.
Stingers can be deadly and avoiding the water is the smartest thing to do if they are present. The beach still has plenty of other things to do!
Never Swim Alone At Australian Beaches
Swimming alone is dangerous no matter where you are but in Australia, it is especially critical to swim with a partner. Wildlife can be dangerous in Australia, particularly stingers, so taking a beach buddy along to swim with you is always a great idea.
With a beach buddy, you can both be on the lookout for each other to ensure that you are keeping each other as safe as possible.
Emergency Services Number For Swimming Injuries Dial 000
In the case of an emergency, it is important to have access to call for emergency services. Stings from a stinger can be deadly so time is of the essence. Having a mobile handy to call for emergency personnel is a handy trick for staying stinger safe.
There's no guarantee that someone will or will not survive a sting from a stinger, however, their chances are higher if emergency services can be rung quickly. Phone 000 in Australia for help.
First-Aid Kits Can Save A Life When Swimming Goes Wrong
Even if you are just swimming, having a first-aid kit on hand can be really helpful. This is especially true for stings. You can administer pain medicine and help bandage up any affected areas. Moreover, a first-aid kit can be beneficial to help someone out while you wait for any emergency services you may have called.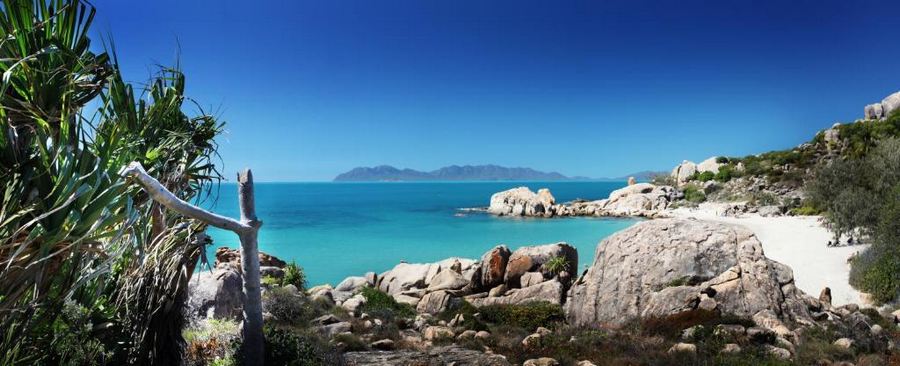 Attempt To Swim Only At Patrolled Beach Areas
Australia is known for having lots of beaches and not all of them can be patrolled. Because of this, it is important to attempt to only swim on patrolled beaches. Horseshoe Bay is patrolled sometimes so this is great news for those wanting to visit the area.
It is always best to check to see if a beach is patrolled before deciding to swim there.
These tips are the most critical ones in keeping you and your loved ones as safe as possible while swimming. While stingers aren't always present at Horseshoe Bay, they can make their way into the waters. So always be alert to avoid any encounters.
Overall, Horseshoe Bay is a remarkable place to visit not only for its beautiful scenery and diving opportunities but for swimming as well!
More Pages On Qld Beaches
link to Can You Swim At Airlie Beach?
Queensland, Australia has many popular beaches that are both idyllic and fun to swim at. Not all beaches in Australia are safe to swim at but Queensland is home to many that are suitable for...
link to Can You Swim At Palm Cove?
Swimming is one of the world's greatest beach activities. There's nothing more exciting than taking a dip in the ocean water on a hot day. Australia is one of the world's most sought-after spots for...