A stay in a hotel should be an experience, so a luxury hotel is always the way to go! When visiting Australia's beautiful coastlines, finding the perfect luxury hotel is essential! Below are the top 10 Australian luxurious hotels near the beach!
1. Sheraton Grand Mirage Resort, Port Douglas
Port Douglas is well known for its white-sanded beaches and access to the Great Barrier Reef and its local markets. This beautiful resort is nestled right behind some of these beaches and not too far from the Daintree rainforest. An extended stay at this resort will promise some access to these gorgeous locations!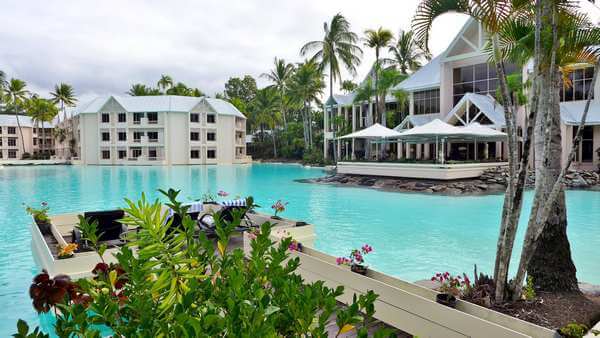 Pros of the Hotel:
Variety of rooms, including villas with modern and chic decor. The rooms include king-sized beds, mini-bars, and even poolside access. All rooms include the basics like cable tv, wifi, desks, and small appliances like irons and hair dryers.
Multiple dining options, to choose from and a full-scale restaurant onsite. There are two bars available, the Lagoon Bar and the Daintree bar. The lagoon bar is a poolside bar that has drinks, small snacks, etc. The Daintree bar is an upscale bar area with over 100 different spirit choices for guests. Both bar options give guests a way to either have a relaxed atmosphere or a luxurious bar experience. The full-scale restaurant is called the Feast Restaurant and is highly regarded for its fresh seafood choices and local Australia cuisine. There is also the lobby cafe for the perfect morning cup of coffee in a wide-open space.
Access to the fitness centre. The Grand Mirage resort has 24-hour access to an exclusive fitness centre. With the rainforest as a backdrop, exercising never looked so good! The fitness centre offers a 25-metre swimming pool, tennis courts, and gym equipment.
Golfing opportunities. This stunning resort hotel has its own 18-hole golf course for guests to enjoy. However, a day on the course is more than just golfing, it's really taking in all the remarkable scenery around the golf course. This includes the resort's tropical gardens and the rainforest.
12 event rooms. These event rooms are perfect for any occasion, but this resort is known for hosting weddings. With such spectacular surroundings, it makes for the most memorable event possible!
These pros really set them along the bar of luxurious as they go above and beyond to provide services that just aren't offered at other regular hotels.
Cons of the Hotel:
Poor staff and management. While the hotel offers landscape views that can't be beaten, their customer service has been reported as lacking. However, everyone's experience is always different.
Overall, this hotel is rated as a 5-star hotel. Moreover, on Google reviews, they are rated a 4.5 out of 5 stars with over 780 total reviews. When it comes to cost, depending on the type of room booked, the price can range between $244 to $833 AUD. Click here to check the price on booking.com

2. Peppers Noosa Resort and Villas Queensland
Located in Noosa Heads, Queensland within the Noosa National Park, this resort is not far from pristine beaches. Like other resort hotels, this hotel has its pros and cons but is still considered a 5-star hotel stay for guests!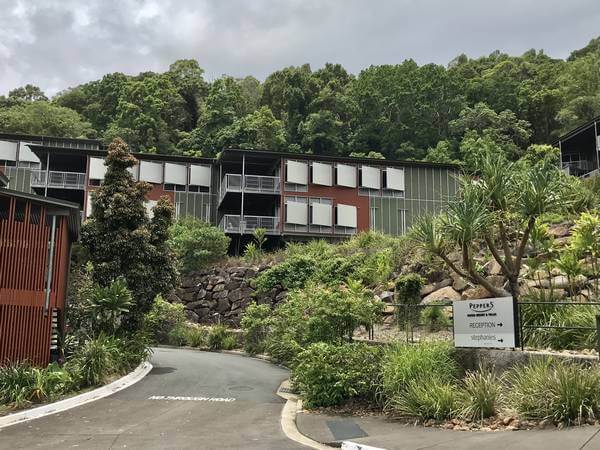 Pros of the Hotel:
Two to three-level villas. These villas are spacious and comfortable means of accommodation. These villas feature modern colouring and stylish decor making the atmosphere, even more, relaxing for guests!
Two pools for maximum enjoyment. One pool is a heated one for cosy swimming as well as a 25-metre lap pool for exercising.
Access to facilities meant for convenience. This luxurious hotel has access to special features like laundry services, gym and steam room, childcare services, spa services, theatrette, gaming room, concierge and even luggage storage!
Onsite restaurant. The Noosa resort restaurant, View, is known for its delicious dishes for lunch or dinner. There's even a pool bar menu! The restaurant is on the second floor of the resort and serves up more than just wonderful food as it has stark views of the Laguna Bay.
Cons of the Hotel:
Housekeeping could be a bit better at this location.
What makes this location truly luxurious is the facilities offered for its guests. Specifically, the childcare services are something not offered at many hotel locations!
The cost to stay a night at this location ranges between $341 to $615 AUD a night, per person once again depending on the type of room desired. On Google, this hotel is 4.5 stars out of 5 with around 768 reviews. Click here to check the current price on booking.com

3. Surfers Paradise Marriott Hotel Queensland
This location is in Surfers Paradise, Queensland, along the Gold Coast of Australia. It is super close to the beach, perfect for surfers to ride some wonderful waves!
This luxurious hotel features some amenities that truly make it stunning and relaxing to stay at. Guests can be assured that a stay at this location will provide them with comfort!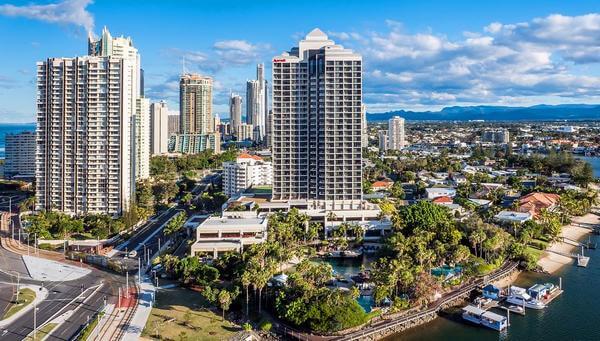 Pros of the Hotel:
Beaut room views. Mostly all rooms at the hotel have sliding glass door balconies with views to the beach and skyline. This makes for romantic views of sunrises. The open views of the seascape are truly breath-taking.
Buffet style dining. Buffet dining allows guests to have many tastes of various foods, as much as they want. This hotel offers buffet breakfast as well as a seafood buffet through their restaurant called, "Citrique".
Upscale Dining. Buffet dining isn't the only dining available at this hotel. They feature two Japanese restaurants, Misono Sake Bar and Misono Japanese Steakhouse. These restaurants are classy choices for fine dining while at the hotel.
Fitness facilities. Along with gym equipment, they have a sauna and spa for ultimate relaxation. The spa is fully functional and features body scrubs, couples packages, and more.
Naturalistic looking outdoor pool. Their outdoor pool has a spectacular waterfall feature with stone and tree decor. This unique look makes their outdoor pool stand out from the others.
Cons of the Hotel:
The buffet food, as with any buffet food, can be less than perfect in some guests eyes. This makes the Japanese restaurant a better selection for most guests.
Overall, this is a great choice along the Gold Coast for a hotel stay. The cost for a night can run a guest around $500 for regular rooms and around $1,000 for suites that include kitchenettes. On Google, this is rated 4.5 stars out of 5 with around 1,901 reviews! Check current prices on booking.com

4. InterContinental Hayman Island Resort
This gorgeous private island resort gives guests a quiet retreat on Hayman Island. This island lays off the Central Queensland coast in Whitsundays, Australia.
Pristine waters and beautiful views make for a truly luxurious experience for all guests.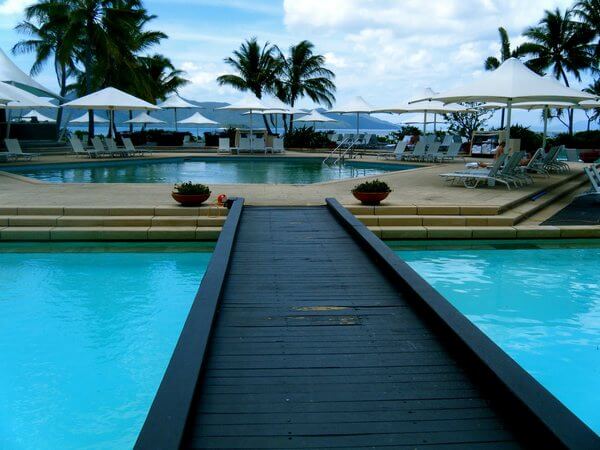 Pros of the Hotel:
Variety of services. The resort stands up to its prestige luxurious reputation by offering all the classic services of what makes a luxurious hotel, a luxury. This includes meeting space for business, childcare services and even an on-call doctor for emergencies.
Three types of accommodation. The accommodation at the resort includes standard rooms, executive rooms and suites. All rooms feature modern decor and comfortable living space to give more than a "hotel room" vibe.
5 dining locations onsite. This resort has a variety of dining options including intimate bar space, Italian foods, seafood classics by the pool and Asian food featuring Australian twists.
Cons of the Hotel:
While the view is beautiful and the time spent here is relaxing, it doesn't really have much else to do. In terms of entertainment, it seems to come up short.
If someone is looking for a relaxing time, this is the place to go. Its ratings are about 4.5 out of 5 on Google with around 43 reviews. For a stay at this location, guests can expect to pay around $589 to $1000. Click here for current prices on booking.com

.
5. Akama Resort Hervey Bay Queensland
This resort hotel is a gem in Hervey Bay, Queensland, Australia. Hervey Bay is known for its stunning beaches and whale watching opportunities.
This resort is a great choice in the bay area for a contemporary and comfortable stay. Featuring views to the world's largest sand island, Fraser Island.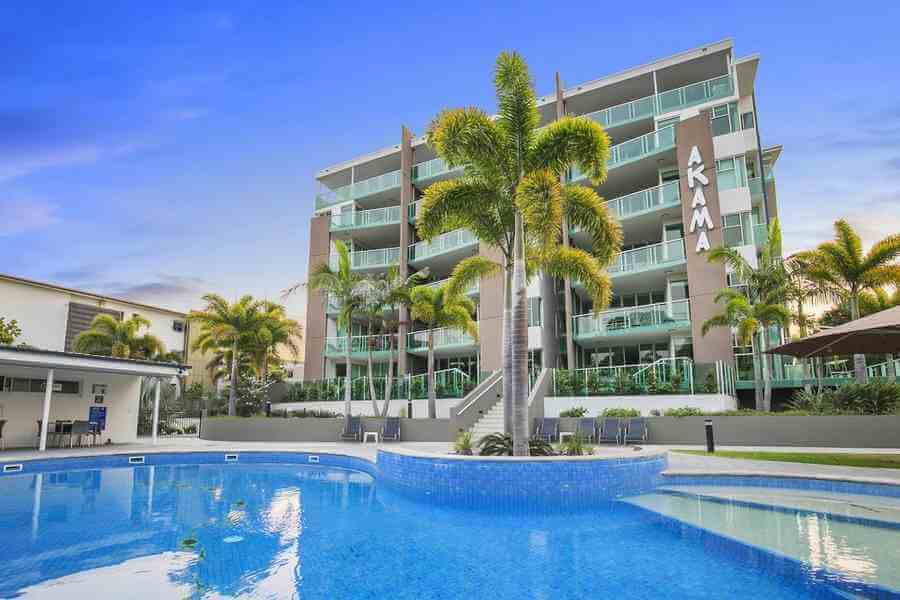 Pros of the Hotel:
Self-Contained apartments. The rooms at this resort are self-contained making them all-in-one exclusive stays with everything that a guest should need during their stay.
Secure parking options. Each apartment has its own covered parking for private parking.
Within walking distance of Hervey Bay hot spots. The resort is close to shopping and restaurants, making exploring the bay area a true treasure!
Exclusive Spot for Weddings. What really qualifies this location as a luxurious hotel resort is the wedding options. There is a wedding suite for the bride and her bridal party and the grounds has gorgeous gardens for picture-perfect wedding shots.
Cons of the Hotel:
There isn't an onsite restaurant, making it less luxurious than other popular choices.
While it doesn't have all the classic luxury hotel amenities, it does have enough to make it a beautiful destination in Hervey Bay.
The rating of this resort is about 4.4 out of 5 stars with 104 Google reviews. In terms of cost, guests will pay about $229 to $335 a night. Click here for the best price on booking.com

.
6. Peninsula Airlie Beach Queensland
This Coral Sea accommodation is home to stunning 1 to 4 bedroom apartments. These chic apartments all have remarkable views into the Coral Sea and the nearby Abell Marina at Airlie Beach.
This 5-star rated luxurious hotel is a gorgeous choice!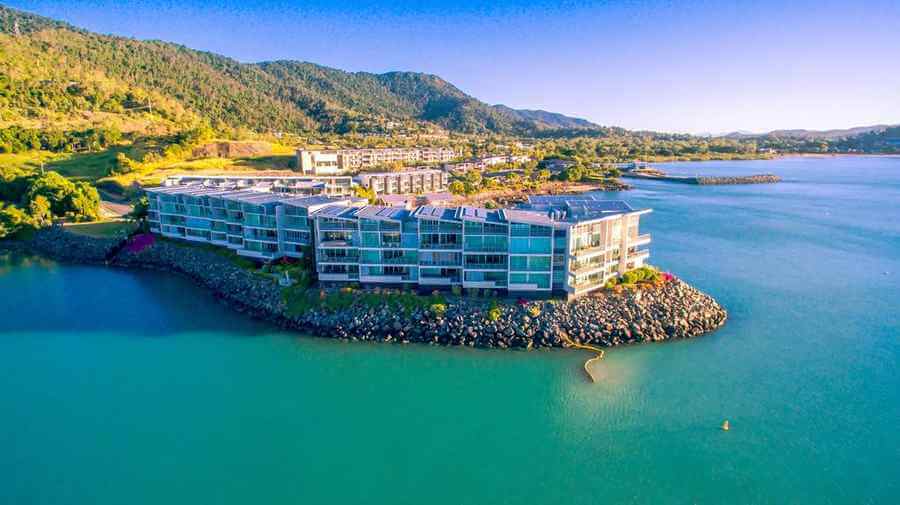 Pros of the Hotel:
Modern decor apartments. Along with minimalist decor and clean space, the hotel resort really gives guests the feeling of luxury through its decor and spacious living atmosphere.
Close to beach and marina. A day on the water is steps away at this beautiful resort. Australia is known for its coastline beaches and days spent boating or fishing. Having a hotel so close makes for extreme convenience.
Stunning views of the Coral Sea from any of the apartments. The views are well worth it for a night's stay at this luxurious hotel!
Cons of the Hotel:
There isn't an in-house restaurant.
While this doesn't quite fall in line with other hotels, it still has many redeeming qualities to make it someone's peaceful hotel stay!
Overall, this location is rated around 4.4 out of 5 stars with 41 Google reviews. For a night's stay at the resort, the cost runs about $339 to $950. Follow this link for current prices on booking.com

7. Amarna Luxury Beach Resort, Nelson Bay, NSW
This extravagant beach resort is the perfect location for a taste of luxury. Located in Nelson Bay, NSW Australia, the resort is more than relaxing! It's steps away from beautiful beach shorelines.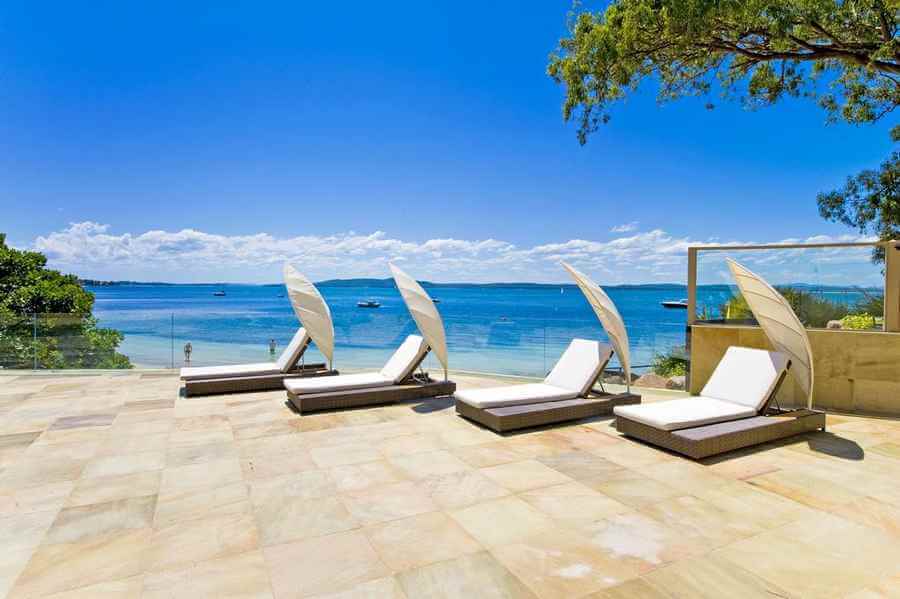 Pros of the Hotel:
Complimentary reservation making services. Amarna goes above and beyond for its customers, making it truly a classy hotel. They will gladly make any guests stay more stress-free by handling any scheduling needs for reservations.
Exclusive picnic services. Nothing is more romantic than a picnic in the privacy of beautiful and modern rooms. Staff will set up the picnic, complete with wine glasses! This intimate setting is perfect for couples who need to celebrate a special moment or even just enjoy the moment together.
In-Room massages. Massages really make guests feel relaxed and welcome. At the Amarna, in-room massages are the perfect way to unwind.
Paddle-board rentals. Paddle-boarding on the water is a popular watersport in Australia. This resort gives guests exclusive use of paddle-boards!
Cons of the Hotel:
No onsite restaurant.
Limited staff members, meaning slow service sometimes.
With scenic views, this resort is a great place to consider for luxury hotel stays! On Google, the hotel is rated 4.4 out of 5 stars. For a night's stay at this gorgeous resort, the cost will be around $2000.
While these seem steep, the rooms feature private swimming pools and views of the beach.
This combined with the amenities of truly making guests feel taken care of is exceptional service! Find the current price on booking.com

8. Lizard Island Great Barrier Reef in Australia
This Northern point resort along the Great Barrier Reef makes it a prime location for snorkelling. It is nearby pristine blue beach waters and is truly a one of a kind resort hotel luxury experience.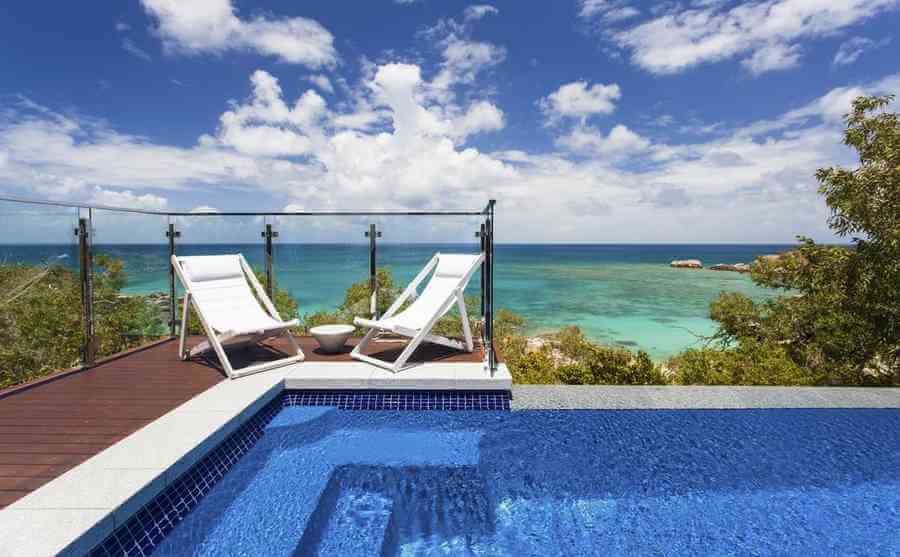 Pros of the Hotel:
Various activities are onsite. From diving to snorkelling, fishing, and kayaking there is plenty to do at this resort. It also features a peaceful spa for guests to stretch out and feel pampered to the max.
A larger selection of rooms. From rooms with garden views to beachfront villas, there is a choice suitable for everyone at Lizard Island. Some other great amenities of the rooms here include villas with plunge pools.
It has a wide selection of alcohol. The resort offers a large selection of wines, beers and other spirits as well as in-room mini-bars.
Gourmet meals served daily. This all-in-one exclusive stay includes delicious meals served every day during a stay. This is through their restaurant known as the Saltwater. Here, the menu changes daily so the experience is truly a surprise and super fresh as well.
Cons of the Hotel:
Guests can't visit the hotel restaurant or bar unless they are staying there.
For a one night stay at this exclusive resort hotel, it will cost guests about $3,000. This is one of the highest-rated Google resorts in Australia with a 4.9 out of 5 stars rating with over 70 reviews. Find the current prices on booking.com

.
9. Hillarys Harbour Resort, Western Australia
Western Australia has its share of beautiful oceanfront resort hotels. In Perth, Hillarys Harbour Resort is highly rated for its stylish apartments and oceanfront views of the Indian Ocean.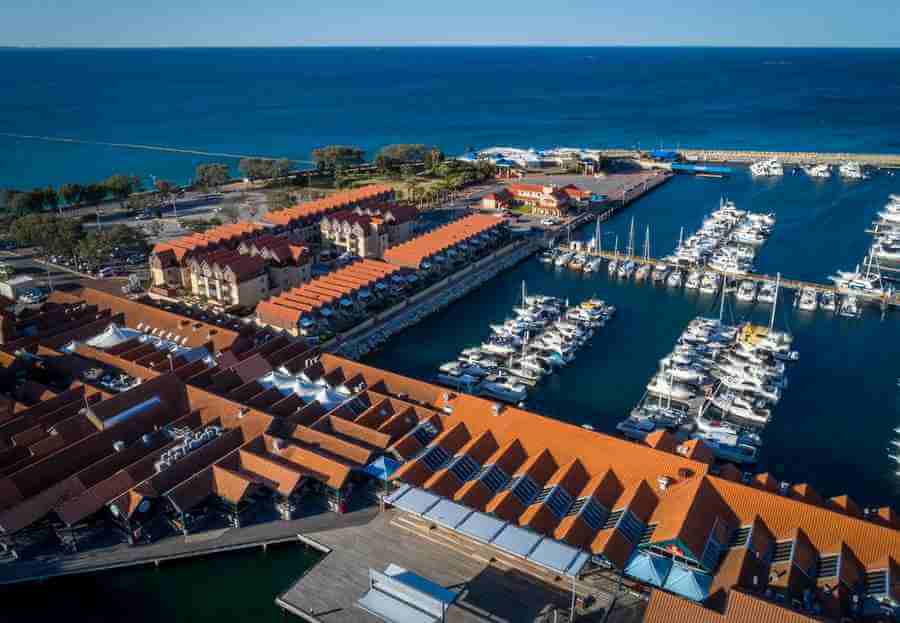 Pros of the Hotel:
Fully contained apartments. These luxurious apartments have everything guests need, including full-sized kitchens with cooktops and fridges for home-away-from-home vibes.
Heated pool and sauna options. Along with these outdoor pool options, they have barbeque areas for outdoor cooking and outdoor dining areas.
Within walking distance of shops. The notorious Sorrento Quay shopping area is nearby for guests to explore!
Nestled in the boat harbour. There are fishing charters near for guests to take advantage of as well!
Cons of the Hotel:
This beautiful location is still considered luxurious as it offers modern self-contained apartments.
On Google, it is rated a 4.4 out of 5 stars with around 250 reviews. A night's stay in the resort will run a guest between $180 to $300. Find the current price on booking.com

10. Palazzo Versace Hotel Gold Coast Queensland
Located in Main Beach Queensland, this Gold Coast hotel is the pinnacle of luxurious hotel accommodation. Their rooms are exquisitely designed to be chic pieces of art for ultimate comfort and relaxation.
Pros of the Hotel:
Plenty of restaurant dining. The dining at Palazzo ranges from high tea selections as well as luncheons and dinners. Every square inch of the hotel is beautifully decorated with furnishings meant to dazzle and amaze. Guests will not only enjoy the food here, but the surroundings are a sight to behold.
Poolside cabanas. These stunning cabanas are lush huts meant to enjoy every moment in the sun and the pool. It's the perfect place to enjoy a drink or light lunch while taking a break from splashing in the waters.
Serviced apartments. These apartments feature private pools or heated spas for private, intimate moments. They also feature dining areas and full kitchenettes for food prepping, coffee or tea time.
Cons of the Hotel:
They are considered to be understaffed and guests often do not receive help or get phone calls answered.
They are a bit out-dated with their decor. They could use a bit of a modern spin on the elegance they're trying to put across.
Even with the need for an upgrade, the hotel is rated 4.2 out of 5 stars with over 1,200 reviews.
The cost of staying at this luxurious hotel will run about $500 to $1900 (the higher end being for the apartment rooms). For current prices on booking.com click here

.
All of these hotels offer something a bit different than the others. No matter what, they classify as luxurious as they go above and beyond for their clients.
They offer convenience and services that regular standard hotels do not. When travelling to Australia (either as a tourist or a resident), a luxury hotel should be an option for optimal comfort and services provided!
What Makes A Hotel A Luxury Hotel?
When planning a trip, a quick internet search is usually conducted to check out certain things within the area of where someone wants to go.
Specifically, hotels are the first thing someone looks up to take a peek at their star rating. Most countries in the world have a star rating system that dictates how well-received things like hotels are in their country.
Usually, travellers are looking for as close to a 5-star rating as possible. The more stars that a hotel has generally means they are considered among the places to stay. But why? What qualifies a 5-star hotel as an upscale or luxurious hotel is much more than how comfortable the room is!
What Qualifies As A 5-Star Hotel?
Hotels that have earned the golden fifth star on their rating truly go above and beyond regular hotels. But what is it that really sets them apart?
The rating gets racked up by the amenities that the hotel offers. This can include places that are considered resorts as they are possibly on the top tier of luxury hotels.
In places like Australia, luxury hotels and resorts can be quite impressive.
This is for a variety of reasons, but mostly if someone is going to visit one of the most gorgeous places in the world, they deserve to have accommodations to match their surroundings!
The amenities are what takes the cake at these resorts and hotel locations.
Some amenities that are included in locations that are rated 5-stars include sizes of beds, minibars, wifi access, free breakfast, pools, spas, decor, shuttle services, access to gym equipment, just to name a few.
When someone heads out on holiday, they want to feel inclusive and pampered during their stay at a hotel.
Nothing is more relaxing than special amenities during a stay at a luxury hotel.
What Is An Upscale Hotel?
Luxurious hotels serve so many purposes to their guests. They should provide a home away from home for any guest that not only keeps comfort in mind but also access to spectacular perks.
The perks or amenities that a hotel provides sets their bar high and helps them stand out among other hotels in the area, or in some cases, the entire world!
To be considered an upscale hotel, standards must be met. Guests are going out of their way to pay extra to feel like they're on top of the world.
To truly achieve this, guests have to know their money is well worth it.
While it shouldn't be about the money, it certainly plays a part and paying a little extra to have an experience at a hotel rather than just a stay at a hotel is worth more than money can buy.
Some of the questions to ask to determine if a hotel is upscale could be any of the following:
Is The Hotel Crisp, Clean, Inviting, And Bright?
Dark and dirty locations just will not do. Any guest appreciates stepping into clean and fresh areas and this includes the lobby area.
This is the very first thing guests are going to see as they walk in. Impressions mean absolutely everything when guests arrive.
Feeling welcome from the very start is the pinnacle of defining upscale locations.
What Kind Of Decor Is Hanging Around?
The decor really speaks levels to guests. From the decor in the lobby to the decor in the actual room.
Sticking with a modern and chic look is always the best way to go.
These designs often embrace minimalism to help keep things clear, uncluttered and beautifully designed.
While these designs are simple in nature, the decor is usually admirable and very pleasing to look at.
What Can Someone Expect During A Stay At An Upscale Hotel?
The main focus of what makes a hotel "upscale" is in the details. What often sets them apart is what guests can expect during a stay at the hotel.
In order to get the title of "upscale", a hotel must include full-service amenities that completely and utterly cater to its guests.
This includes laundry services, shuttle services, an onsite restaurant, room services, valet parking, etc.
All of these things ensure that each and every guest that walks through the hotel's doors are going to provide a personalized feeling for them.
While there are other guests at the hotel, each guest will feel like they're the only ones staying there.
These particular services are conveniences to make any holiday away from home as close to perfect as they can possibly be.
There is nothing like a day of sightseeing or enjoying the surrounding beaches of a destination.
But being able to come back to the hotel after these events and relax in ultimate comfort and have everything within a short distance is absolutely remarkable. It keeps things stress-free and worry-free.
What Does "Luxury" Actually Mean?
A glance at the dictionary defines luxury

as something indulgent and that brings great pleasure.
When it comes to choosing a hotel, this definition is spot on! Hotels are places to unwind and be comfortable, but overall, guests should feel like they're treating themselves.
Time away from home on holiday to visit particular sites is meant to be a special experience and spurlging on a nice hotel or resort is absolutely the way to go.
The hotel should be something surprising and elegant.
When a hotel has a luxurious feel to it, guests can be assured that they are indulging themselves in an experience rather than just having a place to sleep.
It should be something they have never seen before which moreover makes it truly remarkable and memorable.
When guests head back to their hometowns they should be able to share all the great sights they visited. In sharing these experiences, their luxury hotel should be included with that excitement from their trip!
This is what it means to be a luxury hotel and give guests that indulgent feeling of having stayed somewhere extra extravagant.
Always Consider A Luxury Hotel
What makes a hotel a luxury hotel is all in the details.
When planning a future holiday, guests should consider a stay among some of the best and most relaxing locations they can find.
Luxurious hotels can give all the comfort someone needs and more!