While Australia is home to thousands of gorgeous beaches, it is important to know the safest way to enjoy them. There is a lot of wildlife throughout Australia as well that poses some dangers when it comes to enjoying the scenery. However, this shouldn't be a deterrent to visit or explore all this enticing country has to offer!.
One of the most popular spots to visit is Cape Hillsborough and some people question whether people can swim there or not. It is safest to always be aware of your surroundings! It can be easy to be caught up in the overall beauty of the places we visit, but always being aware is the key to a great time!
Cape Hillsborough Beach Swimming
Cape Hillsborough Beach (also known as Casuarina Beach) is a 2km long beautiful beach located in the Mackay area, Queensland and is a part of the Cape Hillsborough Nature Tourist Park.
It is about a 45-minute drive from Mackay to Cape Hillsborough. You will find a gorgeous beach with a scattering of rocks and rock islands in the bay with large islands on the horizon.
More specifically it runs to Andrews Point and creates an attractive north arc. It's surrounded by mangroves and The beach is loved for its fine sand, which tends to be softer to the touch.
Swimming is recommended during high tide. While this is recommended, what makes people question about swimming conditions? The answer to this is stingers! Stingers are known to dwell in the North Queensland ocean areas, especially during the months of October through April.
The waters are pristine and the beach is considered to be mostly low tide and only has a gradient of 200m. It overlooks the Hillsborough Channel within the Coral Sea.
This is where it is crucial to be aware of any and all surroundings. While no direct stings have been reported for Cape Hillsborough, knowing the potential for experiencing one is just as important.
To ensure the safest and most fun time at this beach, it is recommended to wear protective suits to cover any exposed skin while in the waters.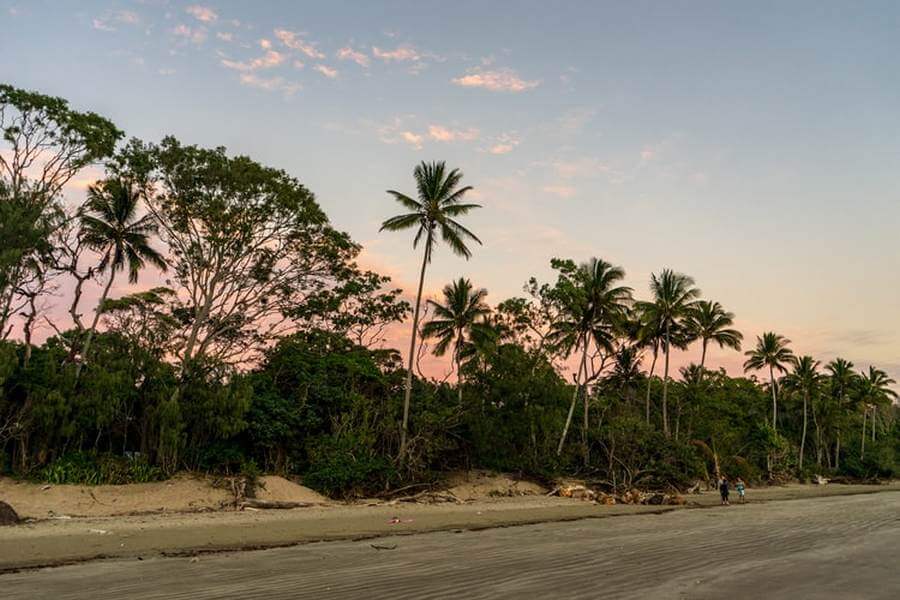 Google Map Of Cape Hillsborough
Swimming Spots At Cape Hillsborough
The areas where swimming takes place the most is around Wedge Island, check the tide times so you can walk over to the island at low tide (wear reef shoes as it's very rocky), or set out on a walk to Orchid Rock, and the tail end of Cape Hillsborough.
Throughout these areas, snorkelling is popular for wonderful views of corals, turtles and other marine life. These are thought to be the prime locations for getting the best out of these sparkling waters. You will also find many rocks to climb over and caves to hide in and explore.
Another great spot to swim while at Cape Hillsborough is the park pool. While this isn't oceanside, it still offers another alternative to enjoying the water. The pool is an impressive 23m and features shallow and deep areas for all levels of swimmers. It's open all year round but is favoured during the summer months.
If the beach or pool isn't a swimming option for a stay or visit to Cape Hillsborough, another frequented spot is the freshwater swimming hole. This naturalistic location is only accessible for 24 hours after a heavy rain, during the wet season (November to April), making a rare yet special experience! It's more specifically located off of the Cascade Creek and flows to the beach.
While there are other areas to consider for swimming while at or around Cape Hillsborough, this attractive beach has other possible dangers as well. Once again, this is not to scare off any visitors. It is merely to make them aware of their surroundings so that every precaution is taken!
Other Things To Look For While At Cape Hillsborough Beach
Stingers are a big visitor to the waters of the beach during the months of October to April, but there are some other wildlife creatures lurking around. Kangaroos and wallabies are known to frequent this beach area in search of mangrove seeds, coral sand dollars, and seaweed.
They make their appearance in the early hours at around (5:40 am), in the morning to see what's washed up onshore. If visiting in the early hours, it is advisable to be cautious, as these magnificent creatures are strong and can be dangerous.
Keeping a safe distance is recommended and as with any wildlife, attempts to feed them should be avoided, they then leave the beach at around (at around 6:15 am) just in time for you to have a delightful walk along the beach
However, catching a glimpse of the sunrise from this beach is a wondrous experience and is worth the trip.
At Cape Hillsborough National Park there are many species of animals and reptiles. It is not uncommon for these creatures to find their way to the beach and nearby bush walks that line the beach. There are over 140 species of birds and 25 different reptiles, just to name a few.
While all of these are amazing to look at, once again its important to practice safety if running into one of these spectacular creatures. View the wildlife from a safe distance and only take photos.
While heading to Cape Hillsborough to try and swim, seeing turtles can be expected too. This is especially true when it comes to what's called "Turtle Lookout", Turtle lookout has the best view.
This spot is known for having a lot of turtles and it is along a track that runs from a local resort towards Wedge Island along the Cape Hillsborough National Park

area by the beach.
One thing to note is while camping here don't forget repellents, as you are in the bush. There are sandflies so I recommend taking repellent.
While swimming at this location has its things to look out for, there is plenty of wonderful wildlife to admire while on a trip to this location.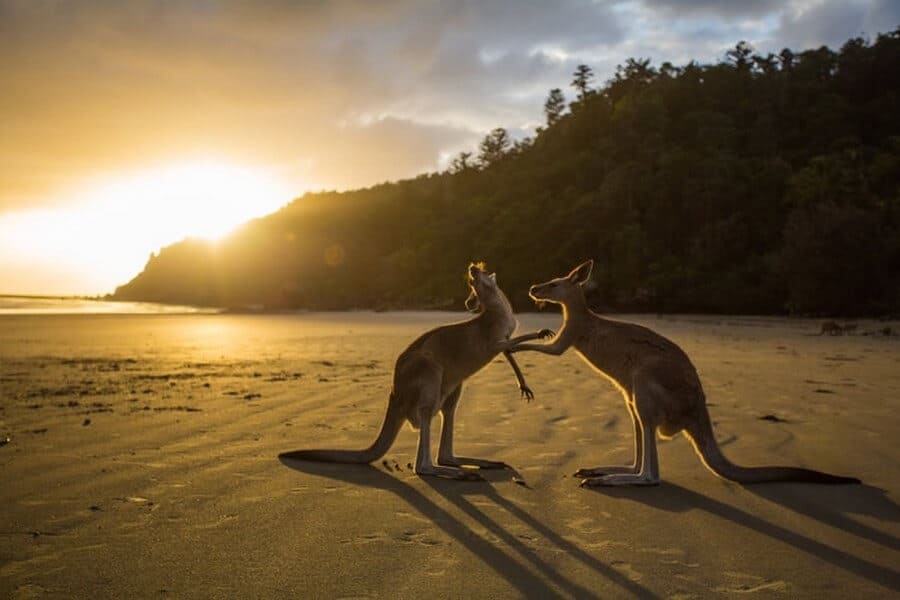 Some other wildlife that can be seen near the beach area or national park location are butterflies, lizards and geckos to just name a few. While there are lots of species of wildlife roaming around this area and other parts of Australia as well, it is critical to note that utmost respect for nature should be upheld.
It all falls back being aware of current surroundings. A great time can be had while visiting this area and the park and visiting are surely worth the stunning seascape and landscape views, but it only takes a few moments to take the extra steps for safety.
These steps help to not only protect visitors (with the wearing of protective outfits) but also to keep all nature and wildlife around safe as well. This perfect harmony is a treat from nature and should be treated as such.
Keeping that in mind will make swimming at Cape Hillsborough a memorable time for everyone. Remembering the key is to watch out for Stingers in October through April and other wildlife as well will make swimming in the pristine waters that much more enjoyable!
Safe Beach Tips For Swimming
If your swimming anywhere that stingers are known to live in the waters be safe while swimming, You can read more on stingers on the Qld gov website

here
Do not touch any of the stingers found on the shores of the beaches, these stingers can still sting you.
If your swimming in north Queensland tropical waters please note these other guidelines.
Look out for any placed stinger nets where provided swim between these nets for added safety.
If you have a wetsuit or a lycra suit one of this full-body kind, these should be worn to be safe from all stingers, most particularly in the stinger season, This season runs from November to May.
You can give the stingers time to leave by entering the water slowly.
PLEASE, note any stings that happen can take up to 20-40 minutes to start to appear, Seek out the local medical clinic or hospital if your feeling unwell. Dial 000 if it's an emergency or (07) 4885 6000 for the Mackay Base Hospital.
More Pages On Beaches
link to Can You Swim At Mission Beach?
Not all beaches are suitable for swimming for a number of reasons. Some of these areas are more practical for sand activities or photography. It is important to know whether or not a beach is safe...
link to What Is It Like To Live Near The Beach?
Visiting the beach is a beautiful opportunity to see mother nature at its best. There's nothing quite like hearing the waves rolling in on a soft, sandy shoreline. While visiting the beach is a...