Finding the perfect date idea for a significant other is super rewarding. Not only can it be extremely romantic, but a surprising date is such a nice gesture! A beach is a popular place people pick for dates.
While the beach is a great choice, there are some excellent ways to really amp up the charm and make it quite a memorable experience!
Below are the 5 beach date ideas for couples!
Romantic Meal On The Beach
Rent A Boat For A Day (Or Evening!) On The Water
Partake In Watersports
Walk Along The Beach
Scavenger Hunt On The Beach
Read on for more options below on the best beach dates.
1. Romantic Meal On The Beach
This is a pretty common beach idea but it can really be taken to the next level. There are so many ways to share a special meal among the soft sand with a partner. The best times to do so are at sunrise or sunset or even by moonlight.
Whether it is breakfast or dinner, any meal next to the shoreline is a peaceful and romantic one. A vast open ocean, soft rolling tides, and a peach-hued horizon is the perfect way to have a toast to any relationship.
But what are some key items to bring along for a meal on the beach?
Consider something easy to put together or already cooked to start. Below are some key items to bring to the beach for a meal on the beach!
Blanket
Basket or Cooler (to store food items)
Food (cheese and crackers, hummus, fruits or veggies)
Drinks (beer, water, champagne, wine)
Ice for the cooler or an ice bucket
Wine glasses
Decorations (flowers, rose petals, led candles)
Beach chairs or pillows
Phone or stereo for soft music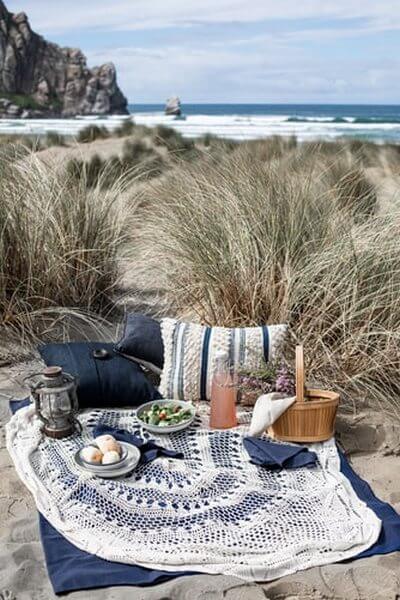 While the food is important, so is the atmosphere! The decorations are key and should be placed in a manner to is attractive. These can be flower petals in a heart shape around the blanket and meal area.
Another variation can be using the environment around the date area to help decorate.
This includes hearts drawn in the sand, mounds of sand to hold led candles, etc. On top of the decor, having some soft romantic music playing (or their favourite song) will set the mood! Any partner will be surprised and touched by this set-up with such prime views.
2. Rent A Boat For A Day (Or Evening!) On The Water
Some beaches have boat rentals nearby or even if someone has their own boat can take it out on the water. A day on a boat can be really majestic for a couple. Even sailing near sunset can be really special.
A view from the beach is nice, but having a panoramic view of the open waters, horizon, and inland areas make the date a memorable one! Time on the boat can be spent basking in the sun, fishing, and sharing some drinks.
While the boat is the main component to this date, there are some other things to bring along when sailing offshore. Below are some things to think about taking!
Fishing gear
Drinks (beer, water, champagne, wine)
Cooler and ice
Sail out with a loved one for a remarkable date!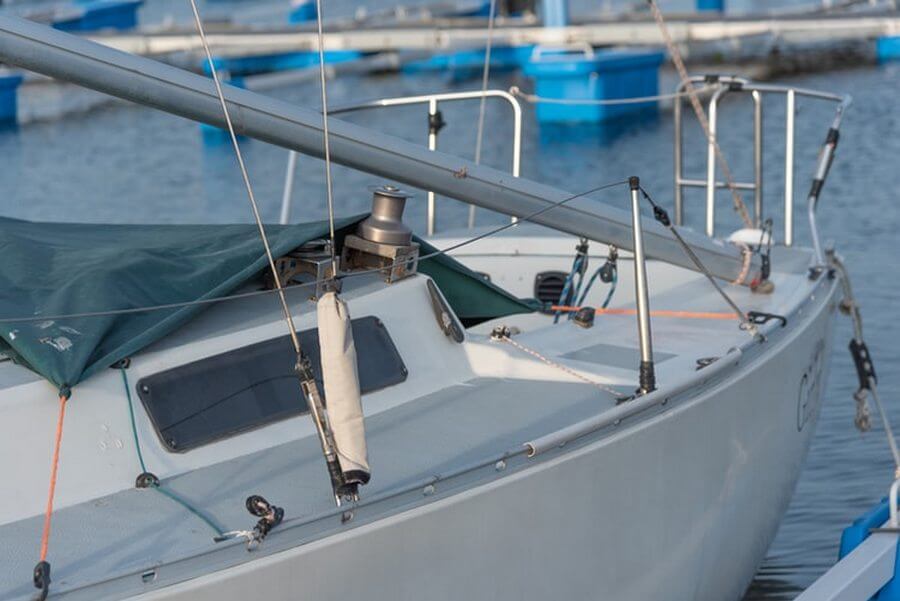 3. Partake In Watersports
Not all dates have to be focused on food or drink. The beach is such a great area to partake in watersports. Whether someone is a pro at all the fun the beach has to offer or they are new to the game, some fun can be had!
A couple can explore a new watersport together or do something they regularly do.
The reason watersports make for a great beach date is because they get to spend time together doing something they enjoy! Pristine beach waters can be the source of some really exciting watersports for a couple to enjoy. Below are some of the watersports to partake in!
Jetskiing
Waterskiing
Surfing
Windsurfing
Kayaking
Another great way to explore watersports together on a beach date is to take some lessons together. Having a brand new experience together is exceptional! Surfing lessons can help people learn how to ride the perfect wave!
This is just an example, as there could be other watersport lessons out there!
While watersports are a great way to spend time on the beach, so are other sports. This can include frisbee or volleyball. A little competitive fun can really make for a special date in the sand!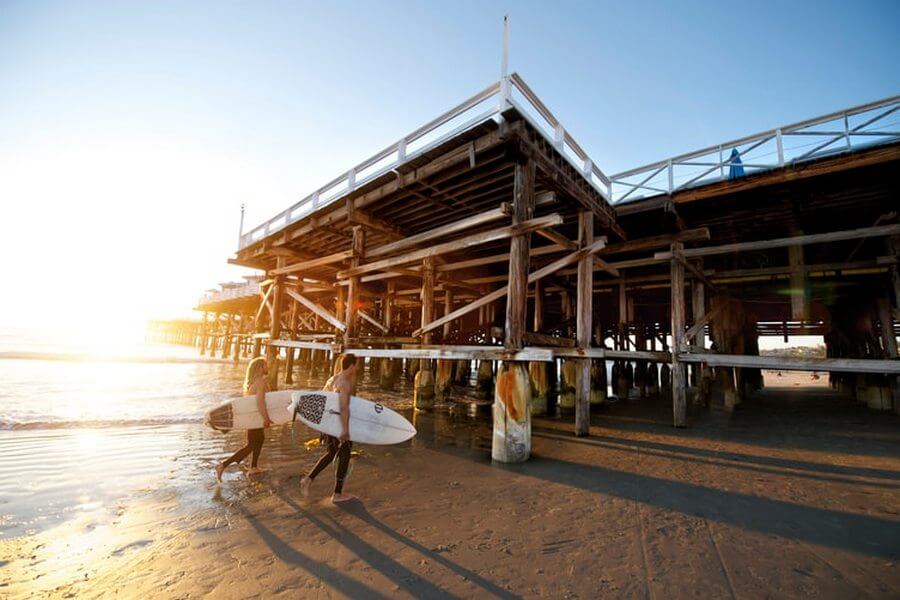 4. Walk Along The Beach
Dates are all about connecting with another person. That connection is made through how the date is set up and how it plays out! Whether it is a first date or a celebration of a milestone anniversary, the beach is a spectacular place to go.
Walking along the beach at sunrise or sunset is a truly magical moment and really sets the whole mood! Hand in hand walking through smooth sand with the water breaking shore is quiet and super intimate. It can feel like the couple is the only ones on Earth!
Walking along the beach provides ample time for conversation. This can include sharing memories (while making them!) or talking about the future. In fact, this beach date idea is ideal for proposing too!
A shared moment on the beautiful beach and surprising a significant other with a ring really tops off a date along the shoreline!
If considering this option maybe use a cellphone to record the reaction. This captures the moment forever and can be used in future romantic endeavours throughout the relationship! For example to show at the wedding or bridal shower.
Ideally, someone will want to set up the phone right before popping the question. This can be done in a variety of ways. One way includes using a mound of sand with a blanket over it to protect the sand from getting into the phone.
Another option could be using the environment around them, large pieces of driftwood can be sturdy enough for even bigger rocks.
Most newer phones come with the option to set a timer to give the person time to move away from the phone and still be a part of the picture or video. This setting makes a truly romantic occasion without having to bring a third wheel on the date.
If the significant other asks what the other is doing, they can just say "it's a surprise!". And even if they get the vibe of what's happening, it will indeed still be a surprise!
While proposing on the beach is a great beach date, walking on the beach can have other perks as well. This includes exploring the beach shoreline together. Seashells make their way to beach shorelines all over the world and are gems to find.
They come in so many shapes and sizes. Collecting or checking out the various seashells can be a great way to have a beach date. However, in places like Australia where wildlife is protected, people should always check to see if there's something inside before sticking it in a pocket.
There are also some rules about collecting them too. If in Australia, it may be best to admire the beauty and replace them back on the sands.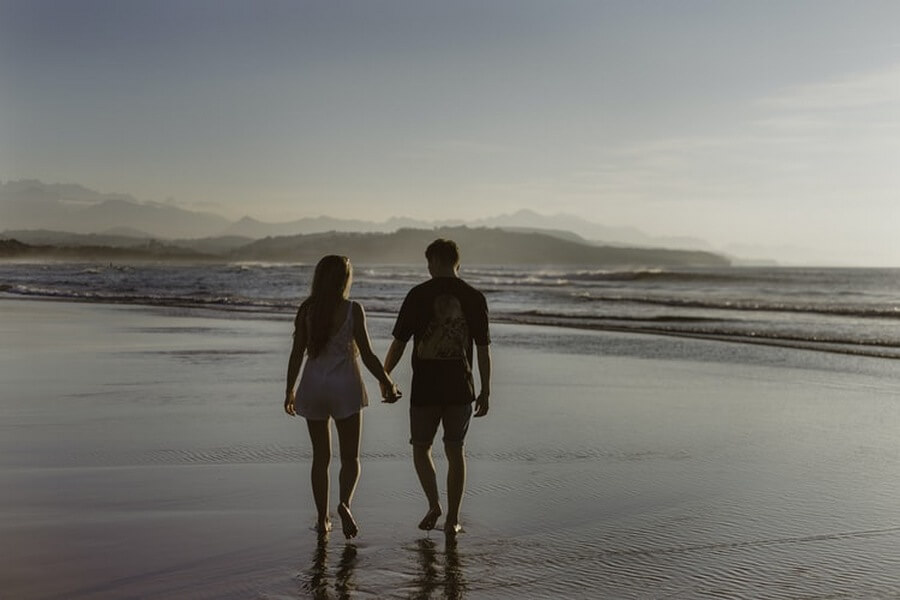 5. Scavenger Hunt On The Beach
Scavenger hunts on the beach make for such a cute date idea. This is particularly true if going in the late evening or early morning as there will be fewer people around and the things that get hidden won't be disturbed.
Not only is this a fun activity to do with a significant other, but it really sparks up the bond between two people.
This is because the scavenger hunt revolves around their relationship and there is usually a prize at the end. This could be the proposal ring from the last idea, flowers, jewellery, tickets to something, etc.
Basically, the prize is any kind of gift the other wants to give their boyfriend, girlfriend, husband, or wife!
Planning out a scavenger hunt may sound like a lot of work, but it is not! In fact, it can be quite simple. It all depends on how much hunting has to be done. Shorter scavenger hunts can be fun and still result in a great time. However, going too overboard and it taking too long can ruin the experience.
There should be a balance! This balance can be 5 to 10 clues. The clues can be pictures or quotes from the relationship or a favoured television show. The key is to create a build-up for the prize.
The clues will drop subtle hints as to where the other clues are and ultimately the prize. It can also be clues describing bits of the final prize as well.
When doing this on the beach, planning is key. The clues can be put in envelopes or small boxes from a dollar store that can be buried in the sand. They can be found by playing "hot or cold" by telling the person how close they are to a clue.
Another great way to execute it can be through a small map that is drawn up for the clue locations. Other places to consider hiding clues can be in driftwood, behind rocks, or even plant life that backdrops a beachfront. This fun idea really makes an exciting beach date!
Beach Food Ideas For Couples In Australia
Australia Is The Big Kahuna Of Beaches
Every couple who happens to visit Australia will be amazed by the sheer beauty that Oz has to offer. Since this country is also a continent, the coastline offers an impressive 25,760 km over the entire country itself!
As far as having plenty of beaches to visit, you'll have no problem spending the day at more than one of them.
Of course, you'll need to bring food and drink and that's the focus of what you'll need to buy first.
Shopping for food won't be hard if you plan ahead. Based on where you plan to spend most of your time, try to get familiar with that territory first. Though luckily most of the coastal towns and bigger cities will have big supermarkets and food stores.
For those of us who just can't live without your Doritos or Dr Pepper, relax- they have it too. There is one select chain of a store called USA Foods, which stocks all your favourite imports.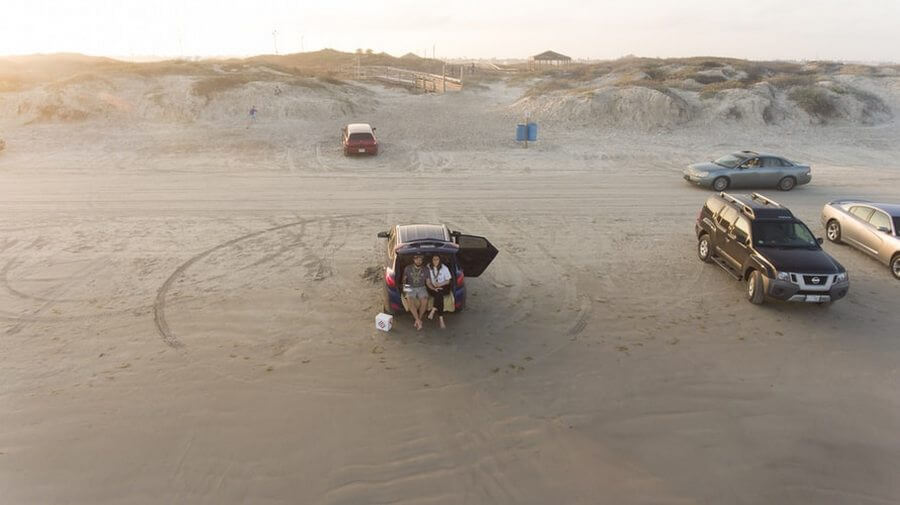 What Foods Do You Bring To A Picnic?
Not exactly a foreign country, Australia has some original items on the list that might make you raise an eyebrow. If you're planning a picnic-style afternoon, then you should consider these ideas if you want to try something new.
But absolutely don't forget that if you do any cooking be sure to bring an esky or (cooler ice chest). It will keep your meats or fish and drinks nice and chilled beforehand. If you plan to do BBQ, remember that you'll need to have something portable to grill your food over likewise.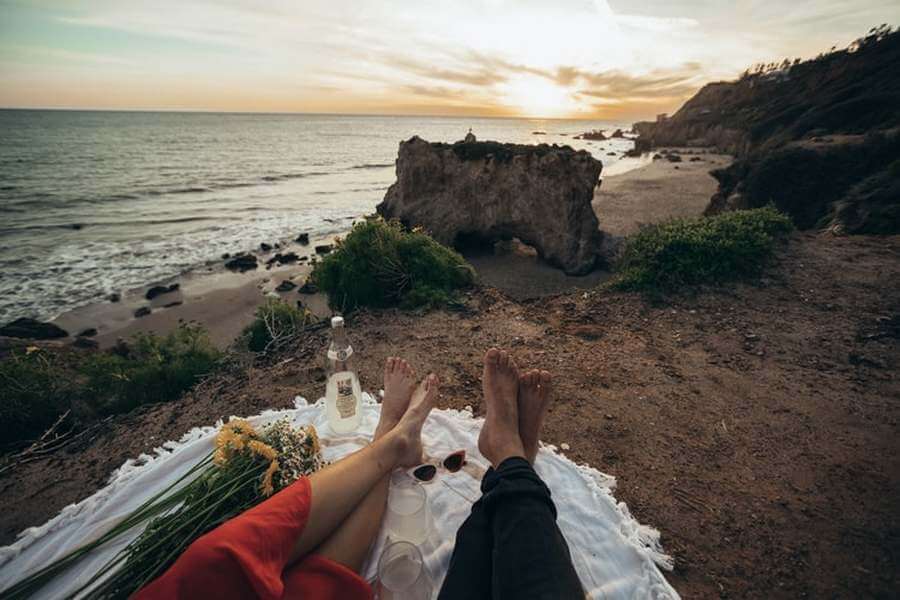 Kangaroo Steaks For Your BBQ Or Picnic
Australia is known for their kangaroos, but you never thought they are eating them as well. Truth be told, kangaroo meat is better than beef and actually healthier. Compared to beef, any standard 100g of kangaroo offers: 1g of fat, contains Omega 3, has 4.1mg of iron, and 22.9g of protein.
Besides that, grilled with a bit of butter, these steaks will simply melt in your mouth.
Locally Grown Aussie Avocado
Aussies are proud of their avocados and have plenty of reason to be. Avocado is the perfect choice to bring to a picnic since it can be served right there on the spot. Either as a topping on toast, in a salad, or as a side dish to go with the rest of your menu.
Aussies Love Vegemite
This is an item that is a bit like caviar, you can either love it or hate it. It's a brown paste that comes from a small jar. It's actually made from vegetables and yeast extract with spices added. Mainly you just spread it over a slice of bread or even toast.
You don't have to put a lot, but it goes great with fresh avocado slices on top and even tomato and melted cheese added to that.
Tim Tam's Are A Easy Treat
Every picnic needs some practical sweeties to snack on. If you can forget about your Nutter Butters for a second, consider the Tim Tam chocolate biscuit. Think of chocolate-covered gram crackers and turn it up to 11.
Tim Tam's has 4 varieties to choose from including original, chewy caramel, classic dark, and dark mint.
Moreton Bay Bugs
If you're from the South, then you'll all know about the mudbugs. Moreton Bay Bugs are essentially flathead bay lobster that is found in Moreton Bay. You can easily grill up their tails for a taste that's better than lobster.
Be sure to bring that spare bottle of Crystal or Frog Bone Cajun pepper sauce to dab over these bugs!
They Are Called Prawns Not Shrimp
Another seafood favourites are their impressive prawns. You thought it was shrimp? Not at all. These giant prawns are perfect for grilling at any beach picnic.
Best yet, the local shops near your beach will more than likely have them as fresh as they come. A great way to enjoy that day with someone special starts with grilled prawns with lemon and garlic.
Emu Burgers For Somthing Differnt By The Beach
You can find ground Emu meat in any local Oz supermarket in the meat section. Most people can't wrap their heads around the idea of eating Emu but wait until you try it.
Emu burgers are quick and easy and taste so similar to beef as you would expect. Top it off with some generous dressing on a bun and enjoy.
Macadamia Nuts Are Good Beach Food
Remember how Homer Simpson was always crazy over those Macadamia nuts? Everybody thinks that they come from Hawaii but originally they were discovered to be native to Australia.
The perfect addition to any picnic starts with these nickel-sized nuggets. Great to go with sliced fruits and a refreshing fruity alcoholic beverage.
Star Fruit A Treat On The Beach
Speaking of fresh fruit, here is one that is not only pleasing to look at it will quickly become a favourite. Combining the flavours like fresh pear, green grape and orange all in one! Serve it sliced lengthwise for a star-shaped treat you and your partner will totally enjoy.
A Good Aussie Beach Pavlova
You can't visit the land down under without topping it off with a bit of cake. Perhaps created in honour of the Russian ballerina Anna Pavlova who toured Australia and New Zealand in the 1920s.
It's a meringue cake with a crispy skin covered surface and topped with kiwi fruit, strawberries, and blueberries.
What Should I Bring To A Picnic At The Park?
If you're not always the romantic type with champagne and chocolate, here are some great tips for park picnic foods.
Always be sure to bring foods that are packaged already. This saves time if you are travelling some distance. If you do bring chilled foods, make sure your esky (cooler) has plenty of ice to keep things cold.
Fish or meat should be packed in zip lock bags and kept separate from the ice itself.
Any drinks you bring be chilled are easy enough to keep cold in the ice, but always bring them in a separate bag.
Since it's just the two of you, be sure to bring supplies you know you'll need in case of an emergency. Blankets, a small first-aid kit, a flashlight, and even perhaps a portable tent.
If that park allows camping, you might make that afternoon picnic an evening of fun and romance.
Just be sure to observe all the weather conditions and ask locals who work in the supermarkets about the forecast. They'll save you some time panning that day at the beach or park picnic. And as always, be wary of the native animals that live there.
The smell of any food may attract them so be sure to cover your tracks when cleaning up. Australia is better known for being conservative over littering and you might get fined if you leave your trash behind.
Give A Significant Other A Memory For A Lifetime!
Beach dates are one of the most romantic and gorgeous ways to say "I love you!". So people should feel free to take their loved ones to the beach! Giving them such a memory to last a lifetime is a gift cherished by anyone!
More Pages On Beach Dates
link to How Do You Plan A Beach Wedding?
Now that you're engaged it's time to pick the perfect location. No matter where you decide to take the big plunge, take the time to find the perfect spot. You'll no doubt want to have your friends...
link to Top 5 Beach Wedding Locations In Australia
Getting married is one of the magical times in someone's life. There are tons of things to plan and layout for the most perfect day. One of the most key things to think about while planning for the...