Beach camping in Australia is quite the experience for seasoned campers or newbies. With over 10,000 gorgeous beaches to explore, finding the perfect beach camping spot can seem overwhelming. However, there are some key spots for a truly exceptional camping trip.
Camping in Australia is such a beautiful sight with all its seascapes and naturalistic views surrounding its beaches. Below are the top 5 best places to consider pitching a tent!
Inskip Point Rainbow Beach
Amity Point Stradbroke Island
Noah Beach Cape Tribulation
75 Mile Beach Fraser Island
Tidal River Campground Victoria
1. Inskip Point, Rainbow Beach
Inskip Point is approximately 8-minutes north of the coastal town of Rainbow Beach and its beach areas make for great camping opportunities. In fact, Inskip Point is a popular ferry point for guests and their 4WD vehicles to Fraser Island.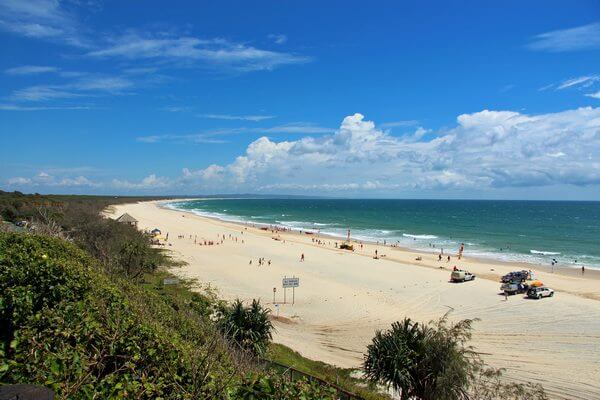 While Fraser Island has its own great camping locations, Inskip Point at Rainbow Beach has lots to offer.
Pros of Camping Here:
5 camping locations. There are 5 camping spots along Inskip Point, including the recreation area itself. The others include Beagle Campground, M.V. Sarawak Campsite, S.S. Dorrigo Campground, and The Oaks Camping Area. All locations are along the beach in Inskip Point and are within walking distance to the sandy beach. Rainbow Beach has gorgeous coloured sands to explore. But guests camping here can head to the waters for fishing or surfing. Areas like The Oaks is a location where tents can be pitched alongside vehicles, but not in the vegetation areas. On the other hand, S.S. Dorrigo Campground offers some small space for caravans or campers as well as toilet areas.
It's near the Great Sandy Marine Park. The Great Sandy Marine Park stretches impressively to contain Hervey Bay, Great Sandy Strait, Tin Cay Inlet, and the waters off the East coast of Fraser Island for approximately 3 nautical miles. This area is an exciting place to explore while camping anywhere around it as it offers so many stunning things to see. This includes lush mangroves, rocky shores (perfect for rock fishing), reefs, marine life (like sea turtles, grey nurse sharks, tropical fish, and corals. There are also many bird species to sight for those interested in bird-watching. Camping is certainly more than just pitching a tent, so guests are encouraged to check out everything around them!
Horseback riding is encouraged. Just south of The Oaks camping area guests can bring horses for horseback riding along the beach heading north. Not only will the horses enjoy the soft sand on their hooves, but guests can relax and soak in all the beautiful sights. Nothing is more peaceful than calm rolling waves and a horseback ride along the beach shoreline!
To book a campsite or for more info on the Parks and forests website.
Cons of Camping Here:
No toilets at some of the camping spots along the Point.
No showers.
"First come, first serve" basis, no roping off areas for reservation.
Must keep the campsite contained in a reasonable amount of space.
What really makes this location a great camping spot is that there are multiple campsites along the beaches to choose from. It is also a central hub for exploring Fraser Island and the Great Sandy Marine Park locations.
2. Amity Point, Minjerribah Camping Stradbroke Island
Stradbroke Island is situated in Moreton Bay in Queensland, Australia. It is notoriously known for being the second largest sand island (with Fraser Island being the first). This spectacular island has a few beach camping locations, but Amity Point is one of the most favoured.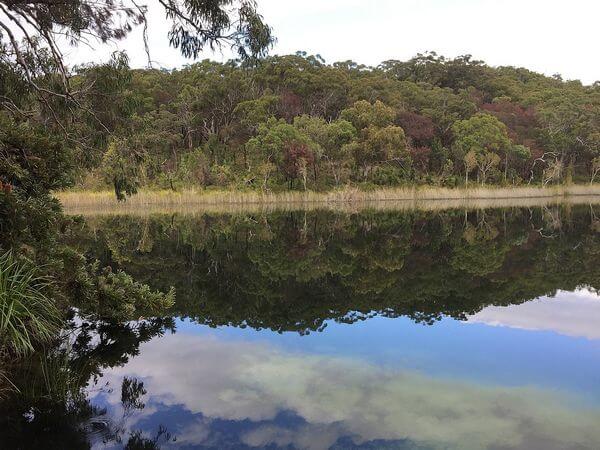 Pros of Camping Here:
This is a full-scale camping ground location. Guests can bring caravans, rent cabins or use eco sites which makes beach camping very enjoyable at this location. It also has showering facilities, toilets, BBQ facilities, dishwashing, laundry services, and free wifi. While this is a bit more contained than some other beach camping sites, it ensures that all guests have everything that they need to camp comfortably.
There's plenty to do around the campground. There's no shortage of activities to participate in while at Amity Point. Some of the popular things to do while camping here include whale watching, snorkelling, surfing, swimming, fishing, kayaking, shopping, eating at local restaurants, go bushwalking and even cycling. Camping in itself offers some peace and quiet, but sometimes it is nice to explore the area around where the campground is located.
There's a chance to see wildlife. It may be possible to see wildlife during a stay at Amity Point, including koala bears and pelicans. Australia is known for having amazing wildlife and some of the camping sites do offer up-close views of these creatures.
For more info and bookings on the Parks and Forests website.
Cons of Camping Here:
Not all camping sites associated with Minjerribah Camping (formerly known as Straddie Camping) have valid commercial activity permits. It is highly recommended that all guests inquiring about any stay with a site associated with Minjerribah Camping check before booking to ensure it has such a permit.
It can get crowded on the campground, so going during peak weather conditions can result in overcrowding. If possible, guests should book the areas during slightly off-peak times to have the best possible experience.
Camping on Stradbroke Island is truly a wonderful choice due to the scenic views. Choosing Amity Point gives campers a bit more amenities than traditional beach-side camping.
3. Noah Beach, Cape Tribulation, Queensland, Daintree National Park
This might one of the most striking beach camping spots in Australia. The Daintree National Park is a spectacular backdrop to Noah Beach, which is in Cape Tribulation, Queensland, right along the North East coast of Australia. This gem of a camping spot promises covered camping tent pads (either compacted or sanded) by nature's thick trees.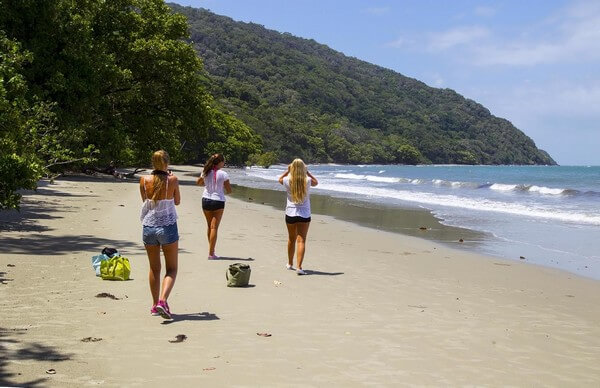 Pros of Camping Here:
Noah Beach is beautiful. Photography is a highly recommended activity while visiting this camping ground. Noah Beach has the national park in the background but is known for its white beaches and pristine waters. There is also an abundance of coconut trees along the beach, making for quite the sight to see. Camping as a whole is done to really appreciate the nature around and soak in all the beauty.
There is SO much to do around the campground! Camping in itself is exciting, but having other places nearby to explore is also a treat. In terms of the Noah Beach campground, there are a number of things to do including nature trails to hike, rainforest tours, beach picnics, Daintree River cruises just to name a few.
There's wildlife nearby. As with other camping locations, there's some wildlife that can be sighted while camping in this area. Guests can expect to possibly see things like bandicoot and platypus. Australia is known for its unique and diverse animals, making their sightings extra special. This is particularly true for those coming as tourists.
There are about 15 camping sites along Noah Beach. While there are a few options for camping along Noah Beach, it should be noted that caravans or large campers cannot be brought here due to space limitations.
For more info and bookings please view the Parks and forests website.
Cons of Camping Here:
Reservations should be made in advance. This is not a camping area where someone can bring their camping gear and set up shop. Reservations are made due to the limited number of spaces available and size restrictions. These reservations include a small fee. For regular campers, the fee is $6.15 per person for one night. For students, that rate is dropped to $3.40 per person for one night. This includes any adults who come along with the student.
January and April are not advisable months to visit. These months are considered to be the wettest seasons in the area. For the purpose of an enjoyable experience, camping during these months is not advised.
The Noah Beach campground really showcases the pure, natural beauty of Australia that's so well known for, making it a great camping choice.
4. 75 Mile Beach, Fraser Island Queensland
Fraser Island is a household name in Australia and tourists alike have more than likely heard its name. As the world's largest sand island, it is a majestic place of adventures! 75 Mile Beach along the East coast of the island has quite a few iconic beach camping sites.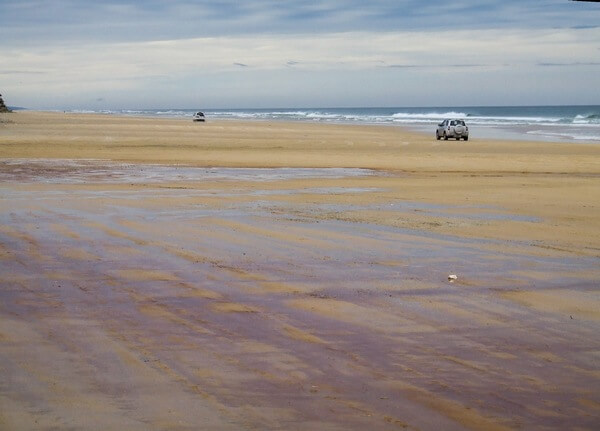 Pros of Camping Here:
There are many places to consider setting up a tent. All throughout Fraser Island, there are some prime locations for camping, but some of the best beach camping can be had along the stretch of 75 Mile Beach! A large part of this is because the area is surrounded by many things to explore. One of the most notable things to do on 75 Mile Beach is to drive a 4WD down the beach. There is something extraordinary about cruising up the coastline with the land on one side of the vehicle and the open ocean on the other!
There is a lot to visit nearby any of the camping points. Some of the greatest places to visit while beach camping along 75 Mile Beach include the Maheno Wreck, Eli Creek, and the Pinnacle Sands. The best beach camping site to these locations is the Beach Camping Zone 5. The Maheno Wreck is a historic site as it is a literal World War 1 ship that washed ashore back around 1935. While it is largely rusted and falling apart, it is a great point of interest and makes for great photos. Another great spot to visit is Eli Creek, the largest freshwater creek on the Eastern coast of the island. There are plenty of walking trails here to explore. Another spot to check out while camping on the beach is the Pinnacle sands, which are beautifully hued sands with vibrant colours.
Open-area campsites. One of the perks of camping along this beach is that there are no defined camping sites. This makes camping here a bit more freelanced and comfortable for expert campers. Vehicle side camping is popular due to this aspect of the camping areas.
For more info and bookings on the Parks and forest website.
Cons of Camping Here:
As with most camping sites, it is important to keep an eye out for wildlife dangers like dingoes. To ensure the safest possible experience, guests should always be aware of their surroundings. This includes being in the waters as well as jellyfish are known to frequent the waters around the camping sites.
Fraser Island is a mecca for all things camping and this is just a small example of what camping can be found among the island. Some other popular spots more inland can take guests closer to attractions like the famous Lake McKenzie.
5. Tidal River Campground, Wilson Promontory National Park
They say to leave the best for last and perhaps this is the best beach camping area in Australia! The Tidal River Campground is in the Wilson Promontory National Park nestled between Tidal River and Norman Beach.
It is also surrounded by stark and breathtaking views of Mount Oberon. Such beautiful surroundings make this campground one of the most scenic ones to set up camp! Nothing says camping more than astute nature on all sides.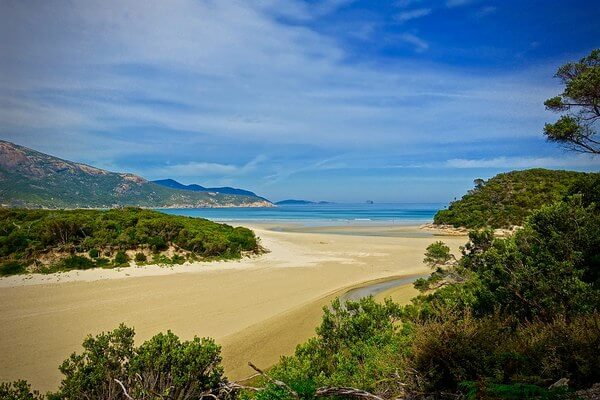 Pros of Camping Here:
It has a large camping area to accommodate lots of guests. While the entire grounds have over 480 campsites, specific beach camping along Norman Beach has less. There are a few rows of camping grounds for the beach itself, but considering the campground is about a 1-minute walk from the beach, this could still be considered as beach camping.
There is a gorgeous boardwalk. The Norman Bay is stark in its own beauty and the Tidal River Campground has a boardwalk that juts towards the bay for ideal views of the seascape.
There is a visitor centre, a general store, and a cafe. Camping can mean that basic necessities run out fast. Such occurrences make having a general store nearby quite delightful. While some prefer the "survival" aspect that camping can provide, others like having comfort in knowing there is help close. The cafe makes grabbing a hot coffee before hitting the trails an essential part of any camper's morning.
There are quite a few amenities to this camping site. To further the comfort of camping guests, the grounds have a list of great amenities including laundry, flush toilets, hot showers, kitchens, BBQ spots, picnic areas, dump stations to name most of them.
For bookings and more info on the Parks, website click here.
Cons of Camping Here:
There are fees associated with camping on the grounds. The fees should not be confused with entrance into the national park, as that is free. However, to use the Tidal River Campgrounds, there are some fees to consider. These fees include non-powered sites that run about $63 a night and $53 a night during off-season times. Powered sites run a bit higher, around $70 a night for peak season times and $63 for off-season times. All these prices reflect up to 8 guests per site and are subject to change.
Even with a fee for usage, the campgrounds are worth staying at. However, guests should remember that Norman Beach itself does have locations available for tent set up. With such much surrounding the campgrounds, this location is a true nature immersive experience!
No matter what campsites are picked, guests can be assured that they'll have access to lots of fun and beauty! It is important to note that before deciding to camp at any location, check for any national warnings and come prepared for anything!
What to take beach camping in Australia?
Beach camping is one of my favourite ways to experience the outdoors. You'll find yourself in a zen-like state of bliss and relaxation. The waves will sound gently in the background complimenting your movie-like days and beckoning you for some late-night skinny dipping.
You'll feel like you should be in a music video with your crackling driftwood fire and a cooler of chilled drinks. Time will wait for you as you experience a truly empty beach. It belongs to you. You are so lucky. If you do it right…
Can you set up tents on the beach?
Beach camping can be more difficult than it first appears. A little preparation can make your experience truly magical. You may be asking if you're allowed to set up tents on the beach. Strictly, the answer is generally not. In Australia, most beach camping isn't allowed unless it's in an authorized area. Luckily, there are lots of authorized places you can take advantage of when planning your seaside adventure.
You know where to set up your tent but will it stay up? You can pitch most tents on the beach but here are some things to consider.
Sand moves. When securing a tent in sand it's worth buying much longer tent-pegs so that your tent doesn't fly away. There are fantastic tent pegs designed for sand with two general shapes. The first, shaped like a spiral, screws into the sand and resists pulling as the shape traps sand between each helix. The second design is a flat peg with holes in the top for regular camping and a hole in the middle of the rod for beach camping. This peg is tied off in the middle. After tying the peg, dig a hole in the sand, deeper is better, bury the peg parallel to the surface of the sand and pack it tightly.
Ventilation. Your tent will quickly become a sauna the best tents for beach camping have a lot of well-designed ventilation. Pick a good tent with closeable vents. Despite these efforts, your tent will still heat up to an uncomfortable temperature during the day. I suggest bringing a tarp and pole to make an open lean-to where you can rest during the middle of the day in the shade. The benefit of a lean-to is that it doesn't trap air which gets hotter every minute. Any breeze will pass through and cool its sun-baked inhabitants.
What do I need for beach camping?
You've defeated the two biggest foes of beach camping. You have a secure tent and a place to shelter from the sun, you may be wondering what else you could need for a weekend of sun and surfing.
Water
Australia is a capital H-Hot! Bring a lot of water. This is going to sound like sacrilege, prioritize water over beer. You need 2-4 litres per person, per day, when camping out by the beach. This may sound like a lot but take it from me (I've walked hundreds of miles in heat), your backpack has two side pockets, carry two 2L bottles for a total of 4L it'll weigh on you less than thirst. Have a third bottle for getting to your location.
As your walking bottle gets lighter, you'll get faster. You're a strong person, you probably lift many tens of pounds at the gym, enough water for 3 days only weighs around 10lbs.
Cooler
If you've chosen a location accessible by car you can bring lots of extra water and you probably have space for a cooler. Nothing is more refreshing than a cool drink with your nearest and dearest during lunch. Coolers are great, you can fill half with drinks and the other half with food for your trip. My favourite ones have big, rugged wheels for easy transport.
Sleeping pad/bag
Australia isn't like a lot of the US, you won't experience freezing temperatures come nightfall but it is still worth bringing a sleeping bag or mat to protect you from the temperature drop overnight. When you get used to 30 degree days, 18 degree nights will feel cold.
Fire
At some point, you'll get hungry and when you do I suggest a campfire. The presence of a crackling campfire will complete your experience and you'll get to cook some of that food in your cooler for an ocean-side meal. The simplicity of fire-cooked meals is one of my favourite parts of camping. Depending on where you're pitched there may be an abundance, or absence, of driftwood.
Do some research on your chosen location. If the wood is sparse, buy some en route. Keep in mind in some camping areas you are NOT allowed to take wood from the woodlands and you can receive a fine for doing so.
A box of firelighters is handy for starting driftwood fires. When you make your camp, dig a firepit into the sand to protect against the wind which can ruin a fire before it gets going or an hour before its ready to burn out.
Loose-fitting clothes
Layer up and have loose-fitting clothes for your day-wear. Loose clothes will let the ocean breeze cool you while the sun is out. As the sun sets and the nighttime cools the air you may want to put an extra layer on to protect you from the sea breeze. A beanie hat or hooded jacket can do wonders when the fire is giving way to cinder and embers.
Honourable mentions
Sunscreen – this one seemed too obvious to make the main list. High SPF sunscreen can be the difference between a memorable trip for good reasons and a memorable trip for painful reasons.
Sunglasses and a wide-brimmed hat – Keep the sun out of your face with a small wardrobe improvement and you'll feel a lot cooler.
Cooking utensils – Camping pans, mugs, and some tongs are all you really need for barebones campfire cooking.
Garbage bags – Leave no trace. When you finish camping, clear away all the evidence that you were there.
Instruments/speakers – A bit of music is a great way to make your evenings more magical.
Beach games – A football, soccer ball or frisbee are my favourite things to bring. I have a love for ring frisbees which take up almost no weight and space in my backpack.
Zip-Loc bags – Keep your phones dry.
Backup lighters – I've gotten one too many lighters wet by forgetting about them and going for a swim. It can take hours or even days before they spark again. Bring a couple of spare lighters and you can avoid the pain of having an abundance of driftwood and no way to start a campfire.
More Pages On Camping