Australia is well known for its wide abundance of beaches, but Bells Beach is easily crowned as the king of surfing. This famous seaside area is located in Victoria 3228, Australia.
More specifically, it sits along the southern coast of Victoria, near the town of Torquay. It takes around an hour to get to Bells Beach from Melbourne city centre. That is some distance to travel so it's best to know the best tips for the surf here at Bells Beach.
Surfing is an extremely popular water sport all through Australia, but Bells Beach is the most notorious spot for this sport. In fact, the beach holds an annual pro surfing competition

, you could get some Bells Beach surfing tips on the day of the competition from many of the athletes and sponsors.
Google Map Of Bells Beach
Bells Beach Surf Tips To Follow
Watch the beach
Timing is everything
Triangulation (This means adjusting any movement)
Keep an imaginary line from the focal point in focus.
Respect the rips and ensure that you're positioned properly.
This gorgeous beach is approximately 300m long and features various viewing areas and even a car park. However, due to the fierce waves that are known as a surfer's paradise, it is not recommended that swimming takes place at this beach. It is unpatrolled and meant for surfing only.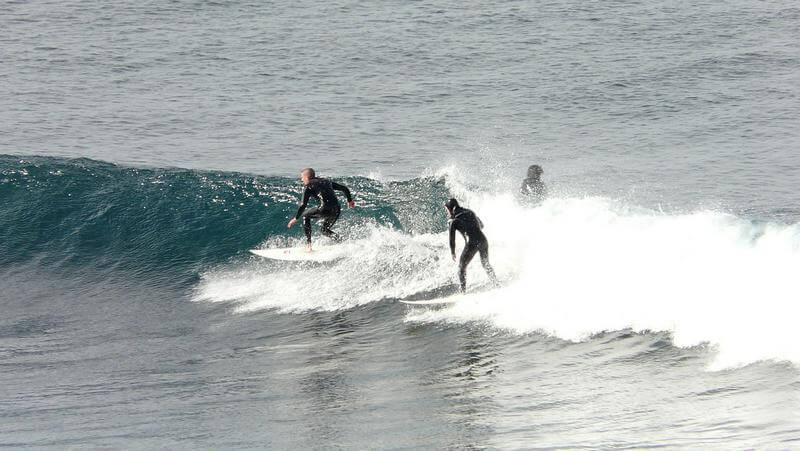 Brief History of Bells Beach Pro Surfing Competition
Since the early 1960s, Bells Beach has been providing lovers of surfing the opportunity to show off their skills with the pro surfing competition. It was originally known as the Bells Easter Classic but is now known as the Rip Curl Pro Bells Beach. You can check out the Rip Curl sponsors here and many products they have to offer.
For safety purposes, if the weather is too extreme the competition has been moved to other beaches. The weather off the coastlines can be quite overwhelming and the safety of visitors to the beach is held in high regard. Some other locations that are used for the competition in case of weather is Winki Pop and Johanna.
This competition continues to be something held dear to the residents of Victoria and anyone else who appreciates and loves surfing, if your travelling to Bells Beach for the surfing competition, make sure you book your accommodation ahead of time and get down there early for a prime spot and parking. You do not want to miss out on all the action!
How To Surf Bells Beach
The reason that Bells Beach offers some of the best surfing in the world is that the waves are various and rise up to several meters high. This provides surfers of all experience levels a great opportunity to catch some great waves, and improve on their surfing skills.
But even more so, it also gives the highly experienced expert surfers the opportunity to possibly catch one of the best waves they have ever ridden! Which is every surfer's dream, and many of them travel here to get to have that chance!
Especially when its hard to find the perfect surfing conditions, Bells Beach is not one to disappoint.
So what gives the waves at Bells Beach their edge? And what are some tips for surfing these waves? Before heading out to tackle the waves, it is important to check out some helpful tips or ideas for having the best experience possible.
Below are some tips from surfing experts to riding the waves at Bells Beach!

1. Respect The Rips, Position Yourself Properly
Rips in waves create a little bit of a tricky area for proper surfing. So the most important first step to riding any waves at Bells Beach is to stay triangulated. But what exactly does that mean?
Well, simply put, it means to respect these rips and ensure that you're positioned properly.
Triangulation is setting yourself up for knowing when and where to be within the wave. Timing is literally everything. While it is suggested that one masters this technique, even beginners can practice the art of triangulation.
First, line yourself up for the best spot to take-off in. From there, this is where triangulation comes into play. This means adjusting any movement to ensure that the surfboard is reaching the wave's main peak.
There will be two of these spots and this is where the "riding" comes into play. Proper triangulation will rock the surfboard with the wave's main peak. Anything less will result in a total wipe out, which no surfer wants!
So stay safe and follow the triangulation method to avoid any accidents. Especially on an unpatrolled beach. Safety is at your own risk, so its best to go out with a group or hang out with other local surfers in the water.
2.Focus, Find Your Focal Point Keep Consistent
Triangulation comes with focus. Finding a focal point will make sure there is consistency with each surf. Keeping consistency will continuously improve anyone's surfing game. The key to focus is finding the focal point.
This can be gauging the distance from the spot on the peak of the wave to the beach line. It also can include something to the left or right such as beach cliffs or a landmark.
While this seems easy enough, it does take concentration and lots of practice, even the most experienced surfer can get their calculations wrong as the seas can change quickly.
So pay attention to tide times as well as this can affect the triangulation method.
3. Remember Why Triangulation Is Important
What makes the waves so interesting at Bells Beach is why triangulation is critical. The sandbars at Bells Beach are what make the magic happen. These sandbars creating constantly shifting beach breaks. This is where the rise in waves comes in and makes for great waves.
Moreover, the clean waves (streamlined waves) roll over a gentle slope of limestone reef. This combination truly brings forth some close to perfect waves.
The biggest tip associated with surfing these waves is to keep the imaginary line from the focal point in focus.
There should be two of them for complete accuracy. Failure to do so can lead to mistakes.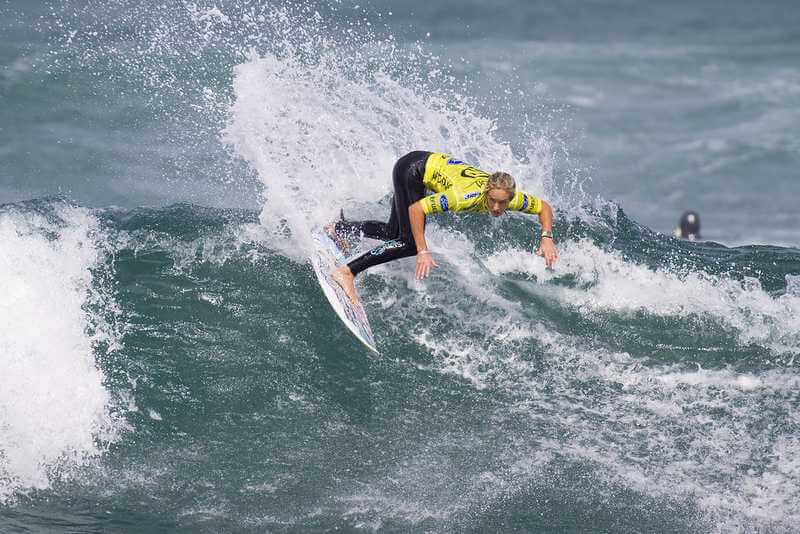 4. Know Your Surfing Limits Don't Second Guess
The waves at Bells Beach can get pretty intimidating and are not for everyone. So take that into consideration before surfing Bells Beach, don't second guess the waves.
Not to mention that the popularity of the beach leads to a bit of overcrowding on the beach and in the waters.
If the big waves aren't quite your cup of tea, you can always check out a less populated area on the beach known as the Headland Center side. This spot is to the south of Bells Beach and features small right waves, that are perfect for those who don't want to be a part of bigger swells.
Or for those just starting out in the sport of surfing or even bodyboarding.
Best Tide for Surfing And Waves To Catch
When considering which waves to catch and what tide is best to surf or catch, it's important to know the break down of the wave system at Bells Beach. Specifically, there are three primary spots for the wave breaks.
These spots are considered to be Rincon, Outside Bells, and Bell's Bowl. These three spots gain some varying waves. To ensure that the best wave is caught, the beach shore break is thought to be the best area to catch a wave.
While those primary spots are perfect for knowing the tides and waves, it is also important to know what time of year is best for catching the best of the best! Visiting Bells Beach is best July through October as wave conditions are perfect.
During that time, the peak wave percentage is considered to be between 81% to 86%. The average wind speed is also around 18mph. The wind is helpful is in the production of great waves. As it lets you know what to expect when it comes to the size of the swells.
Some of the waves have been recorded to be as big as 15 meters high snapping surfboards! That's an incredible amount of swell for any surfer, which is why you must be vigilant.
Bells Beach is just an overall perfect surfing spot that is genuinely appreciated by all surf lovers. This includes those who just want to sit back and enjoy the annual competition or surfers in general ready to catch the perfect wave.
There is a wide variety of talent to be seen among the waves at Bells Beach! So don't miss out on your chance to visit the popular Bells Beach of Victoria.
More Pages On Beaches
link to Can You Swim At Mission Beach?
It may surprise some people to learn that Australia has over 10,000 beaches along its coastline country-wide. There are practically countless sandy shorelines spanning the coastline that all over...
link to What Is It Like To Live Near The Beach?
Visiting the beach is a beautiful opportunity to see mother nature at its best. There's nothing quite like hearing the waves rolling in on a soft, sandy shoreline. While visiting the beach is a...