While some islands are small in size, others can be quite large but not many islands are 124 kilometres long!
Let's meet Fraser Island

it is an impressive 1,840 square kilometres in size, the island has been developed over many years 750,000 years to be exact! World heritage listed

and It's close to perfect and still changing every day.
Welcome to Fraser Island located just off the Queensland coast of Hervey Bay, it's also very well known that Fraser Island is the largest sand island in the world!
Fraser Island is 124 kilometres (77 miles long) of land plus beaches the island has an amazing landscape for visitors. Classed as the world's largest sand island and also world heritage listed with a healthy ecosystem of freshwater lakes, rainforests, sand dunes and animals.
Along with its main north-south sand highway and inland roads there are also many sand tracks.
While it is very possible that you can explore all of this large sand island and all its beauty, the island will leave you breathless and always wanting to see more.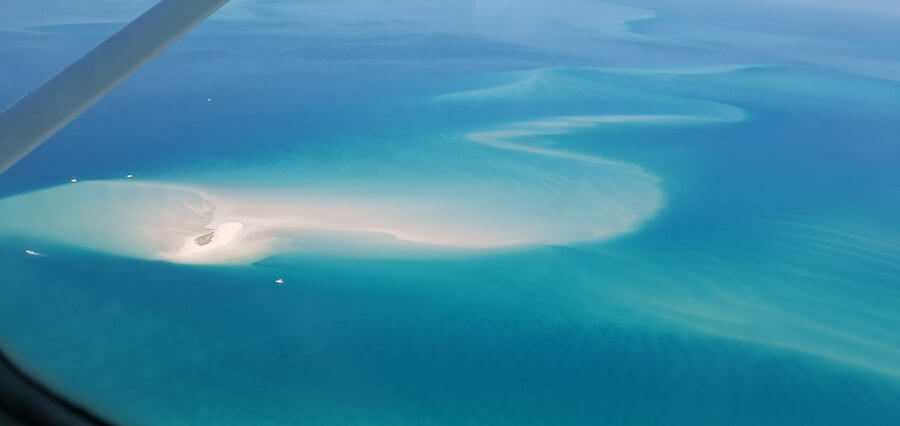 Main Characteristics Of Fraser Island Queensland
Have you ever driven on a sand highway? Not too many people can say they have, well at Fraser Island it's home to a 75 Mile beach highway over the years it has seen many tourists drive down its long sandy beaches.
The beach driving conditions will change with each season, and incoming rainfalls will also make the sand denser to drive on.
Mostly in the dryer seasons, the sand is a lot softer and harder to drive on without getting stuck.
It is well known, that after the wet season some rain will pack the sand down to offer better traction for 4WD vehicles driving along this particular beach highway.
Please note it's best to check local tides timetables before you head off on your adventure. It's best to go as the tide is dropping, so as not to get stuck in a high tide.
Fishing is a very popular thing to do on this island, with around 124 km of beaches to throw in a line; many tourists like to go Taylor fishing off the beaches.
If you're looking to try this you will need to go around August to October when the Taylor run is on.
Camping is a great way to spend your time on Fraser. There are lots of campsites all over the island, many visitors choose to stay at least 3 nights camping.
There are not many better places on earth to sleep under the stars but camping here can come with a few dangers, dingoes, snakes and sharks to name but a few and if you are going swimming lookout as Irukandji

are also found here!
Google Map Of Fraser Island
The Largest Sand Island In The Word, Fraser Island Facts.
| | |
| --- | --- |
| Location | Queensland Australia |
| Population | 182 (2016) |
| Length | 123 kilometres |
| Width | 22 kilometres |
| Square kilometres | 1,840 kilometres |
| Age | 750,000 years |
| Highest elevation | 244 m |
| Freshwater Lakes | over 100 |
| Mammals | 25 to 50 |
| Reptiles and amphibians | 74 Types |
| Birds | 350 different species |
| Flora | 865 species |
How Are Large Sand Islands Formed?
As you might have guessed it's the "sand" that is the main ingredient in how large islands are formed.
What you might not know is the huge amount of freshwater found in many of its lakes, stunning crystal clear flowing creeks and small streams that make it a place that you will never want to leave.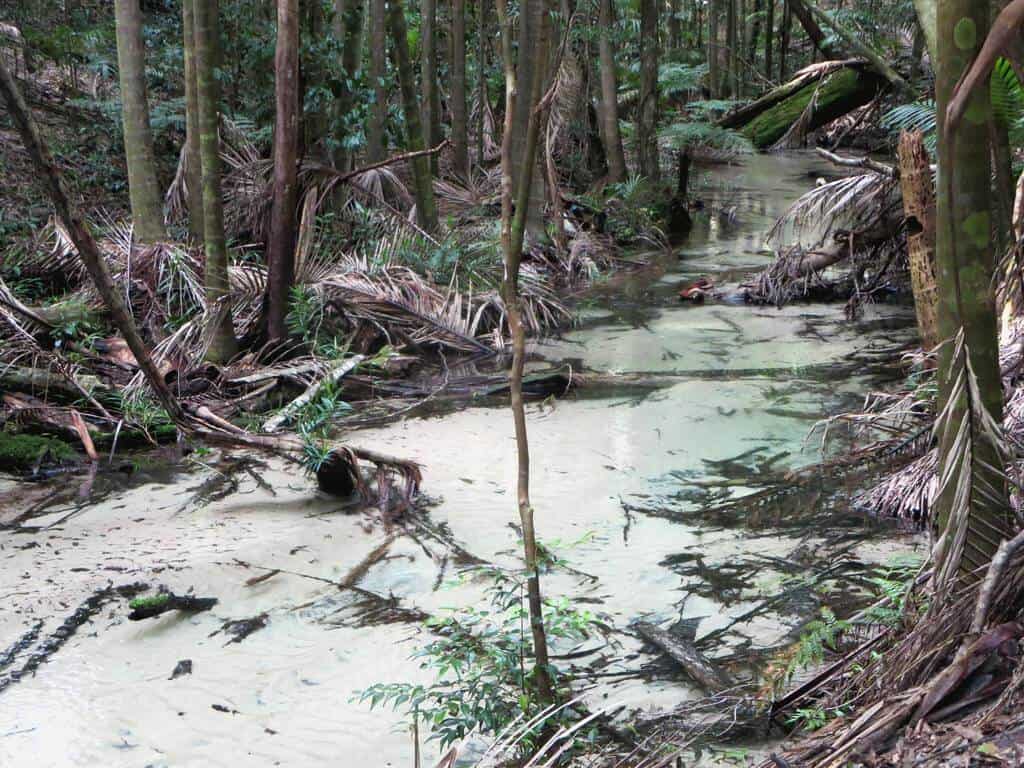 Strong blowing winds formed the island over many 1,000's of years and some ended up being small lakes.
Mirror image lakes are a common sight along with stunning formed perched lakes. It is a must-see experience to view the largest lakes found on Fraser Island, Lake McKenzie has a size of 150 hectares.
Every one of these lakes offers you its amazing character and mind-blowing features that have formed over these years.
Found all over the island are some of the most scenic 4WD trails and bushwalking tracks. The most popular ones are located at the lower south end of Fraser Island.
These are the most popular of the large lakes starting with Lake McKenzie

, Benaroon, Birrabeen and Boomanjin. You can also walk to see Lake Wabby right off the beach track if you choose to do so.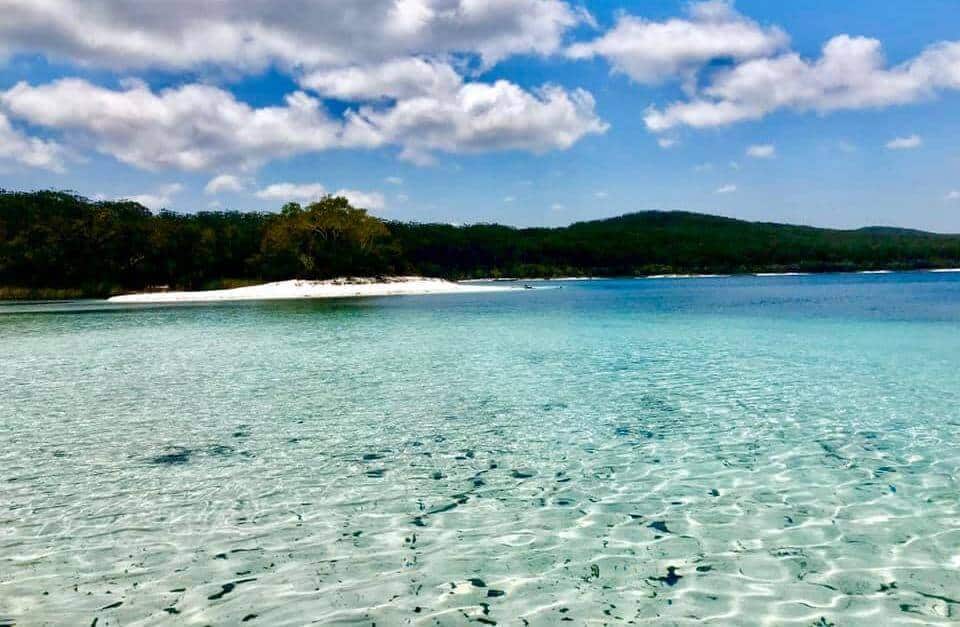 These amazing rain forests have been created by the fresh waters found on the island, over 1,000's of years they have gently broken down. They have deposited leftover nutrients, these leftovers helped the other plants thrive and left the forest enriched and full of life.
Over some time the sand dunes have formed and you can see them building if you know what to look for in the groups of sand dunes on the island. The larger groups of dunes show evidence of their sand build-up or accumulation.
Next, if you look at the less eroded sand dunes these are normally found upwind of the degraded sand dune outlines.
You will also see that the less eroded dunes can lie upwind of the others. Highly degraded sand dunes are normally invaded by the older already formed vegetated sand dunes.
An outline of the life sequence of sand dunes:
No vegetation sand dunes.
Peeks or sharply-crested dunes.
High dune relief without scoured water channels.
High dune relief with scoured water channels.
Subdued sand dune relief.
Deteriorating sands with minor subdued dunes or remnants.
Highly deteriorated sands without any dune relief.
Did you know that the sand from Fraser Island and Cooloola is originally from New South Wales? Some scientists have found this sand was once found deep in the Blue Mountains and was carried out to sea!
It was made from the rains falling down the side of the mountain and eroding away the granites and sedimentary rocks. this was then carried out to the seas over millions of years.
The sands have flowed from 1,000's of its rivers in Australia to make up these magical islands!
Is Australia The Largest Island In The World?
While you may think that Australia is just a large Island you would need to think again, Australia is not considered an Island because it's already considered as a continent. So you might ask now, what is a continent?
A continent consists of:
Australia sits on its own tectonic plate
Offers unique flora and fauna
Native animals
Aboriginal culture
Locals live on both Islands and a continent
Let's now continue on with more facts about Australia

and how it sits on what is referred to as a young crust that separates it from other continents. Geologically Greenland

is listed as a part of North America, Greenland is also referred to as a large Island but not many see it that way.
Many will just look at Australia, and its large amount of distinct plant and animal life that makes up the Australian continent and call it a large Island but by saying this they are wrong.
While Australia is a lot larger than Greenland is in size, this is not classed as a factor in calling it an island.
Let's hope that puts the size of islands to rest and stop most people class anything smaller than Australia as an island! Some Aussies will go as far as saying that Australia is seen as the world's smallest continent and also the world's largest island!
Whatever they might claim it to be, the facts are Australia is classed as a continent and not an island at any rate, making Australia a great place to live or visit.
What Is The Second Largest Sand Island In The World?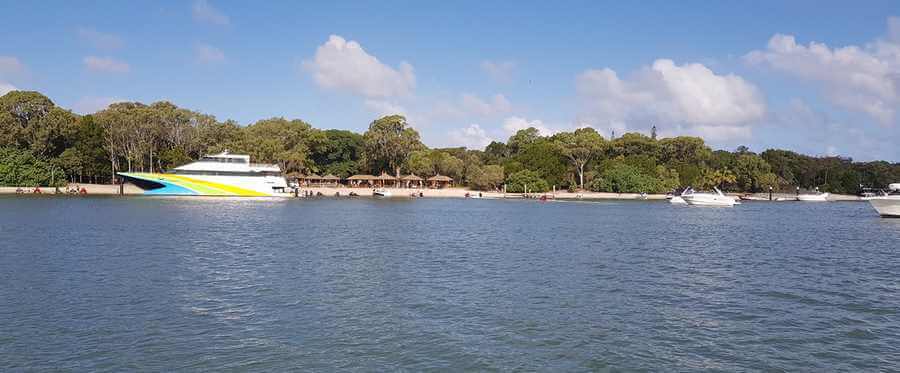 Australia has two of the largest sand islands in the world with Fraser Island known as the first, and the other being Stradbroke Island

located near Brisbane Queensland.
Why does Stradbroke Island come in as the world's second-largest sand island? Due to its smaller size of just 38km in length and around 11 km wide you can see why Fraser Island is a clear winner due to its clear size factor of 124 kilometres, having said that Stradbroke Island is still quite a large sand island.
Due to the proximity of the two largest sand islands in the world, you can easily visit both in a week's time to compare their sizes.
More Island Pages
link to Are Islands Floating?
Islands are one of many natural phenomenons that exist on earth. Islands are found all over the world and vary in size and shape. Some are more remote than others while some islands are right off...
link to Curtis Island Queensland
Queensland, Australia is home to a variety of idyllic places to visit. From pristine beaches to rainforests and everything in between, it is brimming with adventure. This is particularly true for...