Australia is one of the most serene and beautiful places on Earth. One of the greatest places to visit in the country is the various ocean pools.
Experiencing the ocean from the beach is an experience in itself, however, having that experience through an ocean pool is even more thrilling. These pools are found around Australia along the shorelines.
What Is An Ocean Swimming Pool?
Ocean swimming pools are contained areas of seawater among rocky cliffs and rocks along a coastline. Australian's coastline is filled with these beautiful pools, often with calm waters and soft waves rolling in over the rocks. The rocks on the coastline allow waves from the ocean can enter freely.
Not only are the waters calmer than the direct ocean areas, but they are considered safer as well. On top of being safer, these pools are often clean, crisp, crystal clear areas. They are an all-natural swimming pool with no additives like pools at resorts, etc.
These pools can vary in size including their overall depth depending on where they are located. Ocean pools in Australia tend to be along the eastern, south-eastern coastline.
These areas have the most ocean pools and each one is slightly different than the others. Because of their natural formation, these pools have a unique look to them that set them apart from each other.
Moreover, ocean pools can be strictly rock formations or be reinforced with posts or ropes to help containment.
These types of ocean pools are often close to recreational areas, specifically in Sydney

, Australia. One of their famous ocean pools includes Bondi Icebergs which features steps cascading into the ocean pool near their Bondi Icebergs Swimming Club

.
Ocean pools in Australia can also be referred to as ocean baths. While some people might not know of these stunning pools, they do have a deeply rooted history in Australia.
The first known ocean pools in Australia were considered to be the mid-1800's.
The two of the first pools known to Australian are said to be the Pearl Beach Rock Pool (Gosford, New South Wales) and Wylie's Baths (Coogee, New South Wales). Over the years, more and more ocean pools have been discovered and used by many!
How Do Ocean Pools Work?
Ocean pools have been formed by quarrying in the late 1800s where rocks were built up and the pooled areas filled with water. Ocean pools also form from naturally sitting rocky cliffs and pooled areas.
The rocky cliffs and rock formations serve as a barrier between the currents and tides of the ocean and the innermost part of the ocean pool.
As a result of this barrier, the tides and waves that enter the ocean pools are less forceful because they've broken up against the rocks first.
These softer waves roll into the pools creating an overall peaceful and relaxing environment.
Because of these barriers, visitors to the ocean pools can merge with nature in a way that is truly unique. Those wanting to take a dip in the ocean will find themselves submerged with seawater while safely contained within the rocky formations.
Moreover, the view from the ocean pools is the most stunning in the world. Visitors can feel apart of nature while seeing open, vast views of rolling ocean waves and seascapes.
Ocean pools in Australia are often found near swimming clubs due to the large demand in competitive swimming in the late 19th century.
While ocean pools can be a result of natural rock formations, some ocean pools were constructed by means of blasting to cause the pooled indent in which the ocean water flows into.
This formation still maintains rock barriers to break away strong tides, currents, or waves, however, some areas do still experience strong waves entering the pools.
Even with the possibility for stronger waves, most ocean pools will have calmer waters and soft rolling tides flowing into their pooled areas.
Any visit to an ocean pool should consist of acute awareness of safety. This is particularly true due to the stronger currents that can splash up into the pool areas.
While the overall experience is considered safe, calm, and relaxing, the ocean is still an unpredictable creature that should be treated as such. The waves that roll into the pooled areas can be strong and swimmers can be affected by this.
This is why ocean pools with jagged reefs or rocks can cause some scratches and bruises if swimmers aren't careful.
In relation to those waves, currents, or tides that can wash up into the ocean pool, they do play a big part in the maintenance of an ocean pool. The continuous replenishment of water to the pools regenerates through these waves, currents or tides.
Because of the constant moving of the water along the eastern coastlines of Australia, New South Wales and the Sydney area certainly have the most available to guests.
How Many Ocean Pools are in Australia?
Ocean pools primarily sit along the southeastern, eastern coastline of Australia. With that said, Australia does have around 100 ocean pools, mostly in the New South Wales and Sydney areas.
There are some speckled in the Queensland and Victoria areas as well. Western Australia, specifically the Perth area, are striving to construct ocean pools in an attempt to protect ocean dwellers from sharks.
While there are significantly more on the easterly coast of Australia, Western Australia is said to have three ocean pools. Below are the three ocean pools that are known to Western Australia in more detail!
Western Australia Ocean Pools
Anastasia's Pool At Gantheaume Point
This ocean pool was unfortunately destroyed in 2014, however, parts of its existence still linger. It was situated among Gantheaume Point

. Throughout the years, it had been maintained by a lighthouse keeper for his wife.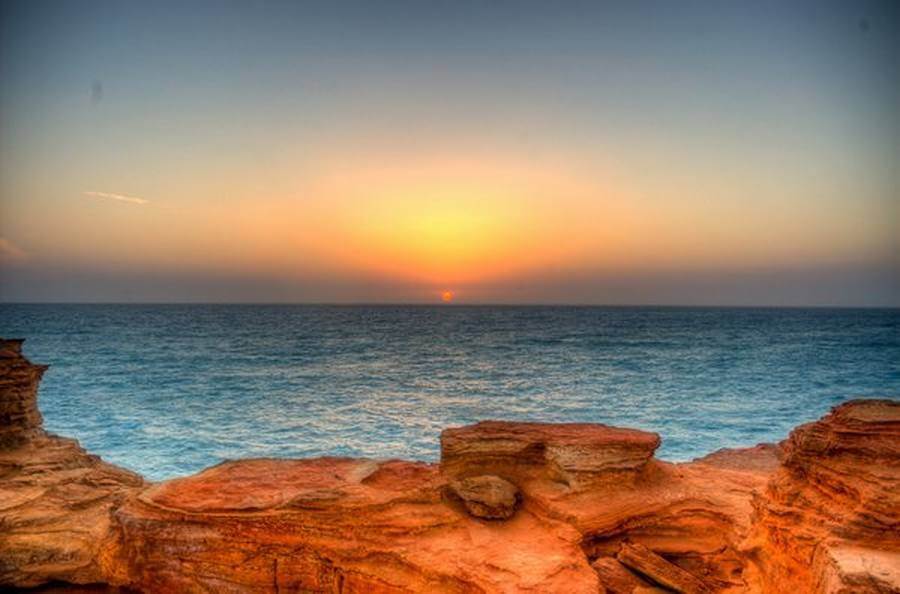 Extreme weather in 2014 broke the ocean pools rock walls and overall, the Shire of Broome Australia decided it was not worth repairing.
While it is not a true ocean pool to Western Australia, it is worth mentioning as visitors can still remnants of its remains.
Mettams Pool Is Known For Snorkelling
Mettams Pool gained its namesake from a World War 1 veteran dedicated to creating this ocean pool

. The task was a hard feat as this area specifically had a lot of limestone reefs to navigate through.
The pool still has sharp reefs today and visitors should be beware of this when entering the waters. The winds at the location are also known to be quite forceful, so extreme caution should always be taken.
The pool itself is about two metres deep and swimming or snorkelling is possible though once again with precautions in place.
Hamersley Pool North Beach Western Australia
This tidal pool

is located in North Beach Western Australia and is enclosed by reefs and backdropped by rock bluffs. It can be safe to snorkel here like Mettams Pool, but always use caution when around the reefs.
It is considered to be associated with the Beach WA 851 and is unpatrolled, so once again, take precaution when visiting.
Those in Western Australia hope that more ocean pools can be formed along its coastline! But for now, visiting the eastern coastlines of Australia is where the best experience is for ocean pools!
How Many Ocean Pools Does New South Wales Have?
As expressed before, New South Wales has around 100 ocean pools. Sydney, the capital of New South Wales, has 35 of them! The ocean pools in New South Wales certainly makes it a desirable place to visit.
There is nothing more relaxing and stark than taking a dip into an ocean pool! While going over all 100 of the ocean pools would be quite daunting, there are some extremely notable ones in New South Wales worth mentioning!
Below are some of the most gorgeous ocean pools NSW has to offer!
Most Notable NSW Ocean Pools
Bondi Icebergs, Bondi (Sydney)
Previously known as Bondi Baths, Bondi Icebergs

is situated near the Bondi Iceberg Swimming Club and not far from the golden-hued beach of Bondi Beach.
This popular Sydney ocean pool features an adult-sized pool and a kid's sized pool. The adult-sized pool is approximately 50 metres long while the children's pool sits about half that size at 25 metres big.
The option of two ocean pools at this location ensures families can enjoy the saltwater pools no matter what age they are!
Bronte Baths, Bronte (Sydney)
One of many ocean pools still being called "baths", the Bronte Baths

are an iconic spot for visitors. It was first constructed in 1887 and opened in February of 1888.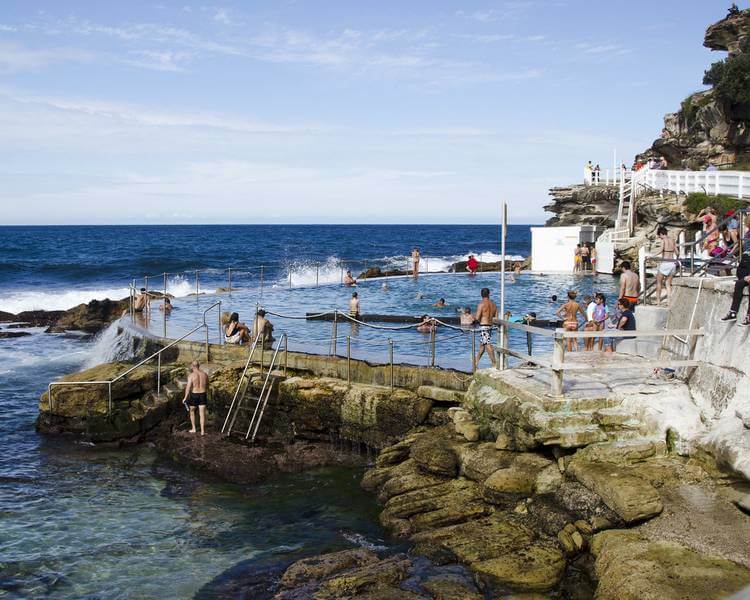 Like many ocean pools, it holds its place in Australian history and is still popular today. It was built among the sandstone cliffs that are apart of Bronte Beach.
It is secured by two barrier sections and is said to be about 38 metres in length. Bronte Baths have many local shops and restaurants nearby.
With beaches, shops, and restaurants to explore, the ocean pool is only the beginning of the fun in this area.
Wylie's Baths, Coogee (Sydney)
Near Coogee Beach (and not too far from Bronte for those wanting to ocean pool hop!), Wylie's Baths are an idyllic spot to visit. This ocean pool is one of the first two ocean pools constructed in Australia.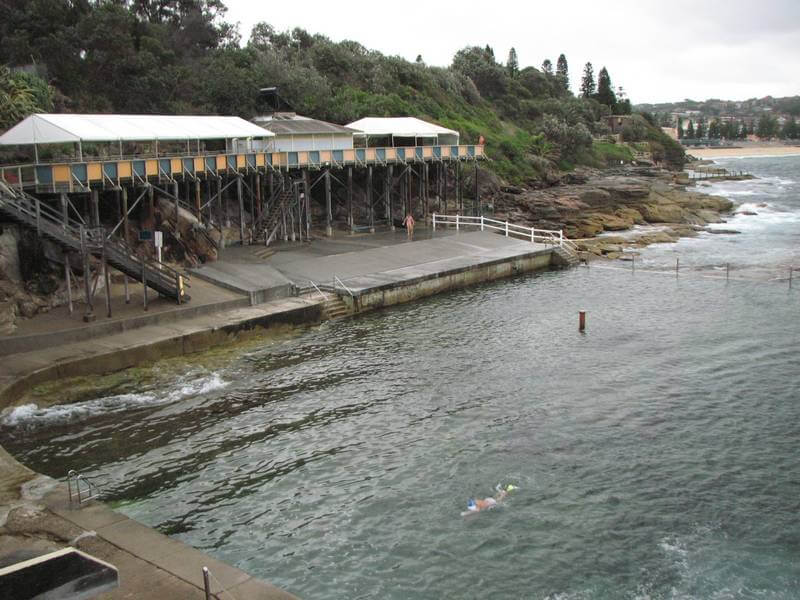 Dating back to the mid-1800s, Wylie's Baths is certainly a historical talking point. The ocean pool is placed among a natural high tide mark with four concrete reinforced walls.
It measures a stunning 50 metres by 30 metres providing ample space to its guests. The depth is said to be up to 1.6 metres. Moreover, there are massages offered at the location as well!
McIver's Ladies Baths and Giles Baths, Coogee (Sydney)
The Coogee Beach area is home to two other ocean baths or pools as well. These include the McIver's Ladies Baths and Giles Baths. Giles Baths is specifically at the northern headland point of Coogee Beach.
This natural rock pool was established in the late 1900s and primarily served as a health wellness hub by Oscar Giles.

Throughout the years, the location gained the nickname as "Bogey Hole" and still carries on the namesake of Oscar Giles. This pool is considered to be approximately 50 metres in length.
The McIver's Ladies Baths was originally a women's only ocean pool back when men and women visited different ocean pools. This spectacular area is truly beautiful as it has some of the best ocean views.
With amenities, changing room, small clubhouse and brick sunbathing areas, it remains as the only women-only ocean pool in Australia. It is an oasis of gorgeous surroundings include grassy areas and various vegetation.
McIver's Ladies Baths were first established in 1886 but it is rumoured that area was used for women's baths as early as 1876. The baths are about 20 metres long.
Fairy Bower Pool (Manly, NSW)
This triangular ocean pool is around 20 to 30 metres in size and is located along the Marine Parade. It was originally constructed in the late 1900s when the rise in interest in ocean pools was happening.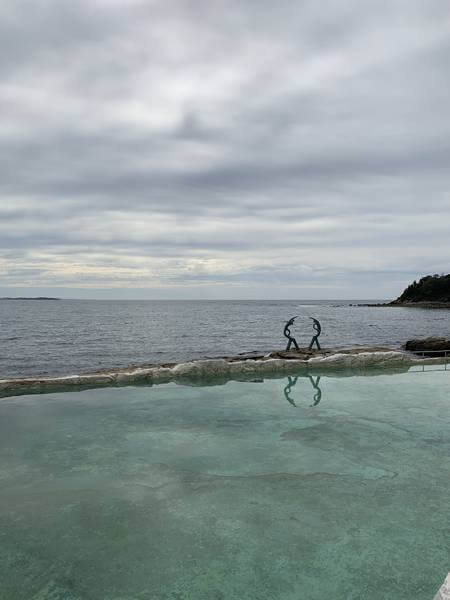 The pool is known for its clear waters as well as its decorative sculptures that carry the namesake of "The Sea Nymphs" or "The Oceanides". They are quirky to see and really add flair to the ocean pool.
Even though it is not quite as big as some other ocean pool locations, it is a chunk of beauty to take a dip in!
Yamba Ocean Pool (Yamba, NSW)
Considered one of the younger ocean pools in the NSW region, Yamba Ocean Pool (or rock pool) was erected somewhere in the 1960s.
Sitting on the southern end of the beach in Yamba, it offers some stunning views of the ocean.
While its history is a bit shrouded, locals still love this ocean pool. It is said to be around 30 metres in size and has been known to have damage to its concrete floor.
As with anything in Australia, always use caution approaching certain areas.
Merewether Ocean Baths (NSW, Newcastle Area)
Merewether Ocean Baths are considered the largest of the ocean baths in the Southern Hemisphere.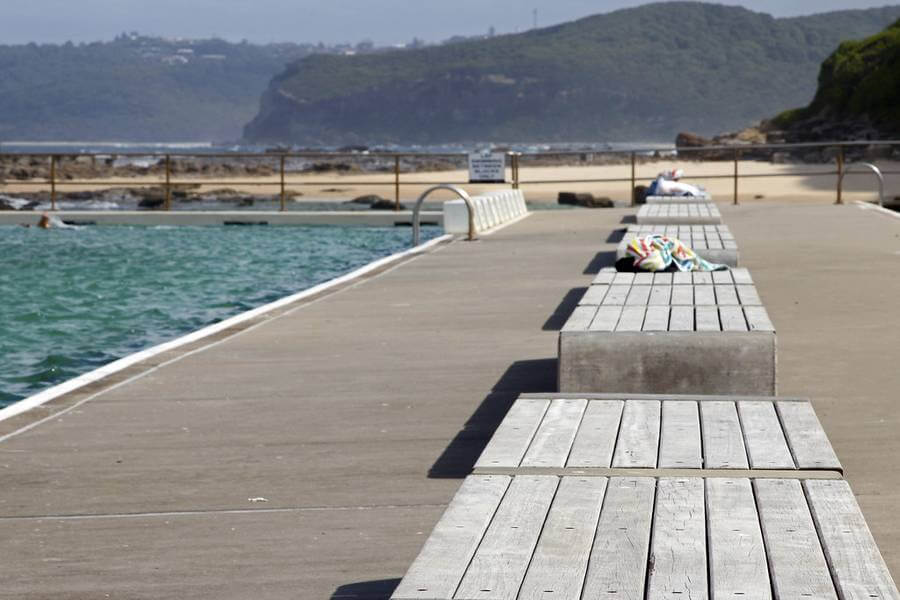 Those are big shoes to fill and these baths do a great job with a size said to be 100m x 32m (for the children's pool) and 100m x 50m (for the adult's pool) and range These two baths are popular due to their size and view out into the ocean.
Moreover, these baths have changing rooms in the pavilions as well. With its vast size compared to other ocean pool locations, guests will find it a pleasure to swim in!
Blue Pool (Bergumi, NSW)
On the Sapphire Coast sits the Blue Pool ocean pool and is a beloved site by travellers and residents alike. Known for its pristine waters, Blue Pool is among a rock face that is consistently washed up with waves from the ocean.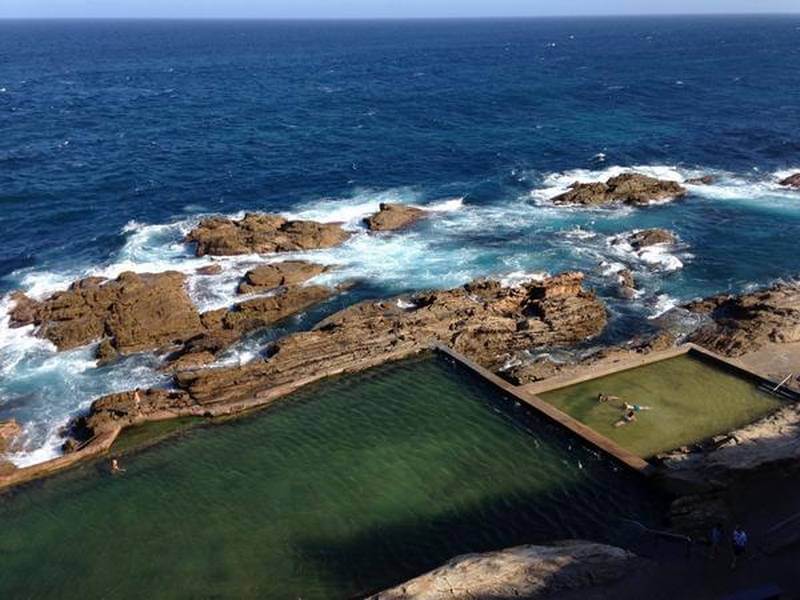 It is said that small fish and crab frequent the waters as well, so guests will find themselves among marine life too!
There are so many other ocean pools along the coastline in New South Wales to explore. These are some of the most notable ones to visit.
However, a few days travelling the coastline will give access to many ocean pools to explore. Visiting one is a pleasure but trying to visit more than one makes for quite the adventure!
Ocean Pools in Queensland
While most of the ocean pools in Australia are known to be around NSW, Queensland does have some of its.
Queensland is known for quite a lot and is a big tourist hub because of its tropical islands, whales, coral reefs, etc. However, those seeking out the rocky ocean pools will find some in the Queensland area as well.
Below are the ocean pools or rock pools associated with the Queensland, eastern coast area.
Notable Ocean Pools in Queensland
Kings Beach Ocean Pool Sunshine Coast
This 25-metre saltwater pool is right on Kings Beach in Queensland (the Sunshine Coast area). It is known for its children's pool and wading pool area with disabled person access.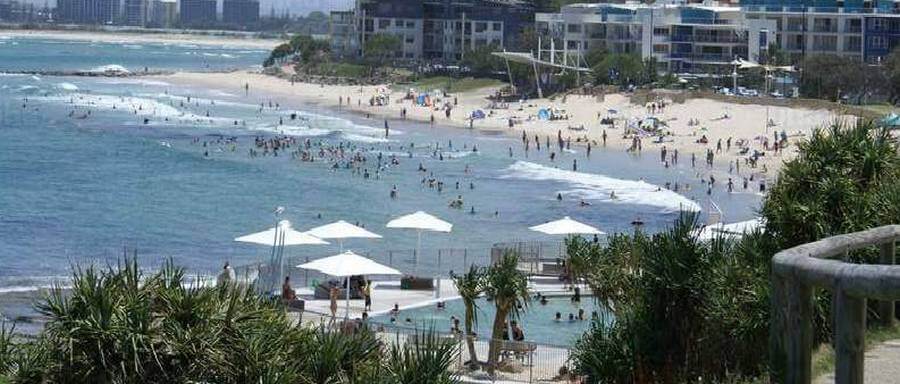 There is a poolside area that was build for sunbathing and relaxing as well!
Champagne Pools Fraser Island Queensland
The Champagne Pools are located along 75 Mile Beach on Fraser Island. These pools are one of the most notorious spots to visit while on Fraser Island.
The rocks at this ocean pool are said to be volcanic and sit between Indian Head and Waddy Point on the island.
These pools are not very large but still give plenty of space for visitors to swim about. For safety reasons, swimming is only permitted within the pooled areas of the ocean pools.
Heavy tidal waves can occur and being aware is always key!
While there are other rock pool formations in Queensland, these are the two directly related to the ocean itself. Ocean pools are the most fascinating among rock pool formations due to their locations and iconic views.
Whether someone is visiting Queensland or the NSW area, there are some ocean pools to experience. The thrill of going to these locations truly lies in the fact that they are each uniquely shaped and formed.
They are one of many nature's offerings in Australia!
More Pages On Beaches
link to Can You Swim At Mission Beach?
It may surprise some people to learn that Australia has over 10,000 beaches along its coastline country-wide. There are practically countless sandy shorelines spanning the coastline that all over...
link to What Is It Like To Live Near The Beach?
Visiting the beach is a beautiful opportunity to see mother nature at its best. There's nothing quite like hearing the waves rolling in on a soft, sandy shoreline. While visiting the beach is a...