Queensland, Australia is home to a variety of idyllic places to visit. From pristine beaches to rainforests and everything in between, it is brimming with adventure.
This is particularly true for the various islands off of Queensland's coastline.
Most everyone knows about Fraser Island, but what about some of the other islands that Queensland has to offer?
Another beautiful island to visit on this side of the country is Curtis Island.
This island is located off the coast of central Queensland and is specifically associated with the Gladstone

area of the state.
Much like Fraser Island, which is a sand island, Curtis Island has sand dunes, rainforests, and beach ridges that features expansive salt flats.
This unique composition makes the island quite an adventure, especially for 4WD enthusiasts.
Because of the sand dunes throughout the island, it is best travelled by a 4×4 vehicle.
Access to the island is either by ferry or even private boat and the best entry point is at Southend. The Southend of the island is where residents of the island live, which is only estimated to be around 300.
The island also has two established protected parks, the national park, and the conservation park areas. Both of them offer visitors an exclusive look into what makes Curtis so iconic.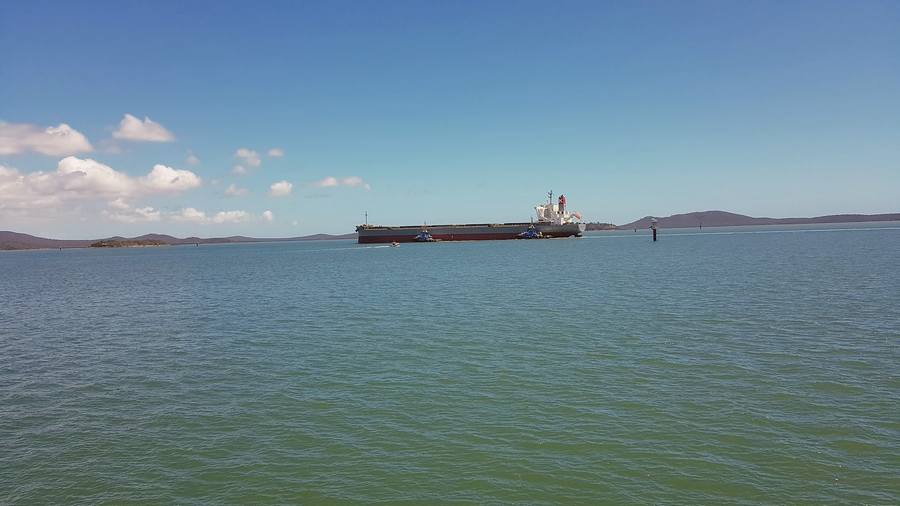 Curtis Island Things To Do
The island isn't too large and it isn't too small, it is perfectly sized for a great adventure! There is plenty to do on the island. Below is a list of the top things to do while visiting Curtis!
Explore The National Park And Conservation Areas
The national park and conservation areas are absolutely stunning. Hiking through the scrublands, sand dunes, and rainforest areas provide remarkable views.
It is suggested that most of the hiking taking place on the eastern side of the island. There are limited tracks and hiking can be challenging so guests should be prepared with supplies and be of moderate fitness.
Other beautiful views include the sandy open shorelines of the beaches around the island. As with many other parks around Australia, these areas are highly protected to help preserve the naturalistic aspects of the park.
It is important to always clear away any rubbish and respect the surroundings as a whole.
While camping is permitted on some parts of the island, campfires aren't allowed as it could endanger the plant life and wildlife on the island.
Sticking to a beautiful hike through the scrublands is one of the best ways to enjoy the national park on the island!
Go 4×4 Driving On The Sand
4×4 driving is much more of an experience than it is driving in a traditional manner. There is something really thrilling about taking a 4WD vehicle and driving it among the sand dunes, especially on islands like Curtis.
Before taking any 4×4 vehicle to the island, always check to make sure if a permit is needed

. Generally, they are needed and the cost differs based on someone's needs.
Watch The Variety Birds On The Island
Curtis is well-known for its bird populations. Birdwatchers will find themselves in paradise on the island with opportunities to spot species like finches, grassbirds, sunbirds, and swallows.
The island is also home to an endangered species of bird called the Capricorn yellow chat. Even people who don't go birdwatching on a regular basis will enjoy the variety of birds on the island!
Observe The Local Wildlife
The island certainly has plenty of birds, however, it also has other interesting wildlife roaming about. While guests shouldn't approach or feed the wildlife on the island, they can observe them from afar.
This can even include snapping some photos of them as well! The wildlife on or around the island includes goats, pigs, turtles, dolphins, bats, lizards, possums, and much more.
The turtles on the island

are another wildlife gem to experience. They even nest along some of the beaches and in these areas, driving near there during certain times is prohibited.
The specific species of turtle is the flatback turtle, which is a rarer species. The island serves as the third largest turtle rookery in Australia.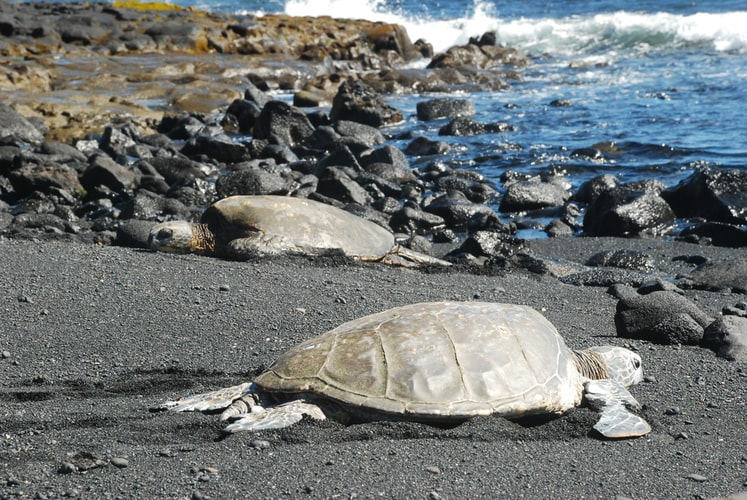 Go Fishing At Curtis Island
It's no secret that fishing is a huge deal in almost all of Australia. However, in Queensland, fishing is definitely a beloved activity.
This island offers fisherman some hidden gems for casting a line, including something called "Yellow Patch" which is located near the front of the island and enclosed by a coastal bar.
Access to the fishing spot is a little tricky but super worth it once navigating over the coastal bar.
Bream and flathead are typically found here and fisherman enjoy the crystal clear waters around the island.
Fishing is generally done by boat here, but beach fishing is possible in some areas.
Visit The Cape Capricorn Lighthouse
The Cape Capricorn Lighthouse

is located on the Cape Capricorn headland.
The original lighthouse was constructed in the late 1800s but throughout the years, two other lighthouses have erected at the location with the most recent being in the late 1960s.
While the lighthouse isn't open for tours, it is considered an active lighthouse and is still interesting to visit from the outside.
This is particularly true for those who want to get a nice photo of the lighthouse.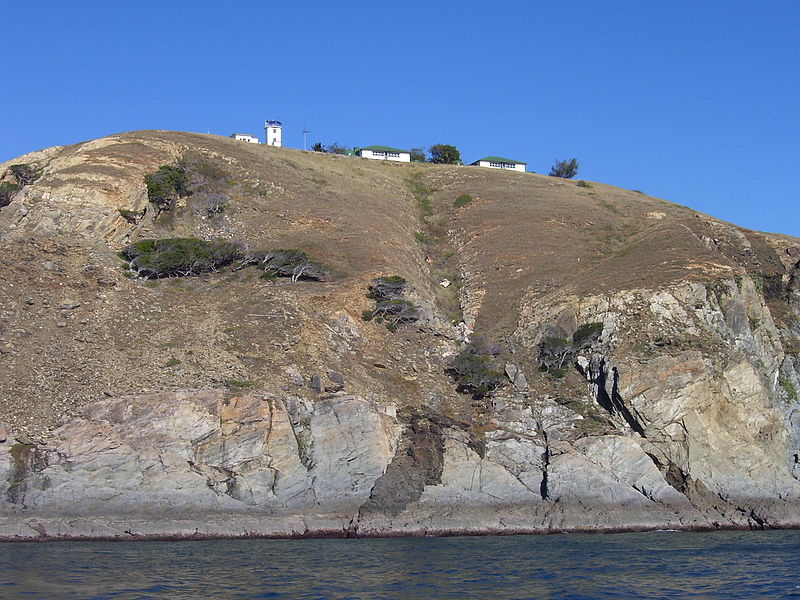 Try Swimming Or Snorkelling
The waters around the island are considered suitable for swimming or snorkelling. However, stingers are known to enter the waters around the island during stinger season (October to May).
During this time, it is important to wear protective clothing when entering the water. This includes water shoes and long-sleeved clothing so that little to no skin is exposed.
Curtis Island is near the southern part of the Great Barrier Reef. Snorkelling here or off the other nearby islands is an excellent way to really see various coral cay formations.
The eastern side of the island does experience stronger currents so swimming or snorkelling should be done cautiously.
If the water looks too choppy, guests shouldn't enter it. While this seems like common sense, it is a good reminder to help keep everyone safe!
Take Some Photographs
Australian is full of stark landscapes and seascapes to photograph as well as taking pictures of wildlife. Most smartphones can capture some decent pictures these days but some people still prefer to use a professional-grade camera.
It is important to note that a commercial photography permit

is required if any pictures obtained on the island are to be used for profit. In fact, the government requires this permit in any protected park.
The fees associated with the commercial photography permit vary based on the area where the photos will be taken.
The prices can range anywhere from $70 to $800 for permits that are valid for anywhere between 3 months or less or up to 3 years.
There are also daily fees that range from $2 to $9, once again depending on the area that is being visited.
Additionally, there is an application fee which is about $360 with a renewal fee of $180. If you are a professional photographer, these fees might be suitable for your needs.
Otherwise, using a cellphone and not selling the pictures is the best route.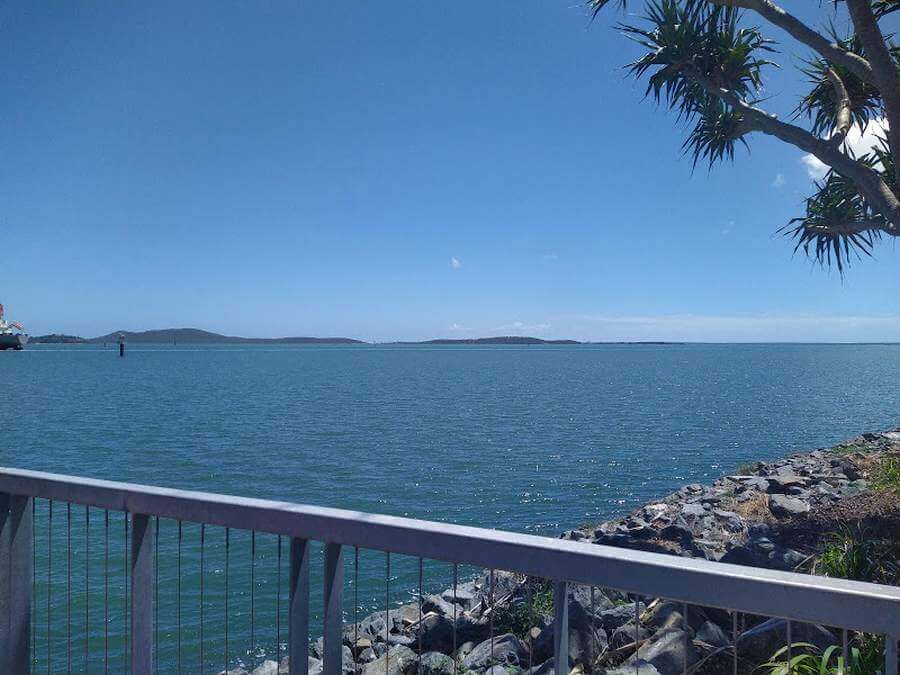 How Do You Get To Curtis Island?
The most popular way to get to the island is by ferry. Ferry services to the island operate between Gladstone and other nearby islands including Facing Island

and Quoin

.
In total, the ferry ride

takes around 90 minutes. Much like the ferries that run to Fraser Island, these ferries can carry vehicles as well for those looking to drive 4×4 on the island.
The ferry docks to Curtis via the Southend, which is in the south-eastern part of the island and is the only populated part of the island.
Here guests will find that the village supplies basics like fuel, food, ice, and bait for fishing. Additionally, the small village also has a limited number of holiday homes that guests can rent out.
The departure times, according to the Curtis Ferry services website

, seem to be on Mondays, Wednesdays, Fridays, Saturdays, and Sundays with morning and afternoon departure time slots.
There is also the option for travelling to the island via your own private boat. The best place to anchor the boat is considered be in the Yellow Patch area where a sand blow is present.
For those who own a private boat and wish to head to the island, this could be a feasible alternative to taking the ferry.
Curtis Island Day Trip
Taking a day trip to the island is a great way to explore the island without having to book any type of lodging.
Considering the manageable size of the island, most of the island's best spots to visit are achievable during a day trip.
This includes checking out the beautiful beaches (especially the nesting turtle areas), 4×4 driving, and of course hiking.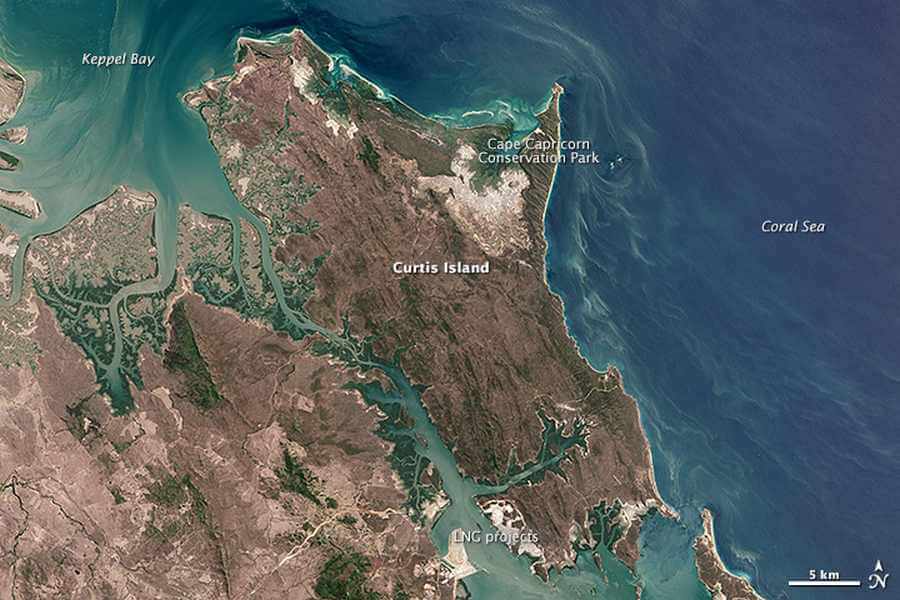 As mentioned before, hiking on the island is a little limited as there aren't many walking tracks.
But with proper preparation, guests can absolutely have a successful day trip hike on the island.
The eastern coast of the island is the best for walking and it can take up three days to explore, however, getting some hiking in during a day trip is totally possible!
Below are tips for having a successful hike on the island!
Hiking Tips for Curtis Island
Never Walk Alone
Walking alone is never a smart idea. It is always a better idea to have someone else on the trip or be within a group so that everyone can watch out for each other.
In the case of an emergency, there are more people to help out or reach out for assistance.
Always Wear Proper Attire
Going on a hike anywhere requires wearing proper attire. Walking boots are always a better choice over runners and lightweight clothing is always better over something that is too thick.
Bringing an extra change of clothing is also a good idea.
Wear Sun Protection
Australian is known for its incredible heat. When heading out for a hike on this island (or other places around the country), it is important to wear sun protection.
This can range from sun lotions to sunglasses to hats. Anything to help protect any exposed skin is going to be helpful in preventing sunburn.
Consider Hiking In the Early Parts Of The Day
To avoid too much exposure to the sun, it is a good idea to consider walking during the earlier parts of the day when it isn't quite as hot. Doing this will ensure that no one gets too overheated.
Bring Enough Drinking Water
Having water handy during a hike is critical. It helps keep the body hydrated and steady. Bringing bottles of water in a backpack can provide access to enough water during a day trip hike.
This is particularly helpful if someone does end up walking during a hotter part of the day.
Always Stay On Marked Tracks
While there aren't too many walking tracks within the thick of the flora on the island, there are some clearly marked areas to explore.
When hiking, it is important to never take any shortcuts and always stay within the limits of the paths. This helps to ensure everyone stays safe and reduces the risk of getting lost.
While some hikers might bring a compass along and their phones, it still never a good idea to get sidetracked from the assigned areas for walking.
Bring A First-Aid Kit
Basic first-aid kits with bandages, ointments, and painkillers should always be packed for a walking journey. These basics can provide essential care in the event of an emergency.
They don't have to be particularly large and will fit just fine in a small backpack.
This list is the basic items to consider bringing on a day trip to the island. It can be altered to suit the needs of your trip but certainly at least include these items.
Curtis Island Camping
Camping is permitted in certain areas of the island. Moreover, these areas are best accessed via a 4WD or boat.
In total, there are three camping spots which include the Yellow Patch Camping site, Turtle Street Camping Site, and Joey Lees Camping site.
There are no facilities, so guests are required to bring their own supplies and continually clean up after themselves to keep the island free from litter and disturbance.
Camping on the island is said to be quite an experience for guests. The experience has all the vibes of privacy and being emerged into the great outdoors.
This is because the overall environment of the island is remote, peaceful, and a naturalistic paradise.
Just like other parts of Australia, a permit is required to set up a campsite. The fees for a single person $6.75 per night and $27 per night for a family. Additionally, students can stay for $3.70 per night.
A family can be considered 2 or 3 adults with 3 to 6 children to a group. All permits must be displayed at the campsite at all times.
Each campsite on the island offers guests a unique view. Yellow Patch is a secluded area among a bright yellow sand blow that is perfect for those with tents. Anchoring is also permitted for boats.
Guests can kayak, snorkel, swim, or fish in this area.
The Turtle Street camping area is another tent site that provides guests with views of coastal she-oaks and the open beach. Boating is also permitted at this site as well making it a great location for those looking to fish.
The Joey Lees camping area is a tent, camper, or camp-by-vehicle site. This is perfect for guests who want to bring their 4WD vehicles and small campers to the island.
This site isn't too far from Turtle Street and is tucked among the bush near the beach.
No campfires are permitted on the island so all cooking should be done via a gas or fuel stove. Once again, in an effort to keep the island pristine, guests are required to clean up any and all rubbish that they create.
Curtis Island Ferry
Taking the ferry to the island

from Gladstone is the easiest way to access the island.
Once again, it docks in the small populated area of the island in the Southend.
While the ferry can transport guests to Curtis Island, the ferry service also provides transportation to other known coral cay islands nearby. Below are the other locations that the ferry services.
Other Stops For The Curtis Island Ferry
| | |
| --- | --- |
| Facing Island (just south of Curtis) | Northwest Island (just northeast of Curtis) |
| Masthead Island (just northeast of Curtis) | Lady Musgave Island (just east of Curtis) |
These other islands are beautiful spots to see other coral cay spots on the southern Great Barrier Reef. Moreover, these ferry services to the islands can be taken by those staying overnight at Curtis or day-trippers.
There are some beach campsites that are located on some of the islands and the ferry will take guests to and from these camping areas.
Once again, permits are required no matter where guests will be camping. What makes this camping experience so exciting is that guests are basically camping right along key access points to beautiful coral cays in the Great Barrier Reef!
In addition to the specific ferry trips to the other coral cay areas, the ferry also provides exclusive cruises and tours.
Typically, the cruises will feature food and drink and even live entertainment! No matter what adventure someone is looking for, the Curtis Island Ferry serves more of a purpose than just shuffling people to the island itself!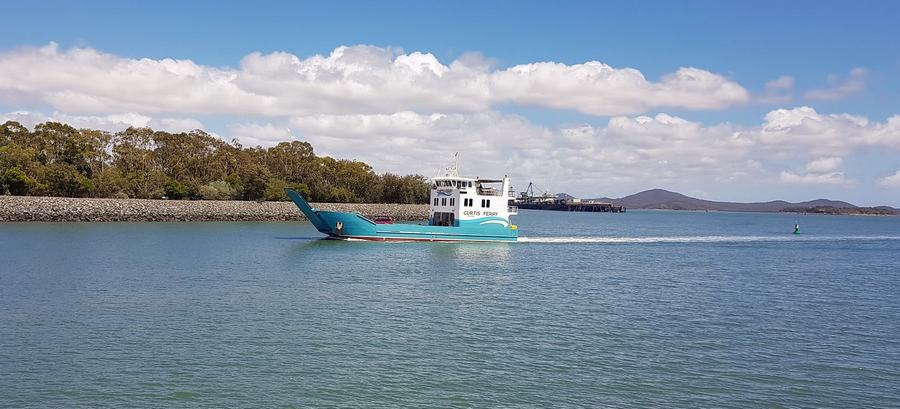 Curtis Island Fishing
Australia is one of the most exciting places to fish around the world. From coast to coast, fisherman look forward to seeking out exclusive coves, estuaries, headlands, and beaches to cast a line.
This is particularly true for Queensland where fisherman love the pristine waters that line the coasts.
Fishing

on Curtis Island is just as thrilling as it is in other parts of Queensland. Once again, the best spot for fishing is said to be the Yellow Patch area.
While it can be a little tricky to get to due to the sand blow, fisherman say it is well worth it. Bream and flathead are known to frequent the waters here.
Moreover, there is a campsite nearby which is convenient for the fisherman who want to anchor their boats in the area.
While the Yellow Patch sand blow is a great fishing spot, other key spots include rock, reef, and estuarine fishing.
Before casting a line, guests should always be aware of current fishing zone maps and regulations. Regulations generally include what size and bag limits are permitted for certain species of fish.
This information is best accessed via the Queensland parks website

.
Curtis Island is just one of many islands to visit around Queensland. Its natural landscape, ocean views, and unique wildlife gives guests a wonderful experience in central Queensland!
More Pages On Islands
link to Are Islands Floating?
Islands are one of many natural phenomenons that exist on earth. Islands are found all over the world and vary in size and shape. Some are more remote than others while some islands are right off...
link to Is It Safe To Swim At Fitzroy Island?
Australia has over 10,000 beachy areas that include beaches off of various islands off its eastern and north-eastern coastline. With so many beaches available, it is important to know which of the...