Caravan parks, and caravans in general, are extremely popular in Australia. Australia is a country with unique wildlife and extraordinary scenery, both land and sea.
With so much to see and experience, caravan parks are a great way to unwind and enjoy some of these naturalistic Australian

environments. However, the price tag that comes along with a stay at a caravan park can really vary.
The best prices for travelling in a caravan around Australia would range from powered sites being $35 to $65 AUD a night, whereas the unpowered sites may run anywhere from $30 to $55 AUD. There are quite a few caravan spots all around the country and some may be a bargain!
Caravan parks are areas where caravans can be parked and campsites set up to enjoy nature and other people's company.
Oftentimes, they are set up close to beach waterfront areas so guests have access to beach areas as well. However, some can be a little more inland.
These caravan parks are designed for anyone to have a great camping adventure and typically include basic amenities like toilets, laundry services, game rooms, modern cabins, and caravan sites as well.
These exclusive parks aim to give guests comfort, accessibility, and time to enjoy the great outdoors. Each caravan site can be similar, however, there is always a little something extra that sets each one apart from the other.
Whether it is an amenity or even the view (landscape or ocean) around the site, each one has something that sets it apart to make it unique. This is why taking a caravan around Australia is a remarkable experience.
However, as with any trip, there are costs associated with visiting caravan parks and the costs of keeping your caravan on the road, if you need more accessories for your van check out Caravan RV Accessories

here.
Costs Of Caravan Parks Around Australia
The costs behind visiting caravan parks really can vary. This can be due to the location of the park, as well as, (once again) how many are staying and how many days someone might stay.
While those reasons may be the biggest contributors to the cost of a caravan park, there are other things to consider that might affect the price. This could include bringing your own food and perhaps even petrol costs.
These things all add up in the overall costs. However, of these things, the biggest concerns are the costs of the campsites themselves.
Caravan parks often offer powered sites and unpowered sites. Both variations offer up their own advantages but one is ultimately more expensive.
Obviously powered sites are going to cost a bit more as they are providing power. People may have things to plug in like small tellies, radios, portable fans, or even lighting.
While the powered sites have their perks, the unpowered sites are for those looking for a more rustic camping experience. Some people enjoy the more modern powered sites while others enjoy the simplistic feeling of being in nature.
How much a caravan site will cost also depends on the traveller's needs. Do they need a powered site? Is an unpowered site going to save a few bucks? Is staying in a cabin at a caravan park more suitable?
Is it just a couple looking for a getaway or is it a whole family on holiday? While the reason behind the trip is a huge factor in how much it may cost, the costs can be broken down a little more specifically.
For example, the powered sites can run anywhere from $35 to $65 AUD whereas the unpowered sites may run anywhere from $30 to $55 AUD.
These price ranges truly aren't THAT different. For some, the extra $10 or so dollars may be worth it to have a powered site. No matter what type of site is chosen, caravan sites provide ample space for the parking of caravans (some can get quite large!) as well as the outdoorsy experience.
Once again, depending on the location, the view may be different. While most are near beaches, they are still a favoured outdoor activity.
The sites usually are concrete pads where the caravans can park and set up their environment. No matter the type of experience that someone is looking to have, caravan parks truly do offer a special way to get out amongst nature.
This is especially true for those wanting to be close to beach waterfront areas!
The price for a caravan site may also depend on the size of the caravan. In Australia, it is said the most popular size of caravan lies between 5 to 6 metres (or 17ft to 19ft).
When booking a site, some locations will ask for this information. Considering this is the average size for most caravans in Australia, it will be used to give any pricing examples.
How Much Does it Cost to Stay in a Caravan Park?
Once again, the costs will vary. However, in terms of specific prices, each park does have its own price range. There are so many caravan parks around Australia, that listing the price for them all would be tedious!
However, there are some well-known spots on each side of the country that can be used as examples. These will showcase the price ranges to expect when heading out to a caravan park based on a per-night, three-day stay.
Popular Caravan Park Prices
BIG4 Beachcomber Coconut Holiday Park, South Mission Beach QLD
This popular chain of holiday caravan sites will cost between $45 to $51/per night for two people. These sites include powered and unpowered sites and close proximity to the caravan park's amenities.
These amenities include a camp kitchen, outdoor gas bbq, laundry service, water, and sullage. These are big perks! This facility is also known for its onsite cafe with tasty treats, pool, playground, fat tyre bikes for rent, free wifi, and even the chance to see a wild cassowary!
The beach is ok for swimming in the netted-off areas, For more things to do check out the local markets.
Noosa Caravan Park, Queensland Australia
Noosa Caravan Park is a true gem to stay at because it is surrounded by so many lush naturalistic views. It is not only close to the Noosa Main Beach but also to the beautiful Noosa River, in Queensland.
When it comes to a price point, caravan price points here will range anywhere between $87 to $102. At this particular location, the $87 price reflects a powered site on grass or slab and the $102 price is for caravans that may reach up to 9 metres (or 30ft).
While the prices are a bit higher than the previous location, the overall surroundings are such a beautiful treat!
Lane Cove Holiday Park, New South Wales (NSW)
Everything about this caravan park is absolutely an outdoorsy experience! Nature lovers will enjoy the bushwalks, wildflowers, and wildlife (with over 7,000 species of animals!) that are nearby.
The ample access to wildlife is due to the fact that this site is located in the Lane Cove National Park. It is also very close to the Sydney central business district for those wanting to mingle among shops.
With such close proximity to nature and shops, one would think the price would be a bit up there. However, the price for caravaning at this treasured location is only $50 per night for a powered site and $48 for an unpowered site (based on two adults). That's an incredible deal!
Reflections Holiday Park, Lennox Head, New South Wales (NSW)
NSW caravan parks are such remarked sites and the popular chain of holiday caravan parks, Reflections, is no exception! This location is near Lennox Head and has prime access to Lake Ainsworth

and Seven Mile Beach.
Besides soaking in the beauty of nature, the sheer excitement of camping at the location is great too. As for the prices attached to this location, powered sites will run about $44 per night.
An unpowered site is about $40 per night. Quite a deal for such a gorgeous location!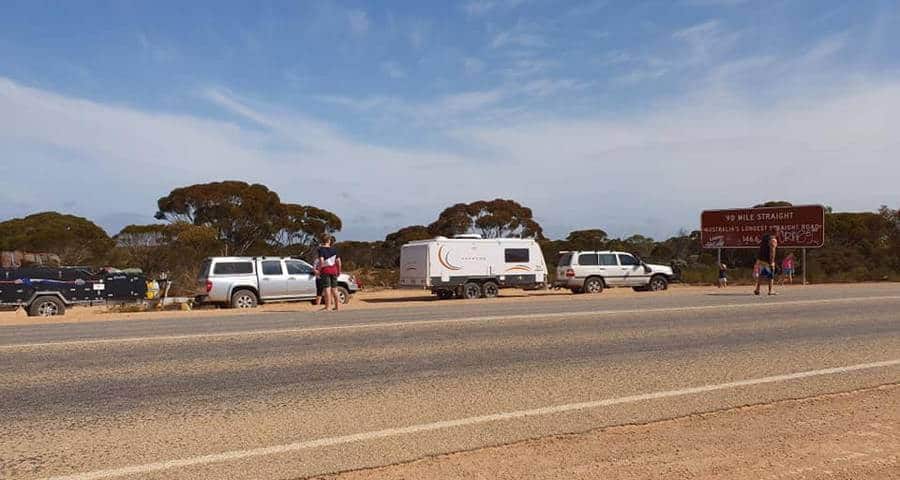 Mandurah Caravan and Tourist Park, Western Australia
Western Australia is home to some pretty nice caravan parks. Mandurah Caravan and Tourist Park is an excellent choice.
With a family-friendly environment that includes pools, jumping pillows, and playgrounds, there's fun for everyone! Like other sites, it has grassy camping areas, powered slabs, cabins, etc.
A caravan overnight stays here will cost anywhere between $41 to $43. A reasonable price for a family holiday. (Price is once again based on a two-person stay for three nights).
Shark Bay Caravan Park, Western Australia
Shark Bay is a unique area on the peninsula of Shark Bay. It is only moments away from the beach. They feature powered sites, unpowered sites, and even extra-large space-powered sites.
While they have great options, they are known for their decent pricing on the western coast of Australia. The caravan spots here will run about $37 to $45.
Windsor Gardens Caravan Park, Adelaide, Southern Australia
South Australia is full of beauty like other parts of Australia and this caravan park is a beaut! These folks are pet friendly and even near a dog trail in Torrens Linear Park.
They do only offer powered sites for $39 per night. That is an exceptional price!
Hidden Valley Holiday Park, Northern Territory
This treasure cove of a caravan park is nestled amongst tropical gardens making it idyllic! With accommodations like pools and being located close to the business district of Darwin, it is perfect!
It offers up some nice powered caravan sites and will set someone's pocket back about $55 to $60. While this location is a bit pricier, they do offer ensuite-powered sites where caravans have access to private bathrooms.
These are great examples of what all sides of Australia can truly offer for travellers. There is a nice range of affordable, mid-grade priced, and more luxurious feeling locations available.
No matter what type of site is chosen, when it comes to how much it cost to caravan around Australia, any budget can find something to suit their holiday needs!
The Average Price of Caravan Parks in Australia
As previously shown, caravan parks all over Australia really have some great price ranges. But what is the average price of these caravan parks? Well, when looking at the numbers from the various locations, it seems the average price range falls somewhere between $30 to $60 a night.
When comparing that to hotel stays, the prices are significantly lower than traditional accommodations.
Caravaning is such a cherished holiday activity in Australia and is one that even tourists can find enjoyable. There is nothing like enjoying the great outdoors with a caravan along with the caravan park amenities.
It really makes a great memorable experience with loved ones. With a great price range of only $30 to $60 a night, a longer stay can be considered. It is suggested that at least 3 nights be spent in any given caravan park.
This allows for time to enjoy the park itself as well as the surrounding areas.
Another thought to consider when looking into caravanning around Australia, there are other ones out there that can accommodate boats as well. This makes bringing the boat along for a holiday even more exciting as fishing is always a great activity.
Considering that most caravan parks are situated somewhere near water, this is an appealing aspect of some caravan parks. While the fee for these spaces might be a little more pricey, it is well worth it for the fisherman in the family.
When taking another look at the average cost of caravan parks in Australia, it is easy to see that most are pretty close in the price range. This is where the needs of the trip need to be weighed out.
What does the caravan park specifically offer that might be an attractive point? Is it the area around the park? The amenities? These are all questions that the traveller can answer.
It helps in the decision of how to address where to go. They can confidently pick somewhere and know the price range is going to be affordable and spend more time picking out what kind of experience they want from their holiday.
The experience at the caravan park is truly important. After all, what's the point of going on holiday if it is not somewhere that will be enjoyed? Choosing a location that is at the right beach, near a preferred city, near a park, etc all make the difference in the overall experience.
The best part is, that there is peace of mind in knowing that the experience won't be too much out of pocket. When factoring in things like fuel, etc, and how much it cost to caravan around Australia, the prices do go up a little However, this is once again in the hands of the traveller.
No matter what, there is always a caravan park just moments away all over the beautiful country of Australia!
More Pages On Beach Camping
link to How To Put Up A Tent On The Beach
Spending the day at the beach is a great way to enjoy frothy waves, beautiful sands, and of course the sunshine! When people head to the beach, they often consider bringing umbrellas as a means to...
link to Top 5 Beach Camping Spots in Australia
Beach camping in Australia is quite the experience for seasoned campers or newbies. With over 10,000 gorgeous beaches to explore, finding the perfect beach camping spot can seem overwhelming....