Great Barrier Reef FAQ
1.How Big Is The Great Barrier Reef?
The Great Barrier Reef Marine Park covers 345,950 square km. It's about 2300kms long and is comprised of about 2900 reefs.
2. Is The Great Barrier Reef Visible From "Space"?
Yes! In fact, it is the largest natural feature on earth, and is unquestioned, as one of the world's most important natural places to visit and keep preserved.
3. Where Is The Great Barrier Reef Located?
The Great Barrier Reef is off the North Queensland Coast, Australia.
ref. to a map of the Great Barrier Reef

The Marine Park, however, it does not cover all of the Reef, which extends from Bundaberg in the south, to as far north, to nearly Papua New Guinea.
4. What Airport Is Closest To The Great Barrier Reef?
Because of its length, (about 2300kms) there are a few airports to choose from. There are two major (International) airports, namely Cairns and Brisbane.
Townsville

has an International Airport capable of accepting international flights, but to date, it mainly receives flights from Brisbane

, Cairns

, Sydney

and some smaller Queensland cities.
For international travellers, Cairns would be the best choice, because of its location within the boundaries of the reefs 2300kms, or Brisbane, (to the South of the Reef, with a connecting flight back to Cairns, or to the closer location of Hamilton Island and the Whitsunday Islands, or Townsville International Airport a little further north than Hamilton Island and the Whitsunday group of islands, yet south of Cairns).
It's important to note that the International Airport you should choose to plan your holiday around, will depend on which island or resort you choose to stay at, and where it is situated in relation to the Great Barrier Reef.
You should also consider what land-based sightseeing you wish to do as well.
5. Visiting The Great Barrier Reef When Is The Best Time?
Anytime is a good time to visit the Great Barrier Reef, but the best time to visit is generally between April to early November.
But please keep in mind, the period between early November to mid-April, which includes Summer also includes the monsoon season with tropical storms occurring from time to time.
6. Great Barrier Reef Where Is The Best Place To Stay?
There is an enormous selection of places to stay at the Great Barrier Reef, both on or near the reef as well as the mainland. And you will also find accommodation to suit all budgets

.
7. What Is A Coral Cay?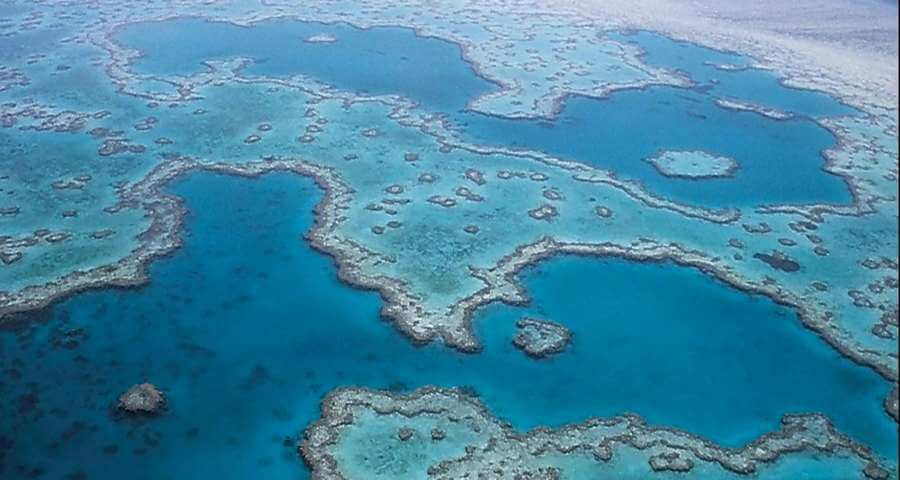 A coral cay is an island made up of debris from the reef itself. There are 300 coral cays and about 50 to 60 of these are vegetated.
Although there are fringing reefs around the continental islands, it's the cays that diving and snorkelling are superior and popular things to do.
There are only three Resort Islands that are Cays, namely, Heron Island, Lady Elliot and Green Island. All the others are Continental Islands.
Continental islands are bodies of land that are connected by the continental shelf to a nearby continent.
IE, an island that is part of an adjacent continent, and is located on the continental shelf of that continent.
8. Great Barrier Reef, What To Wear?
As the Great barrier Reef is located in the tropics, relaxed and casual/smart casual is the order of the day.
In winter a light jacket or cardigan is advisable, but don't forget the Sunscreen, Swimmers (bathers) and a hat (all year round) or you will end up with a suntan or sunburnt. And as with most places in the world, an umbrella (just in case)
9. What Type Of Credit Card Can I Use In Queensland?
All major Credit Cards are accepted. There are numerous teller machines for withdrawing cash.
10. Climate Conditions At The Great Barrier Reef
In Queensland, we have a saying to describe this fantastic climate, "Beautiful one day, Perfect the next!" And generally speaking, it is very true.
Of course, no one can guarantee the weather, but for the record…
The dry season, from May to October has low humidity and temperatures usually ranging from around 12 degrees Celsius to 26 degrees, making it pleasurable for all activities.
Winter is almost unknown. The wet season, which includes Summer, between November and April has Tropical rainfalls associated with the monsoons.
This is when the rainforests, waterfalls and rivers are at their most beautiful. Temperatures in the Summer average between 24 to 34 degrees celsius.
These are some of the more common faqs about the Great Barrier Reef.
Take A Test On How Well You Know The Great Barrier Reef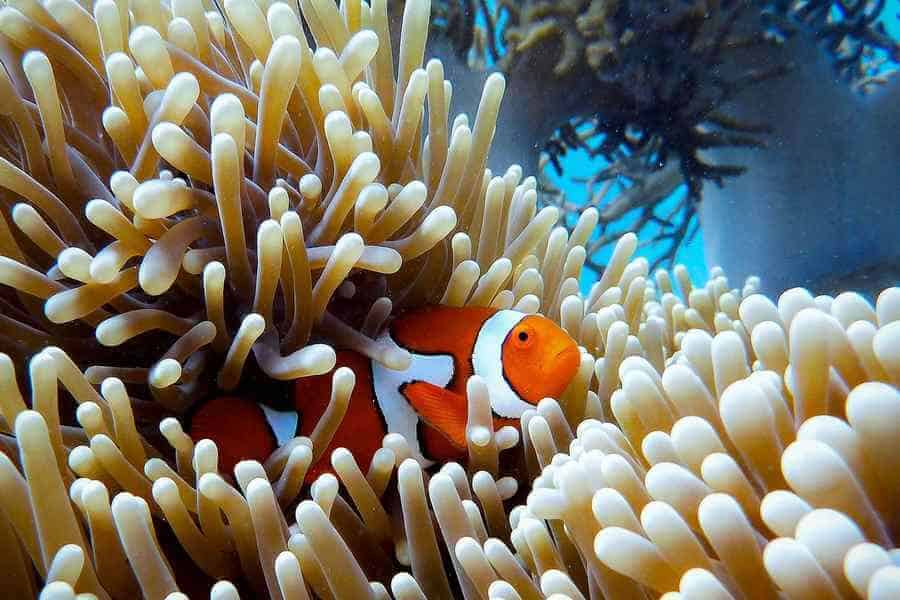 Here is a test on the Great Barrier Reef to see just how much you know about this Natural Wonder of the World and its amazing features.
There is so much to learn about the Great Barrier Reef, One of the Natural Wonder of the World, and now it's time for a little light relief.
Let's see how much of this wonderland you have managed to take in. We'll have a little fun quiz and you may just learn something along the way.
So now it's time for 20 Questions. (No cheating) the answers are at the bottom of this page. Just scroll down.
Approx. how long is The Great Barrier reef?
What is a Coral Cay?
Fish, birds, turtles, corals, molluscs and other animal and plant life, make up over how many different types at the Great Barrier Reef? (3550, 4550, 5550, or 6500)
Which Island in 1770, did Cpt. James Cook climb to the summit of to chart a course through the maze of reefs, back out to sea?
When is the dry season at the Great Barrier Reef?
Generally speaking, when is the best time to visit the Reef?
What is a Coral Bommie?
What is the group of islands, which include, Daydream, South Molle, Hamilton and Hayman Island, known as?
Which are the southernmost and northernmost islands of the Great Barrier Reef.
The only major domestic airport located on an island is on which island?
The Great Barrier Reef comprises approx. how many reefs? (2700, 2900, 3100 or 3300 reefs)
The Great Barrier Reef extends from Bundaberg in the south to nearly, where? in the north.
Nemo lives on the reef. What type of fish is he?
Name the four airlines that fly into Hamilton Island.
What is a Silvereye?
On what island would you expect to see rare turtles?
You can get married on Daydream Island, True/False
Which island has only 16 villas hidden in a rainforest?
Which island, limited to just 42 guests is located about 100kms north of Townsville?
What is an Irukandji?
The Cod Hole is a famous diving location, situated at a sheltered reef line east-northeast of which Great Barrier Reef island?
23.The only beach front wedding chapel in North Queensland is located at which Resort and Spa?
24.The worlds largest sand island (over 123kms long) is which island?
Which octopus carries enough venom to kill 26 humans and is only the size of a golf ball?
No Cheating!
Answers To Our Quiz No Peeking!

ANSWERS

About 2300kms long and is comprised of about 2900 reefs.

2 A small, low island or bank composed of sand and coral fragments.

6500 species
Lizard Island
May to October
April to November
A place where there are lots of diverse and interesting inhabitants.
The Whitsundays

9.Lady Elliot (south) and Haggerston (north)

Hamilton Island.
2900 reefs
Papua New Guinea
A clown fish

14 Virgin Blue, Sunstate, Jetstar and Qantas..

A bird.
Wilson Island.
Although not the only island to offer this service, the answer is, True.
Bedarra Island.

19.Orpheus Island.

A dangerous jellyfish.
Lizard Island
Angsana Resorts and Spa
Fraser Island
The Blue-ringed octopus

So how did you fare?
20 to 25. You're a Great-Barrier-Reef-aholic. You love this place and have visited the reef a lot!

12 to 19. You're doing very well and a trip to the Reef will put you in the top bracket.

5 to 11. You have a good understanding of the reef and environment, but a holiday here is just the thing you might need.

0-5. You're interested in this natural wonder of the world because you at least took the test, but a Great Barrier Reef vacation is definitely what you need.
More Pages On Beaches
link to Can You Swim At Mission Beach?
Not all beaches are suitable for swimming for a number of reasons. Some of these areas are more practical for sand activities or photography. It is important to know whether or not a beach is safe...
link to What Is It Like To Live Near The Beach?
Visiting the beach is a beautiful opportunity to see mother nature at its best. There's nothing quite like hearing the waves rolling in on a soft, sandy shoreline. While visiting the beach is a...