Heron Island is a gorgeous coral cay in tropical Queensland, Australia boasting white sand beaches, incredible displays of local flora and fauna, and warm, inviting turquoise waters.
Located in the Southern Great Barrier Reef, Heron Island

constitutes a small part of one of the world's most spectacular and complex ecosystems on the planet.
Preserving its natural beauty, Heron Island remains a wildlife haven due to conservation efforts. The Eastern half of the island forms part of the Capricornia Cays, both a national park and a scientific national park, aided by the Heron Island Research Station.
Also located on the island is Heron Island Resort, providing visitors with a little slice of paradise.
How Do I Get To Heron Island?
In order to reach Heron Island, you will first have to reach Gladstone

. Gladstone is 72 kilometres away from Heron Island and is a coastal city located on the mainland of Queensland, Australia.
Gladstone is the nearest urban centre to Heron Island and it is also home to the closest commercial airport. Gladstone is serviced by regular flights from Brisbane via Qantas or Virgin Australia.
If you are travelling to Gladstone by car, it is recommended that you pre-book secure car lock-up facilities by calling Compleat Angler Gladstone. Prices are $10 a day for an uncovered car park or $12 a day for a covered one.
Once you are in Gladstone, there are a number of options available to you:
Transfer by boat
Seaplane
Helicopter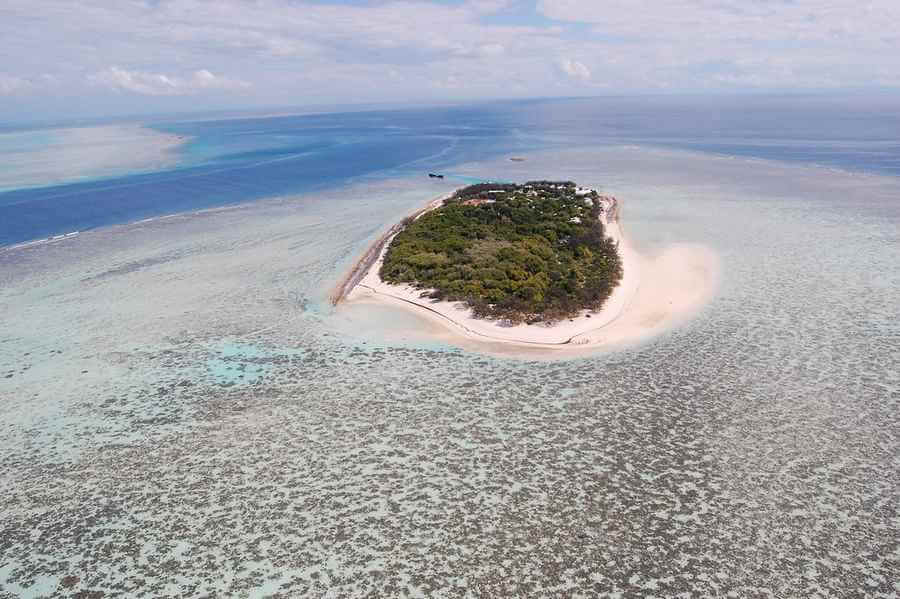 Google Map Of Heron Island
Travelling To Heron Island By Boat
Should you choose to make the crossing to Heron Island by boat, 'The Heron Islander' will transport you to Heron Island. The Heron Islander is a 34-metre long boat with top speeds of 30 knots (55 kmph/34 mph) that comfortably seats 170 people and will charter you in comfort and with ease to your destination.
The Heron Islander will be located in Gladstone at the Gladstone Marina, or by the Resort on Heron Island.
The Heron Islander is the cheapest option available, costing $75 each way per adult, or just $38 each way per child, and this price includes airport transfer.
The crossing takes approximately 2 hours. Depart from Gladstone to Heron Island at 09:30 a.m. and return from Heron Island to Gladstone at 12:45 p.m. every Monday, Wednesday, Friday, Saturday, and Sunday. There is no service on Tuesdays and Thursdays.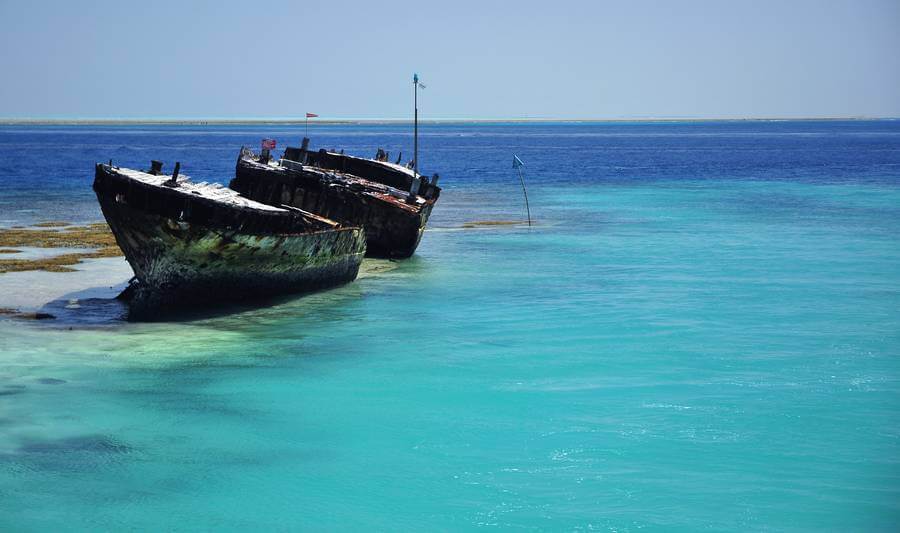 Seaplane Trip To Heron Island
Seaplane prices begin at $349 one-way, it is a quicker but more expensive option than the boat transfer.
Once you arrive in Gladstone, head to Australia By Seaplane Office. If you have arrived in Gladstone by plane, turn right once you have exited the main airport terminal and you shall find Australia By Seaplane Office 100 metres from the exit.
It is advised that you leave at least 25 minutes between your arrival and departure to allow for check-in procedures.
The flight time is around 25 minutes and a minimum of 4 passengers are required per flight in order to be operational.
It is important to note that a baggage restriction of 15kg per person, including hand luggage, applies with soft luggage preferred. Secure, complimentary luggage storage facilities are provided with Australia by Seaplane

.
Additionally, you must inform the seaplane provider of passenger body weights ahead of time.
Helicopter Flight To Heron Island
Helicopter prices start at $530 one-way, making it the most expensive option available.
The flight lasts for 30 minutes and will take passengers over Facing Island and Curtis Island before you are able to see the surrounding Great Barrier Reef.
They advise you to allow 60 minutes for check-in procedures. Marine Helicopter Charters are offered daily subject to weather conditions.
Luggage restrictions are the same as the seaplane: 15kg per person, including hand luggage, with soft suitcases, preferred. However, unlike the seaplane, extra baggage can be taken over on the launch transfer and will arrive later in the day.
When is the Best Time to Visit Heron Island?
The best time to visit Heron Island is dependent on what you are aiming to do. Most visitors are attracted to the island for its idyllic beaches and an abundance of wildlife.
Our pick of the best time to visit Heron Island would be from, October-December the waters are warm and the sun is shining with fewer chances of rain. Each season is host to a unique natural occurrence.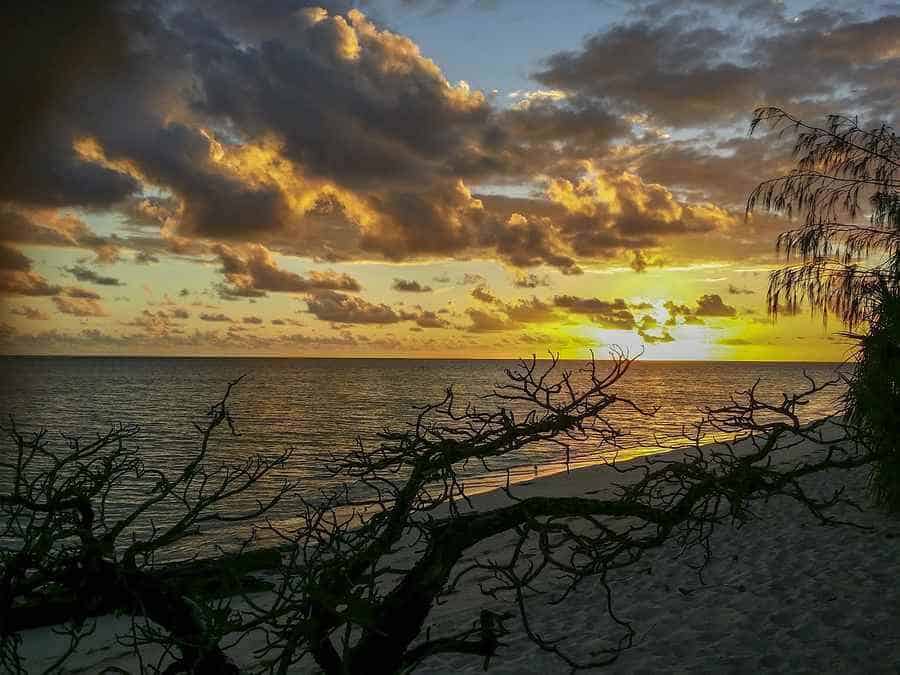 Visiting in Summer (January-March)
Summer is the hottest time of the year and spans from January to March. During this time air temperatures average 28 degrees celsius (or 83 Fahrenheit) while water temperatures will be similarly warm.
The increased temperature often means an increase in humidity, which can bring rain with it. Rain is fairly frequent throughout this time of year and tropical thunderstorms are not uncommon, bringing with them welcome cooler weather.
For those that are interested in the local birdlife, January is the height of the breeding season for seabirds. During these hot summer months, Heron Island becomes home to over 200,000 birds.
Of these 200,000 birds, around 120,000 of them will be white-capped noddies. Visitors can expect to see copious silver gulls, mutton birds, eastern reef egrets, sacred kingfishers, and reef herons during their stay.
Additionally, throughout February loggerhead and green sea turtles eggs will begin to hatch and you may be lucky enough to watch the hatchlings begin to emerge from a safe distance.
Visiting in Autumn (April-June)
Autumn sees the end of the rainy period and a decrease in temperatures to more comfortable mid-twenties (Celsius, 75-80 Fahrenheit). This season is the perfect time for swimming and snorkelling.
The water temperatures are also similar temperatures to the air, which makes for very pleasant swimming conditions. Given the island's location, snorkelers are spoiled for choice with an abundance of coral and tropical fish situated in the surrounding water.
The last of the turtle hatchlings

will leave the island up until May, but June marks the beginning of the annual humpback whale northern migration.
Visiting in Winter (July-September)
Although it is now winter, the temperatures rarely fall below twenty degrees Celsius (70 Fahrenheit). The weather is considerably cooler than the heat experienced in the summer, but it is still pleasant.
The cooler climate means rain is seldom and there are plenty of sunny days.
The conditions are perfect to spot the arrival of humpback whales. Throughout winter, humpback whales are regularly sighted in the waters surrounding Heron Island and migratory seabirds such as Eastern Gold Plovers return to the island during this time.
Visiting in Spring (October-December)
The departure of winter marks the beginning of Spring, bringing with it warmer weather and increased wildlife activity. The temperatures sit in the comfortable mid-twenty range making it a wonderful, pleasant time to visit.
Spring is also home to the holiday season, which sees the region swell with visitors from all over the globe. Heron Island is no exception and December is the busiest period.
Many people come at this time of year not only to celebrate the festivities but also to witness the sea turtles begin to lay their eggs on the shores of Heron Island, where they once hatched around 30 years prior.
Therefore, there really is something for everyone and travellers should consider things such as popularity, weather and the patterns of local wildlife before choosing a time to visit.
What Is There To Do On Heron Island?
As we have already seen, Heron Island is a haven for wildlife and humans alike. Most of the activities on this island revolve around observing the animals that inhabit it.
Snorkelling And Diving Sites On Heron Island
Snorkeling and diving are available all the time and it is possible to rent equipment once you are on the island. There are 20 diving sites around Heron Island which take around 5-15 minutes to get to from the island, meaning you are spoiled for choice.
The island caters to all levels of divers – from novice to expert and it is possible to complete PADI courses during your stay. Examples of the wildlife you may encounter are sea turtles, manta rays, stingrays, sharks, dolphins, tropical fish and a variety of coral.
For more experienced divers, night diving is also offered. Divers wanting to do the night dive must have completed a minimum of 20 dives and at least one dive on Heron Island prior to the night dive.
Full diving gear can be hired for $45 per day, and dives cost $75 for the first 5 dives and $55 after that. Nightdive price is $100 and a light stick and torch are provided.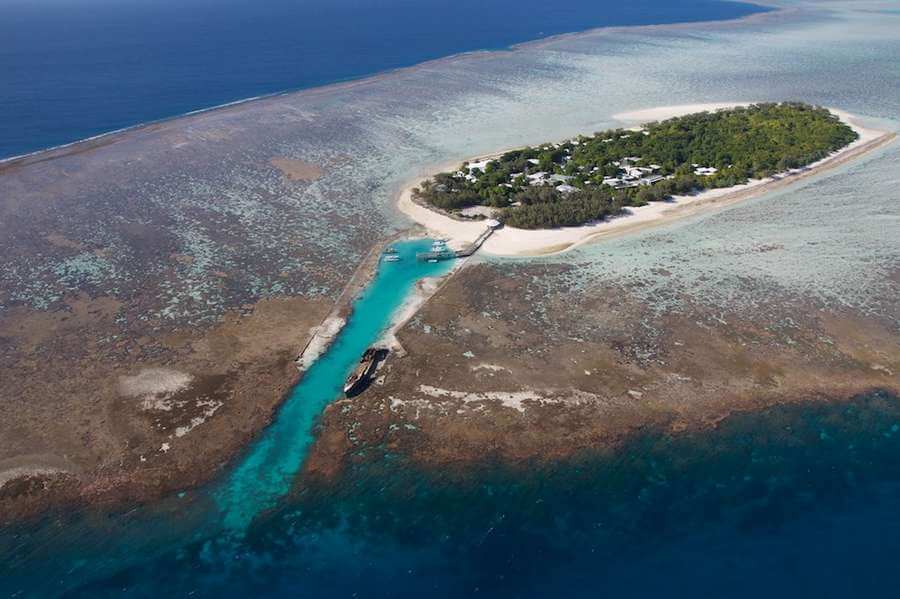 Kayaking and Paddle-Boarding Tours
Tours last for an hour and you have the option of renting a single kayak, double kayak, or a paddleboard. The guides will take you to locations around the island teeming with wildlife. Animals you may encounter include coral, tropical fish, rays, and perhaps even some baby sharks.
Prices for a single kayak or paddleboard is $40, and the price for a double kayak is $70.
Semi-Submersible i-Spy Tours
The semi-submersible tour provides a solution for those wanting to experience the range of aquatic wildlife on offer but not wanting to be in the water.
Animals you may encounter include turtles, sharks, and rays in addition to coral reefs and tropical fish. Your guide will educate you on the marine life and will be able to answer any questions you may have.
The i-Spy is usually in operation once a day, 5 days a week. The tour is dependent on weather conditions. Book the tour at the Marine Centre. Prices for adults are $60 and $40 for children.
Fishing on Heron Island
There are two options available should you want to go fishing with each option lasting for 3 hours. You can choose between a guided fishing tour, which includes a boat trip, bait, and tackle.
Any fish you catch can be prepared for your evening dinner by the Shearwater Restaurant chefs. Dinner costs $35 per adult and $20 per child.
Children must be a minimum of 7 years old to attend the fishing tour and prices start at $120 for children and $180 for adults.
Should you wish to fish with a group of family or friends, private boat charter fishing trips are available and costs $920.
University of Queensland Research Station Tours
Researchers working at the University of Queensland Research Station will occasionally provide tours of the station where they discuss what they are researching. Prices are $10 for adults and $3 for children.
Reef Discovery Walk Heron Island
If you find yourself wanting to spend some time out of the water, guided walks are available and you can choose between the Island Walk or the Reef Discovery Walk, with each walk taking about 1.5 hours to complete.
Each guided walk will inform the participants about the local flora and fauna which will vary depending on which walk you choose.
As you can see, there are plenty of activities available and there is something available for everyone. Regardless of what time of year you visit, or your preferences, Heron Island is guaranteed to be an unforgettable experience.
Please note all prices listed in this article are in Australian Dollars.
More Pages On Islands
link to Are Islands Floating?
Islands are one of many natural phenomenons that exist on earth. Islands are found all over the world and vary in size and shape. Some are more remote than others while some islands are right off...
link to Curtis Island Queensland
Queensland, Australia is home to a variety of idyllic places to visit. From pristine beaches to rainforests and everything in between, it is brimming with adventure. This is particularly true for...