Most beaches in Australia are known for having strong currents, stingrays or crocodiles. Most of these are found far up in the north Queensland area.
Some of these beaches are also known for being unpatrolled. The exception is the Town of 1770. This beach is known for its safe swimming, and lack of rough waves, This beach is patrolled by lifesavers during peak season and is safe for all to swim and surf.
Visitors have said to be very careful of the strong unexpected RIPS, And kids should not be let out too far in the water alone.
There is some talk of dangerous marine stingers and some crocodiles have been spotted over the years with no attacks on humans read the local for warning signs before swimming.
Some visitors take their longboard and try and catch the right-hand point break, this is great for intermediate surfers or those learning how to surf. The beach has plenty of room to spread out and find that quiet spot for yourself.
If you're into surfing or have never tried to surf there are two local places you can try out one is Lazy Lizard Surf School you can contact them at (0488 177 000).
They are well known for their small groups of surfing lessons and a coach that just loves to new students how to surf.
The local surf shop Reef 2 Beach Surf Shop also offers some lessons for those trying surfing for the first time, the groups are a little larger with up to 8 surfers per instructor lesson goes for 3 hours, you can contact them on (07) 4974 9072.
Why not book an afternoon coast tour of 1770 while you are there, click here for prices and tour info

.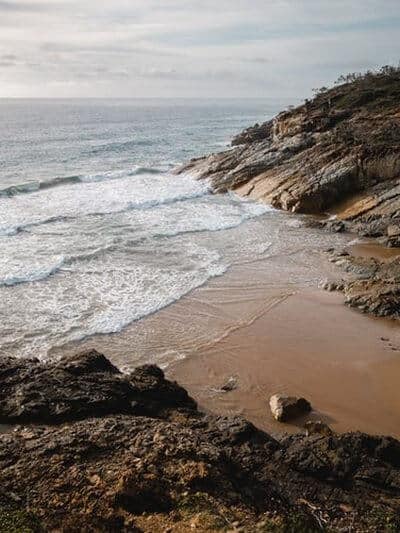 Tips For Beach Swimming In 1770
While visiting 1770, there are a few things to keep in mind to avoid any mishaps during your travels and your holiday.
Here are some things to consider:
When swimming in 1770, it's best to swim during the mid-to-high tide. Although there are no waves in 1770, there are times when the swell can reach over 1 meter in some areas of the beach.
Although the beach is a safe place to swim, it's advised to take heed to warning signs during stinger season

November to April. Boxed jellyfish have been spotted in the area, But no confirmed stings have been reported.
Take some vinegar just in case of any stingers.
Always swim in the patrolled areas in between the flags.
Plan your lunch or rest stop as there are not a lot of shaded areas, and some people also take a sunshade/popup tent.
Pack your hat and sunscreen your in Queensland it can get quite hot in the sun from 10.00 am till 2.00 pm.
If you're worried about stingers bring your wet suit.
Bring your bottled water
Many walking trails lead to the beach, so make sure that have proper footwear. You may also want to bring a small backpack with a towel and your swimmers if you go to the beach wearing other types of clothing. Plan to wear the correct footing for this walk.
If you plan on driving to 1770, make sure to have your car serviced before you begin your trip.
If you plan on flying into Bundaberg or Gladstone, if you do not hire a car, you will need to pre-book your shuttle or bus ride to 1770.
The beach area has plenty of places for food and drinks, So you have options to buy lunch if you choose to do so.
If you're planning to stay overnight you will find many accommodation places close by, ranging from Resorts to Cabins and also camping! Low price camping Workman's Beach Camping

from just $10.00 per night with basic features right on the beach.
As with any type of trip that you plan on taking, make sure to confirm the details regarding your transportation and accommodation. Always make sure that you pay attention to weather conditions and any type of emergency warnings.
If you are travelling a long distance on a road trip, make sure to pack sufficient food and water, and additional battery packs for mobile devices in case of any type of mishaps while travelling.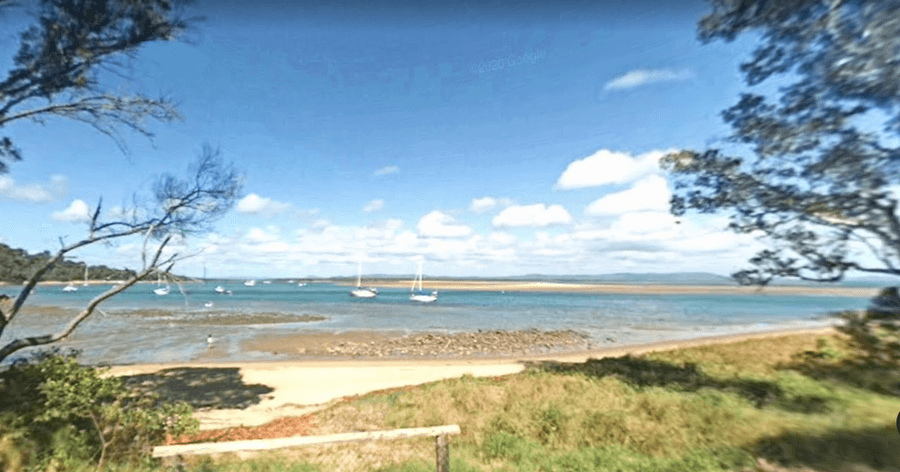 Where Is 1770?
1770 is located at the southern end of the Barrier Reef in the Gladstone region of Queensland, Australia. 1770 is part of a string of pristine beaches that make up the Discovery Coast, which is the southernmost tip of the Barrier Reef.
It is located midway between Bundaberg to the south and Gladstone to the north. Queensland has many amazing beaches to go swimming at, so many it's hard to see them all, Why not plan out a trip to see as many as you can!
Google Map Of 1770
What Is So Good About 1770?
Initially, the town was named Round Hill after the creek that it is on. It was almost 50 years ago that it was changed to the Town of 1770, or simply 1770 to honour the 200th anniversary of being the second landfall in Australia and the first in Queensland.
This was after the visit of Lieutenant James Cook on May 24, 1770. The town of 1770 is known as being one of three places on the east coast where you can view the sunset over the water, why not go swimming at the beautiful beach or sit and relax by the water's edge.
How To Get To 1770
There are many travel methods to get to 1770. You can travel by car, bus or plane. You can also reach 1770 by railway Queensland Rail. You will arrive in either Gladstone or Bundaberg from Brisbane. From there you will need to hire a rental car or hop on the Greyhound Coach.
If you decide to fly, you will need to do the same thing because the airstrip in the Town of 1770 does not schedule commercial flights. From Gladstone or Bundaberg airport, you can hire a car, hop on the 1770 shuttle or ride the bus to the Town of 1770/Agnes Water area.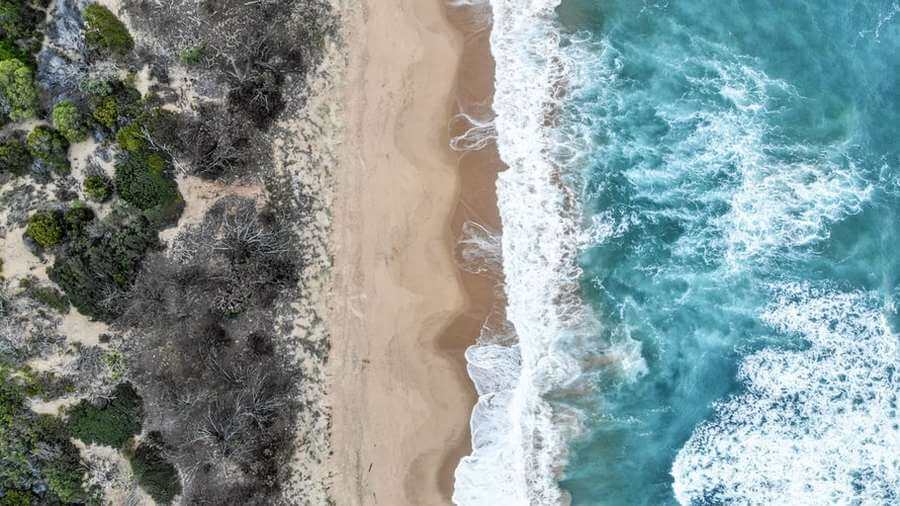 The Distance From Airports To 1770
The closest airport for commercial flights is Bundaberg.
Bundaberg is located 129 km from 1770 and the travel time is 1 hour and 31 minutes via Rosedale Road. The majority of the flights into Bundaberg and Gladstone are from Brisbane, which is the transfer point when coming from Melbourne or Sydney.
Gladstone Airport is 131.5 km from 1770, with a travel time of 1 hour and 35 minutes
Rockhampton Airport is a distance of 231.7 km and a travel time of 2 hours 39 minutes via Bruce Hwy.
Fraser Coast Airport/ Hervey Bay is a distance of 235.8 km with a travel time of 2 hours and 43 minutes via Bruce Hwy.
Brisbane Airport is a distance of 485.8 km away with a travel time of 5 hours and 40 minutes via M1 and Bruce Hwy.
Distance/Drive Times From Other Towns/Villages
The Town of 1770 starts 450 km north of Brisbane. It is part of the gateway to the Southern Great Barrier Reef.
Miriam Vale is located about 62.2 km from 1770 with a travel time of 45 min via Fingerboard Rd and Round Hill Rd.
Melbourne is located 1998.3 km away with a travel time of 21 hours and 54 minutes via Newell Hwy.
Sydney is located 1406.1 km away with a travel time of 15 hours and 14 minutes via Pacific Hwy and M1
Airlie Beach is located 706 km away with a travel time of 8 hours and 30 minutes.
Distance From Gladstone Region Townships
Benaraby is located 110 km away and has a travel time of 1 hour and 16 minutes via Bruce Hwy and Round Hill Rd.
Boyne Island is located 118 km away with a travel time of 1 hour and 21 minutes via Bruce Hwy and Round Hill Rd.
Tannum Sands is located 113 km away with a travel time of 1 hour and 19 minutes via Bruce Hwy and Round Hill Rd.
Distance From Other Beaches
Agnes Water – Which is considered the sister town/beach to 1770 is located 8 km to the south of 1770 a great beach for swimming and longboard surfing.
Workman's Beach is a 10-minute drive located 7.8 km via Captain Cook Dr you will find camping here if you're on a budget.
Rules Beach is an hour's drive with a travelling distance of 75.7 km via Round Hill road. You will find it situated on the oceanfront but it's a bit of a drive from 1770.
Final Thought
Swimming and visiting the Town of 1770/ Agnes Water is an exciting experience, enjoying the beautiful Australian water without worrying about waves, salties or marine stingers.
You're surrounded by the Coral Sea and Bustard Bay, on three sides and have perfect weather year-round. This is what makes it easy to relax and enjoy yourself while you are on holiday!
More Pages On Beaches
link to Can You Swim At Mission Beach?
Not all beaches are suitable for swimming for a number of reasons. Some of these areas are more practical for sand activities or photography. It is important to know whether or not a beach is safe...
link to What Is It Like To Live Near The Beach?
Visiting the beach is a beautiful opportunity to see mother nature at its best. There's nothing quite like hearing the waves rolling in on a soft, sandy shoreline. While visiting the beach is a...