Australian beaches are quite alluring with gorgeous sands and idyllic shorelines. While the country's beaches are nothing short of picturesque and extremely loved by humans, our pets enjoy them as well!
This is particularly true for dogs! Dogs are often balls of energy so the beach is the perfect place to take them so they can run along the shorelines.
However, not every beach is suitable for a dog. Some have stronger currents than others, etc. Moreover, in most areas of Australia, there are designated beach areas that are specifically for dogs.
What Beaches Are Good For Pets
Australia has around 10,000 beaches all over the country. While there is an abundance of sandy shorelines, some beaches are more popular for pups.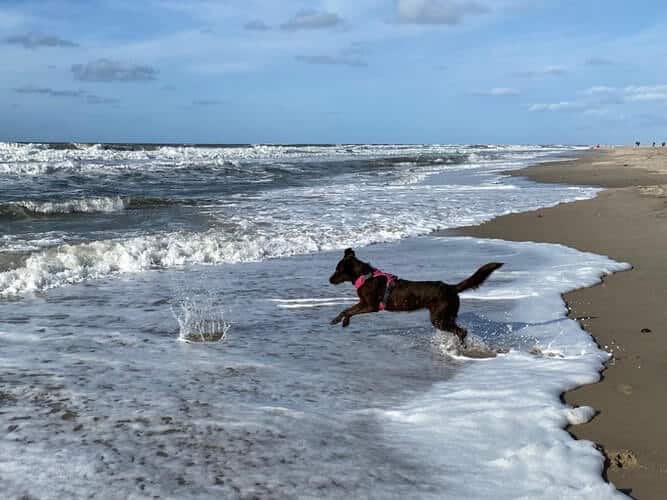 This is primarily due to their specific hours that are set for dog owners to bring their pets but also because they provide ample space for dogs to run.
Going to the beach for a dog is an opportunity to enjoy the fresh sea air, water, and the wide-open beachy shorelines.
Are Beaches Good For Dogs?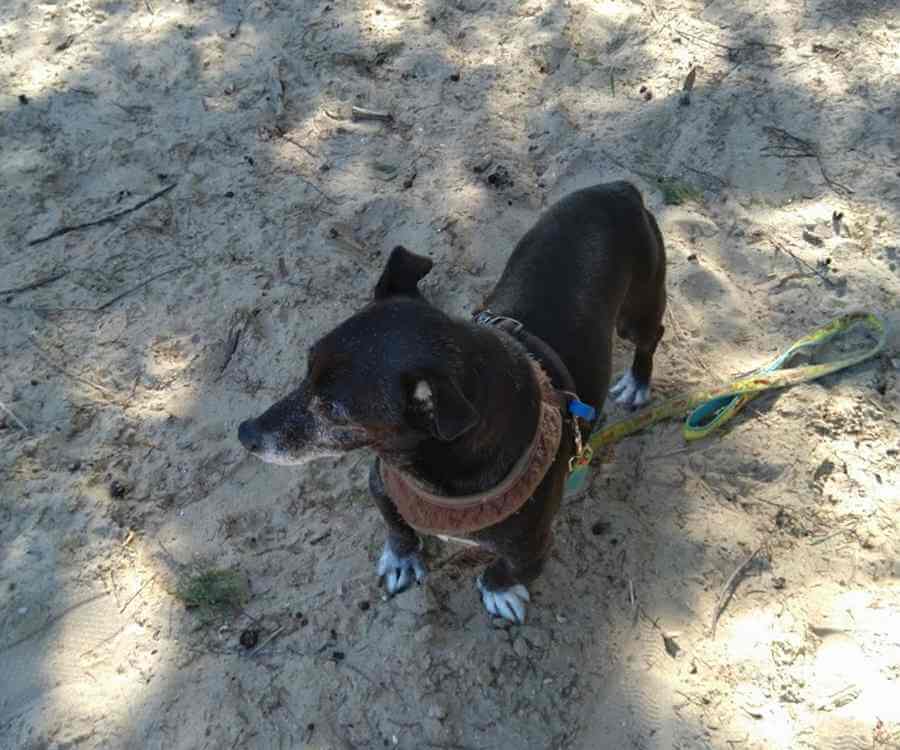 Dogs truly do love the beach. There are new scents to smell and a whole new world for them to explore. However, due to some of the Australian beaches not being appropriate for even humans to swim at, it begs to ask are beaches good for dogs.?
It is important to note that the beaches that aren't particularly safe for humans aren't exactly "beaches". Rather, they are smaller foreshore areas where there isn't much sand between the land and rolling tides.
While these areas aren't very big, they can still technically be considered beaches. Also, some beaches simply have stronger currents, dangerous wildlife, etc.
A great example of a beach that isn't safe is the beaches off of Fraser Island, the world's largest sand island. When saying that the beach isn't "safe" it means that the waters aren't safe.
This is because of strong riptides, etc. In the case of Fraser Island

, sharks are known to frequent the waters. It is a safe assumption to say that if a human can't swim in the waters, a dog shouldn't be allowed to either!
Part of going to the beach for a dog is entering the water. So it is important to ensure that the waters are safe!
Beaches are open areas where the tides bring all sorts of things to shore. This can include broken glass or even sharp seashells. Another thing to consider about the beach is that it is hot. While that's an obvious statement, it is a crucial one because hot sands can burn a dog's paws!
Dogs with lighter fur can even experience sunburn! In an effort to relieve these potential issues, specifically the heat, beaches often have odd times when dogs are allowed on the beach.
Often these times will be later in the evening to early morning. This is because the beaches are much cooler during these times. Even if a beach is a 24-hour off-leash beach, going in the early hours or late evening is simply better for the dog!
Although some beach waters in Australia can be turbulent or have unpleasant marine life, beaches, in general, are good for dogs. Beaches provide dogs with a space to run, explore and simply enjoy the waters and great outdoors.
It a great way for them to get their daily exercise and it is a refreshing break for them from a walk around the neighbourhood! The important thing is to always stay alert. Watch for wildlife, other dogs, and glass or shells.
Is Manly Beach Dog-Friendly?
Manly Beach is one of the more popular beaches in NSW (New South Wales) and is primarily known as a surfing beach. Because of its overall popularity in the area, some wonder if it is dog-friendly.
Manly Beach itself isn't known for allowing dogs, however, the nearby Manly Lagoon Park does allow dogs. It is at the northern end of Manly Beach and is a 24-hour dog beach area that is open 7 days a week.
The lagoon area has a stretch of sand for the pups to run and the water is a great way for them to cool down on hot days.
It is important to note that the lagoon beach park is an off-leash park. This means the dogs can run freely along the beach area and in the waters off of a leash.
However, when a pup is being transported to and from the lagoon, they should always be on a leash! This also applies to all other beaches with off-leash access.
Manly Lagoon

Park gives dogs an opportunity to enjoy a little bit of what makes the Manly Beach area so great.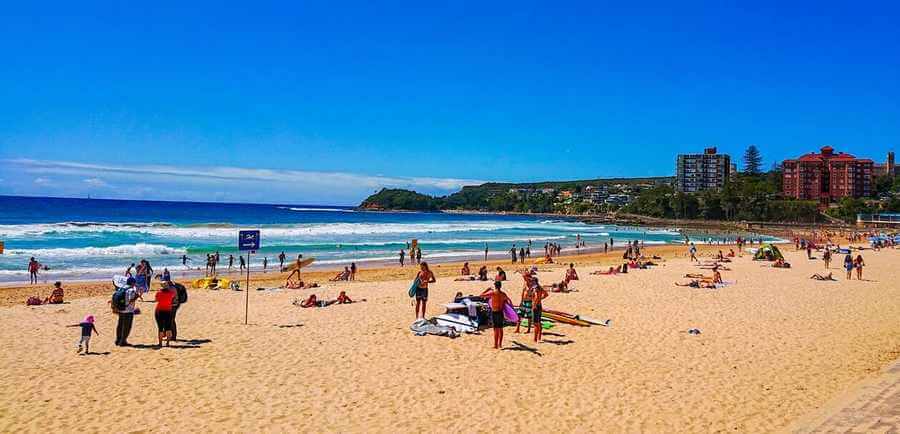 Are Dogs Allowed On NSW Beaches?
NSW offers dog owners plenty of options for places to take their pups. All beach areas where dogs are permitted have some restrictions. These restrictions can include whether not a leash is required and the hours of the day that dogs are allowed on the beach.
While some beaches are 24-hours, like Manly Lagoon Park, others have specific hours. It is crucial to ensure that all current restrictions or rules are being followed before heading out to one of the beaches that allow dogs in NSW (or other parts of Australia!).
So what beaches in NSW are best for man's best friend? Below are the top beaches in NSW that allow dogs!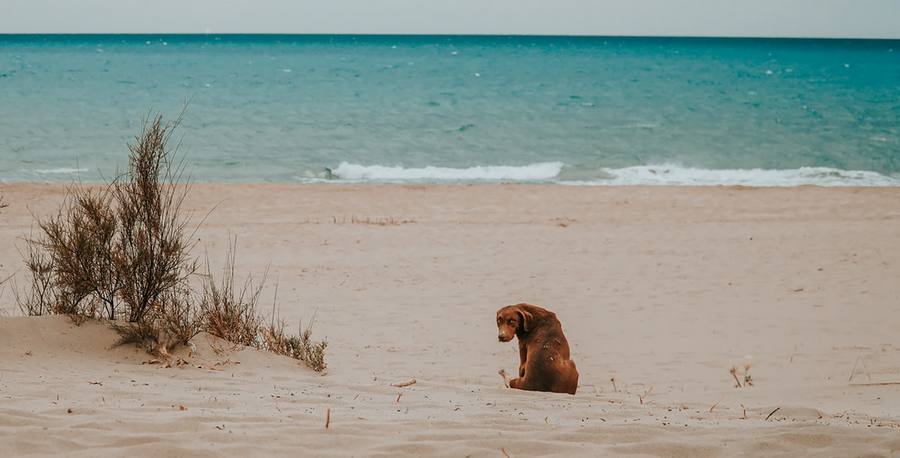 Top Beaches That Allows Dogs In NSW
Sirius Cove Mosman, Sydney
This beach area is a tranquil and absolutely stunning place to look out among the open waters and soak up the sheer beauty of the area. Access to the cove area is at the end of Sirius Cove

Road.
The hours for dogs at this beach are 24-hour off-leash throughout the week and 4 p.m. to 8 a.m. on the weekends.
Camel Rock Beach, Haywards Beach, Bermagui
Camel Rock Beach

is a popular area in NSW because of the remarkable jutting rocks from the waters. These towering rocks are perfect as a backdrop for a picture.
This beach is one of the many places in Australia that showcases the naturalistic beauty of the country. Dogs can enjoy this iconic beauty just like humans, especially if there's water to splash in!
This area of the beach is also near Haywards Beach, although dogs are only permitted on the Camel Rock part of the beach! What is great about this beach is that it is a 24-hour off-leash area!
Eurobodalla Area, Part Of Southern NSW
Eurobodalla

is an area of southern NSW where the beaches are beautiful gems to see. Throughout this region, a lot of their coastline beaches are dog-friendly. In fact, a lot of southern NSW beaches are known to allow dogs.
The beaches in the Eurobodalla region of NSW have a variety of 24-hour beaches and time confined beaches. Some examples of the time confined beaches include the allowance of dogs at the beach between 1 November to 30 April.
During these times, the beaches are considered a "timeshare" so that dogs can enjoy the beaches just as much as humans. However, during that time frame, there are set hours in which pet owners must adhere to.
The set hours are before 9 a.m. and after 5 p.m. Absolutely no dogs are permitted between the hours of 9 a.m. and 5 p.m.
North Shelly Beach In NSW
The northern part of Shelly Beach in NSW

is a wonderful place to take a dog. The waters are crisp, the sand melds perfectly into the shoreline, and the backdrop to the shoreline is beautiful sand dunes.
The part of the beach where dogs can roam is an off-leash area that is available for 24-hours. There is even a patrolled swim section for humans!
There are other beach areas in NSW for pups, but there are some of the most popular ones! When taking a dog to the beach, it is important to be mindful of some basic things.
Like cleaning up after them, etc. But what are some others to think about? Below are the other things to be mindful of when taking a dog out to a beach!
Things To Keep In Mind When Taking A Dog To A Beach
Always Be Alert And Watching Over Them
Australian waters are generally calm in some parts of the country, like parts of Queensland, however, other parts of the country experience strong riptides off their beaches. This is the largest danger to both humans and dogs, aside from wildlife.
Pet owners should be alert of the water conditions before allowing their pups into the waters. Moreover, pet owners should also be aware of any potential marine dangers like sharks.
Being alert and being an active part of a dog's beach time is the best way to ensure they are safe while at the beach. Basically, the same amount of awareness, if not more, that is used when someone is at a beach with a human buddy should be practised when their dog is tagging along.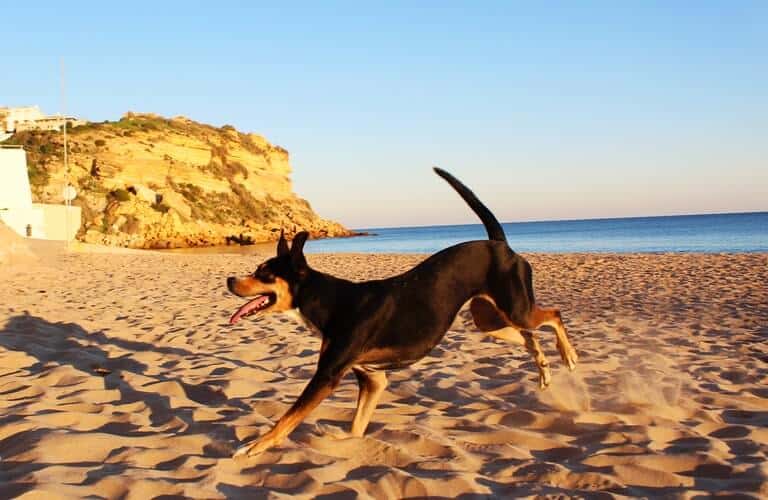 Never Take A Dog To A Natural Park Beach Area
National parks are heavily protected all over the world but even more so in Australia. These areas often have rare or exotic wildlife, flora, or fauna. In efforts to keep these things protected, dogs are not permitted in natural parks

.
This includes the beachy sand areas of lakes, etc. There are plenty of other beaches and beachy areas to consider that will satisfy a dog's need to enjoy the beautiful outdoors.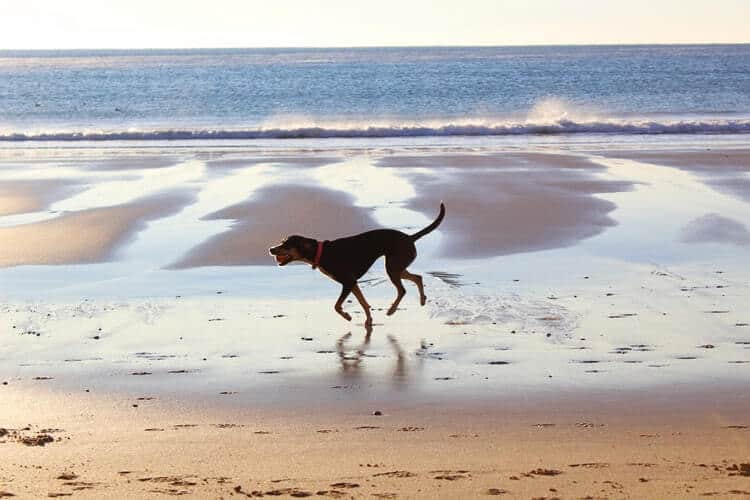 Keep Control Of Your Dog
Pet owners should have control of their dogs at all times when taking them to the beach. This is important to help be respectful of other people and their pets, or other people in general, but also for wildlife.
Some beaches might have exotic wildlife, like Fairlight Beach where fairy penguins are known to roam. These penguins are the last of their species so this adds to the importance of ensuring that dogs aren't getting too curious if visiting this beach and to watch dogs at other beaches as well.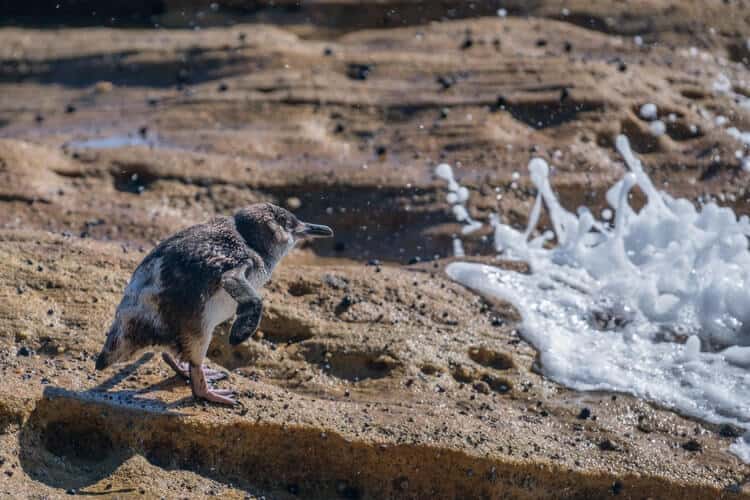 Bring Fresh Drinking Water
The beach obviously has water but bringing fresh drinking water is super critical! This keeps a pup hydrated and provides them with water other than sea water to drink.
While most beach waters look pristine, some waterways might not be suitable for drinking. Having some freshwater on hand is a great idea so there's always access to the best water.
Bring A Dog Life Jacket
Not all dogs can swim! This can be due to their size, particularly their head and legs, which can prevent them having the momentum needed to keep themselves afloat.
This is where a dog life jacket

comes into play! They are a great thing to have for dogs who want to enter the water without having the risk of drowning.
Consider Bringing A Lead
Not all beaches are off-leash areas, though most of them will be. Having a lead available is a good idea so that a pet owner will have better control of their pup while at the beach.
Leads are basically short leashes. They are designed in a manner so that pet owners have the ability to keep their dogs closer than retractable leashes.
It should go without saying to always bring a rubbish bag to clean up after a dog, but these other reminders certainly help make a day at the beach with your dog a really safe one!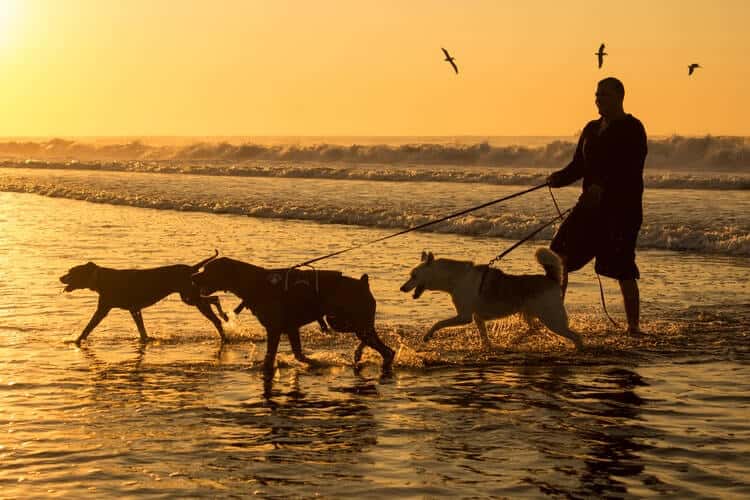 What Can You Do With Your Dog At The Beach?
Dogs find the beach exciting because there is simply so much to explore. The sights, scents, and sounds are easily their favourite part of the whole experience.
However, there are other things to do with a dog at the beach other than just letting them run along the sand and take a dip in the water! Below are some other ideas of what to do with your dog while at the beach!
Things To Do With Your Dog At The Beach
Play Fetch, Keep Them Busy
It is no secret that dogs love playing fetch. They will play fetch with literally anything! It could be a piece of beach driftwood or even a toy that has been brought from home.
It gets them their exercise as well as keeps you engaged with them!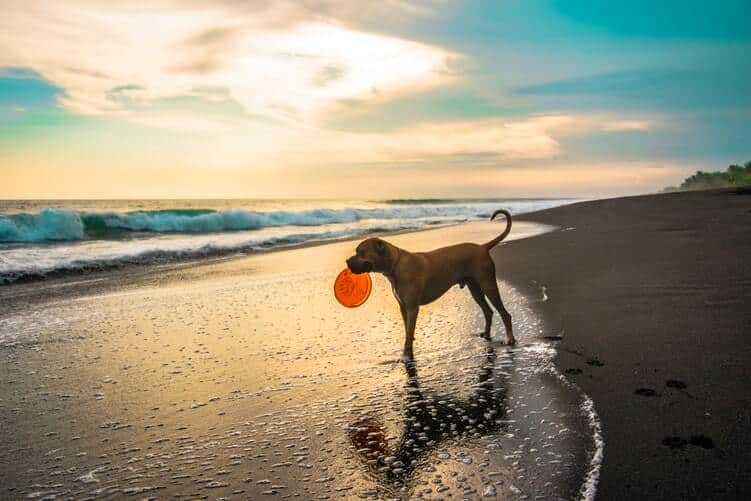 Throw A Frisbee Watch Them Catch It
Frisbee discs are a classic beach activity for humans but dogs can enjoy it too! Dogs will enjoy splashing around on the shorelines and dashing through the soft sands!
While frisbee could be considered "fetch", they aren't exactly the same. Frisbees move differently than balls or pieces of wood and a great exercise for both the dog and the human!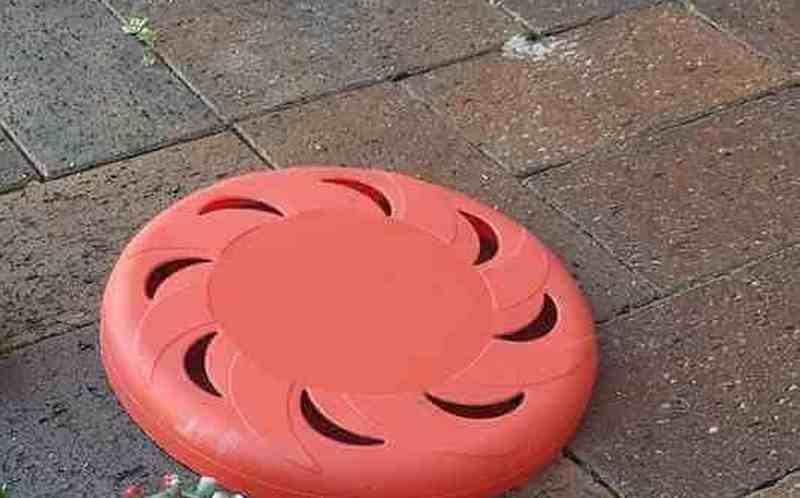 Have A Picnic With Your Dog On A Rug
Picnics aren't just for humans! Sharing a meal with your dog at the beach is a great way to enjoy the scenery and spend time with your favourite pooch!
Basics to bring include water, a blanket, dog-safe foods like cooked and unseasoned chicken or raw cut up veggies, some of your dog's favourite dog treats and an umbrella!
Beach umbrellas help create a nice shaded spot if none are available near the beach.
Go For A Swim With Them
For dogs who enjoy a little paddling in the water, going for a little swim with your dog is a great beach activity. They will really feel like they are sharing a moment with you having fun in the water!
An evening or early morning swim is a wonderful way to start or end the day! Both you and your dog will feel refreshed!
These are just some of the ideas to consider when taking your dog to the beach. Overall, the beach can be a bonding moment between you and your dog. It is a fabulous opportunity to wind down after a long day or start the day with your furry friend!
More Pages On Beaches
link to Can You Swim At Mission Beach?
Not all beaches are suitable for swimming for a number of reasons. Some of these areas are more practical for sand activities or photography. It is important to know whether or not a beach is safe...
link to What Is It Like To Live Near The Beach?
Visiting the beach is a beautiful opportunity to see mother nature at its best. There's nothing quite like hearing the waves rolling in on a soft, sandy shoreline. While visiting the beach is a...