Beaches are one of the most iconic ways to enjoy the ocean. Typically, beaches have soft golden sands and are absolutely stunning to see. While golden beaches are certainly beautiful, they aren't the only colour of beaches in the world.
In fact, there can be a wide variety of different colour sands that a beach is made of.
The unique colour of a beach's sand really sets some of the world's beaches apart from others. A great example of this is black sand beaches which are quite stark in their beauty.
The world has an infinite number of beaches sprawled across various coastlines. However, black sand beaches are a little harder to find. There are around 20 black sand beaches in the world. Their rarity is a direct result of their region, some of which have a high volume of Magnetite on the surface.
Regular beaches, with gold sands, can pretty much be found just about anywhere. Even more elusive beaches, like white sand beaches, are more common than black sanded ones. So what makes black sand so unique?
Sand that you find at the beach, no matter where it is located in the world, derives from its surroundings. The ocean carries certain particles to coastlines overtime after breaking them down to sand material due to erosion. Deposition, the final step in erosion, settles sand particles to their final destination.
Beaches all over the world have unique sand qualities because, in reality, the sand is an indicator of what is found in nature around the location.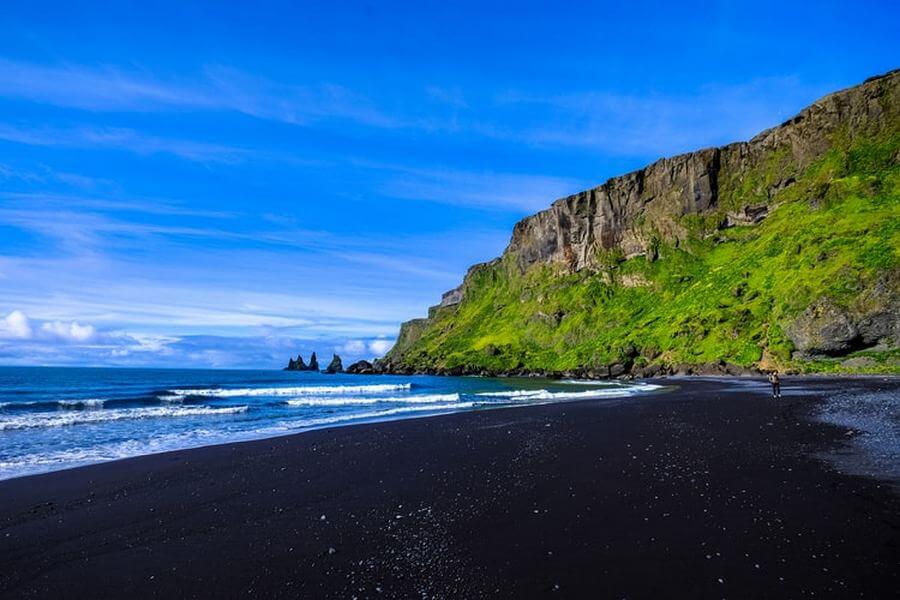 Black sand beaches for example are generally a result of volcanic rocks eroded into sand particles. Because of this process, the number of black sand beaches remains quite low. Black sand can also be the result of magnetite that has been processed by erosion.
Magnetite

is a type of iron that is darker in colour and can add dark hues to a beach. There are pure black sanded beaches in the world but there are also beaches that speckles of black sand particles mixed in with what people consider "traditional sand".
Whether it is a pure black sand beach or one that has black sand incorporated into regular sand, black sand beaches are truly amazing. Their sheer beauty and rarer status make them a mystical adventure for travellers to seek out. Below is a list of the 20 black sand beaches that are found around the world!
The World's 20 Black Sand Beaches
1. Black Sand Beach, Whitethorn, California, United States
It may be surprising to some people that a place in the United States made the list, however, there are quite a few locations in the United States on this list! Certain regions of the United States are in close proximity to what contributes to a black sanded beach's beauty.
Black Sand Beach

in Whitethorn, California is a prime example of this. The sand at this 20-mile long stretch of beach is mostly comprised of magnetite iron particles. While it isn't stark black, it still dark enough to be on the list!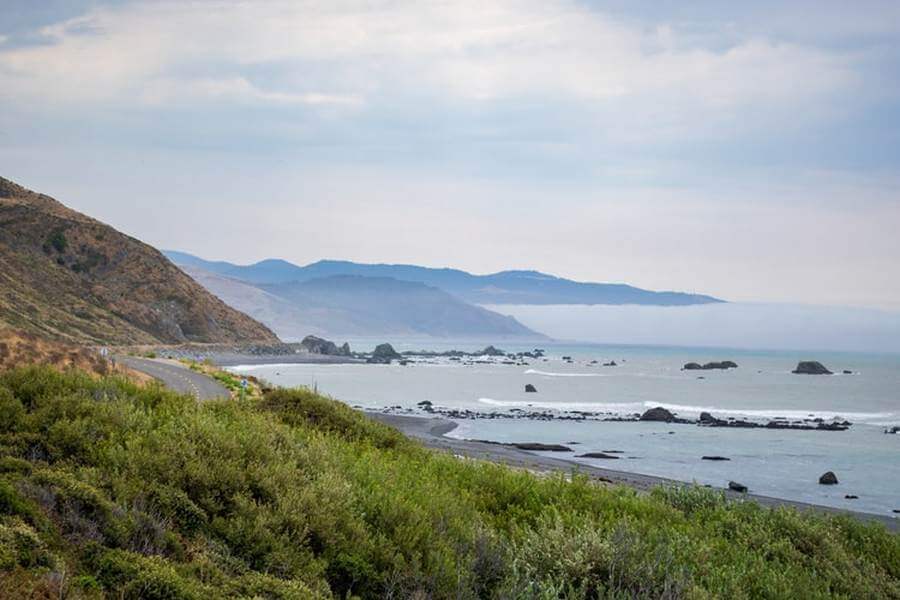 2. Albay Islands, Philippines
The Philippines has many remarkable beaches, however, the beaches at Albay Islands

stand out the most. The cluster of three islands that make up the Albay Island region all features dark, rich black sand. Because of nearby volcanic activity, these beaches have been blessed with iconic black sand shorelines. The three islands in the cluster include Bacacay, Santo Domingo, and Tiwi.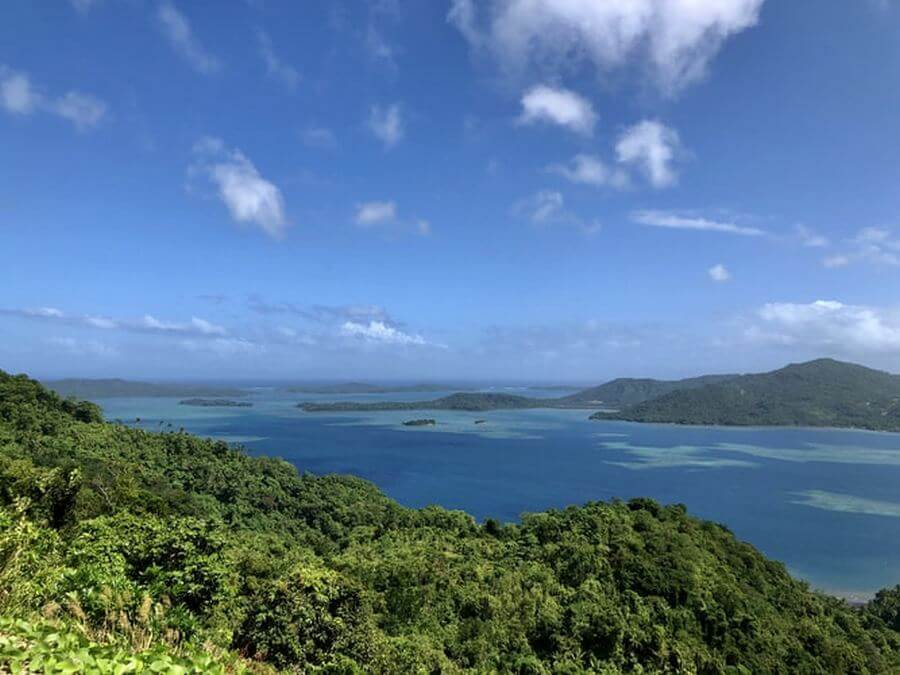 3. Tangkoko Nature Reserve, Indonesia
This black sand beach in Indonesia is a hidden gem. Those who trek through the country's nature reserve known as Tangkoko

, will be rewarded with the once-in-a-lifetime sight of a black sand beach. It is specifically on Sulawesi Island, the beach attracts visitors seeking out the natural beauty of the area.
This desire for seeing the black sand beach isn't the only reason the area attracts visitors though, the nature reserve, in general, is quite nice to visit as well.
4. Karekare Beach, New Zealand
Karekare Beach

in the Auckland region of New Zealand is another hidden treasure for visitors to seek out. Access to this black sand beach is only by hiking the surrounding steep cliffs. While it is a bit more effort, the reward of seeing the black sand melding into frothy white waves is totally worth it.
It is important to note that like other black sand beaches on this list, it isn't safe to swim in the waters due to strong currents. However, the startling views of nature at its best are what make it such a great place.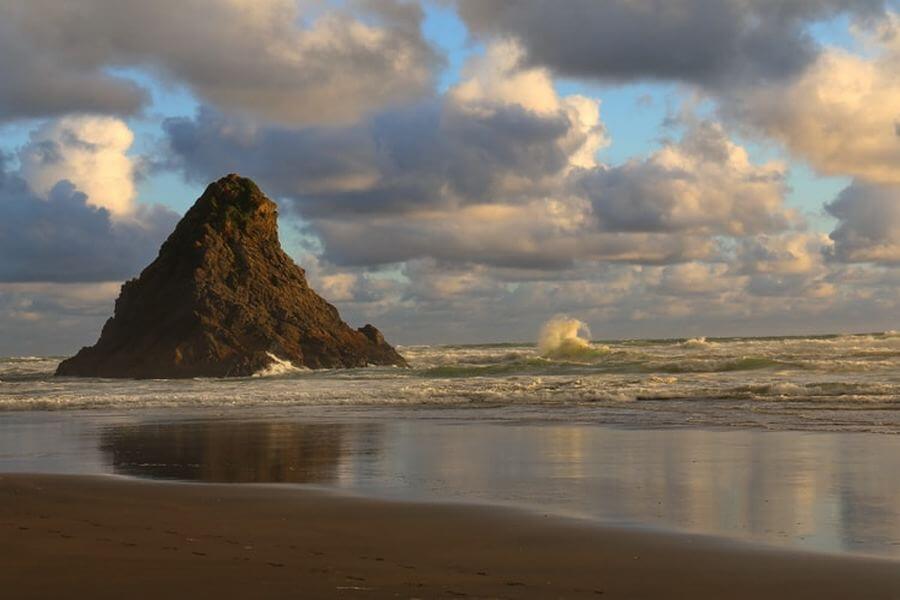 5. Papenoo Beach, Tahiti
Papenoo Beach is one of Tahiti's most popular beaches. It is considered the gateway to the Papenoo Valley, a mountainous landscape sought after by visitors. The black sand beach and rolling waves are just the beginning of the beautiful sights in the area.
As with many of the black sand beaches on this list, the black sand is a result of volcanic rock brought to shore by ocean waves.
6. Playa Negra, Vieques, Puerto Rico
This black beauty of a beach is part of a small number of black sand beaches

that are in the Caribbean Sea. This is one of the more interesting beaches on this list because it wasn't really noticed or recognised until the mid-2000s.
It is said that the beach gets its rich black hue from the volcanic rock that is actually under the beach's surface.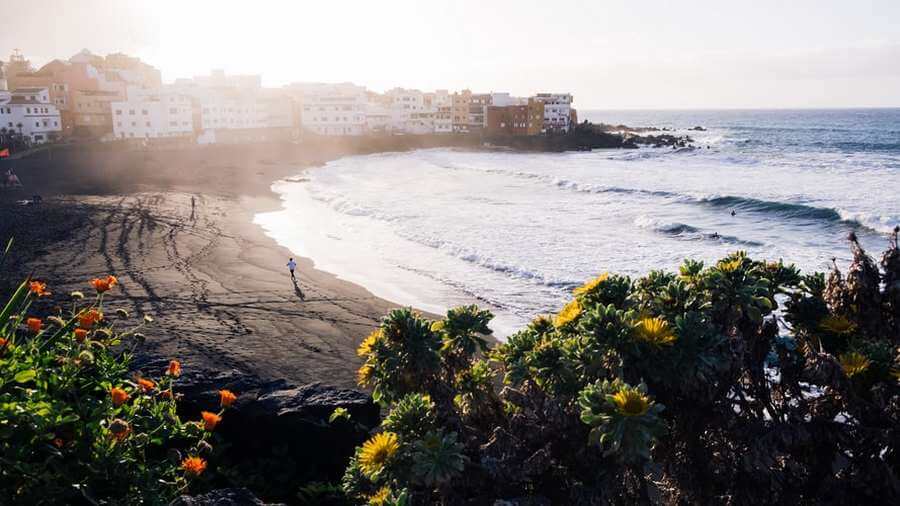 7. Kamari Beach, Santorini, Greece
Greece is a country that is well-rooted in the history of the world and its cities offer up a variety of historical backgrounds. Additionally, the country is known for its high elevated cities, rocky headlands, and unique architecture. However, its beaches are out-of-this-world as well.
This is particularly true for Kamari Beach

in Santorini, Greece. In fact, Kamari Beach is one of the world's most well-known black sand beaches because the city of Santorini sits right on the rim of a volcano. Due to its extremely close proximity to a volcano, Kamari Beach features deep, dark black sands.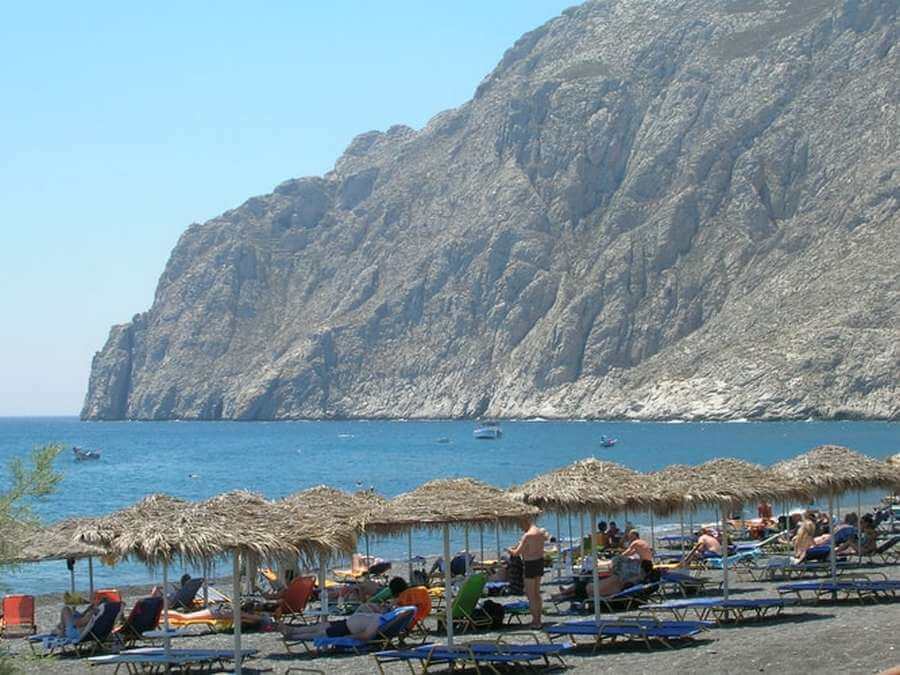 8. Soufriere, St. Lucia, The Caribbean Islands
Soufriere

in St. Lucia (in the Caribbean Islands), is another treasure in the Caribbean Sea with black sands. It isn't as popular as other black sand beaches around the world and is mostly only known to locals in St. Lucia.
However, it still offers an opportunity to see one of the world's only areas with black sand. Even a smaller location such as this one is a great way to experience what black sand looks like in person.
9. Marigot, Grenada, The Caribbean Islands
Marigot Beach in Grenada, Concord in the Caribbean Islands is one of the most difficult journies to make. It is not an easily accessible black sand beach, as it does require a bit of a hike, but once there the payoff is quite interesting.
It is known as the most isolated black sand beach in the world and offers tranquillity like no other beach around. Between the lack of noise and abundance of beauty, Marigot Beach is worth the effort to find.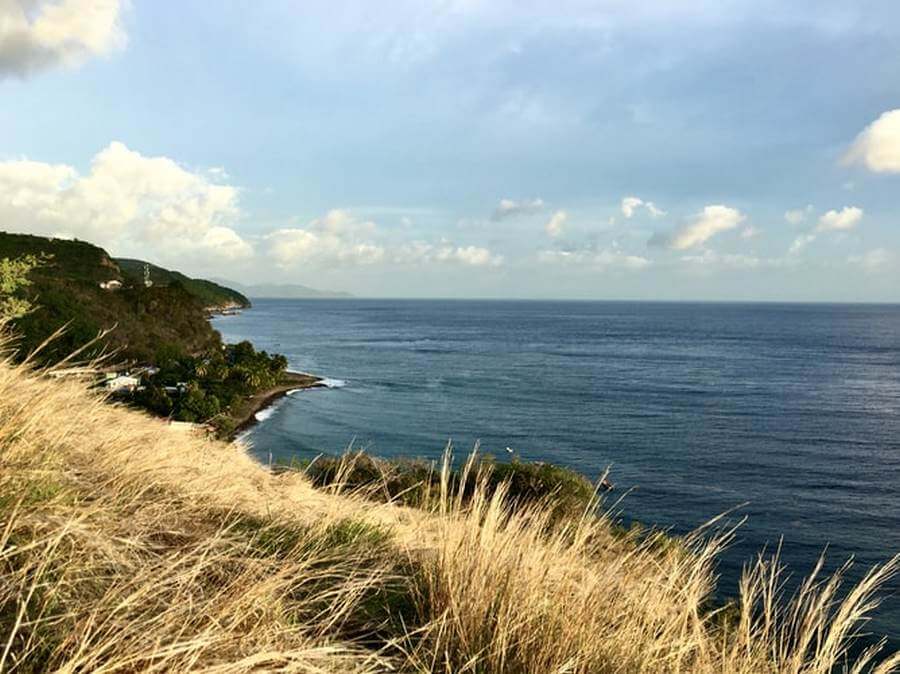 10. Punalu'u Beach, Hawaii, United States
Hawaii is a cluster of islands that are considered to be part of the United States, even though they are pretty far southwest from the actual country.
This region of the United States features an abundance of volcano action and as a result, Hawaii is known for having the most black sand beaches in the world (aside from the Caribbean Islands) Punalu'u Beach is one of the three most notable black sand beaches in the Hawaiian Islands.
It is not only known for its dark sand but its population of endangered hawksbill turtles.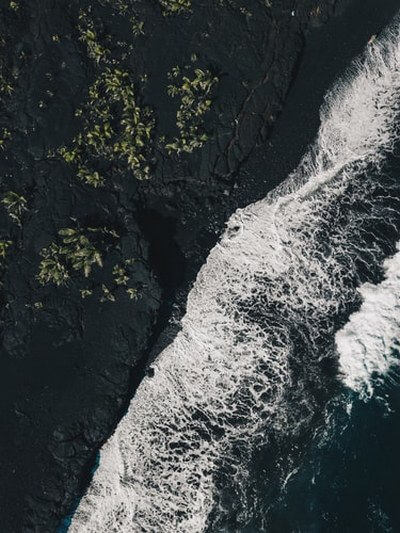 11. Miho-no-Matsubara, Japan
This world heritage site in Shizuoka City, Japan is one of the most gorgeous places in Japan. It not only has remarkable black sand at the beach in the Miho peninsula but the area also has sights of Mount Fuji and a dense pine tree forest. Visitors to this beach will have quite the opportunity to soak in nature!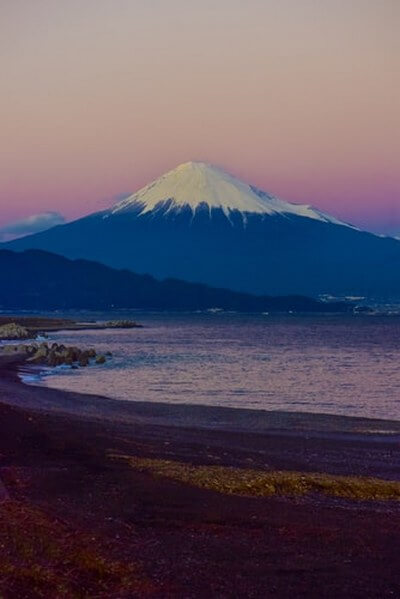 12. Playa Jardin, Spain
The term "Playa Jardin" translates to "Garden Beach" and it is a fitting name for this location! This black sand beach is encased with multiple palm trees as well as a botanical garden. It is simply the atmosphere of a natural oasis where the landscape meets the ocean.
The area is safe to swim in as well, so guests can really indulge in the scenery as well as the water!
13. Prince William Sound, Alaska, United States
Alaska, like Hawaii, is another part of the United States where the landscape is amazing. Even though Alaska is mostly known for its snow and mountainous views and various lakes, it is also home to a beautiful black sand beach.
The Prince William Sound is an area of water that features one of the world's most stunning black beaches.
What makes this beach so remarkable is the scenery around it. There are mountains, trees, and even tidewater glaciers, all of which contribute to the sight of this beach. While you can't swim here, it is an amazing photo-op location.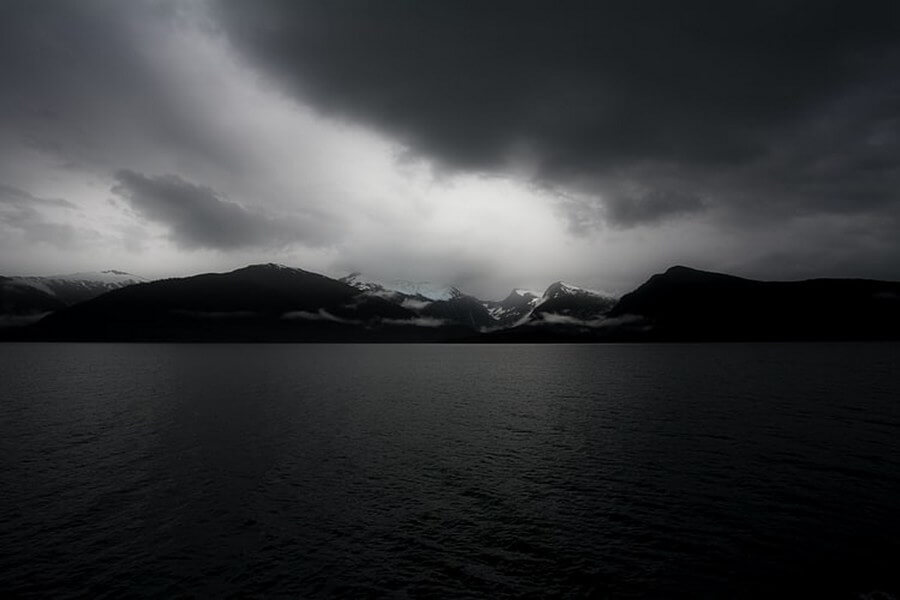 14. Playa Negra, Costa Rica, Central America
This black sand beach is known for its surf, however, it isn't too well-known overall. It is a rather small section of beach coastline. Even though it isn't as large as some other spots on this list, it is still a semi-black sand beach clumped together in the count of black sand beaches in the world.
Despite its size, it is still worth checking out.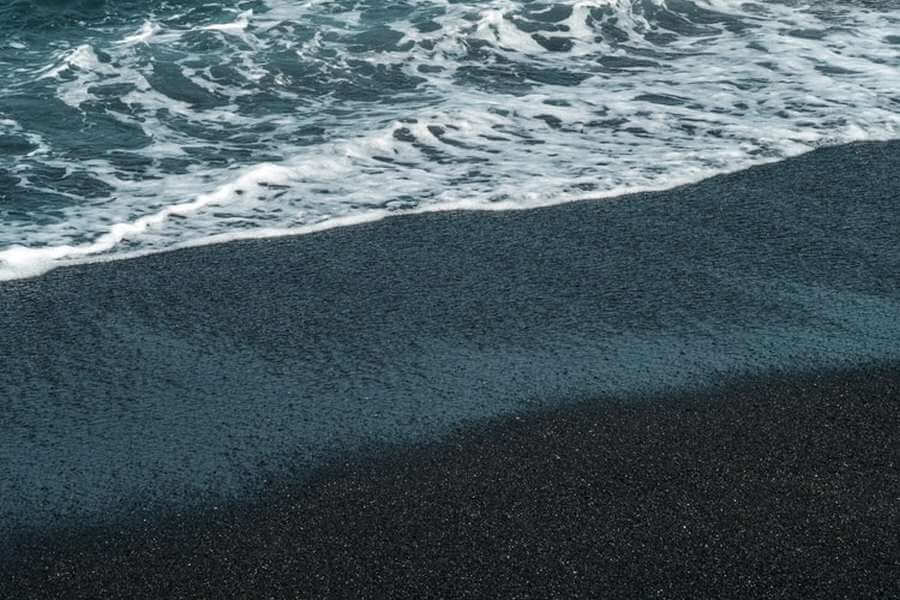 15. Lovina Beach, Bali, Indonesia
Lovina Beach in Bali is accessible by a plane ride from Indonesia's capital city, Jakarta. It is a black sand beach that also has a grey hue to it. The swirls of colour between black and grey are what makes the beach a site to see.
It is also a popular spot in the early morning hours due to the dolphins that splash around along the coastline.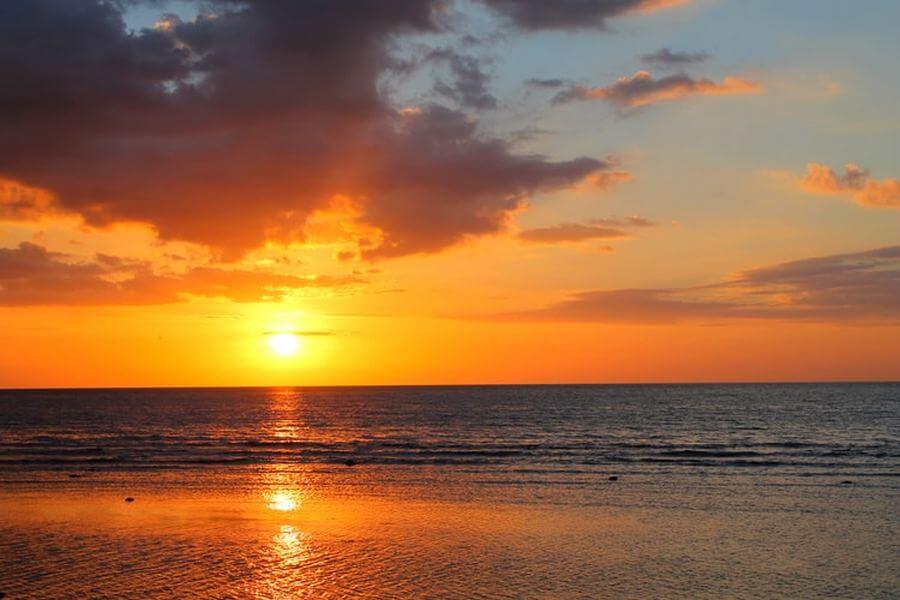 16. Stokksnes Beach, Iceland
Iceland is another popular location in the world, like Hawaii, for its black sand beaches. Stokksnes Beach is similar to Prince William Sound in Alaska due to its surrounding sights. Glaciers and mountains tower in the background of this beach making it seem like a really surreal place, which it is!
It is often compared to being like something out of a dream or movie due to its pure, stark natural beauty.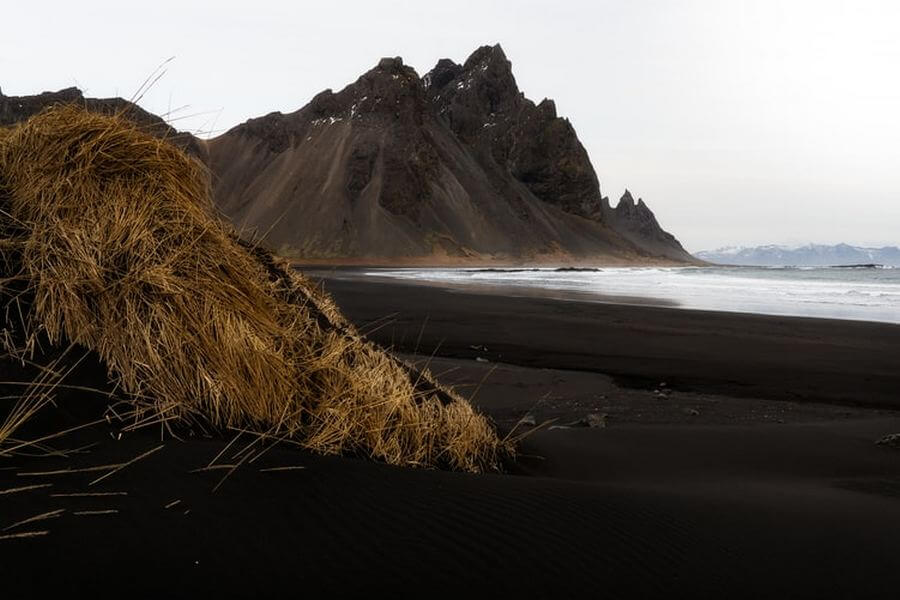 17. Waianapanapa State Park, Hawaii, United States
Hawaii makes the list again with its black sand beaches in its Waianapanapa State Park

. The whole park is filled with various black sand beaches as well as breathtaking sights. The area is known for hiking and its lava caves which also make the area a desirable place to visit.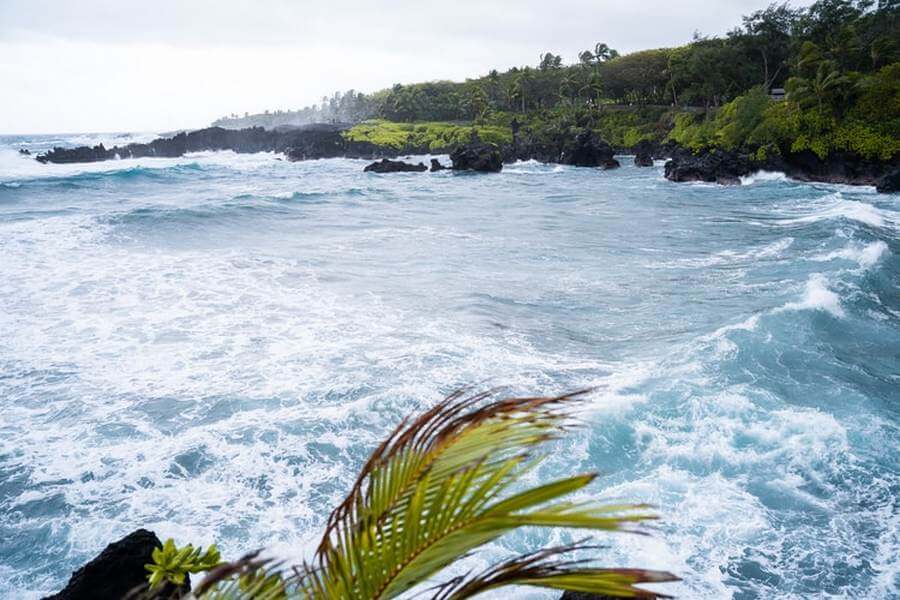 18. Kaimu, Hawaii, United States
Kaimu Beach

is a black sand beach with a long strain of history in Hawaii. It was said to have formed after a large flow of lava destroyed the original area that existed prior to 1990. As a result, Kaimu Beach and its darkly hued sand remained. Due to rip-tide currents, the beach is not suitable for swimming but the sand is still worth the trip.
19. Diamond Beach, Iceland
Diamond Beach is one of three pinnacles spots in Iceland to see a black sand beach

. This sparkly beach gets its name because the area around the beach is full of ice glaciers that are ever-changing.
Due to this change, chunks of ice get deposited on the black sand appearing to shine like diamonds. The attraction of Diamond Beach lies within the stark scenery that is created by nature and the melding of black sand with ice chunks.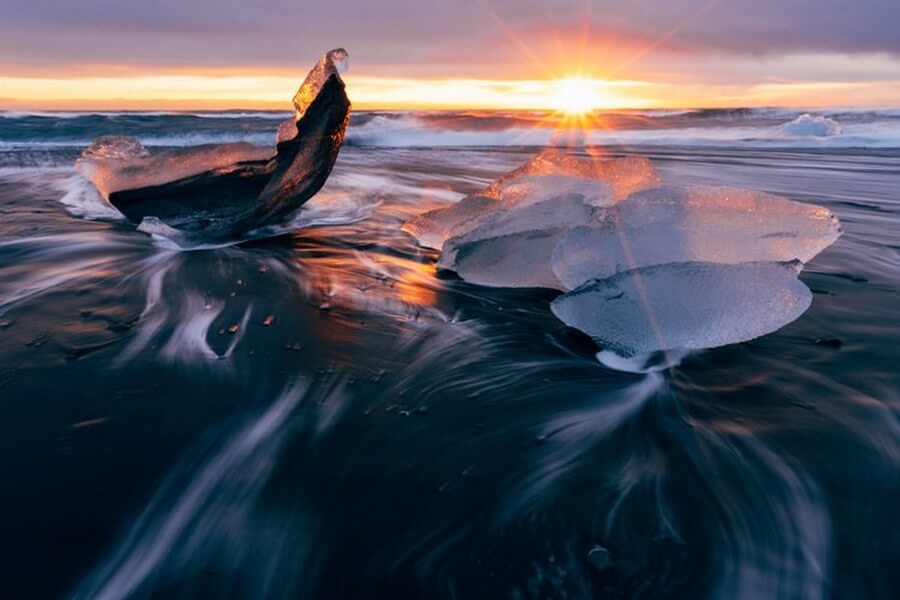 20. Reynisfjara, Iceland
One of the world's most famous black sand beaches is Reynisfjara

in Iceland. In fact, the area was used to film some of the world's most famous television series and movies. Its remote beauty is absolutely unbelievable. It has some of the blackest sand known to any of the beaches on this list.
Additionally, the beach is surrounded by jutting headlands and rocky cliffs that really set it apart from anything else on earth.
All of these beaches feature black sand. Out of all the beaches around the world, these 20 beaches are unique in their own way due to their dark-hued sands. It is important to note that other beaches may feature a mixture of black sand but these 20 are the darkest in colour.
Visitors seek out the rarity and overall beauty that they provide.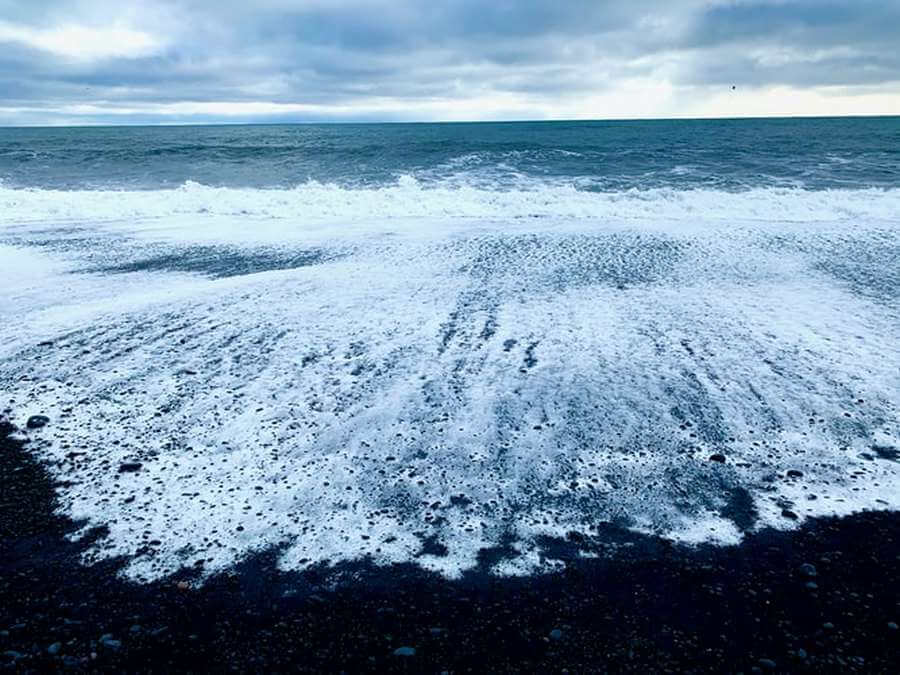 What Beach Has All Black Sand?
It is hard to pinpoint what beach has entirely all black sand. There are a couple of contenders to take the title, however, in general, Reynisfjara in Iceland could be depicted as having the blackest sand in the world. Another close second is Punalu'u in Hawaii.
Both locations have super dark sand that is a result of volcanic rock being transformed into fine sand. Reynisfjara Beach just might have slightly darker sand than Punalu'u, although, perhaps it is a matter of visual opinion.
Either way, both are incredible locations and offer some of the world's darkest, blackest sand known to a beach shoreline.
What Causes Black Sand Beaches?
As mentioned before, the sand itself is created by a process known as erosion. Various materials are exposed to constant movement by wind or water that breaks down the material's surface making it smaller in size. It is not a quick process by any means.
Depending on the type of material that is being exposed to erosion will ultimately decide what colour sand it will become.
Black sand is the result of volcanic rock (sometimes referred to as basalt rock) that has gone through the process of erosion. Sometimes this process is expedited in the case of black sand.
What this means is that black sand is known to form a little quicker if lava makes contact with water. The water quickly cools the lava resulting in a shattering effect. This shattering effect produces particles that later become finer granules of sand.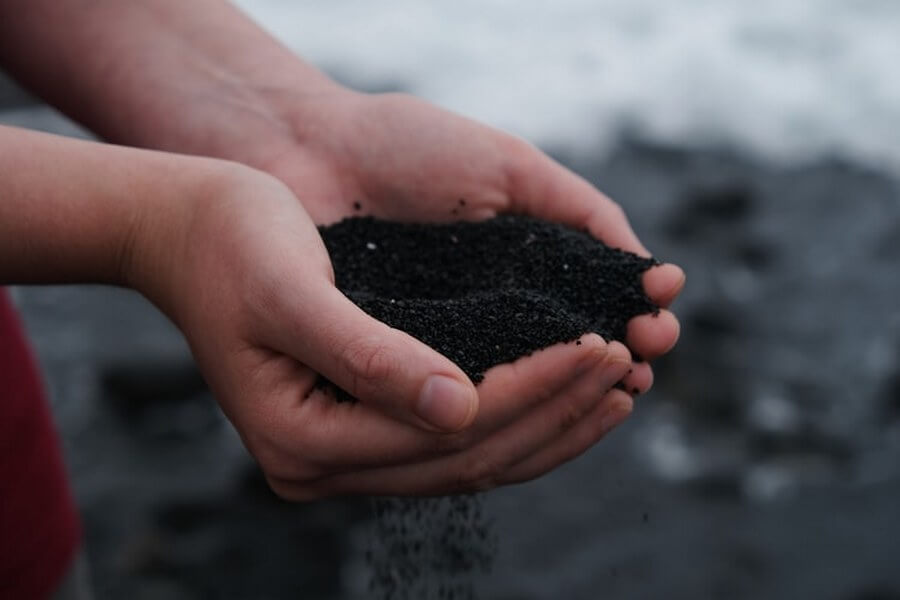 The world's natural sand is all the result of exposure to ocean wave contact or wind contact. The process of erosion further breaks particles down making the materials finer and finer each time it is exposed.
Black sand is formed a little bit different since it can be the result of lava connecting with water, however, after that point of contact, the black materials are further broken down which results in softer sand particles.
Like other sand known to beaches around the globe, black sand must make its journey from point A to point B. The ocean waves carry the particles to their final resting place (known as the deposition part of erosion). During this time, the black particles are made more and more into a sandy texture.
The process in which sand is formed is quite remarkable., however, black sand is unusually unique. Black sand beaches are one of nature's ways of showing what it is capable of. The black sand beaches that are found throughout the world are a pleasurable natural treat for all their visitors!
More Pages On Beaches
link to Can You Swim At Mission Beach?
Not all beaches are suitable for swimming for a number of reasons. Some of these areas are more practical for sand activities or photography. It is important to know whether or not a beach is safe...
link to What Is It Like To Live Near The Beach?
Visiting the beach is a beautiful opportunity to see mother nature at its best. There's nothing quite like hearing the waves rolling in on a soft, sandy shoreline. While visiting the beach is a...